Many investors looked to integrated oil majors as robust investments during oil's precipitous slide to $30/barrel over the past couple of years. The investing idea was sound, rooted in legendary investor Warren Buffett's advice to "be greedy when others are fearful." Investors could profit over the long term, crowds decreed, by buying strong oil companies with the financial wherewithal (and suddenly depressed stocks) to weather a prolonged downturn in oil prices.
With oil and natural gas prices recovering modestly over the past year, energy stocks have recovered. However, the gains among the integrated majors have not been evenly distributed - a trend set to continue. Due to poor production growth potential and the nature of its assets, Exxon Mobil (NYSE:XOM) underperformed the broader Energy sector over the last 12 months. This comes naturally, resulting from the same forces that allow the stock to outperform peers when macro conditions are unfavorable.
In many ways, Exxon Mobil shareholders are faced with the same trade-off that plagues hedge funds; hedge funds can outperform bear markets due to offsetting short positions, but these short positions can weigh on the portfolio during spectacular bull markets. We've all seen the effects of remarkable stock pickers: a portfolio consisting solely of well-selected long positions can outperform the hedged portfolio in a bull market. But this same strategy can fail an investor during a bear market, while a hedged portfolio generates market-beating returns through its short positions.
Investors faced with these two approaches - long only and hedging - must choose between being conservative and daring for higher returns. Exxon Mobil investors are essentially doing the former, electing a diversified energy company and foregoing higher returns during rising oil prices.
Exxon's premier chemical business and large Downstream business reduce the company's sensitivity to the price of crude oil and natural gas forced by Upstream operations. Even compared to Chevron (NYSE:CVX), an integrated competitor, Exxon Mobil's reliance on the Upstream is remarkably low: just 9% of Exxon Mobil's total Q3 revenues came from its Upstream operations, whereas 14% of Chevron's total revenues came from the Upstream.
This is certainly a strength during times of falling commodity prices - one that creates sufficient cash flow to maintain the company's dividend. Demonstrating the resiliency of Exxon Mobil stock price is the stock chart below, which compares Exxon Mobil with the Energy Select Sector SPDR ETF (NYSEARCA:XLE) and competitors BP Plc (NYSE:BP) and Chevron during a period of falling oil prices from July 3, 2014, to July 2, 2015:

Image Source: Google Finance
This steadiness, coupled with a dividend that grew 6% annually over the past 34 years, is central to the bull thesis. Adding to a position on dips can certainly be an effective income generating strategy - there's no denying this. Exxon Mobil's effectiveness in its cost-cutting measures is easily observed: these measures led to the lowest production costs and highest return on average capital employed among integrated competitors in 2015, according to a company presentation.
But there's also no denying that Exxon's chemical business and downstream operations restrict the stock during periods of rising oil prices. The same stability that prevents severe downturns simultaneously caps sudden upward spikes. Since not being highly oil-levered makes earnings less variable as oil prices fall, earnings must also receive a proportionally smaller benefit from rising oil prices. Consider the chart below of the past 52 weeks, which pits Exxon Mobil against the same competitors from before and the price of oil: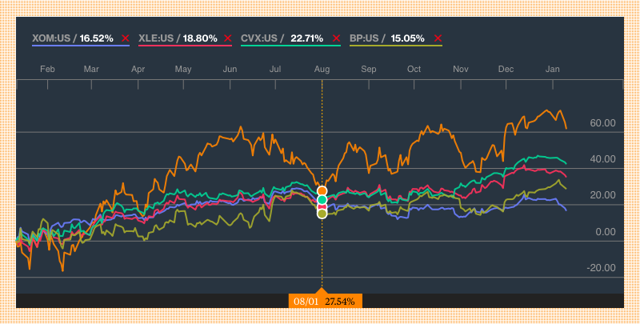 Image Source: Bloomberg
Notice here that Exxon trades almost in lockstep with its competitors through the first half of the year, then stagnates beginning in August as oil prices and competitors edge higher. For the year, Chevron, BP, and XLE exceeded Exxon Mobil's gains by 25.72%, 12.07%, and 18.5%, respectively.
This underperformance can continue in 2017 if the same condition exists: rising oil prices in 2017 can lead to gains for Exxon Mobil's shareholders, but the gains will be less than those of shareholders in integrated majors that are more sensitive to the price of crude oil.
Some investors may assert that Exxon's price/sales ratio of 1.6 presents an opportunity when compared to Chevron's 1.9 price/sales ratio. Aside from this being a poor metric to base an entire energy investment on since sales are volatile, this analysis ignores that the higher ratio could reflect investor optimism in either Chevron's ability to grow production or higher oil prices.
The same forces sparking Exxon Mobil's underperformance against its peers in 2016 are the reasons the company underperformed sector ETF XLE. As oil prices recovered, XLE - whose weights are depicted below - shot up, aided by its exposure to independent Exploration & Production (E&P) companies. Just like Exxon, XLE's downside is padded by exposure to other areas of the energy sector, yet XLE shot up as oil prices climbed, because five of its top 10 holdings are E&Ps.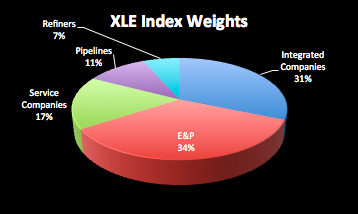 Data Source: Fund Holdings
Exxon Mobil's underperformance cannot solely be dismissed as a result of the weights of its chemical business and Downstream operations, as its cost management prowess was matched by production growth ineptitude: oil equivalent production fell 3% last quarter, and in February, the company announced it failed to replace its reserves for the first time in 22 years. During the Q3 earnings call, Jeff Woodbury attributed the decline to liquids production, saying that "growth from projects and work programs was more than offset by [the] impact of field decline and downtime events, most notably in Nigeria due to third party impacts."
Falling production, coupled with a possible impairment of 4.6 billion barrels of oil equivalent reserves, led to the suspicion that Exxon Mobil is trailing its peers for reasons beyond the size of its non-upstream businesses. Despite all this, it shot up over 16% the past year and still yields a 3.5% dividend; perhaps more importantly, the company proved the thesis of many investors by outperforming its peers during oil's downturn.
There is no denying Exxon Mobil's ability to manage downturns, but choosing the company to play an oil recovery is suitable only for the most conservative of investors. Companies, and even sector ETFs, are positioned to outperform Exxon Mobil if oil prices rise during 2017. Choosing Exxon to play an anticipated bounce in oil prices is akin to choosing Coca-Cola (NYSE:KO) due to expected growth in water sales. Both companies benefit, but competitors more sensitive to those events will benefit more.
With the effects of OPEC's production cut agreement and the President-elect's selection of multiple pro-oil cabinet members (including Exxon Mobil's former CEO Rex Tillerson) set to unfold in the year ahead, the macroeconomic forces controlling commodity prices are favorable to the price of oil. For Exxon Mobil, this is good news; for the company's competitors, it's even better news.
Disclosure: I am/we are long BP.
I wrote this article myself, and it expresses my own opinions. I am not receiving compensation for it (other than from Seeking Alpha). I have no business relationship with any company whose stock is mentioned in this article.