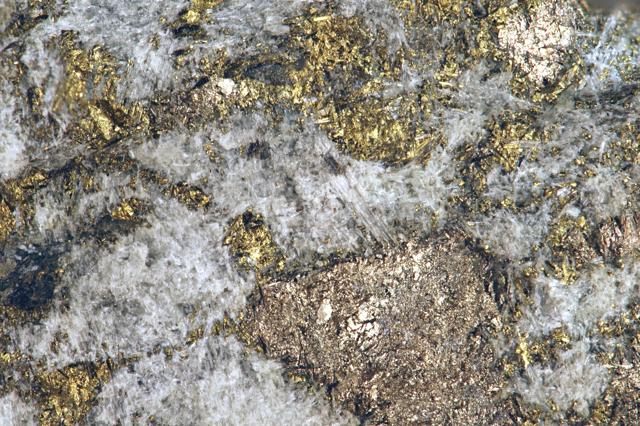 I first wrote about palladium last November. The fundamentals support demand above supply this year, so of all the 2017 precious metals, there's an argument for further bullish palladium (which, by the way, has a demand link to industry, which supports a strengthening manufacturing equals bullish market thesis). Analysis of the palladium chart confirms a bullish perspective.
According to a release from Kitco before Christmas:
TDS looks for the palladium-market supply deficit to double from 600,000 ounces in 2016 to 1.2 million in the next year. The firm expects the platinum deficit to rise from 400,000 in 2016 to between 600,000 and 650,000.

Societe Generale looks for continued but narrower deficits in 2017. Bhar calls for the platinum deficit to narrow to 140,000 ounces from 195,000 in 2016, and for a 2017 palladium deficit of 1.02 million ounces after 1.275 million in 2016.

Against this backdrop, SocGen sees the average palladium price rising to $750 in 2017, compared to an expected $620 in 2016. SocGen projects platinum averaging $1,040 in 2017 after $1,000 in 2016.

TDS sees palladium averaging $740 in 2017 and $790 in 2018. The bank looks for around $1,100 platinum in 2017 and $1,225 the year after.
While the Financial Times weighed in a week ago, stating:
Palladium's powerful advance was checked in December when a big investor liquidated its holding in a London-listed exchange traded fund called Source Physical Palladium. The sale of more than 100,000 ounces pushed the price down from $770 an ounce to almost $650 before its recovery.

"That wave of investor selling has come to an end," said Matthew Turner, analyst at Macquarie. While the palladium market is likely to record another deficit in 2017, with demand outstripping supply, analysts are still divided on the outlook for the metal. Concerns include slowing growth in China, the strong US dollar and the launch of new electric vehicles.
Investing Haven specializes in palladium investing, noting the breakout from the 2014-16 correction and test of the breakout line before a further advance.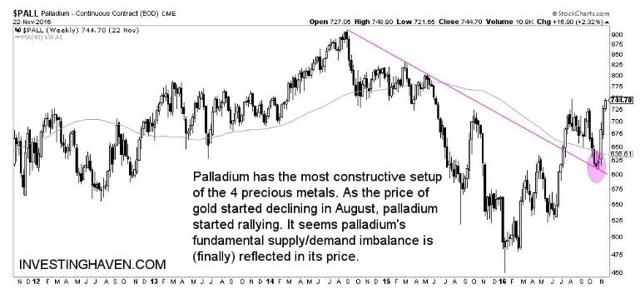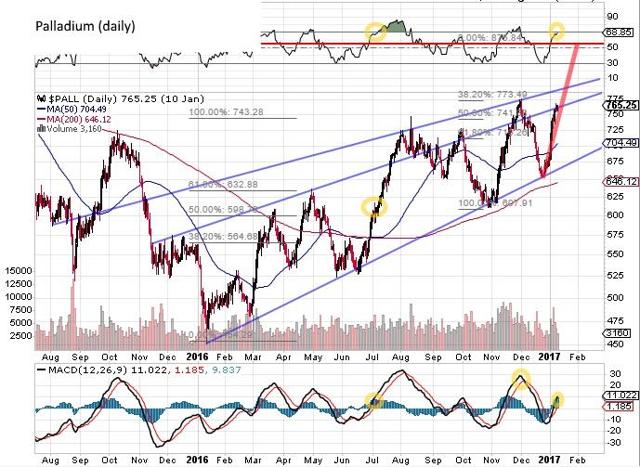 The market often corrects as the trading becomes "overbought" or at the top of the RSI in the first diagram. However, in June, a similar point to now was reached, with the MACD also at a similar point, and rather than correcting, the market (after some tiny weakness) proceeded higher. The RSI became extremely overbought, but there was no correction. This is more likely in a wave 5 than wave 3 advance, but I'm highlighting it due to the other factors mentioned.
The November low was the bottom of an ABC correction from the fifth wave high of August, with the high of December creating wave 1 of a new series.
A Fibonacci analysis of the last rise suggests an initial potential high, developing near the red horizontal resistance band, although trading will probably encounter "some" selling resistance around the highs of late 2014-early 2015. Note that in December, trading just "blew" past the selling resistance level of the September high. An interim correction could throw out the angle of the rise and therefore, the approximate price target.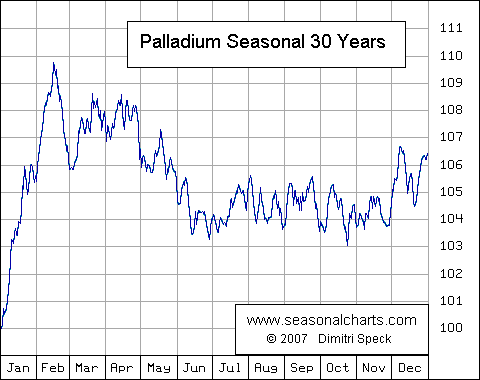 As you can see from the chart alongside, January is likely to be palladium's strongest month this year, but remember that's based on past data and might not meet the supply deficit currently backing higher prices, which, according to this chart, appear fairly strong throughout the first quarter.
The following COT chart shows the scenario prevalent in the last two Januaries, when there were early-month corrections (albeit with potentially different sentiment expectations), followed by a bullish trend lasting several months or more. I've illustrated recent peaks in red. This is a bearish candlestick trend marker which needs confirmation and has topped either with, or "close to", a "graveyard doji" (check April), but indicates a negative change in volume. Any correction (as in former Januaries) is likely to be short-lived and reverse from a rising (January '16) trend line, currently near 700.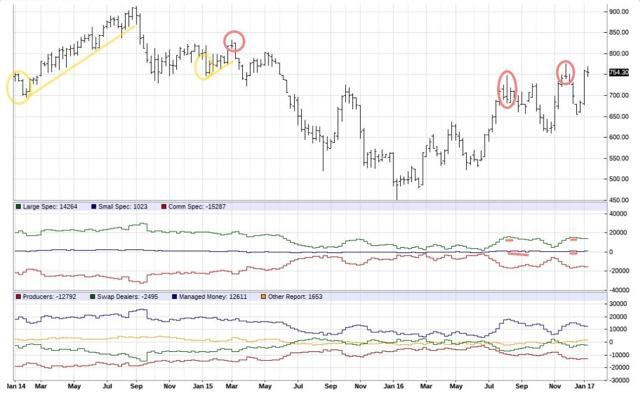 Source: Barchart
Despite the potential for some early month and short-lived seasonal weakness, this next quarter at least looks set for a very bullish palladium. A trend which can also influence wider investing attitudes, as this suggests stronger manufacturing and increased purchasing, in particular from China.
Disclosure: I/we have no positions in any stocks mentioned, and no plans to initiate any positions within the next 72 hours. I wrote this article myself, and it expresses my own opinions. I am not receiving compensation for it (other than from Seeking Alpha). I have no business relationship with any company whose stock is mentioned in this article.