I've been asked to make an update on Cliffs Natural Resources (NYSE:CLF). There are changes since my previous article "Cliffs Natural Resources: Correction Ahead" was published, so let's look at these changes in more detail.
Just several days ago, it looked like my expectation of a correction to $7.50-8.00 was going to materialize. Cliffs Natural Resources' shares were descending in a tight downside channel with no immediate upside catalysts in sight. However, news from China ignited iron ore and steel futures and provided significant support for Cliffs' stock.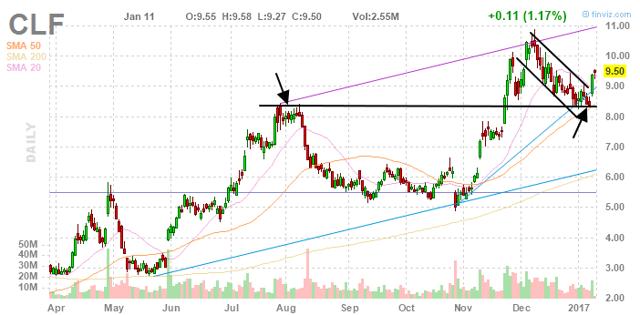 Now the technical picture has changed significantly. Cliffs' shares found support near the peak of the previous run-up and broke out of the downside correction channel. This is a very positive development. If the shares for some reason resume downside and trade below $8.30, I'd be worried.
Let's get back to what is going on fundamentally after brief explanation of my views on Cliffs' chart.
China's smog problem is real and it just can't ignore it anymore. I've seen numerous articles and photos last year on the topic. For example, you can check this one or this one. Outdated factories and mines should be closed, which would ease the pressure on the supply side. Immediately, iron ore futures were back to recent highs: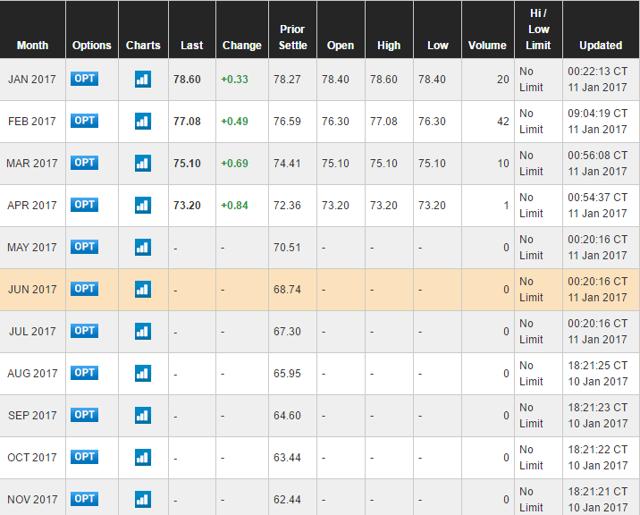 Source: Cmegroup.com
You can see a massive difference between front-month contract and longer-dated contracts, which implies that iron ore prices will decline below $63 per ton in November.
This situation was present throughout all 2016, and yet iron ore managed to beat skeptics and stay at what many would say were "elevated" levels.
As you can see on the chart below, steel prices are also on rise, which benefits Cliffs' customers and the company itself: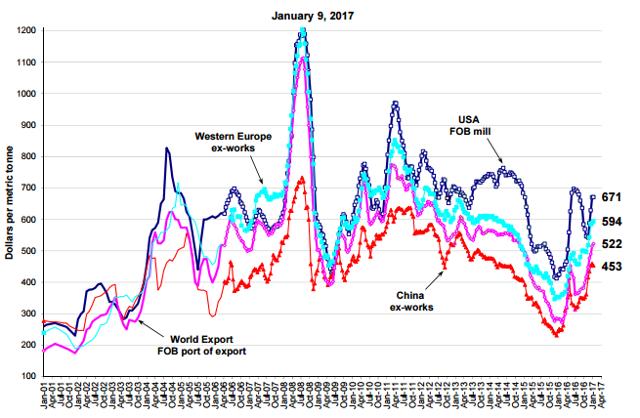 Source: Steelbenchmarker.com
The fundamental situation continues to develop favorably for Cliffs. Steel prices are rebounding and will be protected by tariffs at least for another four years for political reasons. Iron ore prices continue to show resilience to the downside despite many bearish predictions (the latest came from Australia).
Let's turn to potential negative factors. My main concern is that the stock market might experience a sell-off once Trump enters office. This was a Trump-induced rally, so "sell the news" is surely a possibility.
We are early into earnings season and haven't seen the results by multinationals, but I'd argue that their bottom lines experienced some pressure due to the stronger dollar (NYSEARCA:UUP). At some point the market will start questioning the valuations it assigns now, especially as the move in the dollar does not look a one-time event. I believe parity with euro is possible this year.
One might argue that Cliffs' stock is far-far away from its previous peaks and that it is therefore immune from a general market correction which could be based on overvaluation. However, the impact from a notable correction is typically seen in most stocks. I'm not calling for a general market correction right now, but such a scenario remains a possibility and is definitely an important thing to keep an eye on.
Another thing that can go wrong is the price of iron ore, but at this point, with all these bearish predictions, I'd note that a significant short squeeze may happen.
I can't remember when I last time read anything seriously positive on iron ore. With such a bearish media environment and iron ore close to its highs, bears' nerves must be under pressure and a decisive break through $80 might happen.
All in all, I expected a bigger correction, but it did not happen. This is not bad news at all, and Cliffs looks ready to resume the upside trend. I remain long-term bullish.
Disclosure: I am/we are long CLF.
I wrote this article myself, and it expresses my own opinions. I am not receiving compensation for it (other than from Seeking Alpha). I have no business relationship with any company whose stock is mentioned in this article.