Enerplus (NYSE:ERF) has cleaned up its balance sheet and now has debt of only $500 million ($700 million Canadian). Taking advantage of that financial strength, the company is almost doubling its capital spending in 2017.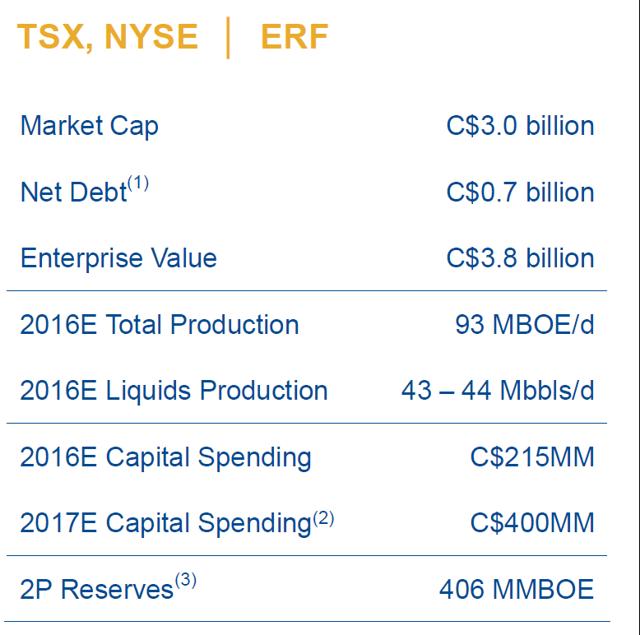 Source: Enerplus Corporate Presentation
Since 2014, Enerplus has reduced expenses (including operating expenses, interest and SG&A) by $100 million ($140 million Canadian).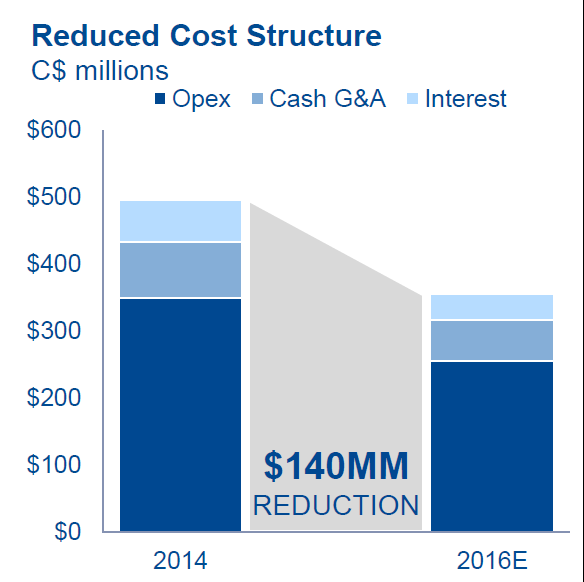 Source: Enerplus Corporate Presentation
Enerplus not only benefits from higher WTI but also from higher prices in its Bakken production in relation to WTI, with the Bakken discount to WTI falling by half since 2014. Production in 2016 was over 90,000 Boe/day and should rise to over 100,000 Boe/day in 2017 with capital efficiencies of approximately $12,000 to add another barrel of oil equivalent per day according to the company.
I project cash flow from operations to exceed $250 million ($400 million Canadian) in 2017, funding all capital outlays from internally generated funds. The company sees this program expanding production in key areas by double-digit rates of growth, saying:

Source: Enerplus
Based on current commodity pricing adjusted to incorporate Enerplus hedge book, I see 2017 net backs of approximately $8.50 to $9.00 per Boe. Every $1.00 per Boe improvement adds $30 million to ERF cash flow and roughly $240 million to market capitalization at 8x cash flow. With the current market capitalization of $2.3 billion ($3 billion Canadian) a $1.00 per Boe increase in realized prices should result in a 10% bump in the trading price of ERF stock.
Enerplus was one of the best performers in 2016, increasing almost fourfold from about $2.50 to over $7.50. I see the potential for $10.00 per share in 2017. I am long the stock.
Disclosure: I am/we are long ERF. I wrote this article myself, and it expresses my own opinions. I am not receiving compensation for it (other than from Seeking Alpha). I have no business relationship with any company whose stock is mentioned in this article.