By Dr. Brian Jacobsen, CFA, CFP
Optimism is surging. Consumer confidence recently hit levels not seen since 2001. Investor sentiment is also up, according to the fourth-quarter Wells Fargo/Gallup Investor and Retirement Optimism Index, which reached a nine-year high at +96, up from +79. The index also showed that 37% of respondents expect U.S. election results to have a major impact on their net worth.
Many market strategists say that when individuals are getting bullish, it's time to get bearish. I disagree. Optimism is not a reason to get pessimistic. There's often a difference between how people say they feel and how they act. For example, rising consumer confidence does not regularly result in future retail sales growth.
Confidence does a better job of reflecting what consumers have already done, rather than predicting what they will do. For investors, optimism can mean many things, but it doesn't automatically translate into market gains. For that, perhaps the best gauge is whether stock prices move upward - but again, this reflects what people have done.
So what might investors do in 2017, given their uptick in optimism? A good place to start is their outlook for how the market will move. While many investors say they're feeling optimistic, they're also expecting an increase in market volatility. Nearly three-quarters of investors (74%) surveyed in the Wells Fargo/Gallup Investor and Retirement Optimism Index say the stock market will be volatile in 2017. But how volatile should investors expect stocks to be? Let's explore three well-known measures of market volatility to gain some historical context.
Intraday range
Most metrics show that volatility has been pretty average, if not below average, for the past few years. The stock market's intraday range (the high minus the low divided by the previous day's close) of the S&P 500 Index averaged 0.96% for 2016. That's lower than the intraday range for 2015, but it is slightly higher than the ranges for 2013 and 2014. Here's the thing: going back to 1931, the average intraday range was 1.61%. Even a slight pickup in this type of volatility would only get us back to average.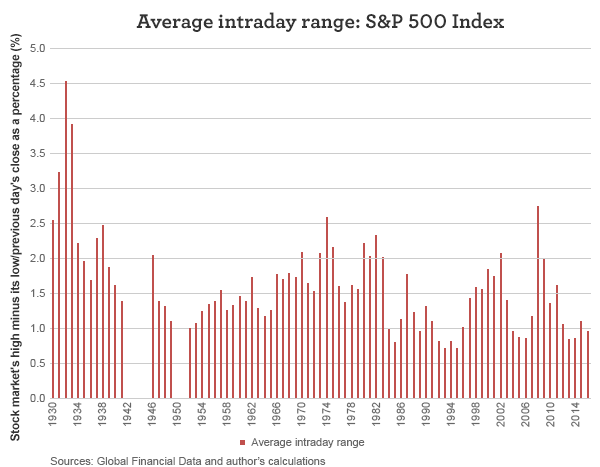 Standard deviation of daily returns
Another measure of volatility is the standard deviation of daily stock returns, which gauges the bumpiness of the market's daily ride. For 2016, the average monthly standard deviation of daily returns was 0.79%. That's lower than the average for 2015 (0.91%), but a pick-up from the volatility of 2013 and 2014. The average going back to 1930, however, is 0.93%. Markets have been relatively smooth compared to what we've seen in the past.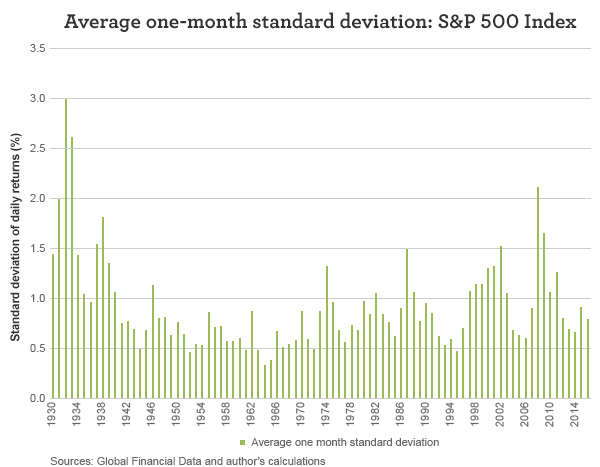 Average drawdown over a month
Standard deviation measures the market's ups and downs, and most investors want to participate in the gains while avoiding the losses. Keeping that in mind, investors can look at another measure of volatility: The average drawdown of the market over a one-month period. This measure only looks forward one month and asks what the largest market drop was throughout that moving window. In 2016, the average monthly drawdown was 1.8%. That's a lot less than the average for 2015, which was a 3.6% drawdown. It's also less than the average going back to 1930, which is 3.4%.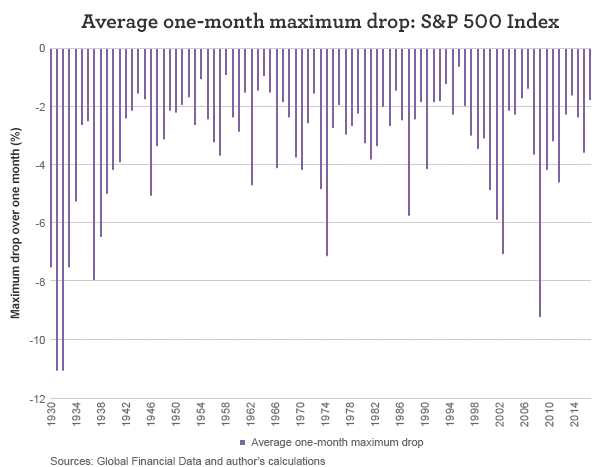 Some people may point to central bank policy as a reason for low volatility, but that doesn't hold much water. Volatility was also low in the mid-1990s and the 2004-2006 period when the Fed was removing monetary policy accommodation. The fact is, markets that moved higher typically did so with below-average volatility.
Takeaways for investors
I think it makes a lot of sense to mentally prepare for higher volatility, but investors shouldn't scare themselves into not seeing the investment opportunities out there. Yes, it's sometimes good to be a contrarian when everyone seems optimistic, but it's even better to figure out whether the optimism is well founded or not.
Emotionally, it's better to expect volatility and to not have it materialize than it is to not expect volatility and be blindsided by it.
Historically, the tried and true method for dealing with volatility has been to stay diversified. That doesn't just mean keeping an equity-bond allocation in line with one's goals and appetite for risk, it also means keeping equity and bond allocations diversified. Not all parts of the bond market move in tandem, as evidenced by how high-yield bonds dramatically outperformed Treasuries in 2016. Similarly, not all parts of the equity market have moved together. While 2015 was all about momentum and growth, 2016 saw a huge rotation of leadership towards more cyclical parts of the market. That rotation can change, though, which means it may be prudent to keep a globally-diversified portfolio across all the sectors. Diversification isn't just about having a wide mix of assets in one's portfolio, it's also about having a wide mix of ideas represented in it, because - calling back to market pundits' pessimistic take on collective optimism - expectations don't always become reality.
The views expressed are as of 1-4-17 and are those of Dr. Brian Jacobsen, and Wells Fargo Funds Management, LLC. The information and statistics in this report have been obtained from sources we believe to be reliable but are not guaranteed by us to be accurate or complete. Any and all earnings, projections, and estimates assume certain conditions and industry developments, which are subject to change. The opinions stated are those of the authors and are not intended to be used as investment advice. The views and any forward-looking statements are subject to change at any time in response to changing circumstances in the market and are not intended to predict or guarantee the future performance of any individual security, market sector or the markets generally, or any mutual fund. Wells Fargo Funds Management, LLC, disclaims any obligation to publicly update or revise any views expressed or forward-looking statements.
Wells Fargo Asset Management (WFAM) is a trade name used by the asset management businesses of Wells Fargo & Company. Wells Fargo Funds Management, LLC, a wholly owned subsidiary of Wells Fargo & Company, provides investment advisory and administrative services for Wells Fargo Funds. Other affiliates of Wells Fargo & Company provide subadvisory and other services for the funds. The funds are distributed by Wells Fargo Funds Distributor, LLC, Member FINRA, an affiliate of Wells Fargo & Company. Neither Wells Fargo Funds Management nor Wells Fargo Funds Distributor has fund customer accounts/assets, and neither provides investment advice/recommendations or acts as an investment advice fiduciary to any investor.
Not FDIC Insured • No Bank Guarantee • May Lose Value
Disclosure: I/we have no positions in any stocks mentioned, and no plans to initiate any positions within the next 72 hours.
I wrote this article myself, and it expresses my own opinions. I am not receiving compensation for it. I have no business relationship with any company whose stock is mentioned in this article.