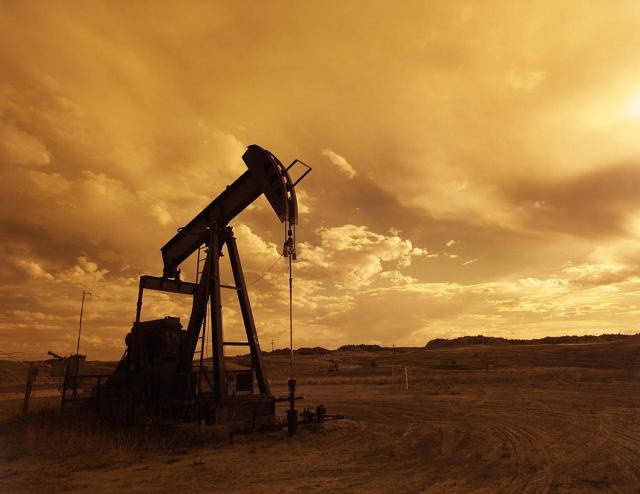 source: Stock Photo
After coming off of a blockbuster year where Halliburton's (NYSE:HAL) stock jumped by about 59 percent, investors are either very bullish on the stock, believing it has a lot of upside potential left in it heading into 2017, or others are getting wary about taking a position in the company, or adding to their existing positions, thinking the company will take a breather with valuations so high.
Offsetting factors include the fact the share price of Halliburton is still down by about 25 percent from its high from two years ago, while its price-to-tangible-book-value ratio, as of today, has climbed to 6.6. It has been a decade since the oilfields service company has had that high of a valuation.
The obvious question is whether or not the company will continue to generate significant revenue and earnings growth in 2017, or it's going to experience a pull back from shareholders taking money off the table, or oil market growth not approaching levels expected after the production cut deal by OPEC and some non-OPEC producers.
I don't think the output cuts will have much impact on the price of oil because of how quickly supply has been coming to the market, but in the case of Halliburton, I don't see that as a problem because it has a lot of exposure to U.S. shale production, which because of the removal of a lot of costs from the production process, they are going to boost output no matter where the price of oil is at.
Not only will Halliburton get the benefit of completing wells, but from the growing trend of getting more out of mature fields, which it said in its third-quarter earnings report will lead the recovery it expects is coming.
The good news for Halliburton to me is it will be able to get a lot of this business whether or not the production cuts support the price of oil as most have assumed.
Looking ahead, completing wells and working mature fields is what will drive Halliburton's performance going forward, and with that in mind, it appears it should be able to continue its momentum through 2017 and probably 2018. The caveat there is how much rising oil supply levels will impact the price of oil.
At this time I think it's not going to go as high as the market in general thinks, and in the case of WTI oil, could drop on average into the high $40s during the year. As I mentioned, this shouldn't have much impact on the performance of Halliburton. And if the price of oil is higher than that, it'll only be more reason to expect strong results.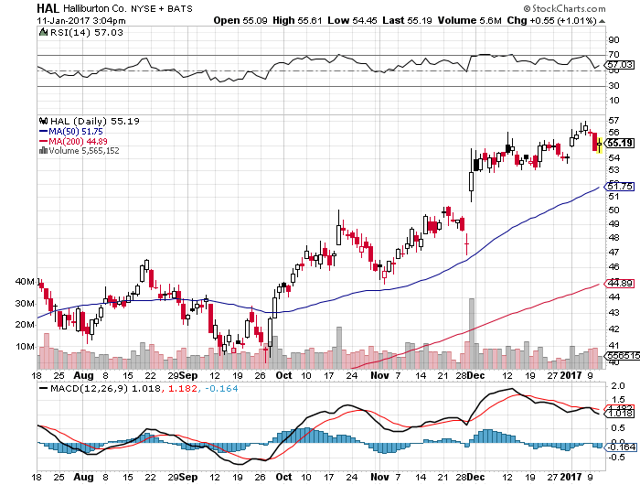 source: StockCharts.com
Halliburton's resilience
One thing that has impressed me recently about Halliburton was its ability to boost its share price at such high levels after what appeared to be a disastrous outcome from its failed attempt to acquire Baker Hughes (BHI). Not only that, but it had to pay a huge breakup fee of $3.5 billion.
Under most circumstances, including the low-price environment of oil in the early part of the year, a company would have been written off by most investors, who would have waited for the presumed weakening of the share price of the company afterwards. That not only didn't happen, but as mentioned above, the company achieved extraordinary success during that time.
This suggests to me investors believe the company has a lot of growth left in it, and the real issue to me is the 20 percent jump in share price it enjoyed over the last three months will result in taking some profits. Since Halliburton isn't usually a company that big money moves in and out of quickly, it would be surprising to me to see that happen.
Not only has Halliburton been very resilient, it looks to be that it still has a lot of near-term growth left in it. I think it would be difficult to reproduce the results from last year, but it depends on how the market interprets the price of oil and what I believe will be a failed attempt by the participants in the oil production deal to support oil at any meaningful level.
If the market considers the output cuts as a major catalyst for Halliburton, then it could experience some pullback. On the other hand, if the market sees the growth potential in U.S. shale completions and mature fields, the company could overcome whatever disappointment the general market will experience if supply exceeds expectations.
Halliburton's exposure to U.S. shale
When considering its major peers, Halliburton has the most exposure to the U.S. shale industry, and as a result will benefit the most from increases in completed wells and improving mature well performance in the oilfield segment. This is where its primary growth potential lies for 2017.
Another thing I like about Halliburton as it relates to U.S. shale production is at this time over 95 percent of premium wells remain to be completed, which to me speaks of long-term consistency, while at the same time mature wells are ready right now to be worked and improved upon.
In regard to mature fields, the U.S. isn't all Halliburton has going for it. It also will serve projects in various capacities in Igapo in Ecuador, Bayan gas and oil reserves in East Malaysia and Humapa in Mexico.
With its 2014 mature fields deal with Ecuador , it receives an additional but undisclosed amount for each barrel produced in the those blocks.
CEO David J. Lesar says he sees mature fields leading the way in international recovery.
He said this during the third-quarter conference call:
"We expect to see a bottoming of the international rig count in the first half of 2017. Land-based mature field activity should lead the international recovery, while we expect the deepwater complex to remain so severely challenged for the foreseeable future."
Possible headwinds to consider
While it looks good for Halliburton in 2017, there are a couple of things to consider that could offset some of its upside performance.
Oilfield managers have stated in the recent past that they are going to only pursue working with those projects that generate positive returns. When the price of oil plummeted, the contract rates for service dropped with it, which put downward pressure on margins and earnings for oilfield businesses.
If some producers refuse to give up too much, and Halliburton holds its ground, it could result in the loss of some business. That is not likely to happen at a significant level, depending on how competitors respond to opportunities of winning more business, albeit at a lower profit.
Historically, companies have gravitated more toward acquiring the services of the top oilfield providers, which plays well to Halliburton's strength, being the second-largest oilfield service provider in the world.
In reality, I don't see market conditions improving enough for Halliburton to get top contract rates. There is simply too much excess equipment on the market to be utilized to support top prices. They'll probably be able to improve prices over last year, but not to the level they were getting before oil prices dropped.
Interestingly, that potentially negative catalyst could be turned into a positive if more business is generated as a result of lower prices. Under that scenario revenue would increase, but margins and earnings would be more subdued than in the past couple of years.
This is another reason I think Lesar sees mature fields leading the global recovery.
One last thing with the mature fields and improvements in premium fields. Since producers are generating more oil from wells, it could result in them holding off on completing new wells or investing more revenue in mature fields until market conditions improve. In that case it result in Halliburton not getting as much business as it's pricing in.
Conclusion
Along with many other companies exposed to oil, Halliburton took the low-price environment to tackle some of its costs, and has reached its goal of removing about $1 billion in annual costs from operations. It was able to do that in the third quarter, beating its goal of completing the cuts by the end of 2016.
In turn, that has allowed Halliburton to offer lower cost solutions to upstream companies looking to invest less and generate better returns. That of course means Halliburton has been passing on some of the lower costs to its customers, while at the same improving its own bottom line.
I do see Halliburton having another good year, primarily from its expected growth in the mature fields business. What degree of business it'll get from completing wells remains to be seen, but that is expected to be fairly robust in the shale locations in the U.S., which will be partially determined by how much support oil prices get during the year.
The low-cost shale producers are going to continue to complete wells under almost any price environment, but if oil prices to find support at around $50 and above, it would mean more producers would be willing to complete more wells and sell more oil under those conditions. They don't want to use up too much of their inventory if they can get better returns by waiting a little longer.
What is changing and is beneficial to Halliburton, is U.S. shale producers are now looking to compete on the global market, which suggests they could ramp up production to grow market share there, providing a secondary source of revenue for its crude. This could bring more demand for oilfield services. This will roll out slowly in the first half, but once the methodology and logistics are fine tuned, this could quickly boost activity in shale locations around the U.S., specifically those located closer to the Gulf.
I think the pros outweigh the cons for Halliburton over the next year. It appears new investors and existing shareholders will enjoy some solid profits going forward. The price of oil will determine the level of growth, but it won't stop growth unless support for oil evaporates
Disclosure: I/we have no positions in any stocks mentioned, and no plans to initiate any positions within the next 72 hours.
I wrote this article myself, and it expresses my own opinions. I am not receiving compensation for it (other than from Seeking Alpha). I have no business relationship with any company whose stock is mentioned in this article.