Here are some of the latest data points on the Canadian natural gas (NYSEARCA:UNG) situation.
Here's where AECO gas prices settled yesterday: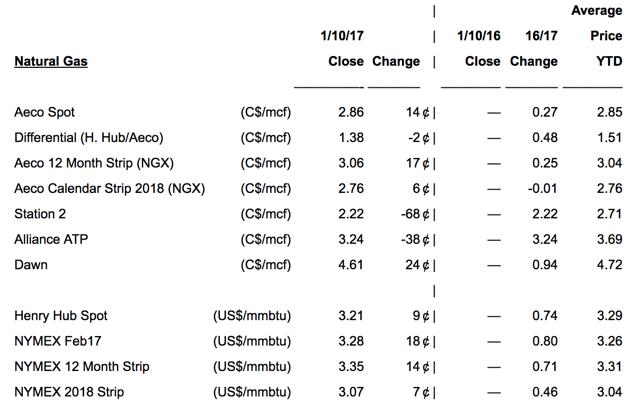 Source: GMP First Energy
Here's where the 2017, 2018, and 2019 STRIP AECO price is:

Source: BMO
Canadian gas storage is currently sitting at 635.5 Bcf or 82.5% full. Storage relative to the five-year average is currently 53.3 Bcf higher, but the surplus is expected to go away by the end of Jan.
Canadian gas imports into the US is sitting below 4.5 Bcf/d, but has averaged around 5 Bcf/d over the last week. Western Canada natural gas production is expected to stay flat or decline for calendar 2017.
AECO basis differential for the spot is sitting at C$1.38/Mcf and the STRIP 2017 is sitting at C$1.45/Mcf. The wide differential reflects the discount needed currently for Canadian gas as a wider discount incentivizes traders to import more gas and make Canadian gas more competitive versus Marcellus gas.
Demand for Canada's gas is expected to rise next year with some retirement of coal plants and domestic increases, but the bulk of the increase according to NEB (National Energy Board) is the need for Canadian gas imports due to high demand growth in the US.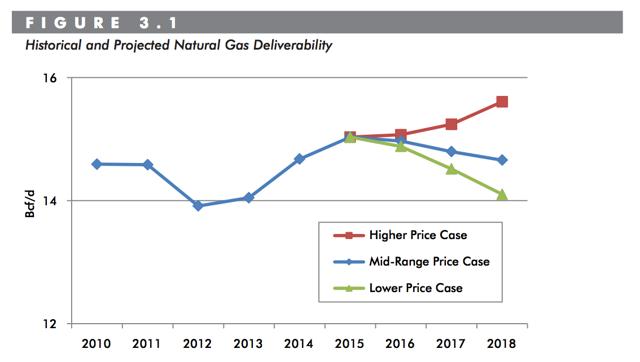 Source: NEB
For the higher price case, NEB stated this as the assumption:

Source: NEB Report Page 10
For the lower price projections, lower cost Marcellus and Utica gas could displace Canadian access to key markets:

Source: NEB Report Page 10
Here is NEB's price projection: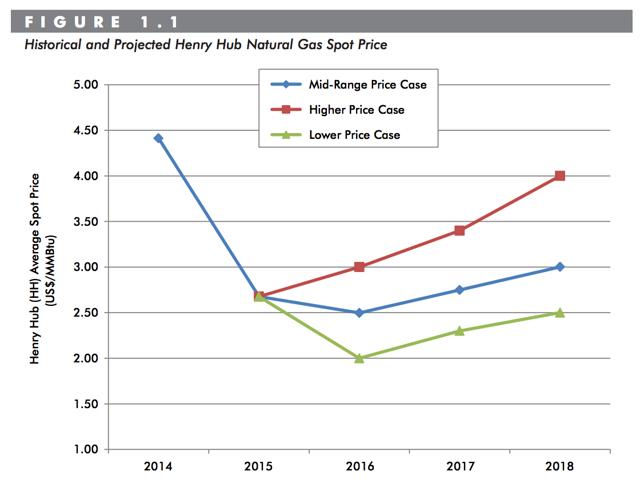 Source: NEB
HFI Research's stance on Canadian gas has been echoed in part by NEB's higher price case scenario. US structural deficit will require all the gas the shale producers can produce, and with the current US gas production growth, the big structural deficit void will be filled by higher Canadian gas imports. As a result, Canada's access to key markets won't be displaced, and AECO gas prices, while possibly still trading at a discount to Henry Hub, should rise to a level around C$3.50/Mcf.
We are bullish natural gas and in particular, Canadian natural gas producers. We see the higher price case by the NEB playing out, and the structural deficit in the US will make our thesis play out over 2017 and into 2018.
If you are interested in reading our views on natural gas, we think you will find our premium service update on natural gas to be even more insightful. You can sign up here.
8-14-Day Outlook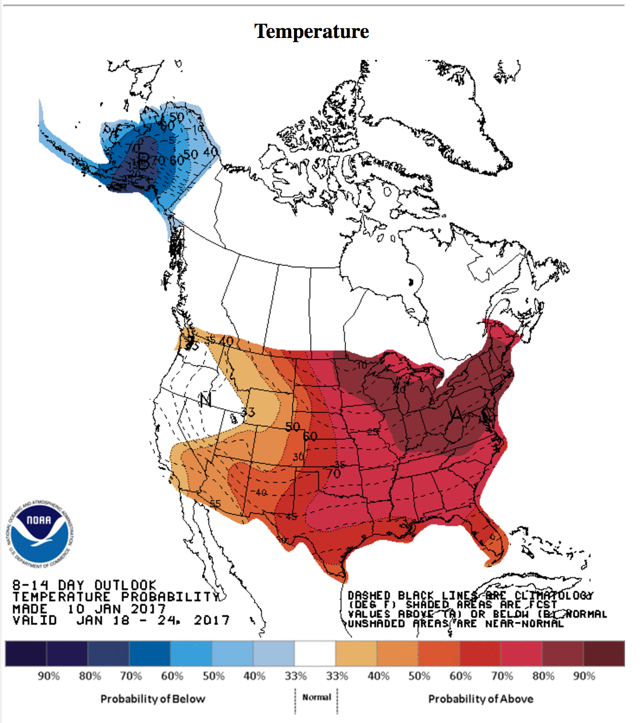 Disclosure: I/we have no positions in any stocks mentioned, and no plans to initiate any positions within the next 72 hours.
I wrote this article myself, and it expresses my own opinions. I am not receiving compensation for it (other than from Seeking Alpha). I have no business relationship with any company whose stock is mentioned in this article.