The Dividend Dogs Rule
The "dog" moniker was earned by stocks exhibiting three traits: (1) paying reliable, repeating dividends, (2) their prices fell to where (3) yield (dividend/price) grew higher than their peers. Thus, the highest yielding stocks in any collection became known as "dogs." More specifically, these are, in fact, best named, "underdogs".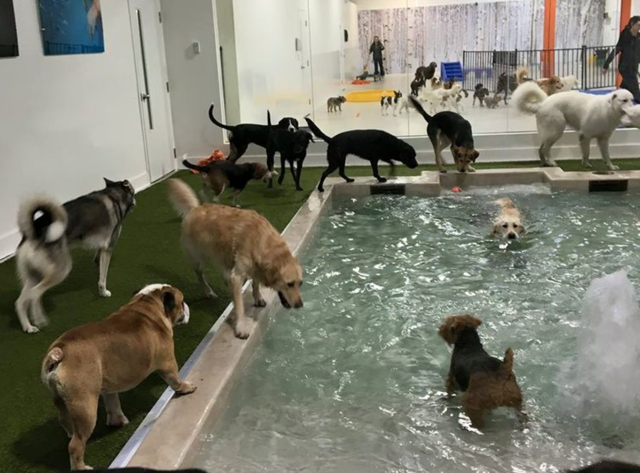 These Real Estate Industries Show Up As "Safe"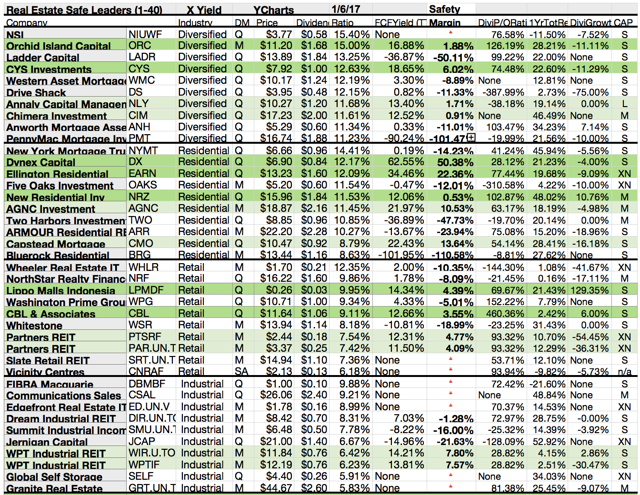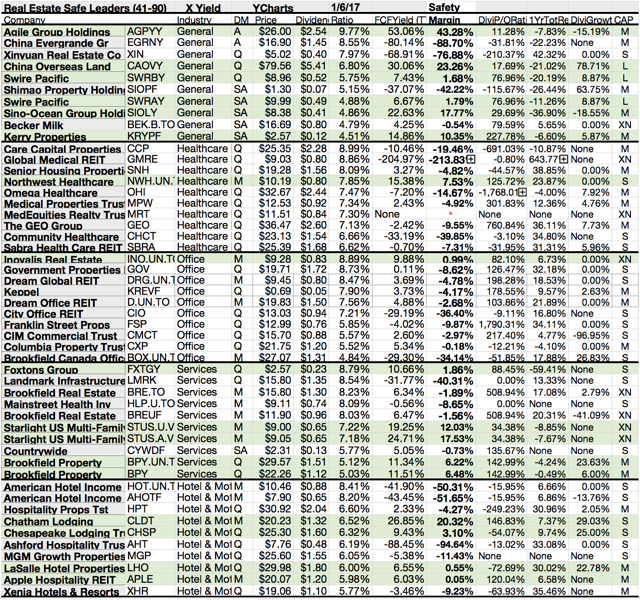 Of nine total Real Estate sector industries, all nine showed at least one top ten yield representative with cash margins greater than their announced annual dividends. Those showing two or more included: general; services; diversified; lodging; residential; retail; and industrial. The two real estate industries showing just one firm with cash to cover dividends were the healthcare facilities and office REITs.
Counting the top ten safe Real Estate sector dogs by industry revealed representation in six sectors: (1) diversified REITs had two dogs; (2) residential REITs had three; (3) retail was represented by two stocks; (4) general had one representative; (5) office REITs had one; and (6) real estate services had one.
15 of 45 Real Estate Firms Showed Cash Margins to Cover Dividends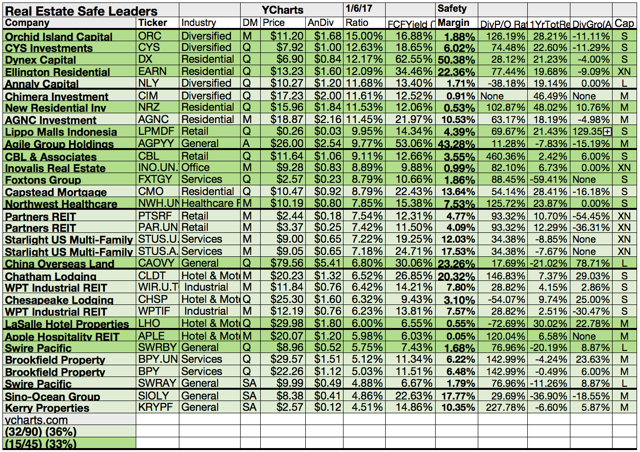 Periodic Safety Check
A previous article discussed the attributes of these 45 Real Estate stocks from which fifteen "safe" ones were sorted. You see below the list that passed the dividend "stress" test. These 15 Real Estate dogs report sufficient annual cash flow yield to cover their anticipated annual dividend yield. The margin of excess is shown in the bold face "Safety Margin" column.
Financial guarantees, however, are easily over-ruled by a cranky board of directors or company policy canceling or varying the payout of dividends to shareholders. For example, Orchid Island Capital (NYSE:ORC) on the list above cut its monthly dividend from $0.18 to $0.14 as of July 2015. Also, Ellington Residential (NYSE:EARN) chopped its quarterly dividend from $0.45 to $0.40 in June 2016 to suit its cash flow.
Three additional columns of real estate cash data listed after the Safety Margin figures reveal payout ratios (lower is better), total annual returns, and dividend growth levels for each stock. This data is provided to reach beyond yield to select reliable payout stocks.

Dog Metrics Found No Bargains In Real Estate "Safe" Stocks
Ten "Safest" top Real Estate firms showing the biggest yields January 6 per YCharts data ranked themselves by yield as follows:

Actionable Conclusions: (1) Analysts Predict 5 Lowest Priced of "Safe" Ten High Yield Real Estate Sector Dogs To Deliver 10.82% Vs. (2) 11.20% Net Gains from All Ten by January 2018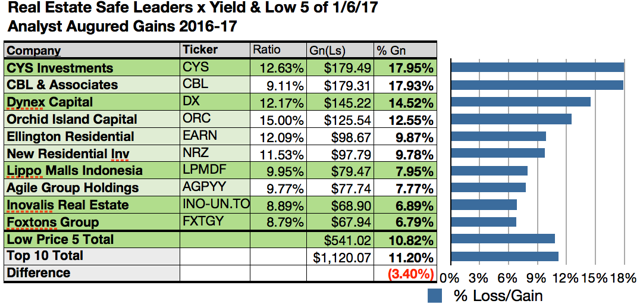 $5,000 invested as $1k in each of the five lowest priced stocks in the "safe" ten Real Estate kennel by yield were determined by analyst 1-year targets to deliver 3.4% LESS net gain than $5,000 invested as $.5k in all ten. The fourth lowest priced safe Real Estate dog, CYS Investments (NYSE:CYS), showed the best net gain of 17.95% per analyst targets.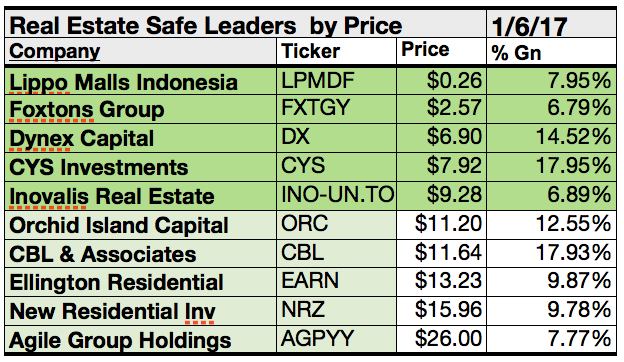 Lowest priced five "safe" Real Estate dogs as of January 6 were: Lippo Malls Indonesia (LPMDF); Foxtons Group (OTCPK:FXTGY); Dynex Capital (NYSE:DX); CYS Investments; and Inovalis Real Estate (INO-UN.TO), with prices ranging from $0.26 to $9.28.
Higher priced five Safe Real Estate dogs as of October 24 were: Orchid Island Capital; Chimera Investment (NYSE:CIM); CBL & Associates (NYSE:CBL); Ellington Residential; New Residential Investment (NYSE:NRZ); and Agile Group Holdings (OTCPK:AGPYY), whose prices ranged from $11.20 to $26.00.
This distinction between five low priced dividend dogs and the general field of ten reflects the "basic method" Michael B. O'Higgins employed for beating the Dow. The added scale of projected gains based on analyst targets contributed a unique element of "market sentiment" gauging upside potential. It provided a here and now equivalent of waiting a year to find out what might happen in the market. It's also the work analysts got paid big bucks to do.
Caution is advised, however, as analysts are historically 20% to 80% accurate on the direction of change and about 0% to 20% accurate on the degree of the change.
The net gain estimates mentioned above did not factor-in any foreign or domestic tax problems resulting from distributions. Consult your tax advisor regarding the source and consequences of "dividends" from any investment.
See my instablog for specific instructions about how to best apply the dividend dog data featured in this article and this instablog to aid your safe investing. --Fredrik Arnold
Gains/declines as reported do not factor-in any tax problems resulting from dividend, profit, or return of capital distributions. Consult your tax advisor regarding the source and consequences of "dividends" from any investment.
Six real estate sector dividend pups are valuable catches! Find them as six of the now 52 Dogs of the Week found on The Dividend Dog Catcher premium site. Click here to subscribe or get more information.
It's about time to make investing fun again. For a free copy of the monthly top dogs, the quarterly reports, and the dog of the year winner, send your e-mail address, ticker symbol for your favorite dividend stock, and name of your favorite team of any sport or activity to: fredrika120@gmail.com. Remember: E-mail, ticker, team!
Root for the Underdog.
Disclaimer: This article is for informational and educational purposes only and should not be construed to constitute investment advice. Nothing contained herein shall constitute a solicitation, recommendation or endorsement to buy or sell any security. Prices and returns on equities in this article except as noted are listed without consideration of fees, commissions, taxes, penalties, or interest payable due to purchasing, holding, or selling same.
Graphs and charts were compiled by Rydlun & Co., LLC from data derived from ycharts.com; finance.yahoo.com; analyst mean target price by Thomson/First Call in Yahoo Finance. Dog house photo from: trendhunter.com.
Disclosure: I am/we are long ARR.
I wrote this article myself, and it expresses my own opinions. I am not receiving compensation for it (other than from Seeking Alpha). I have no business relationship with any company whose stock is mentioned in this article.
Editor's Note: This article discusses one or more securities that do not trade on a major U.S. exchange. Please be aware of the risks associated with these stocks.