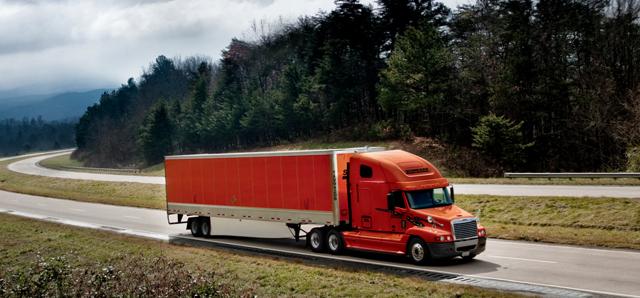 Source: Google Images
Investors should look forward to the upcoming Schneider National (NYSE:SNDR) IPO for two reasons. First, Schneider has a substantial presence in the truckload market through its scale and brand recognition, and offers long-term investors good value. Second, the company has divulged an adequate amount of information to provide a valuable peer assessment.
Schneider considers itself the second largest truckload company in North America (by revenue) and one of the largest intermodal transportation providers in North America (by revenue). It is also an industry leader in specialty equipment services and e-commerce fulfillment.
The company's operations are categorized into three reportable segments including truckload, intermodal and logistics. The truckload segment is the largest at nearly 60 percent of revenues before considering other, fuel surcharge and inter-segment eliminations. The truckload segment includes dry van and specialty equipment capacity for a variety of shipping needs, including e-commerce.
Schneider recently filed a Form S-1 Registration Statement with the Securities and Exchange Commission on December 22, 2016. Investors should recognize that this document will eventually become the company's prospectus during the underwriting effort. Investors should also note that some of the information within the S-1 may or may not be carried forward into regular 8-K, 10-Q, and 10-K financial filings.
However, the S-1 is transparent and provides us with some solid numbers to use for peer-to-peer comparison. I would recommend that anyone interested in investing in Schneider review these four sections: Risk Factors (pages 20 to 41), Analysis of Financial Condition and Results of Operations (pages 52 to 76), Business (pages 80 to 104), and Financial Statements And Notes (pages F-3 to F-51).
By reviewing the company's S-1 information, you can identify clear strengths and weaknesses. By understanding these strengths and weaknesses, we can begin to attempt to think about valuation and set our expectations prior to shares trading on an exchange.
Schneider's competition includes J.B. Hunt Transport (NASDAQ:JBHT), Swift Transportation (NYSE:SWFT) and Landstar System (NASDAQ:LSTR). There are quite a few other companies that compete with Schneider, but of these, none provide similar granularity.
The remainder of this article will compare Schneider's performance through September 2016 against these peers. This will be performed within each of Schneider's three operating segments. Other companies may be mentioned where appropriate to facilitate and/or strengthen statements.
Truckload
Schneider considers itself the second largest truckload company in North America, but I would argue that it is the fourth largest when considering other shipping avenues. I would consider Ryder (NYSE:R) and Swift number one and two, and Landstar three. Based on the first nine months of 2016, Schneider is slightly ahead of J.B. Hunt for the truckload segment in terms of revenue.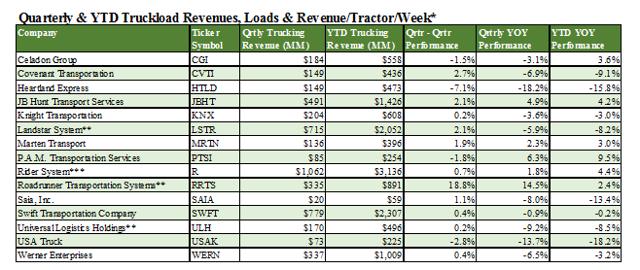 Source: SEC company filings and personal database
Through September 2016, Schneider generated $1.6 billion in truckload operating revenue, excluding fuel surcharge revenue and inter-segment eliminations. This was slightly higher than the $1.4 billion generated by J.B. Hunt as noted in the YTD Trucking Revenue column, and below Ryder, Swift, and Landstar.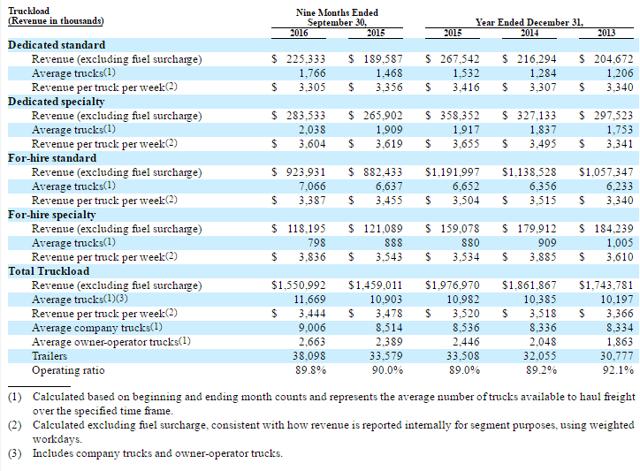 Source: Schneider Form S-1
The most important factor from Schneider's S-1 statement can be found on pages 55 and 56. This section explains the company's key truckload metrics and provides a financial breakdown of the company's services by standard or specialty, and by dedicated or for-hire (all numbers exclude fuel surcharges). Other key metrics include average trucks, revenue-per-truck-per-week, and operating ratio.
Investors should note that 67 percent of Schneider's truckload revenue through September 2016 was from for hire services, of which 89 percent was from standard business. The for-hire services are for one-way shipments, which are more closely correlated to the average spot market pricing.
Dedicated services are devoted to customers under long-term contracts, which reflects approximately 33 percent of the truckload total through September 2016. Dedicated contract pricing is also correlated to the average spot market pricing, but the length of the term remains fixed until the contract is up for renegotiation.
For truckload services, both Swift and J.B. Hunt provide similar breakdowns for their dedicated contract and for-hire segments. Swift has a similar split with for-hire business reflecting 70 percent and dedicated contract at 30 percent. But J.B. Hunt is at the opposite end of the spectrum with dedicated contract services at 80 percent and for-hire at 20 percent.
Dedicated contract services have grown faster than for-hire business during 2016 for all peers. Schneider's performance has been as 12 percent versus last year (combining standard and specialty through September 2016) while Swift's performance has been at nine percent. Both companies provide revenue breakdowns excluding fuel surcharges.
For Schneider and J.B. Hunt, average tractors during the period have increased 12.5 percent, driving growth as revenue-per-truck-per-week has been flat. For Swift, the opposite has occurred as average tractors has declined by nearly two percent and revenue-per-tractor-per-week increased eight percent because utilization improved.
We can also look at Landstar's platform equipment revenue performance versus Schneider's specialty service. Of total truckload revenue, Schneider's specialty service reflected 26 percent at $402 million through September 2016.
Landstar generated $700 million in platform equipment revenue during the same period, reflecting 34 percent of the truckload total. For Schneider, dedicated contract specialty revenue was up 6.5 percent, driven by average truck growth, while for-hire business was down two percent. Combined, this reflected four percent revenue growth.
Landstar, despite substantially higher platform equipment revenue, witnessed a decline in total revenue of 15 percent. This was driven by an eight percent decrease in the number of loads.
Overall, investors should always double-check market share information. I categorize the truckload operating segment to include dedicated contract and for-hire, as well as standard and specialty services for dry van equipment and bulk, temperature-controlled, last-mile, time-sensitive equipment. When considering all shipper options, Schneider ranks fourth among its truckload peers.
Dedicated contract services continue to grow at a faster rate than for-hire business. Schneider has been a top performer with the highest growth rate for 2016, leading to gains in market share. While not as robust, for-hire services have grown at nearly four percent in 2016, which also led to market share gains.
Intermodal
Schneider is not as specific for intermodal, as the company claims to be one of the largest intermodal transportation providers in North America by revenue. As I see it, the company is likely number four or five.

Source: SEC company filings and personal database
J.B. Hunt is the dominant leader for intermodal revenues. The company (J.B. Hunt) generated $2.8 billion (including fuel surcharges) through September 2016. Hub Group (NASDAQ:HUBG) is a possibility at number two with $1.6 billion in revenue, but things are not as clear. Both Union Pacific (NYSE:UNP) and XPO Logistics (NYSEMKT:XPO) also provide intermodal services for their customers.
Union Pacific generated $2.7 billion in intermodal revenue through September 2016, of which a substantial portion likely came from the company's Streamline subsidiary. Union Pacific is second to only J.B. Hunt from an asset perspective for owned and leased intermodal containers and chassis.
One challenge is that Union Pacific also contracts with Hub Group and other intermodal marketing companies, as well as with XPO's own, Pacer International. Therefore, some of the $2.7 billion in revenue is generated from purchased transportation utilizing Union Pacific's intermodal network. Either way, Union Pacific or Hub Group fall at number two or three.

Source: Schneider Form S-1
From an intermodal revenue perspective, excluding fuel surcharges, Schneider generated $560 million through September 2016. This reflected a three percent decline from 2015. XPO's acquisition of Pacer International added a strong intermodal presence. According to Pacer's latest 10-K filing, the company, prior to the XPO acquisition, generated $760 million in intermodal revenues during 2013.
XPO does not provide specific transparency for its intermodal revenues or shipments, so there is no clear way to know whether Schneider's 2015 results are currently greater.

Source: Schneider Form S-1
All of Schneider's operating metrics display why intermodal revenues were down 3 percent. Orders were down 2 percent, trucks were down 4 percent, and revenue-per-order was down 1 percent. J.B. Hunt's intermodal revenues (including fuel surcharges) were up 4 percent through September 2016. This was driven by a 9 and 6 percent increase in loads and average trucks, respectively, versus a 5 percent decline in revenue-per-load.
Hub Group's total intermodal revenues were down 2 percent through September 2016. Swift's average trucks and loads were down 19 and 5 percent, respectively, while revenue per load was up 2 percent. Clearly J.B. Hunt has been highly competitive to gain market share.
Investors should be aware of the contractual arrangements that exist for the intermodal market. On page 25 of Schneider's Form S-1, the company provides a risk factor:
"We depend on railroads in the operation of our intermodal business and therefore our ability to offer intermodal services could be limited if we experience instability from third parties we use in that business".
Schneider has agreements with a number of companies, but the majority of the company's business is with BNSF (NYSE:BRK.A) (NYSE:BRK.B) and CSX (NYSE:CSX). J.B. Hunt has a preferential contractual arrangement with BNSF, which limits its market share and relative profitability of the services Schneider provides through BNSF.
J.B. Hunt also has a similar agreement in place with Norfolk Southern (NYSE:NSC) and provides intermodal capacity for CSX, Canadian National (NYSE:CNI) and Kansas City Southern (NYSE:KSU). Schneider has stated the company is currently in negotiations with CSX to renew its existing contract, and that there is no guarantee that negotiations will be successful.
Investors should recognize that J.B. Hunt's market share gains, which are a direct result of the company's investments into leading intermodal equipment capacity for trucks, 53-foot domestic containers, which will have an influence on Schneider's contract negotiations with CSX. CSX has also invested in its own intermodal equipment through CSX, which will impact contract negotiations.
The other risk factor, which is directly related to capacity expansion and competitiveness with J.B. Hunt, is that Schneider currently depends on intermodal chassis that are rented through third-parties. The company is undertaking a significant investment to convert its rented chassis to an ownership model. This is anticipated to possibly lead to a significant one-time cost in 2017. This investment is still at risk based on rail contract negotiations, but it is essential for Schneider's future.
The other point worth noting is president-elect Donald Trump's focus on foreign trade policies. It is uncertain as to how tax structures for imports will be implemented and how this will impact imported and exported goods. In extreme cases, an overcapacity issue could result, forcing a reduction in pricing and stalling growth.
Overall, Schneider is positioned to compete in intermodal, but needs to successfully execute on changing its asset-based model to become more competitive. The company faces significant competition from J.B. Hunt, Union Pacific, Hub Group and XPO. But the intermodal market is much more consolidated than the truckload market. Over the long-term, these moves by Schneider should pay off as long as demand indicators for trade continue to grow.
Logistics
Schneider's logistics segment includes non-asset brokerage, supply chain services including third-party logistics, 3PL and import/export services. Many truckload peers compete with Schneider for brokerage and/or capacity solution services.

Source: SEC company filings and personal database
Landstar is the clear leader by revenue as the company is predominantly an asset-light operator, relying upon an aggregation of smaller owner-operators to provide its capacity services. Roadrunner Transportation (NYSE:RRTS) has emerged as the second largest truckload asset-light capacity provider through its growth-by-acquisition model.

Source: Schneider Form S-1
Through September 2016, Schneider generated $540 million in logistics revenue, excluding inter-segment eliminations. The company does not provide relative scale for its logistics operating segment, other than that the logistics business typically provides value-added services using third-party capacity.
Either way Schneider is still a formidable competitor for its asset-light logistics services. Recently, growth has slowed by top peer truckload asset-light providers, notably for Landstar and Roadrunner. But both J.B. Hunt and Schneider have witnessed robust performance, with growth through September 2016 exceeding 15 percent.
Without any transparency for Schneider's logistics volumes or other metrics, the revenue drivers are unclear. Investors should consider XPO as a formidable competitor as a company. XPO just announced a global supply chain contract for Cummins, Inc. (NYSE:CMI) to support its customers. XPO will operate Cummins' primary parts distribution center starting this month, managing approximately 800 workers and over 2,700 orders daily.
So investors should continue to keep tabs on brokerage-based truckload services as well as value-added services targeting supply chains. The import/export services are likely synonymous with customs brokerage services, of which all companies dealing with NAFTA are capable of providing.
Summary
In conclusion, Schneider is definitely a formidable competitor with a long-standing history of successful growth. The company appears to be tracking quite well for truckload and logistics services, but intermodal is facing some headwinds from competition and near-term investments.
It is not yet clear as to how many shares outstanding there will be once the stock goes public. Therefore, assigning Schneider a valuation level is challenging. But based on the company's disclosed financial statements and notes, it had around five million shares outstanding at year-end December 2015.
From Schneider's core peers, J.B. Hunt, Landstar and Swift have recently had price ratios from 17 to 27 earnings, and 6 to 14 times EBITDA. Assuming this range of valuation, and Schneider's enterprise value could be anywhere from $2.7 billion to $4.1 billion.
Due to the fact that the company has witnessed 16 percent growth in operating income and that its capital structure is not highly levered, it would make sense for the stock to trade closer to the upper range from an enterprise value perspective.
The final point that investors typically like to discuss is the share capital structure. In Schneider's case, the substantial amount of voting power will be retained by insider ownership. This may cause some investors to feel constricted.
But, in the case of Schneider, the family-owned business has excelled and insider ownership may be a good thing. In some ways, this gets as close as you can to being Warren Buffett-like by owning a stock that is completely within management's hands. The only difference is that management will now shift its focus to IPO related things.
Disclosure: I am/we are long JBHT, KSU, XPO.
I wrote this article myself, and it expresses my own opinions. I am not receiving compensation for it (other than from Seeking Alpha). I have no business relationship with any company whose stock is mentioned in this article.