Africa, despite having more than a billion people, consumes just 4 million barrels per day of oil, or a small portion of what the United States consumes. However, Africa has limited reserves left and the continent's GDP is growing rapidly. This growth combined with declining production will support Africa, as we will see, going from a major oil exporter to an upcoming oil importer.
Introduction
Africa is the second largest continent in the world with the second highest population of any continent, followed only by Asia. The continent as a whole has an astounding 1.216 billion people spread across 11.7 square miles, or an area three times the size of that of the United States. This is an enormous amount of people on a land area that is rapidly industrializing.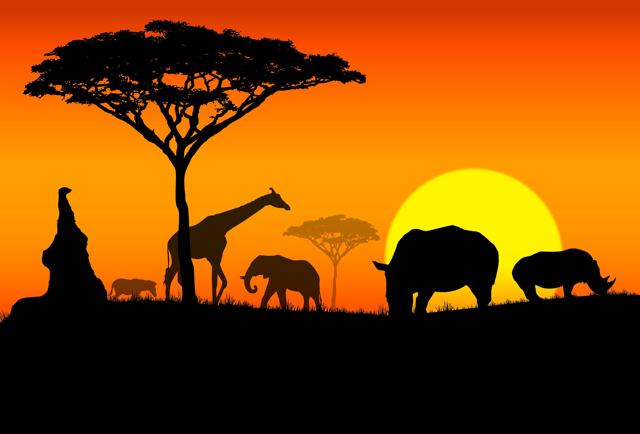 Africa on top of this enormous and fairly spread out population, is in the process of rapidly industrializing. Part of industrialization is the need for massive amounts of new energy sources. At the same time, Africa has fairly smaller oil production. As we will see through this article, this combination of a rapidly industrializing population and low oil production make this continent an upcoming oil importer.
Africa Demographics
Now that we have a brief overview to Africa, let's begin by discussing the demographics that will lead to a rapid need for additional oil in Africa.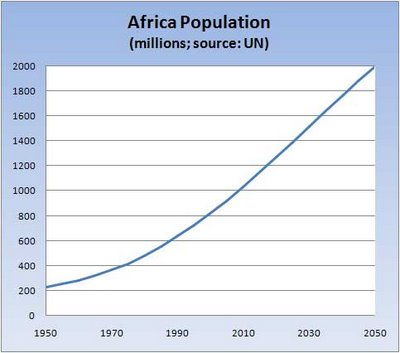 Africa Population Growth - United Nations
As we can see here, Africa's population at present is roughly 1.2 billion people. Over the next 30 years, until 2050, the continent's population is expected to grow to an astounding 2.0 billion. This means that over just 30 years, the continent's population is expected to increase by an astounding 70%. This growth rate in population is higher than that of any other continent.
And these are all people that will want to consume growing amounts of oil.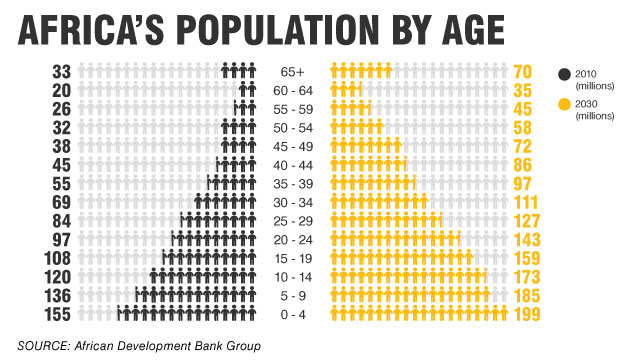 Africa's Population By Age - CDN Turner
And not only does Africa have a rapidly growing population, but the continent has a very young population. An astounding 520 million people, or more than half of the entire population of the continent, are 19 years old or younger. These are all people, the majority of whom, don't own a car right now as they are too young. However, as they age, in line with Africa industrializing, they will become a major market for new cars.
By 2030, the number of people in prime car ownership age, from 14-44, will be roughly 750 million. Given that Africa as a whole right now has roughly 100 million cars, that points to enormous potential in car ownership. Africa as a whole could be a market that is purchasing 10s of millions of cars annually. This would result in a rapid growth in oil consumption.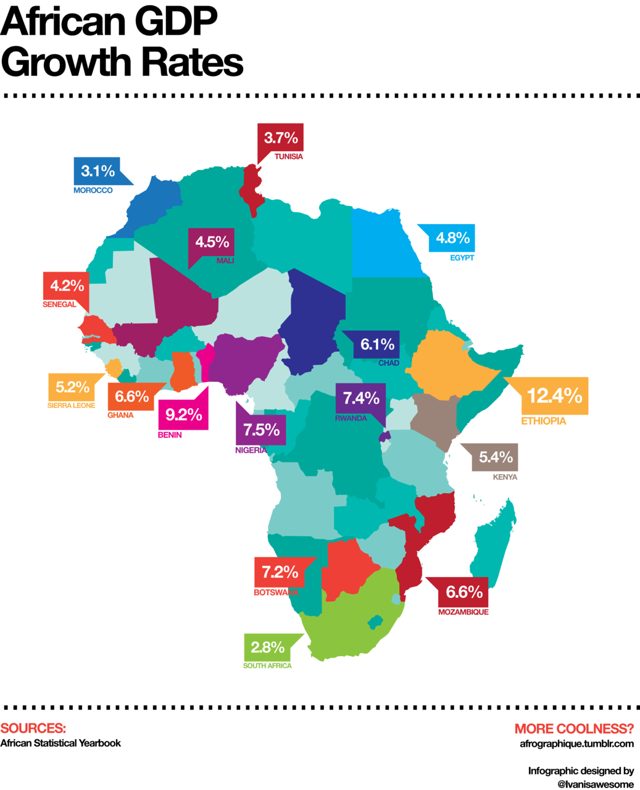 Africa GDP Growth Rate - The Finance Team
At the same time, Africa is full of countries with a rapidly growing GDP. There are plenty of countries in Africa with a mid-single digit or higher GDP growth rate. This growth rate means a rapid increase in industrialization and a rapid increase in disposable income for people. This increase in disposable income combined with Africa's growing population will result in significant additional income for a car.
This shows how Africa not only has the growing population to support a future enormous car market, but the economy of the continent is also growing rapidly. This growth in the economy will lead to increased demand for cars rapidly increasing Africa's oil demand.
Africa Oil Environment
Now that we have a detailed overview of the African demographics that support car ownership, including a rapidly increasing number of people in car ownership age and a rapid growth in the continent's economy supporting future car ownership, let's discuss the oil environment in Africa.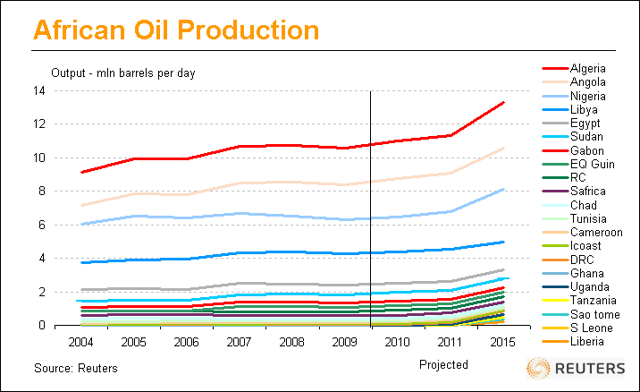 Africa Oil Production - Thomson Reuters
Africa is currently production just under 14 million barrels per day, the majority of which comes from a handful of countries, Algeria, Angola, Nigeria, and Libya. This is significant oil production that is equivalent to more than 15% of the world's entire supply of oil. Given that Africa is still in the process of being industrialized, Africa is currently producing more oil than it consumes.
At the same time, Africa has roughly 124 billion barrels of oil reserves. The majority of these are located in Nigeria and Libya, two of the largest oil producers in Africa responsible for roughly half of the continent's production. At a production rate of 14 million barrels per day, this means Africa is producing roughly 5 billion barrels of oil annually.
At this rate, this means Africa has just 25 years of oil reserves left at its current rate of production. That means in the coming years, as Africa's oil consumption increases, the continent's production will go down.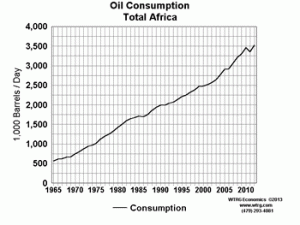 Africa Total Oil Consumption - Economics
At the same time, Africa's oil consumption is increasing rapidly. Over the past 50 years, the continents oil consumption has grown from roughly 0.5 million barrels per day to more than 3.5 million barrels per day. That represents oil consumption being multiplied by a rate of 7 in just 5 years.
It is important to keep in mind that right now, oil production across Africa is roughly 3 times the continents oil consumption. Right now, Africa is, in fact, a major oil exporter. However, as we can see, Africa's consumption is increasing rapidly, while the continents production will likely slow down as resources run out.
This points towards Africa's oil exports decreasing with the continent eventually becoming a major oil importer.
Invest
So far, we have discussed the demographics of African oil along with a discussion of the continent's increasing population and industrialization. This industrialization will mean noticeably more people interested in cars and the increased consumption of cars will support growing oil consumption. Now let's discuss how to take advantage of this opportunity.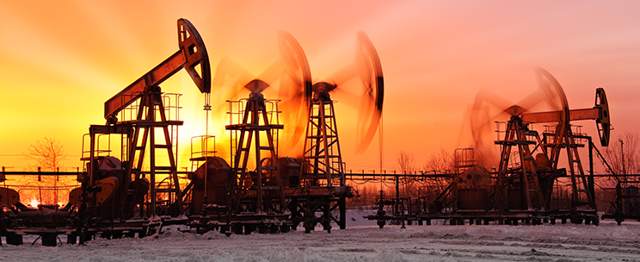 Africa Oil Corporation - Akties Pararna
Africa Oil Corporation (OTCMKTS: OTCPK:AOIFF) is a company with a market cap of almost $1 billion. The company is a publicly traded oil company focused on exploration in the East African Rift Basin system. The company has very respectable assets that have the potential to bring the company's future earnings. While, discussing the company is not in the scope of this article, the company is a pure-play investment on African oil.
As a result, if you are interested in betting on the growing importance of African oil, this company is a pure-play opportunity to take a look at.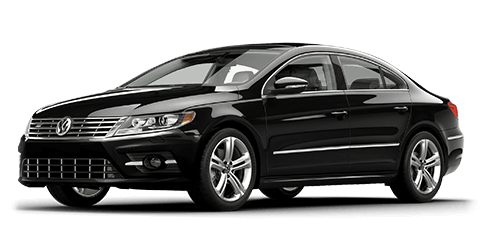 Alternatively, you can invest in the growth of cars that will use this oil. Volkswagen (OTCMKTS: OTCPK:VLKAY) is one of the largest car manufacturers in the world is one of the largest car corporations in the world owning other major brands like Audi, Porsche, and Lamborghini. The company is recently in the midst of a scandal that will cost it a large amount of money.
However, Volkswagen also has the capital and the ability to make a major stand in the African car market. The company has recently announced that it invested $340 million in the South African car business, a country with a rapidly expanded new car market. Volkswagen can use its position here to expand into other major African car markets.
Both of these companies are potential way to play the rapid increase in demand for African oil.
Conclusion
Africa, as a continent, has a rapidly growing population that is anticipated to grow from 1.2 billion at the present day to 2.0 billion by 2050. At the same time, the continent's GDP is growing rapidly at the mid-single digits. This shows how Africa is a rapidly industrializing nation where the disposable income of its populace should increase rapidly.
At the same time, while Africa is currently producing a significant amount of oil, it's reserves can only support its current production 25 years. This combination of long-term reserves with the continent's rapidly growing oil consumption means that Africa is on its way to becoming an upcoming oil importer.
Two ways to invest in this area to invest in Africa Oil Corp, a pure play African oil corporation, or Volkswagen, a car company currently working to enter Africa. Both of these investments will allow you to bet on Africa becoming an upcoming oil importer.
Disclosure: I am/we are long AOIFF.
I wrote this article myself, and it expresses my own opinions. I am not receiving compensation for it (other than from Seeking Alpha). I have no business relationship with any company whose stock is mentioned in this article.
Editor's Note: This article discusses one or more securities that do not trade on a major U.S. exchange. Please be aware of the risks associated with these stocks.