It was just a couple of weeks ago when I thought chipmaker NVIDIA (NASDAQ:NVDA) was reaching bubble territory. Shares were rising basically every day, up almost 75% since the company's latest earnings report. With a valuation that appeared ahead of the company's future growth, I thought investors needed to be quite cautious. The next day, Citron followed with a very cautious note and $90 price target, resulting in the pullback I thought could come, seen below. Now that shares have settled in, it's time to take another look at where things stand.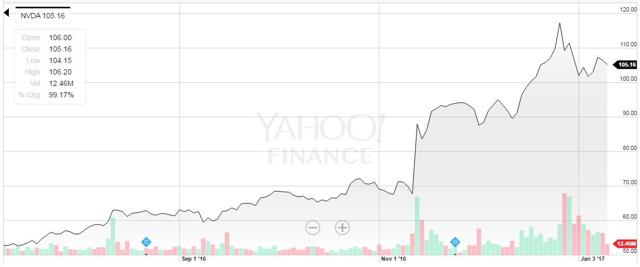 (Source: Yahoo! Finance)
There's been some positive announcements from the company, primarily coming out of CES. While there still may be some regulatory pushback on self-driving vehicles, NVIDIA seems to be the chipmaker in the lead for this market segment. The company is partnering with Audi to target a 2020 launch of an AI-powered autonomous car, for example. We've also seen analyst estimates continue to rise, seen below. Two analysts recently hiked their price targets as well, seen here and here.

(Source: Yahoo! Finance analyst estimates page)
A four cent increase in the 2017 EPS average may not seem like much, but it certainly helps when you combine it with the 12 plus point drop in the stock. Additionally, we're in a period where estimates don't usually move much, so this is nice improvement to see. NVIDIA shares were going for more than 43 times expected earnings when I previously analyzed the name, but that figure has declined by more than 5 full points. Given the company's continued beating of estimates, that valuation looks a bit better if you think the recent trend will continue.
Apparently, the sharp rise then fall in the stock into the year's end got a lot of short sellers out of the name. As seen in the table below, almost one quarter of all shares short were covered in the second half of December, the largest move in short interest since March 2016. Now, about 10.7% of the stock's float is short, down more than three full percentage points in just two weeks.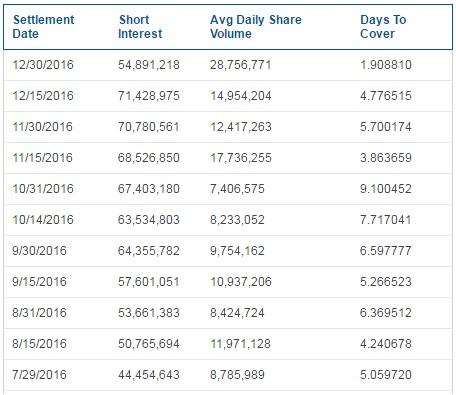 (Source: NASDAQ short interest page)
It certainly appears that I was right when stating that NVIDIA shares had reached bubble territory, but the situation does look much different just a few weeks later. A massive amount of shorts have covered, the company announced more partnerships at CES, and the valuation has improved meaningfully as analyst sentiment has improved. Is that enough for investors to again jump into the stock? I'm curious to hear what you think in the comments below.
Disclosure: I/we have no positions in any stocks mentioned, and no plans to initiate any positions within the next 72 hours.
I wrote this article myself, and it expresses my own opinions. I am not receiving compensation for it (other than from Seeking Alpha). I have no business relationship with any company whose stock is mentioned in this article.
Additional disclosure: Investors are always reminded that before making any investment, you should do your own proper due diligence on any name directly or indirectly mentioned in this article. Investors should also consider seeking advice from a broker or financial adviser before making any investment decisions. Any material in this article should be considered general information, and not relied on as a formal investment recommendation.