Predicting where a stock will go is more art than science. Like rolling dice, it is impossible to win 100% of the time. But it sure feels great to be right, especially on record and especially when the rally comes quickly. The market has changed its opinion on Insys Therapeutics (NASDAQ:INSY), at least to some degree. This reevaluation has led to a significant rally in the stock, but there is more to come in 2017.
With its pricing power intact, Insys Therapeutics can make up for declining sales volume in its controversial opioid treatment, Subsys, and provide a foundation from which to launch its impressive near-term pipeline.
Overview of Insys
Insys Therapeutics is a struggling pharmaceutical firm that has seen significant headwinds from the illegal actions of former employees in the marketing of its products.
The stock has also lost value over fears of government regulation and an industry-wide loss of pricing power - this in addition to the controversy over its Fentanyl-based pain medication.
Insys can be broken into two parts: Subsys and the pipeline.
For the company to succeed, Subsys - currently its source of revenue - will need to stabilize. And new drug releases must drive growth in the future.
The Catalyst: The Market Overestimated Pricing power Headwinds
One of Insys's biggest risk factors, loss of pricing power, is not as severe as previously thought. This was what rallied the stock last week. Contrary to the market's earlier expectations, the era of drug price hikes is not necessarily over.
Despite what he says, Trump may not end up being as bad for pharma pricing as expected. The U.S. president-elect has many issues on his plate: terrorism, Obamacare, the South China Sea, etc. The massive political capital it would require to impose a firm ceiling on pharmaceutical pricing may be better spent elsewhere.
This is not even considering the political clout wielded by the industry via lobbying and donations. An example of big pharma's political power can be seen in California's failed Proposition 61 vote.
The pharmaceutical industry, as a whole, is not in as much danger as market valuations seem to suggest. The American government is allowing these companies to self-regulate.
What Does this Mean for Insys?
Pricing power means a great deal to Insys. This is because Subsys, its only revenue generating asset, is in decline. Price increases will help offset sales volume decline for the drug and allow the company to develop its long-term growth factors.
Revenue Represents Subsys Sales: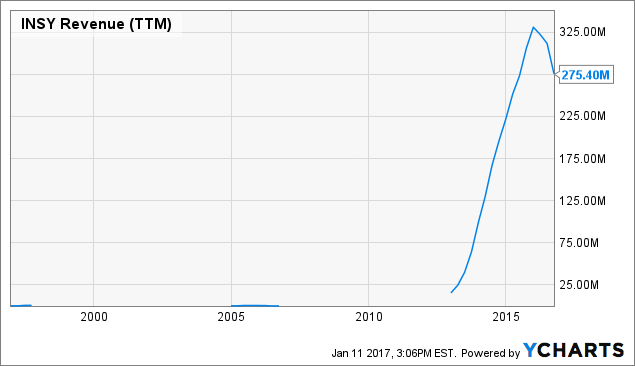 Long-Term Growth Factors for Insys:
I) Subsys is being developed for several new indications:
Treatment of Moderate to Severe Post-Operative Pain
Treatment of Emergency Department Patients with Acute Pain
Exercise Induced Breakthrough Pain
Subsys is currently only approved for cancer patients, and most of Insys's controversy stems from employees illegally promoting the drug for indications it is not approved to treat.
But this does not mean it is not efficacious in the treatment of these indications. And through investment in the drugs expansion, Subsys will make up for much of the sales declines it saw it 2016.
II) The Pipeline (insys.com)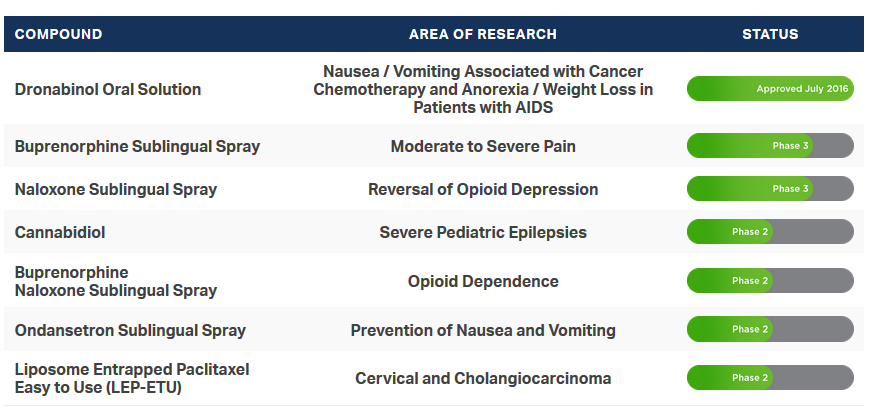 Unlike most medical cannabis drugs, Syndros, Insys's cannabis-based therapy is already approved, making the company a market leader in the industry. Peak sales are estimated to reach $200 million annually.
In addition to Syndros, Insys has two Phase 3 products in the pipeline, another pain treatment, and a treatment for opioid depression, which should hit the market soon. The reversal of opioid depression is a valuable niche market, considering the U.S opioid epidemic. The Insys's pipeline is an enormous long-term catalyst.
Risks
Unfortunately, the risks of this company cannot be understated. The company is faced with numerous lawsuits due to the illegal activities of some employees. The company faces headwinds from its legal problems along with industry-wide political headline risk.
For example, as I am writing this Trump's negative comments about the pharmaceutical industry have sent the whole sector tumbling down - including Insys. Despite this, I believe that both the headline risk and the political risk will have minimal impact on the fundamental value of Insys.
As I mentioned earlier, the litigation concerns mainly involve former employees who have been fired from the company. In addition, the Trump sell-off is completely overblown. I believe Trump has too much on his place - especially considering the Russia controversy - to expend his precious political capital on an issue as intractable as drug prices.
When Insys goes down on news, I think it is a buying opportunity.
Conclusion
Now that concerns about pharmaceutical pricing power seem to be subsiding, a key pressure on Insys's stock price has lifted, and the stock has become much less risky going forward.
Single-digit price increases should help offset the decline in Subsys until Insys can get it growing again with new indications. Also, Insys's near-term pipeline should bring the company back into super growth. When this occurs, we may see a significant rise in the stock price.
Insys's marijuana drug is already approved, and it should begin to impact the bottom line later this year. The company's Phase 3 drugs will show an impact in 2018 and onward. I expect revenue to have stabilized by the end of this year. This firm offers risk-tolerant investors a way to bet on the marijuana industry through an already established, revenue generating firm.
The headline risk and other problems should be seen as buying opportunities.
Disclosure: I am/we are long INSY.
I wrote this article myself, and it expresses my own opinions. I am not receiving compensation for it (other than from Seeking Alpha). I have no business relationship with any company whose stock is mentioned in this article.