Investment Thesis
When I first come across Windstream Holdings (NASDAQ:WIN), I was excited as I felt that there would be money to be made from the sell-off from 2013-2014, but the more I investigated the more I got the sense that my initial impressions were wrong. And it took a great deal of fortitude and character to be able to turn around my initial impressions and reverse my opinion.
Source: Morningstar.com
Business Overview
WIN is a provider of advanced network communications and technology solutions for consumers, businesses, and enterprises. It offers bundled services, including broadband, security solutions, voice and digital TV to consumers in rural markets.
WIN is merging with Earthlink (NASDAQ:ELNK). Together, WIN is hoping to realize synergies that will translate in $125m annually, that have "net present value of approximately $900m". However, I simply do not believe that these savings will actually materialize, as integrating two companies always props up more costs than initially forecasted.
However, my real issue is with the amount of debt that WIN currently has. With $574m due in 2019 (slide 16) and $1.33b due in 2020. There are also other larger sums spread over the following few years after 2020, but those are sometime away and not as imminent as the $1.9b due by 2019-2020.
Telecoms companies are generally able to be significantly more levered than other industrial companies. This is because of the recurring revenues they get from customers that do not swap broadband service providers. In the case of WIN these stable revenues are not reflected in its financials. What is being reflected are its falling revenue and increasing debt load.
Falling Revenue

Source: Morningstar.com, author's calculations.
The table above shows that since 2012-2015 its revenue has fallen by around -7% and although full year 2016 results are not out yet, from what we can see from the preceding 9 months is that revenue looks to be falling further. Definitely not a stable and growing telecoms company.
Additionally, highlighted in pink we can see the increase in share count over the last decade. Diluting the shareholder while paying out such a large dividend is bad capital allocation.
As you can see, the company has chased revenue at the expense of margins, continuously moving in the opposite direction to revenue.
Debt and Capital Leases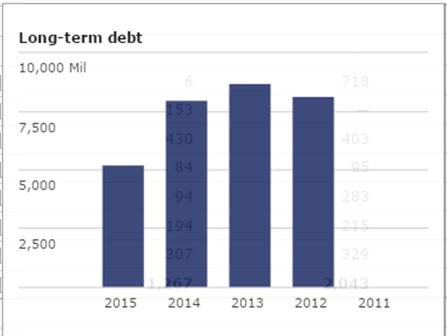 Source: Morningstar.com
Here, we can see the illusion that debt levels are coming down and that WIN is paying off its debt obligations. However, that is not the full story. What WIN is in fact doing is levering further by taking on capital leases.
I know that the company has in the past been paying out earnings via a substantial dividend of $1, but that was in the past. It currently only pays out $0.60 which I can not see WIN increasing any time soon. This is compounded by the fact that there is practically no dividend coverage (net income/dividend).
Also, WIN is dressing up the merger with ELNK as a way to "achieve over half-a-turn of deleveraging", this is somewhat twisted, because while it is partly true, it is simply derived from the fact that the company is "buying" its revenue from ELNK and giving the impression of half-a-turn of delevering.
Briefly turning this analysis to ELNK, this company is also barely profitable. Over 2016 it has not made any operating profits. And its net income would have looked considerably worse where it not for its Net Operating Losses (NOLs) that offered the company tax benefits bumping up its bottom line. Other synergies from the merger are said to come from "tax benefits with an estimated NPV of ~$95M at closing" (slide 4). Although, I do not feel that for the sake of $95m in tax benefits it is necessary to merge with ELNK.
Valuation
It is near enough impossible to calculate what the valuation should be for WIN as the FCF the company generates is unstable and inconsistent. Furthermore with roughly $4.9b in debt and $4.9b in long-term lease obligations there is little margin of safety when the equity is already priced at $730m.
Conclusion
I do not mind missing out on a great idea if in the future WIN turns out to be one of the great ideas of 2017 and increases its market cap. But I do not want to be in a position of losing any invested capital. I do not believe that WIN has the necessary margin of safety required of value investors, and I recommend that investors look for better opportunities elsewhere, such as here or here.
According to tipranks.com, I am ranked top 6% of Bloggers.
Thank you so much for reading my article. If you have enjoyed reading this article, please click "Follow" to get more articles of mine in real time.
Disclosure: I/we have no positions in any stocks mentioned, and no plans to initiate any positions within the next 72 hours.
I wrote this article myself, and it expresses my own opinions. I am not receiving compensation for it (other than from Seeking Alpha). I have no business relationship with any company whose stock is mentioned in this article.