Televisa (NYSE:TV) is a leading media company in the Spanish-speaking world, an important cable operator and a leading satellite TV system provider in Mexico. Even though the company has several businesses, 90.82% of its revenues come from content, Sky (satellite TV) and cable operations.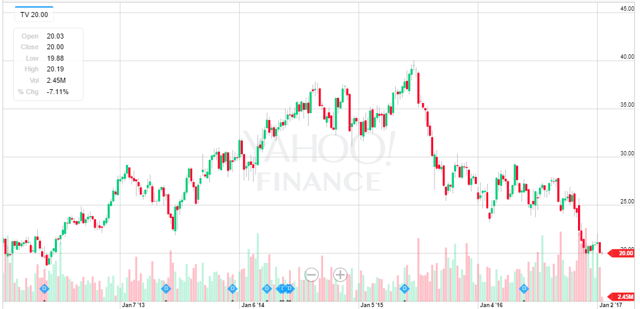 Source: finance.yahoo.com
Since mid-2015, the stock price has been declining because of ad sales and profitability. The company has been proactive on increasing income on that category with mixed results. One of those strategies was to increase prices on its ads while experiencing a decrease in ads volume. This is extremely counter intuitive, but price increases needed to be done before the new open TV competitor started transmissions. I believe the market would have appreciated a little more of information on that issue, as it was seen as a desperate move instead of a strategy issue.
In fact, Televisa does not disclose lots of information regarding its business. This is a challenge when trying to assess the real value for the company as most information is shallow and does not allow full understanding of operations. For example, the company has not disclosed any rating information for any program or channel in several years. The former confuses investors willing to know the current state of the business and in my humble opinion is the main cause of the investors' "only look at ad revenue" syndrome.

Source: 3Q2016 and 4Q2010 reports
Televisa is more than its content division. In the past, you could assess how the company was doing by looking only at ad sales. Ads comprised 42% of revenue on 2010 but in the last quarter, they accounted only for 22.75% of net sales. By looking only at "ad sales" the market is ignoring 77% of the company. Any investor making trading or investment decisions on how ad sales are performing is not looking in the right direction.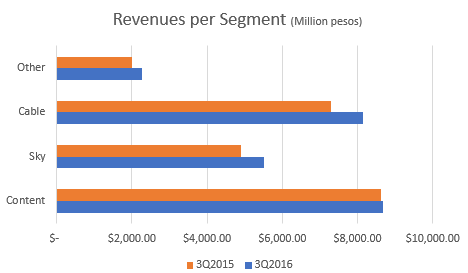 Source: 3Q2015 and 3Q2016 reports
The "Revenues per Segment" chart shows that even though ad revenue decreased, the overall business presented modest growth. With this in mind, I believe that Televisa is not performing as bad as its stock performance implies (-22.88 % in the last 52 weeks).
I believe the company faces significant challenges ahead because of competition. Imagen TV made its debut few weeks ago with great rating numbers on its late night news program (around 10% rating with just one week on air). With this in mind, I expect ad revenue to suffer. Obviously, price increases will become harder to implement as the open TV arena becomes more competitive and the overall ad consumption in Mexico becomes diluted into three participants instead of two.
The great positive that investors are not considering is Televisa's diversification.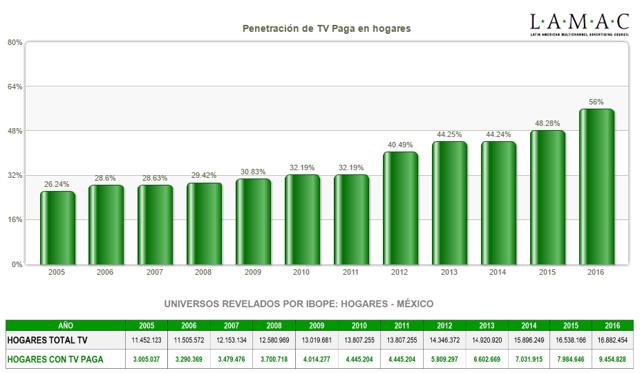 (Source)
As the former chart shows, there has been a steady migration from open TV to cable and satellite TV (green) in recent years. By investing heavily on its paid TV providers (cable and satellite), Televisa is capturing open-TV defectors and benefiting from them, whether they continue looking at their channels or not.
Televisa has also made an incursion in Blim to capture customers that are leaving TV and favoring digital content providers such as Netflix (NASDAQ:NFLX). This project remains a big question, as the company has not disclosed how Blim has performed since its launch in February 2016.
Conclusion
Considering that Televisa has invested in other businesses that have reduced its dependence on contents, Televisa seems to be a good investment for long-term horizon investors. The stock will provide good entrance points to investors in the next two or three quarters because ad revenue will fall because of Imagen TV. That will certainly scare some investors and provide a good price level for buying.
Therefore, I would consider building a position at any price close to $17 USD per ADR. At that level, Price/Book Value and Price/EBITDA will be closer to what Televisa represents right now: A company that is achieving market maturity in the markets it serves.
I believe the market will eventually realize it is looking at ad sales the wrong way. Once the market realizes that the company's model has changed, investors will start buying the stock again. And the "I only look at ad sales fever" will be gone forever.
Disclosure: I/we have no positions in any stocks mentioned, and no plans to initiate any positions within the next 72 hours.
I wrote this article myself, and it expresses my own opinions. I am not receiving compensation for it (other than from Seeking Alpha). I have no business relationship with any company whose stock is mentioned in this article.
Additional disclosure: I am not responsible for any invesment decision made based on this article. Please remember to do your own due diligence.