Portfolio management is one of the things that I believe many corporate leaders get oh, so wrong.
There are many examples of this but perhaps my favorite is when Kraft (NASDAQ:KHC) spun off their frozen pizza business following and M&A transaction and the CEO got outright criticized by the Oracle of Omaha for the move.
Anyone who has gone down the isle has witnessed this business in action. The portfolio of brands it contains makes it a veritable frozen pizza monopoly. Luckily one of the smartest companies around and one of my top holdings, Nestle (OTCPK:NSRGY), snatched up the business.
Another company I believe is doing all the right portfolio moves in tool and security stalwart Stanley Black & Decker (NYSE:SWK).
Let's take a look at the latest moves, a recent history of the company's earnings and dividend growth, and see if the valuation is reasonable.
Newell Brands Acquisition, Locks Divestiture, & Craftsman
Back in October SWK announced they had acquired Newell Brand's tool unit which contains strong brands like Lenox and Irwin for $1.95b in cash. The acquisition is expected to add up to $.50 in EPS by year three as $80-90m in synergies are extracted.
Not knowing much about the business acquired I like it for two reasons. One, is that it is an almost perfectly complemented business with what the company's tools segment focuses on. Manual and power tools for professionals and amateurs is Stanley's bread and butter.
The multiple also appears reasonable at 13x EBITDA.
More recently, Stanley acquired the rights to the coveted Sears Craftsman brand. The terms of the deal were unusual and complex.
Stanley is has to pay a sum up front and is able to expand the Craftsman brand to stores outside Sears while paying a royalty on all sales outside of Sears. In 3 years Stanley also owes Sears another $300 million.
SA contributor Dylan Street Capital did a great job breaking down the transaction further. He notes that this essentially creates two different Craftsman brands, one sold at Sears and made in China and one sold everywhere else made in America.
The customer confusion and brand damage that he postulates seems feasible although there is no way to know as of right now.
The other sticking point is what happens if Sears goes under in the next three years. Does Stanley owe the rest of the payment? This might actually be a great event for Stanley even though they will lose Sears sales. They would be free from the royalty and keep their 300 million which they could use to invest in the brand and innovate.
Finally, Stanley sold its mechanical locks business for $725 million in December of 2016. This transaction will help to pay for some of the above while the rest will be funded with cash on hand and new debt.
All this portfolio shuffling can make investors' heads spin but I generally feel positive about all the transactions. These strong brands, especially Craftsman, make great compliments to Stanley's existing portfolio. There only tool competitors remain the Asian companies that produce Ryobi, etc.
Long term performance
With that out of the way, lets take a deeper look at how Stanley has performed over the long term to see what type of environment these acquisitions are heading into and what we can expect going forward.
The current company iteration was formed in November, 2009, when the old Stanley and old Black and Decker agreed to merge.
How has the new company done? Since the 2009 low of around $26, the stuck has run up to $117 as of publication. That is good for a CAGR of 23.97%, not including dividends.
The company paid a dividend the whole time, not needing to lower it during the Great Recession or because of their merger.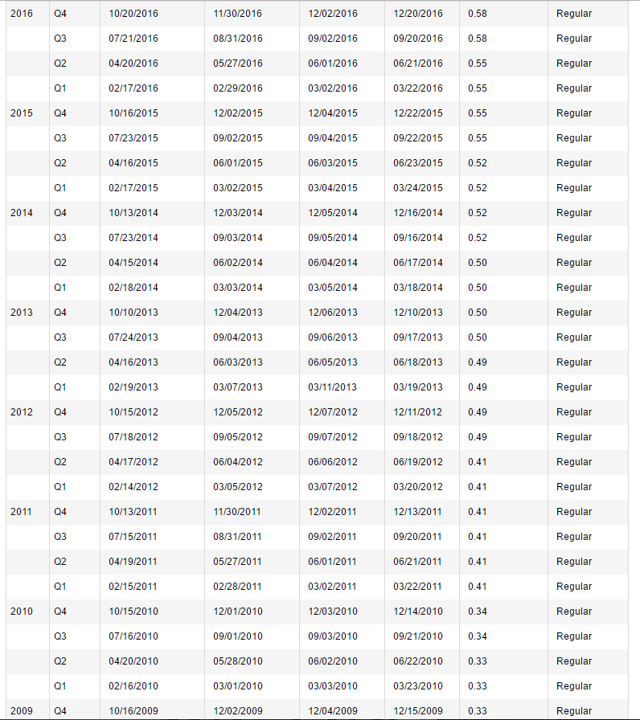 According to the IR website, SWK has increased dividends the past 48 years and paid a dividend the last 487 consecutive quarters. Impressed? You should be.
Sure, most stocks are up since the Great Recession but Stanley's performance is one of the best. This kind of track record gives shareholders faith that such portfolio shuffles will work out in the end.
Since the merger, Stanley sales have increased by around 3b since 2010 and net income has quadrupled to $884m in 2015.
Long term debt is up marginally since the merger by about $800m to 3.8b. Most of this debt, $2.8b, is not due until after 2020 and beyond.

Shareholder's equity has decreased 1.2b since the merger. The majority of that is due to an increase in treasury stock, which decreases SE values. Treasury stock is where the shares that are bought back are accounted for on the balance sheet.

By all accounts, the company and its financial position has been managed fairly well. They have increased debt and bought back shares modestly, especially as compared to other large cap companies.
The dividend is well covered and has been steadily increasing while 50% of the company's cash flow is going towards acquisitions to further boost growth, a stated goal right in the company's annual report.
This strikes a nice balance between direct shareholder return and indirect return by increasing the value of the company and over time, the stock price as well.
Valuation and Growth
The future growth of Stanley can be estimated by using the company's 2018 plan from the most recent annual report.
The company is aiming for:
4-6% organic revenue growth, enhanced by acquisitions
50-75 basis points of operating margin rate improvement to 16%
10-12% earnings growth including acquisitions
Cash flow return on investment of 14-15%
Progress towards 10+ working capital turns
The two bullets most investors care about is revenue growth and eps growth.
If we assume the company can hit their EPS growth targets, the company can easily reach $8 per share in EPS by 2020. That would required a ~11% eps growth rate from current earnings.
The stock current trades at around 17.90 times earnings, below the S&P 500 average. At $8 in EPS and the same PE, the stock would trade at ~$143 versus $117 today.
These are all projections of course and are fairly worthless except to give you a frame of reference. Likely the company will be higher or lower, but no one knows which. The PE the market assigns to such a company can have a much bigger impact even if earnings growth comes to frurition. There is no reason that slow boring industrials can't trade at 13x earnings in 2020 as investor's favor and taste change.
Conclusion
That being said, low debt levels, solid already announced acquisitions, a strong track record, a growing dividend in no danger whatsoever, and a reasonable current valuation, it is hard not to be bullish on Stanley Black and Decker.
The company is a premier industrial stock that should belong in everyone's portfolio not just widows and orphans. I see nothing wrong with the current entry point for long term owners.
Disclosure: I am/we are long SWK, NSRGY.
I wrote this article myself, and it expresses my own opinions. I am not receiving compensation for it (other than from Seeking Alpha). I have no business relationship with any company whose stock is mentioned in this article.