Celgene (NASDAQ:CELG) is a company that doesn't stop impressing. This company is a beacon of hope for society as few companies are making so much progress in treating cancer as Celgene. Investors who are passionate about putting their money on companies with strong values should feel very comfortable owning shares of Celgene. And for those seeking companies which are likely to outperform the S&P for the next decade, this company is currently at an inflection point which will propel it much higher. We are targeting a $196 price on Celgene sometime on 2019. We will give investors some reasons for our analysis. We also recommend investors to listen to the Celgene Presentation at the 35th Annual J.P. Morgan Healthcare Conference.
Valuation:
Celgene has a very cheap forward P/E valuation of 17.04. That's the standard valuation for the S&P Celgene raised its guidance to a range of $7.10-7.25 for 2017, compared to its previous estimate of $6.75-7 during the J.P. Morgan Healthcare Conference.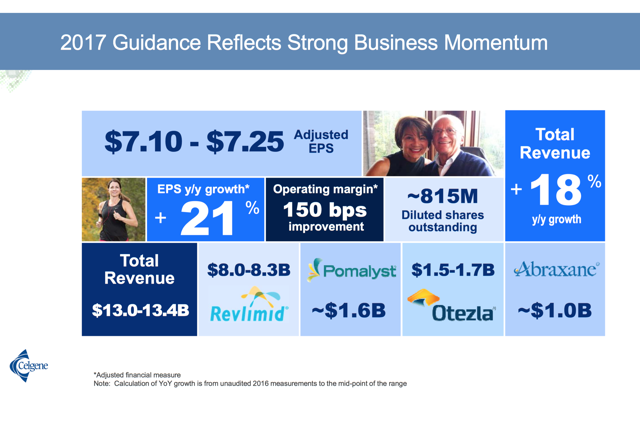 Considering that Celgene comes from an average revenue growth of 24.64% and it's expected to continue to grow at an average rate of 22.57% for the next five years, we believe the stock should be trading at a considerable higher multiple. Specifically, we believe the shares should be trading at a forward 20x multiple. This would give us a valuation of $142 as a short-term target.
Celgene: A completely different model
In order to succeed in the pharma world you can have four different strategies, some stronger and some weaker. These are the four different approaches.
In our article covering why Gilead Sciences should buy Valeant to become more like Allergan, we explained that out of all the four models, number 3 is the worst. Even Valeant has a better EV/EBITDA valuation than Gilead. And the reason is that Gilead has a very weak pipeline, a very weak revenue diversification and it's just hoping to find another blockbuster acquisition.
We like Celgene because it's not like any of the models above. It has a very focused effort on Cancer and Inflammation & Immunology. These efforts include Inflammatory Bowel Diseases. This extreme laser focus will help it keep its leadership position and discourage competition from entering its market.
But just because it is laser focused doesn't means it has a weak revenue diversification. It has set its eyes on being the best at what it does and the effort is paying off. When you look at every area of treatment, it has multiple drugs on its pipeline. This is an easy way to prevent competition from entering your market. It is creating multiple drugs to solve the same problem hoping to keep creating breakthroughs in the process. Look at the graph.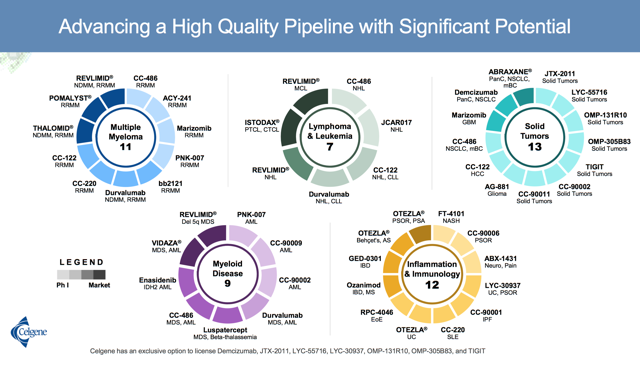 This is why Celgene is so different than Gilead. Look at how many competitors are entering its market and how weak its pipeline is. In the future, it might lose its leadership in both HCV and HIV. That's not the case with Celgene. It has one of the strongest pipelines in the industry in its areas of effort.
Our Price Target
Based on management estimates of $21b of revenue on 2020 and $13 per share, we believe in 2019, Celgene's share will achieve a conservative forward P/E ratio of 15.1 This would give shares a price of $196 or a 63% return in the next 2-3 years.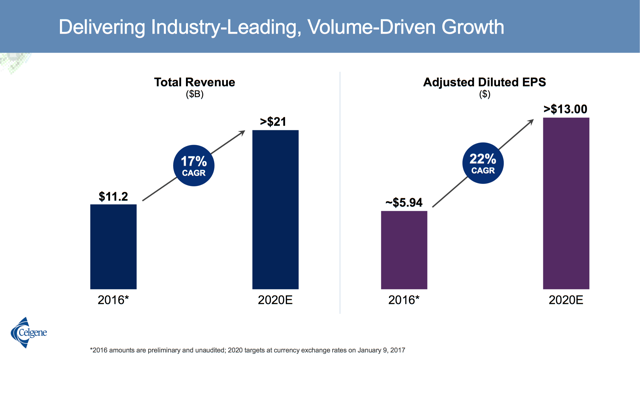 Downside Risks
In order for Celgene to continue its climb higher it would need to go through a series of drug approval. Some of them are more crucial than others. Earlier in 2016, Celgene bought Receptos for $7.2 billion dollars. Specifically, Celgene was interested on Ozanimod, which is currently being studied in three indications: relapsing multiple sclerosis (RMS), ulcerative colitis, and Crohn's disease. Wall Street believes that an approval for Ozanimod in all three indication could lead to sales of $4-6b. Though there are eight drugs on Celgene's portfolio with blockbuster potential, failure of Ozanimod to receive FDA approval would lead shares to remain flat or slightly down rather than significantly appreciating in value over the next two years. Ozanimod would be leading most of the growth in sales in the years 2020 and forward. We consider Ozanimod to be our biggest risk to our bullish $196 price target.
Final Thoughts
With more than 18 late-stage trials coming due by 2018, more than $10b in potential peak sales from drugs coming up for approval, a potential for 50 product approvals by 2025 and 100 possible additional uses, Celgene is by far our favorite stock in the biotech. Plus such a diverse and robust pipeline mitigates most of the risks on this stock.
Celgene, isn't a one blockbuster drug shop, and for that reason, we recommend investors buying up shares of Celgene.
Disclosure: I am/we are long VRX, CELG, SGYP, AGN.
I wrote this article myself, and it expresses my own opinions. I am not receiving compensation for it (other than from Seeking Alpha). I have no business relationship with any company whose stock is mentioned in this article.