Disney (NYSE:DIS) has made an incredible move over the last few months. Despite well-known issues with the golden goose franchise ESPN, the market has pushed the stock up to 52-week highs.
Now at $109 and close to the all-time highs near $120, the CFO came out last week with some strong warnings for those investors chasing the stock higher. Is Disney really the stock to chase now?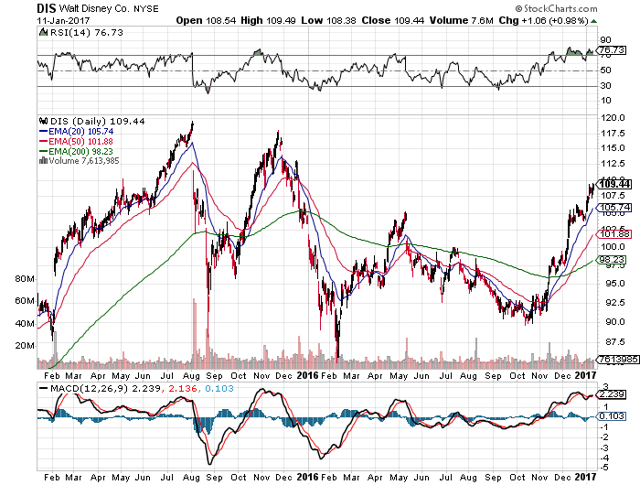 CFO Warning
At the Citi Conference, the CFO came out with strong warnings on programming costs and a reminder of the big reduction in film releases in 2017. The market seems disconnected from reality as the subscriber losses at EPSN pile up while programming costs soar and the film business won't bail Disney out this year.
The CFO was very clear that any EPS growth would only be modest this year. Analysts forecast over 12% EPS growth in FY18 that amounts to a nearly $1 EPS increase from the FY16 levels.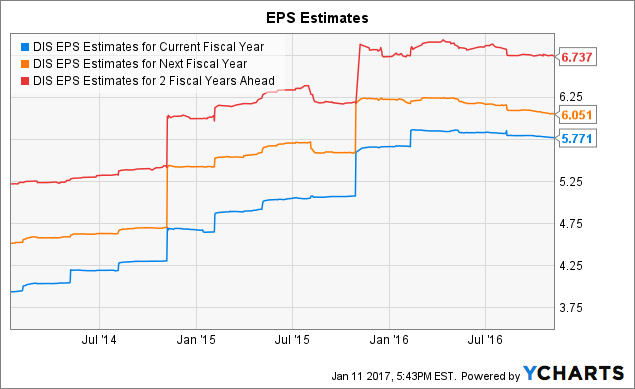 DIS EPS Estimates for Current Fiscal Year data by YCharts
The biggest issue is Disney faces an additional $600 million in programming costs from the new NBA contract. As well, Outkick highlights how the media giant has signed additional sports rights deals that could lead to huge negative outcomes. Supposedly, ESPN could lose up to $75 million from the recent NFL playoff game alone.
Both of these deals add to the 8% increase in programming costs while previous research has already highlighted how ESPN subscribers are on a multi-year decline.
Movie Studios Won't Help
Disney was on a huge roll in 2016. Anybody half awake knows that the company had a record-breaking year that topped $7 billion in worldwide sales. The first studio to top that metric though only slightly above the $6.9 billion tally at Universal (NASDAQ:CMCSA) in 2015.
The company produced hit after hit last year. The only problem is that Disney only expects to release seven films in 2017 after 12 last year. Even the bounce-back projections in 2018 only forecast 11 film releases. In essence, shareholders are facing a multi-year period of reduced revenues and profits from the movie studio business after hitting record numbers.
Reviewing the FY16 results, one can quickly see how the Studio Entertainment segment saw a substantial gain in both revenues and income last year. This number won't be repeated in 2017, yet nearly all of the growth in operating income came from the studio division.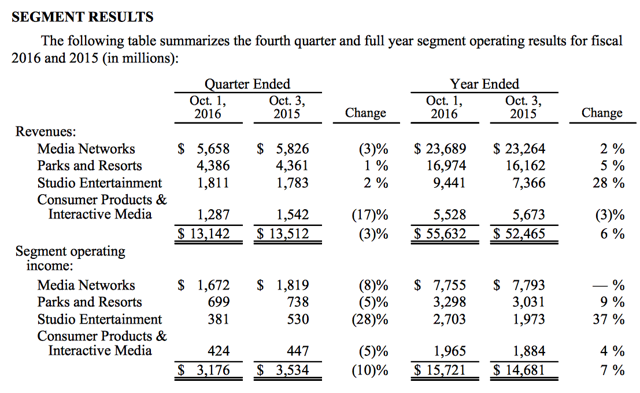 Source: Disney FQ416 earnings release
Media Networks will face similar pressures that saw incomes drop 8% in FQ4. So if the Media Networks segment is only going to get worse in FY17 and the Studio Entertainment group will have a 42% reduction in film releases, one has to wonder how earnings will grow at all this year.
Takeaway
The key investor takeaway is that the numbers don't add up to Disney trading at new highs. Not only is the most profitable division in for a horrible year, but also the division that propped up results last year is in for a huge reduction this year.
The market is too bullish on Disney heading into a bad year. Investors have incorrectly assumed the concept that the weakness is already built into the numbers.
Disclosure: I/we have no positions in any stocks mentioned, and no plans to initiate any positions within the next 72 hours.
I wrote this article myself, and it expresses my own opinions. I am not receiving compensation for it (other than from Seeking Alpha). I have no business relationship with any company whose stock is mentioned in this article.
Additional disclosure: The information contained herein is for informational purposes only. Nothing in this article should be taken as a solicitation to purchase or sell securities. Before buying or selling any stock you should do your own research and reach your own conclusion or consult a financial advisor. Investing includes risks, including loss of principal.