Cheers 2017!
My first purchase for the year executed on the first trading day of the year. Instead of shoes in the post-Christmas sales, I bought Diageo Plc (NYSE:DEO). It was an impulse buy. Unlike the shoes, however, Diageo will add to my income, this, and every year that I own the stock.
But that alone is not a good enough reason for buying the stock.
An impulse buy means that I didn't do much analysis before buying. Bad, I know, but it's also one way to conquer analysis paralysis. So, my very sophisticated reasoning for buying this stock, that wasn't on my watch list let alone anywhere on my radar was its yield and my positive experience with other "sin" stocks.
I don't tend to sell often, so let's take a look at what I've gotten myself into.
Diageo
Diageo is the world's largest producer of alcoholic beverages. Headquartered in London, Diageo does business in 180 countries around the world. Some of their most popular products are Smirnoff Vodka, Johnny Walker, Guinness and Baileys. Though I have sampled many of its products, I have never known they were all produced by the same company.
Despite a well-established global distribution network (difficult for new entrants to replicate) and popular brands, the company has faced challenges over the past couple of years which has reflected in its share price.
Products and Consumer Trends
The rise of the "craft" market and millennials tendency to favor such products has hurt demand for the company's products.
Another shift in trend is the move away from Vodkas (and flavored vodka's) towards Whiskey and Tequila. Diageo had invested much (potentially too much?) into the flavored vodka line. On the up side, Diageo also has established and popular tequila and whisky brands to leverage the change in consumer preferences.
Another change in purchasing patterns impacting established companies is the trend towards "healthier" drink options. Diageo added a low calorie, no added sugar spiked sparkling seltzer to their stable of Smirnoff products to leverage this trend.
So, the companies biggest challenge is staying on top of consumer trends. Anecdotal evidence suggests the company is doing just that. In North America over the Christmas season with the introduction of a Crown Royal Vanilla product that the company has reported resonated well with the consumer.
Global Footprint and Currency
In Diageo's favor, however, is its large geographic footprint and an established worldwide distribution network which allows for quick deployment of new products or changes in volume.
Doing business in 180 countries around the world, also exposes the company's financials to currency moves. While the company hedges against currency moves, naturally by operating in different currencies and through a hedge book, currency volatility particularly in Latin America has changed consumer preferences away from expensive imports to local offerings.
Change of Management and Direction
Through 2014 and 2015 there have been many management changes at Diageo.
The company's management has changed course from expansion through acquisition to favoring a Proctor & Gamble (NYSE:PG) style consolidation, focusing on performing brands and divesting the company of underperformers and products that no longer fit the portfolio of brands.
This is a positive.
In a similar, but controversial divestiture, Diageo is also auctioning a painting it owns that has been on loan to the National Museum of Scotland for 17 years, "The Monarch of the Glen" because it doesn't relate to its core business. It is expected to raise£4 million for the company.
It looks like Diageo is making solid moves to return to the industries average growth of 4-5%. Financially, 2016 (ending June 30, 2016) could be seen as a transition year with growth returning to a number of regions and brands after two years of negative growth.
Dividends
My goal is to build a dividend paying portfolio of stocks that provides a reliable and regular source of income. Over time dividends should be an increasing part of my income.
Dividends for Diageo are announced in Pounds Sterling then converted to USD for the US listed ADR's. Each ADR represent 4 of the London listed shares. As such, they are exposed to currency fluctuations between USD and GBP.
Since I purchased the ADR I'm going to look at dividends in USD.
According to the company's website Diageo paid out $3.11USD in dividend in 2016, giving the stock a TTM dividend yield of 2.93% on a purchase price of $106 USD. If management follows through on its 5% dividend raise expectations, US investors can expect a forward yield of about 3.08% on the same purchase price.
Like many of my Australian holdings, Diageo pays dividends twice a year: an interim dividend in April and a final dividend in October. While I really like the even consistency of quarterly payers, the two dividend payments split roughly 40:60 between interim and final dividend is not a deal breaker. Since I do contract work I am used to budgeting for uneven cash flow.
Diageo's dividend payments are likely to offer further lumpiness due to a fluctuating GBP/USD exchange rate.
I get paid in USD's so it's important for me to look at the dividend rate in USD's, but management makes decision on GBP's including dividend payment rates, so the home currency cannot be ignored.
In GBP's Diageo has an 18-year history of increasing dividends. The chart below shows exactly what dividend growth investors hope to see.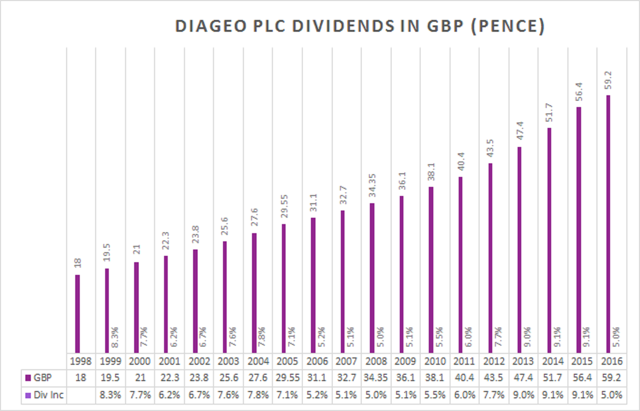 Exchange rate fluctuations means the USD story is a little lumpier. This may be a reason for many US based investors to avoid the ADR's of foreign companies.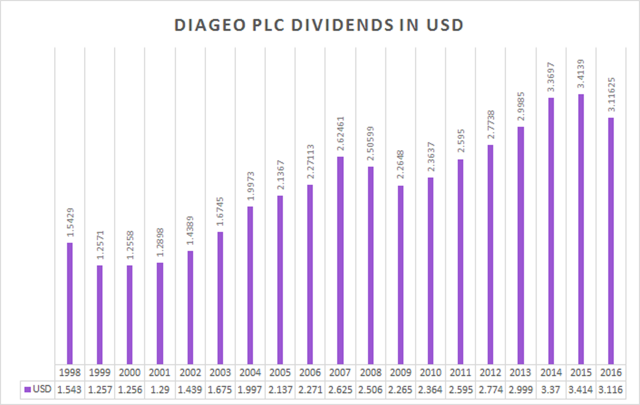 2017 Dividend Estimates
Historical payouts are all well and good, and yes, if Diageo has increased its dividend in excess of 18 years, then it's unlikely for management to want to break that streak. But it does happen.
So it's important to look at the company's overall dividend policy including how it makes dividend payment decisions.
Diageo's Chairman in the 2016 annual report stated that dividend cover is targeted at 1.8 to 2.2 times. Dividend Cover is defined as basic earnings per share before exceptional items/dividend per share. 2016's dividend cover comes in at 1.5 times but Diageo is committed to rebuilding dividend cover into the target range.
A look at the past 5 years shows that dividend cover has indeed decreased over the last two years slipping out of management's target range. More importantly it shows that EPS has been falling since 2013. This year's increase is a modest 1%.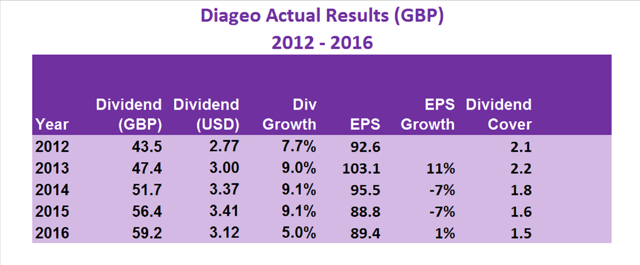 In a reflection of EPS growth, dividend growth has also reduced, but not by as much as EPS growth. For 2015 dividend growth was reduced to 5% from the high single digit range for the previous 4 years (see GBP dividend chart above). Diageo's dividend growth followed a similar path through the global financial crisis, held in the 5% range.
Diageo management, in the 2016 annual report detailed their expectation to keep dividend increases at "roughly a mid-single digit rate until cover is back in range. It is the groups aim to increase the dividend at each half year.
Diageo is due to announce 2017 interim results on January 26, 2017. The stock goes ex-div for the April payment in February. 2016's interim dividend paid 22.6p per share. 2015 to 2016 dividend growth for the interim dividend stood at 5.1%.
Taking management at their word to peg dividend growth at 5% until dividend cover is back in the desired range, results in an estimated interim dividend payment for 2017 of about 23.7p give or take for rounding. Using the same logic, a final dividend of 38.4p is possible. Total dividend for 2017 comes to an estimated 62.1p.
Analysts are slightly more generous with a consensus estimate that books in dividend growth of around 5.9%. The consensus estimates of Diageo's 2017 dividend over at Financial Times is 62.675p for 2017 and 66.182p for 2018.

Supporting those numbers are EPS estimates from 29 analysts that give rise to a consensus EPS number of 103.89p for 2017 and 112.72p for 2018. The range of earnings for 2017 run from a low of 89p which implies zero growth from 2016 to a high of 113p which implies EPS growth over 25%.
Given 1% EPS growth for 2016 and negative growth for the previous two years, the low number does seem more probable than the high.
And for ADR investors the prevailing exchange rate between the USD and GBP upon translation will impact the USD dividend position.
Debt
In mid-December Moody's affirmed its debt rating for Diageo Plc. Their rating reflects Moody's belief that key metrics for the company will improve over the coming 12 months. Increased profitability and strong cash flow generation is expected to drive the performance. Moody's expects Diageo's organic profit to grow in line with the 4-5% industry standard. They do, however, recognize recent weakness in the company's metrics.
Use of free cash flow to pay down debt is also seen as a positive while it is also acknowledged that a week pound positively impacts the groups financials offsetting any increase in debt levels.
Litigation
A company the size of Diageo, in the industry it serves is likely at any point in time to have regulatory or legal action pending. Litigation settlements are difficult to quantify and information is generally found in the notes accompanying the financial statements.
Two actions against the company stood out:
Thalidomide Litigation
Diageo came into existence in 1986 when Guinness and Grand Metropolitan merged. In 1986 Guinness acquired the Distillers group of companies. Between the years of 1958 and 1961 a subsidiary of Distillers Group was responsible for the distribution of Thalidomide. Diageo supports the Thalidomide Trust established in 1973. In December 2014 litigation was brought by 28 affected individuals. In December 2016 Diageo made a one-off payment to the fund of£27million Pounds to cover the beneficiaries changing medical needs. This payment is in addition to the groups existing Thalidomide payments. A£60 million provision will appear in the income statement for the 6 months ending 31 December 2017. Cash payments in the second half are expected to be£40 million.
SEC Inquiry
Notes to the 2016 state that the company had received an inquiry from the SEC about actions that could overstate the company's sales volumes.
Conclusion
Regardless of this post purchase analysis of Diageo, it is hard to call any impulse purchase sensible. I should have looked at the company more closely before buying the stock. Had that been the case, I'll be honest, I'm not sure whether I would have purchased the stock or not.
Clearly, Diageo has faced some challenges over the past few years. Two years of negative EPS growth is followed in 2016 by a 1% increase.
Management claims that stronger organic growth underpins improving momentum across the business but with organic growth in the low single digits for volume, net sales and operating profit, it's not terribly convincing - yet.
But the time to invest is at the beginning of a turnaround. History could show 2016 as just that.
There are some risks associated with the stock, not least being changing consumer preferences towards "craft" beverages, healthier alternatives, and a switch in consumer preferences away from Diageo's extensive stable of flavored vodkas towards tequila and whiskey.
Anecdotal evidence suggests Diageo leveraging these trends with the introduction of Crown Royal Vanilla and low calorie hard seltzer ready to drinks.
No doubt the upcoming interim profit report will shed more light onto the success of these new initiatives.
Diageo's business of turning water and few other ingredients into spirits earns them large margins (organic operating margins improved 19bps from 2015 to 2016 for the group). An operating margin of 28.9% spins off cash as evidenced by the groups free cash flow which improved by 134 million pounds in 2016.
At worst, my impulse buy has added $14.76 to my dividend income for 2017. And I could get out of the position today with a zero loss, if I wanted.
With an interim profit report due out "any day now" I think I'll take a chance on the stock. Management has signaled its intention to keep raising the dividend in the ballpark of mid-single digits until dividend cover in their target range is reestablished. Until they prove otherwise, I'm going to trust they will do just that.
And if I'm wrong?
If I take a "paying my bills with dividends" view of the world I can buy a couple of the company's Kilkenny's (made by Guinness) to dull the pain as I open those dividend checks.
Cheers!
Disclosure: I am/we are long DEO, PG.
I wrote this article myself, and it expresses my own opinions. I am not receiving compensation for it (other than from Seeking Alpha). I have no business relationship with any company whose stock is mentioned in this article.