Some investors are skeptical about the outlook for equity real estate investment trusts (REITs) in 2017 given rising interest rates and slowing fundamentals in most property types. However, we see some real reasons for optimism.
First, while expectations of higher economic growth and inflation under the incoming presidential administration pushed the 10-year U.S. Treasury yield to 2.37% (as of January 9, 2017) from 1.86% on Election Day, REIT shares have not declined in value. The asset class, as measured by the MSCI U.S. REIT Index, actually generated a total return of 5.74% from November 8 through January 9. Every major property type has generated positive total returns over this period except for the net lease/single-tenant sector, which was only slightly negative. What we have seen is relative outperformance by property types with shorter lease durations and more upside from faster economic growth, like hotel and office REITs, and away from longer-duration, more "bond-like" property types such as the net lease/single-tenant REITs.
Exhibit 1: Comparing MSCI U.S. REIT Total Return Index to U.S. Government 10-Year Treasury Yield (2016)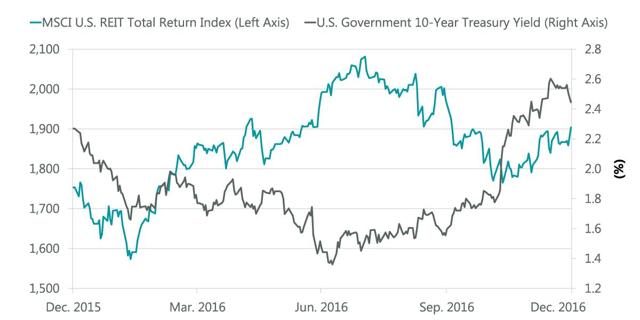 Source: FactSet. Data as of December 31, 2016.
Second, if we get the hoped-for higher economic growth rates, this will mean stronger demand for space across virtually all property types, which increases occupancy rates and gives landlords increased pricing power. Faster internal growth from rising occupancy and rents should be very positive for share prices.
Third, the new administration's proposed large-scale infrastructure spending plan, if passed, will likely raise the costs of construction for new commercial real estate developments as labor costs and building materials prices rise due to increased demand. This will reduce the pace of new construction as, all else being equal, these more expensive new projects will require higher rents to meet their required rates of return.
Fourth, higher interest rates may cause investors to raise their required rates of return, as interest costs will increase on construction loans and permanent debt financing. Investors may also demand higher equity returns rather than reduce their desired equity risk premium. This will also have the effect of dampening new development starts. The upshot from fewer development starts would be greater pricing power for owners of existing assets, allowing them to grow cash flows at a higher rate and without having to utilize additional capital, which would be needed for acquisitions or developments.
In summary, these are the potential near-term positive catalysts that we see for equity REITs. Rents may eventually rise to reflect both the potentially higher costs of construction and hurdle rates of return, but it will still take some time for development to reaccelerate. Given the substantially greater capital market discipline imposed on the real estate industry since the advent of the "modern REIT era" and the commercial mortgage-backed security market, we think supply-demand imbalances are unlikely to be anything of the magnitude of those the industry used to experience, which led to booms and busts in the economy. So hang in there; 2017 might just be a better-than-expected year for the REIT market.
Disclosure: I/we have no positions in any stocks mentioned, and no plans to initiate any positions within the next 72 hours.
I wrote this article myself, and it expresses my own opinions. I am not receiving compensation for it. I have no business relationship with any company whose stock is mentioned in this article.
Additional disclosure: All opinions and data included in this commentary are as of January 11, 2016 and are subject to change. The opinions and views expressed herein are of Mark McAllister and may differ from other analysts, or the firm as a whole, and are not intended to be a forecast of future events, a guarantee of future results or investment advice. This information should not be used as the sole basis to make any investment decision. The statistics have been obtained from sources believed to be reliable, but the accuracy and completeness of this information cannot be guaranteed. Neither ClearBridge Investments nor its information providers are responsible for any damages or losses arising from any use of this information. Past performance is no guarantee of future results.