Roughly one year ago, I first wrote about Cisco Systems (NASDAQ:CSCO) on Seeking Alpha, calling it an "undervalued dividend gem." At that time, shares were selling at $23, around $7 less than they are today.
My expectation at that time was not for a quick capital gain but, rather, a great long-term dividend. In this article, I provide an update on what dividend investors can expect from Cisco in 2017.
First a little background. Early in 2016, Cisco raised its dividend from $0.21 per quarter to $0.26; approximately a 24% increase. I was not surprised by such a large dividend hike. Cisco's earnings and cash flow were growing, the company had over $35 billion in cash, and the dividend payout was only about 36%.
In previous articles, I've talked at length about the fundamentals of Cisco's business. This time, I want to focus on the type of dividend hike investors can expect in 2017, particularly because the event is getting close.
Expect slower dividend growth in 2017
Since instituting a dividend policy in 2011, management has been cautious but measured about increasing its dividend. The biggest difference this year is that Cisco's top line has gone from mid-low single digit growth to flat. Cisco's traditional 'bread and butter, switchers, saw its revenues decrease by 7%. Revenues for collaboration, data centers and wireless each decreased by low single-digits.
Cisco's newer businesses continue to grow, but it is difficult for the overall company to grow when those legacy businesses are shrinking. Overall, revenue increased only 1% YoY, and management sees a decline in normalized revenue of between 2% and 4% next quarter. This is concerning, but one quarter does not equal a trend. At this point, there's no reason to panic.
What this does illustrate is that management will likely be very cautious. To be sure, earnings per share is likely to continue growing, thanks to share buybacks and productivity improvements. Still, management has every reason to 'pull in its horns' when it comes to future dividend increases, and I believe that it will.
Making an estimate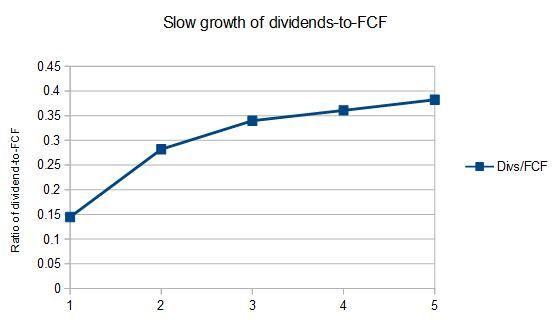 Data by Morningstar
I believe that the dividend-to-FCF ratio is the most relevant metric in determining where the dividend is going, particularly because it is the metric management seems to be focusing on (as evidenced by this chart above). As you can see, the dividend-to-FCF ratio has been steadily rising.
Back in 2013, management's dividend increase lead to a 14% hike in the dividend-to-FCF ratio. In 2014, the same ratio increased another 6%. In 2015, it increased by just 2%, and in 2016, it increased another 2%.
The deceleration of the dividend-to-FCF ratio is important, and something I believe will lead to a deceleration of dividend growth, unless management can significantly increase free cash flow. I do not see this happening because capital expenditures have been steady and operating cash flow has been slowing at the same pace of earnings growth.
But we must also consider net buybacks. From the last twelve-month period, Cisco has bought back about $3 billion worth of stock. If Cisco does the same next year (it's been significantly doing so for several years), the existing share count would decrease 2%. Adjusting for that, the dividend should grow by about 7.8%. Since Cisco usually does its quarterly dividend in whole cents, I expect the dividend to rise by two cents, from $0.26 per quarter to $0.28. If my estimation turns out to be correct, and I believe that it will, then, at today's price, Cisco will soon yield 3.7%. Not bad.
Is Cisco a 'buy?'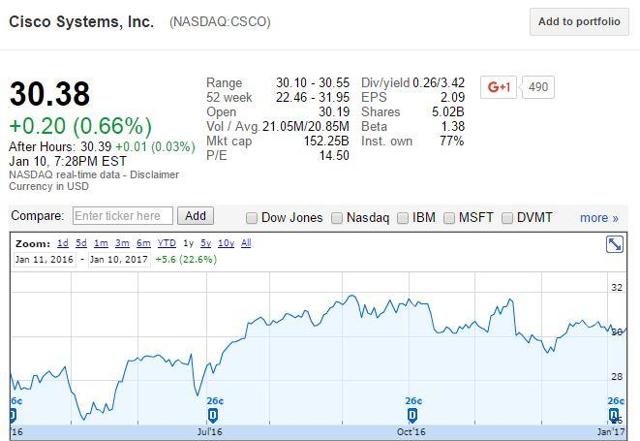 Source: Google Finance
Is Cisco still a buy? I'm a bit hesitant to add shares at this point in time. If revenue is expected to remain flat for the short-term future, then Cisco needs to trade at a good discount to be an attractive buy. According to data from FAST Graphs, Cisco's average ten-year valuation is 14.2 times adjusted earnings per share. At the current price multiple of 12.7 times earnings, shares are still cheap, but I just don't see a positive catalyst. Therefore, I believe there are better places to park additional money at this time.
If you're interested in Cisco Systems, feel free to follow me on Seeking Alpha. I am personally long this stock and intend to write update articles when doing so is material and relevant.
Disclosure: I am/we are long CSCO.
I wrote this article myself, and it expresses my own opinions. I am not receiving compensation for it (other than from Seeking Alpha). I have no business relationship with any company whose stock is mentioned in this article.