Shares of Chipotle (NYSE:CMG) have been given some life recently after the company reported a 14.7% increase in comps in December, but we do not think its time to join the rally. Although its nice to see comps swing back into positive territory, the 14.7% December 2016 comp is lapping a 30% drop in comps in December 2015, so the 2-year stack is still ugly at -15.3%. The stock, however, still trades at an aggressive valuation. Even if the company can hit its growth targets next year (which we think it can come close to doing), we think comps will struggle in 2018 and beyond. Overall, we remain bearish on CMG.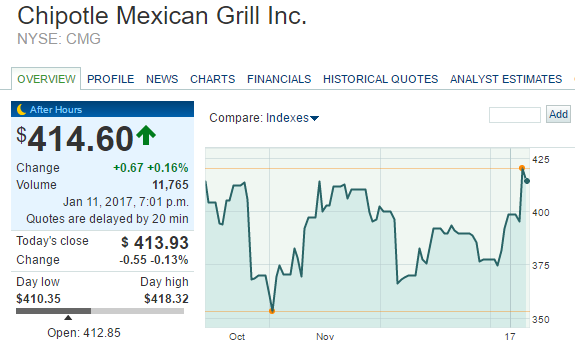 (Source: MarketWatch)
Given the Taco Bell precedent and the positive December comp, we think high single digit comps feel like a reasonable target for next year. That implies a 2-year stack in the negative low double-digit range, which makes sense if one assumes sequential improvement from December's -15.3% 2-year stack. HSD comps coupled with an additional 200 stores (which equates to HSD unit growth) should lead to mid to high teens revenue growth next year. We think the Street has it mostly right, and our model calls for sales of just over $4.53B next year.
Revenue growth will drive significant restaurant level operating expense leverage, especially considering management only expects 5% labor inflation. RLMs were trending in the upper 20% range before the sales collapse, so a return to pre-E. coli revenue levels should push RLMs markedly higher. Promotions and lower unit sales will continue to weigh, but a 20% target feels very reasonable to us.
A 20% RLM on sales of roughly $4.53B implies restaurant level operating profit of just under $910m in 2017. Management wants to grow the restaurant base with a flat G&A, so 2017 G&A shouldn't really deviate from historical years (call it $260m). D&A should grow albeit at a slower rate (we model for $160m), and other costs should be roughly comparable to historical years (we model for $30m). All together, that equates to operating profits of $460m in 2017. Adding back in other income of roughly $7m (again, comparable with other years) and applying a 39.5% tax rate, we think CMG can reasonably achieve net income of over $280m in 2017, or right around $9.60 to $9.70 per share. That is significantly higher the consensus Street estimate, and above the midpoint of management's guide.
In this sense, we see upside to current estimates, but aren't huge fans of the stock here. While we do see growth from our $9.65 EPS estimate next year, we don't think its enough growth to warrant paying 43x forward earnings. We believe earnings can grow at 16% per year from 2017 to 2021, putting 2021 earnings just north of $20 per share. That means the stock is currently trading around 20x earnings that are more than 5 years out. That seems absurd to us. Put another way, the stock is currently trading at 43x our FY17E EPS on 5-year earnings growth expectations of 16% per year. Again, this seems absurd to us as valuation is out of whack with growth.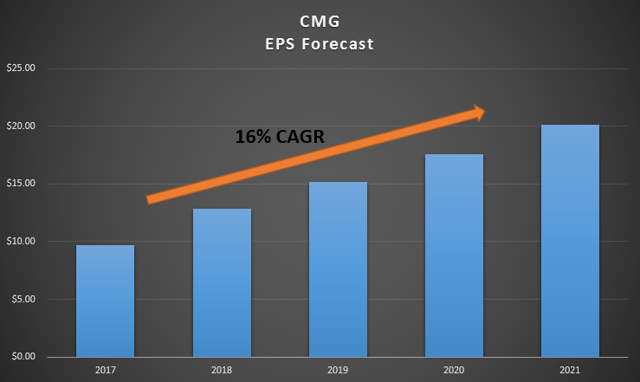 Moreover, we really don't see earnings growth exceeding a mid-to-high teens CAGR from 2017 to 2021. As we have noted earlier, increasingly popular alternative QSR choices will prevent the company from fully recapturing peak unit sales any time soon. Our confidence in this claim is reaffirmed by a negative mid-teens 2-year comp stack in December, illustrating that the "comeback" still has a long ways to go. Also, the company is still in the early phase of driving sales without significant promotions, so it remains unclear how much higher than 20% RLMs can go without sacrificing topline growth. All together, we think 16% earnings growth after 2017 is generous, and even that assumption makes the current valuation look stretched.
Disclosure: I/we have no positions in any stocks mentioned, and no plans to initiate any positions within the next 72 hours.
I wrote this article myself, and it expresses my own opinions. I am not receiving compensation for it (other than from Seeking Alpha). I have no business relationship with any company whose stock is mentioned in this article.