Overview:
With the ICR conference underway and key retail sales data on tap, our eyes are on retail. After the recent sell-off in retail, we are questioning whether or not bargains can be found. In our previous report we chronicle the department store sector and our estimates for retail sales for the month of December.
In this issue, our attention shifts to the luxury apparel industry as we examine 5 luxury apparel companies: Kate Spade (NYSE:KATE), Coach (COH), Michael Kors (NYSE:KORS), Fossil (NASDAQ:FOSL), and Steve Madden (NASDAQ:SHOO). These companies have faced headwinds resulting from a continued shift in consumer buying patterns away from apparel, increased promotional activity, and competitive pressure from Amazon.
This report will include a valuation dashboard as well as discussion to help you grow your capital!
The Pros and Cons of Luxury Apparel
Luxury apparel can be a very lucrative business. At one point, the margins were attractive and the returns stellar. This is driven by the fact that the products these companies sells are veblen goods. In other words, they are demand inelastic and therefore high margin products. Furthermore, in a society dominated by fashion and media, these products become even more attractive. This mix gave many of these companies a wide moat allowing them to earn attractive returns on capital for many years. Unfortunately for the sector, these dynamics led new entrants to market creating a dynamic of fierce competition that began to pressure margins. Furthermore, with the advent of the internet, the 'vebleness' of these products began to wear off as consumers became more intelligent and learned to search for the same styles elsewhere. As a result, promotional activity ran rampant and the hefty advertising costs weren't able to be passed along to the consumer ultimately making once compelling margins less attractive.
Fast forward to present day and we have seen many of the stalwarts facing multiple headwinds. Stock prices were cut in half, sales forecasts reduced, and suddenly the party for retail became a struggle for market share and sales growth. Nevertheless, there is always opportunity if one can look and in a market that is overvalued, it helps to get your hands dirty and search for bargains where no one else is looking.
Valuation and Analysis
I have examined five luxury apparel companies using multiple analysis. I utilize colors to detail historical performance vs. today's as well as peer averages so as to allow readers to compare the company both historically and peer-peer providing a more comprehensive view. The colors are most closely linked with overall trends. All research is done by our team at BlackVault Investments. I have also attached the full dashboard containing both department stores and luxury apparel for your own analysis.
The valuation dashboard is posted below: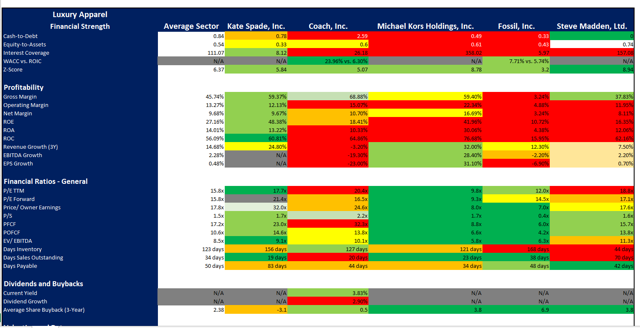 Profitability
At first glance, the troubles begin to stand out on the profitability side. Most of the companies are experiencing declining sales and EPS as well as margin compression that has continued over the last few years. This substantiates the narrative of heightened promotional activity and weaker consumer demand. The data makes me question whether or not the competitive advantage that once made these companies attractive still continues to exist.
Fortunately, there are some bright spots, most meaningfully, Kate Spade . I noticed that despite experiencing downtrending margins, some trends seemed to have reversed. Furthermore, revenue growth appears above average and the company seems to be earning attractive ROEs, ROAs, and ROCs vs. its peers.
Valuation
Overall valuations in the group remain mixed, much like in the department store category. Sadly, the fact that many of these companies are experiencing margin compression while sporting discounts makes me feel that these are more or less value traps. For one to expect margin expansion they must also expect margin expansion. Unfortunately for many of these names, there is no meaningful catalyst to drive margin expansion as all trends are pointing to continued declines in mall traffic, continued promotional activity, and weak consumer demand.
Overvalued Much?
Coach
Coach certainly looks overvalued here at 20.4x TTM earnings and 16.5x forward earnings vs. average of 15.8x and 15.8x respectively. Furthermore, Coach's margins look considerably weak with no signs of turning around. There is a clear warning sign about expensive multiples and weak margin trends making Coach a definite avoid.
Steve Madden
Steve Madden certainly looks overvalued on a P/E and EV/ EBITDA basis. The company is still in growth territory; however, it continues to experience margin compression while trading at 18.8x TTM earnings and 17.1x forward earnings vs. sector average of 15.8x and 15.8x respectively. Furthermore, broad based returns look weak compared to sector average and are experiencing downtrends that show no signs of reversing. Steve Madden certainly looks like an avoid at these levels.
Bargain Basement?
Fossil
Fossil looks reasonably cheap compared to its peers. The company has struggled for years after peaking in 2014 facing much of the same headwinds that its competitors are facing. The company is considered as discount luxury allowing it to appeal to the more middle class consumer. Its unique niche made it a compelling investment; however, it seemed that this advantage was short lived and the company has taken a share price cut and now is trading at 12.0x TTM earnings and 14.5x forward earnings. The discount appears attractive when you compare it to Coach and Steve Madden, both of which are experiencing margin compression and declining returns. However, the fact that margins and returns show no sign of turning around forces me to remain on the sidelines with Fossil.
Michael Kors
Michael Kors is definitely the cheapest of the bunch on nearly all metrics, a plus in my book. Furthermore, the company appears to be growing its revenue, EBITDA, and EPS at a faster pace than all of the listed companies in the study. It definitely looks as though the market is discounting 0 growth going forward, an assumption I feel may be a tad pessimistic, especially at 9.8x TTM earnings and 9.3x forward earnings. However, the company continues with its peer trend of margin compression and lackluster returns. I understand that the company has attractive products; however, the fact that the company has been relying so heavily on promotional activity (hint - margins) makes me wonder if demand is really there. The company has looked to reverse this strategy despite falling apparel demand. Should the company succeed, the share price would certainly rise while failure might mean sideways trading. If one is to go the multiple route whilst ignoring the fact that sales are slowing, margins compressing, and returns declining, KORS may be the right pick for you. Ultimately, the stock is a gamble and I am remaining on the sidelines until there is meaningful evidence of a turnaround.
And the Winner Is?
Kate Spade
I personally like Kate Spade here, especially if you were lucky enough to be in before the buyout rumors began. The company is the only one of the bunch scoring green on most profitability metrics. This suggests that the company is experiencing a reversal of downward trends in margins and returns. Furthermore, the company was able to grow its revenue by 24.80% in the past 3Y, certainly better than the average 3Y growth of 14.68%.
On the valuation side, share are expensive when compared to its peer average. However, I would call the premium warranted given its attractive returns and improving y/y margins. In fact, if you compare the stock to its most closely held competitor, Coach, the shares are still undervalued even after the buyout rumor spike. Coach trades at 20.4x TTM earnings while Kate Spade trades at 17.7x TTM earnings. Couple that with the possibility of a takeout, Kate looks attractive at these levels and I am considering initiating a position.
Conclusion
The retail sector has been plagued by declining mall traffic, shifts in consumer spending habits, and heightened competition from Amazon and discount retailers. These trends have forced many of these companies into survival mode forcing them to heighten promotional activity at the expense of margins and returns. It certainly looks as though the story is a structural problem rather than one that is transitory causing me to remain cautious on the sector. While bargains may be found, investors should also remain cautious.
Supporting Documents
Disclosure: I/we have no positions in any stocks mentioned, but may initiate a long position in KATE over the next 72 hours.
I wrote this article myself, and it expresses my own opinions. I am not receiving compensation for it (other than from Seeking Alpha). I have no business relationship with any company whose stock is mentioned in this article.
Additional disclosure: The views expressed in this article contain the opinions of BlackVault Investments and in no way are an offering and/ or solicitation of investment advice.