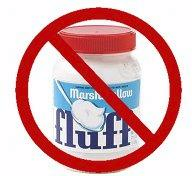 The other day I published an update to my shipping preferred stock note and I inadvertently left out a shipper with a preferred. An astute reader picked up on this and asked me about the company's preferred. This is my response (I figure I dropped the ball and might as well make up for it).
Global Ship Lease (NYSE:GSL) is a containership lessor focused on providing time-chartered vessels, predominantly in the term charter market.
Understanding the company's history helps understand the thesis behind investing in the company.
GSL is the surviving entity of the merger between its predecessor (which was a wholly-owned subsidiary of CMA CGM) and Marathon Acquisition Corp. Marathon was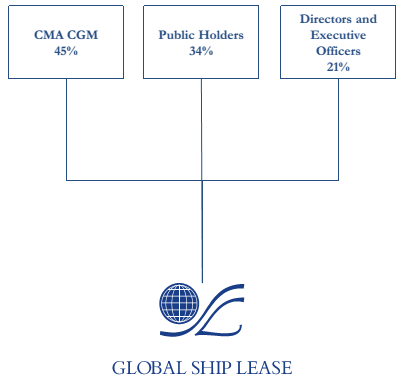 established by Michael Gross, chairman and Chief Executive Officer of investment firms Solar Capital and Solar Senior Capital and founder of, and former partner at, Apollo Management. Mr. Gross is chairman of our Board of Directors and retains a significant shareholding in GSL. CMA CGM is the third largest liner container shipping company in the world. CMA CGM retains a significant equity stake in GSL.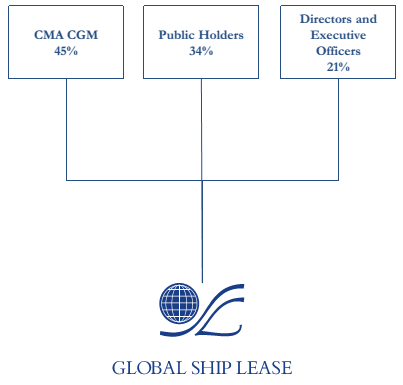 CMA CGM holds a 44% stake in the company, is counterparty to nearly 90% of its charters and owns the company that has been contracted to manage 13 of its vessels. I submit to you that GSL is, essentially, a sale and leaseback vehicle for CMA GCM. I believe it was created in order to adopt a John Fredriksen style approach of bifurcating the shipping business to maximize the sum of the parts. Unfortunately, 2008 ushered in the great plunge and the ability to scale the business up just wasn't there (obviously just my opinion).
I have to be clear on this next point: I would normally not look at the preferred stock of a company whose shares trade at a low dollar price (sub $1.60 here), the market cap is below $100 million and that owns only a few vessels - all of them with liens on them. The margin for error is not great. Honestly, the only reason to dig deeper into this company is the fact that its largest holder also manages the majority of its fleet and is the largest counterparty. That said, CMA GCM has 462 ships in its fleet and $11B in revenues, it could scrap this entire company without making a dent. This fact cannot be ignored.
A look at the financials:
EBITDA: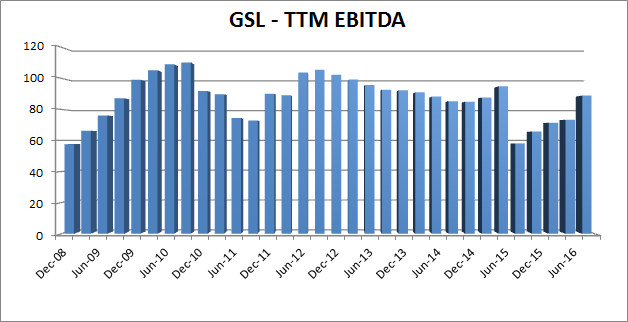 Cash From Operations: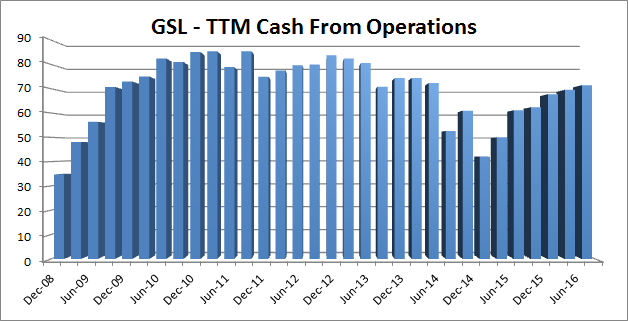 Free Cash Flow: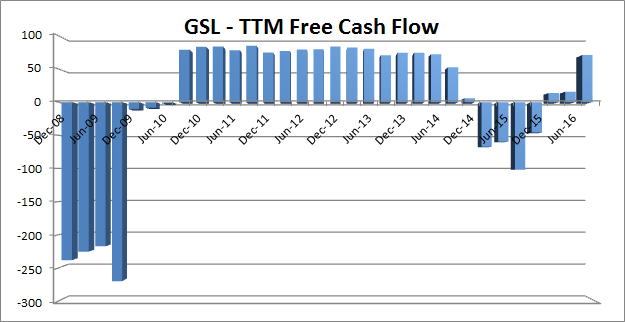 After a brutal 2015, GSL's FCF numbers are looking better.
The company had a slide in its most recent earnings release that I thought would be a decent addition here, so I am adding it: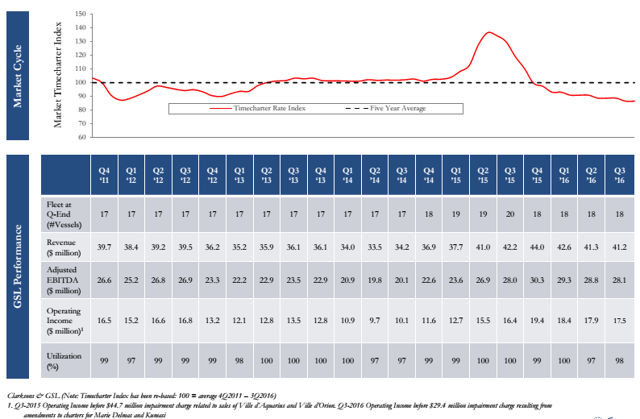 Further, there shouldn't be significant volatility near-term as GSL doesn't have exposure to the spot market until later this year. The following slide from its recent earnings release decently represents its charter expiration schedule: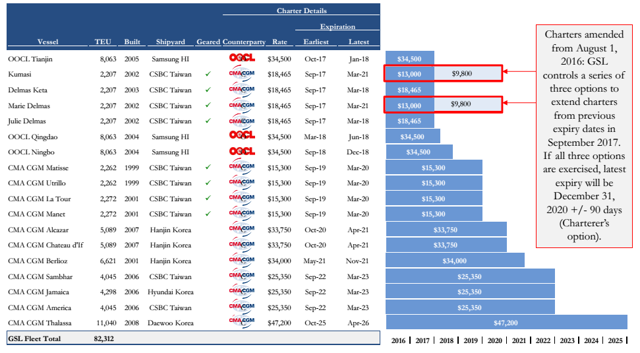 I would note, however, that the company has two 2,200 TEU ships that can be re-delivered in September of this year. As they are similar to the two renegotiated ships, it is reasonable to assume that barring additional strength in their charter markets, the lease rate could drop by approximately $5k/day and the assets could be impaired. The impairment would be an additional non-cash charge and affect unadjusted income and EBITDA.
Importantly, the debt metrics for the company are moderate (well, moderate for a B-rated company).
Debt to EBITDA: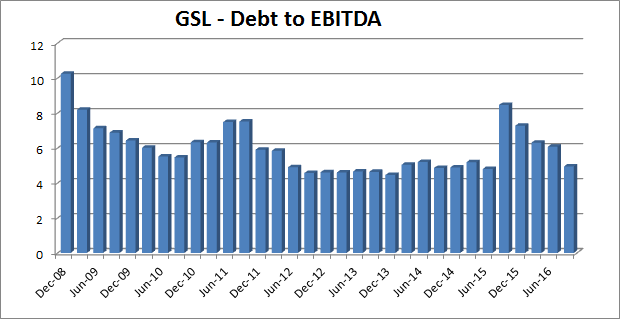 At close to 4x TTM EBITDA, the company is not, in my opinion, overleveraged.
Debt to Capitalization: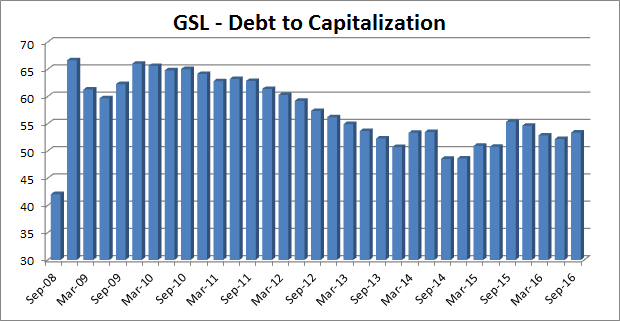 At below 55% on a debt/capitalization basis, leverage is also moderate.
Unfortunately, the market capitalization isn't looking too hot: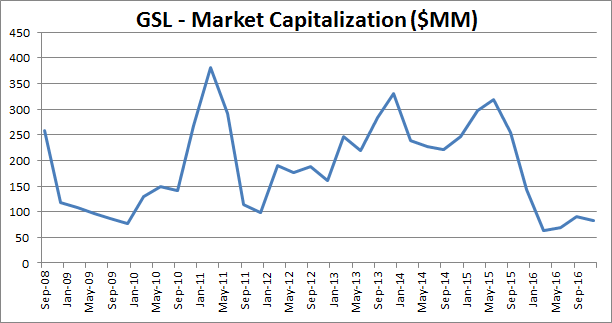 A financial snapshot of GSL versus container peers:

It should be noted that the EBIT/interest calculation for GSL is not adjusted for the effect of the impairment of two vessels. What has to be noted is that this company is much smaller than its peers.
Finally, the preferred section:

Shipping is not an easy business. Owning the preferred shares of shipping companies is not easy either: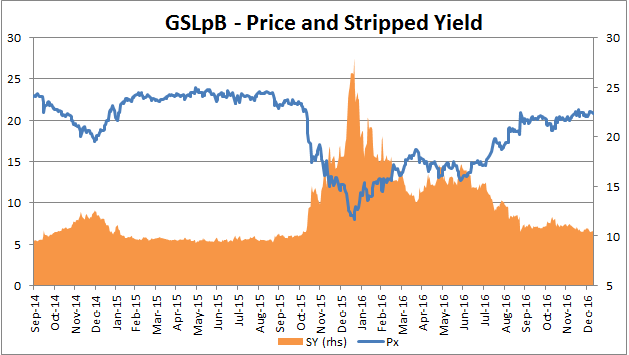 Admittedly, you see a chart like that and folks say "buy preferred stock they said, more stable than common they said." I get that. Fortunately (?), as the next chart shows, it wasn't just the preferred: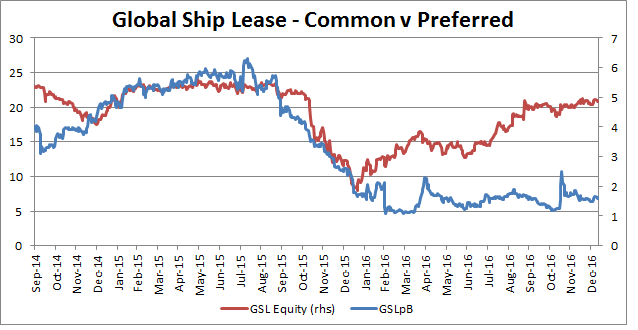 The preferred, unlike the equity, has bounced back!
Nor was it just Global Ship Lease: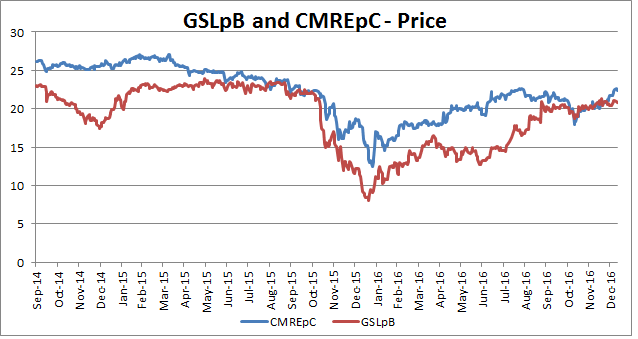 While it may be true that the drop in prices was not limited to GSL, this does not make an investor feel better when prices are dropping. This is also something that must be considered when investing in shipping companies - especially small ones.
Having said all that, a while ago there was an article by Seanvestments which compared the preferred to the 1st lien bonds. It concluded:
In conclusion, we believe that the option that an investor has to switch from the preferred shares to the secured notes may provide a significant return. As both instruments refer to the same company, this trade is simply about choosing the coupon of the secured notes that has a better yield and improved elements over the dividend of the preferred shares.
Importantly, the notes are fully and unconditionally guaranteed, jointly and severally, on a senior basis by Global Ship Lease Services Limited and each of the company's 17 vessel-owning subsidiaries and in the future by certain of the company's existing and future restricted subsidiaries, as may be required by the terms of the indenture that will govern the notes. The notes are secured by first priority ship mortgages on 17 vessels owned by certain subsidiary guarantors and certain other associated property, contract rights and bank accounts, as well as share pledges over the subsidiary guarantors that own the mortgaged vessels (the "Initial Collateral"). In the future, vessels, shipping containers and container shipping-related assets and certain other associated property and contract rights may be pledged in addition to or in substitution for Initial Collateral. Term sheet here. Prospectus here.
Under the 2019 Notes, the company is required within 120 days following the end of each financial year, in which the company has at least $1,000 of Excess Cash Flow, to offer to purchase up to a maximum offer amount of $20,000, such amount being the aggregate of 102% of the principal amount plus any accrued and unpaid interest to, but not including, the purchase date.
Currently, the GSL 10% due 4/1/19 ("B3/B rated, $393MM outstanding) trade at $95.875 and yield 12.15%, a whopping 1100 bps over Treasuries. They also yield over 150 bps above the preferred stripped yield. They are first lien with mortgages covering essentially all the assets of the company. The pricing here is wrong, the preferred should have a higher yield. It doesn't. Given the option, the notes are a better bet, but I cannot find that they were registered as they were done 144a, which requires a QIB.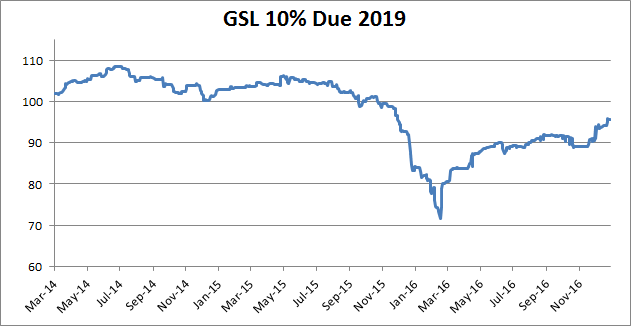 If the notes aren't in your wheelhouse and you are looking at the preferred, I will simply opine as follows: Global Ship Lease is a solid little containership company. The problem is that it is just that, a little containership company. One slip-up and it could slide between the waves. The numbers supporting the preferred are enviable (for shippers at least) and the company should continue to meet its obligations in the near to intermediate term, but could continue to be pressured by the macro-supply issues and the re-deliveries over the next year or so. Ultimately, GSL preferreds should not be overweighted at these prices, but the yield and fundamentals make them somewhat attractive.
Disclosure: I am/we are long CMRE, TOO.
I wrote this article myself, and it expresses my own opinions. I am not receiving compensation for it (other than from Seeking Alpha). I have no business relationship with any company whose stock is mentioned in this article.
Editor's Note: This article covers one or more stocks trading at less than $1 per share and/or with less than a $100 million market cap. Please be aware of the risks associated with these stocks.