In this weekly update, I am going to present interesting opportunities in the commodity and precious metals sector. Today I am going to take a look at Cameco Corporation (NYSEMKT:CCJ).
It looks as though Cameco is close to a first profit taking target and I suggest to take some money off the table at prices above $13.00. In the bigger picture Cameco could easily rally towards $17 - $18 in 2017.
Cameco Corporation (=Canadian Mining and Energy Corporation) was formed in 1988 by the merger of Eldorado Nuclear Limited and Saskatchewan Mining Development Corporation. Today Cameco is the largest publicly traded uranium company and accounts for around 18% of worldwide uranium production. But its market cap is only $4.53 billion!
Cameco's stock-price topped out in June 2007 at 56$ and has spent the last nine years in a nasty and prolonged bear-market. On November 1st 2016 the stock has very likely seen the final low at $7.35. Already one day later Cameco posted a huge green candle (+12%) signaling that an epic bear-market has finally come to an end. The recovery since then is impressive (+68%) and Cameco has been leading the whole uranium sector back into life. Since two days Cameco as well as many other uranium stocks are shooting higher driven by huge volume. The steady recovery over the last two months is now shifting into a short-term parabolic phase which usually signals that the first run up in uranium stocks has reached the final stage.
Uranium price starting to recover from a 12-year low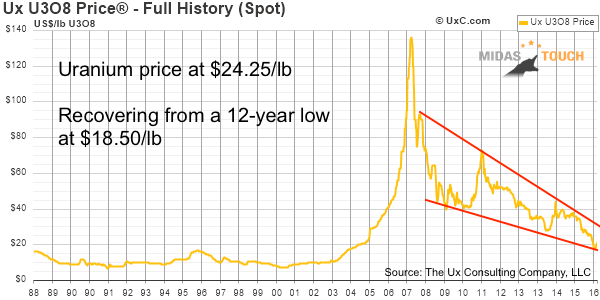 Without a doubt uranium prices have been in free fall since the 2011 disaster at Japan's Fukushima Daiichi nuclear power plant. But since the 12-year low at $18/lb. in December prices have started to recover and jumped to $24 just yesterday.
Very healthy demand picture
Fundamentally the recent surge in the underlying spot price for uranium is driven by the annoucement of the world's largest uranium producer Kazatomprom (=Kazakhstan's state nuclear-fuel company). "Due to the prolonged recovery in the uranium market, planned 2017 production from Republic of Kazakhstan will be reduced by approximately 10%. For greater context, this is equal to 3% of total global uranium production (based on 2015 UxC Consulting figures)". This is a very important signal for the uranium sector (similar like an oil production cut by OPEC) and will diminish the imbalances between supply and demand at least to a certain extent.
The Sentiment is already changing and has obviously left the despondency and depression stage and is now moving towards hope. I think 2017 will be an extremely interesting year for the uranium sector and especially Cameco as the conditions are surely in place for a very healthy recovery.
Most encouraging is the fact that the utilities globally haven't been renewing their long-term contracts & supplies at the pace to maintain a fully coverage for their reactor requirements. Many 5- to 10-year contracts are now falling off. Instead of renewing them the rational has been "prices are low and we're contracting very near term" (e.g. spot purchases). All of this uncommitted demand is growing bigger each year. 5-year forward uncommitted requirement is up 18% from 2015 to 2016. The 10-year forward requirement that are not yet under contract is reaching almost 1 billion pounds of uranium! Meanwhile on the supply side there is no new mining coming on-line. At the same time there are currently more than 60 new reactors under construction and another 140 reactors are on order or planned. Of course China, Russia, South Korea and India are leading here.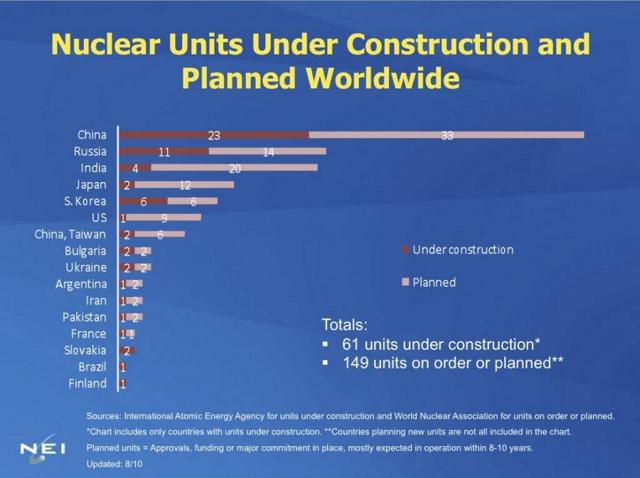 The only new uranium mine being currently build is in Africa (by the Chinese) but won't put up with the western requirements - only with the Chinese. Overall production continues on a relatively high level but we recently got cut a back announcements from Cameco . On top Rio Tinto's (NYSE:RIO) mines in Africa and Australia need an uranium price at $60-70/lb.. All this and the complacent utilities are certainly adding to a very healthy demand picture.
Transformation process in Kazakhstan
As already stated in my recent analysis of Uranium Energy (NYSEMKT:UEC), Kazakhstan indeed has started a transformation process. Kazakhstan is responsible for 40% of global uranium production and therefore like what the saudis are to oil. They have been increasing production dramatically over the last decade. Now they are going through a transformation process that is driven by their shareholder Samruk-Kazyna (sovereign wealth fund of Kazakhstan). They need to become a more market driven and less state-owned bureaucratic company. This transformation process includes the understanding that their impact on the marketing and sale side is pretty significant. Everything they say is observed very closely by the market. So their marketing praxis will be more responsible. Also the "lets produce less next year" mindset has entered the management in contrast to the good old soviet tradition. Just pumping more material into a market that is in oversupply while the assets in the ground might be more valuable in a couple of years simply doesn't make sense. I think this transformation process in Kazakhstan will have a big impact in 2017.
Depleting their ISR resources
If Kazakhstan would do nothing and just continue the current path they would topping out anyway. Their output would peak and start to go down as all their mines would be depleted. It's a natural depletion. Their growth has come from established mines that have been in the ramp-up stage over the past few years. But it would be a mistake to say they are running out of uranium. They certainly can make new investments with new exploration and through developed new deposits as well as with their significant resources of course. But like most producers there is no economic return right now to break ground on new mines and new developments. As an example the Chinese have been pushing to have more production interest in Kazakhstan and they will receive that through their joint venture with Kazatomprom. In the past that might have looked like developing a new mine. But in the current environment this means that Kazakhstan will just make existing production available to the Chinese.
Eventually no matter how good the mine is at some point they need to make new investments. They are quite content at the moment. But they don't devoting fresh new capital to new mines. And not all Kazakhstan production is extremely low cost! There are some deposits that are deeper which use more acid consumption and therefore can not come up at such low uranium prices.
Investors sentiment moving towards hope
As the market leader, Cameco of course is the top investment for any speculative money that wants to invest in this tiny sector. Another way would be the Uranium participation Corp. (OTCPK:URPTF). This fund out of Toronto had a very interesting development in the last 2 months. It used to be trading with a pretty significant discount to the NAV but now trades with a premium to the NAV. Smart money which used to make good money in the last run up (2004-2007) has been completely out of the market and is now moving back in. As well some hedge funds are very interested in the physical market. This investors demand comes out of nowhere. And the tiny uranium market tends to accelerate things usually pretty quickly.
Technical Analysis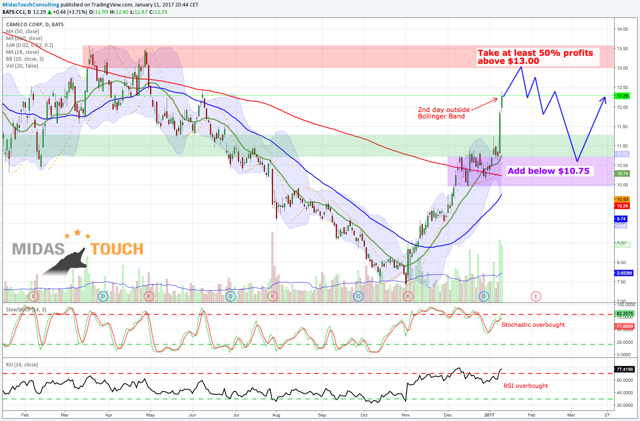 From its low on the 1st of November Cameco is up 68%. After consolidating most of December the stock is now back on fire. But the RSI indicator as well as the Stochastic oscillator are reaching their overbought zone. At the same time today´s green candle is the second day outside the Bollinger Bands which increases the bearish odds dramatically. The maximum a stock can trade outside its Bollinger Band usually is six days. So I guess within one week Cameco should reach the next strong resistance zone around $13.00 - $13.50. Here I think it will be prudent to take some gains off the table and wait for the coming pullback towards the rising 50-moving average (currently at $9.74) to add again.
In summary Cameco will likely rally much higher in 2017 but is now getting short-term overbought. Therefore take some profits above $13 and add again below $10.75.
Disclosure: I/we have no positions in any stocks mentioned, and no plans to initiate any positions within the next 72 hours.
I wrote this article myself, and it expresses my own opinions. I am not receiving compensation for it (other than from Seeking Alpha). I have no business relationship with any company whose stock is mentioned in this article.
Editor's Note: This article discusses one or more securities that do not trade on a major U.S. exchange. Please be aware of the risks associated with these stocks.