1. Divestments
The most recent divestment of Provenge to a Chinese investment group Sanpower and the skin care products to L'Oreal (OTCPK:LRLCF) for a combined price of $2,120 million prompted me to update my cash flow model on Valeant (NYSE:VRX) and see what would be the impact on the debt and the future cash flows of the company.
First and foremost - I believe that the combined cash proceeds that Valeant is getting from these deals are very good. The company has effectively managed to sell businesses generating $160m of EBITDA in 2016 for $2,120 million (that is in excess of 13x LTM EBITDA and probably above 12.5x on a forward basis).
Considering the fact that Valeant itself trades at approx. 9x fwd EBITDA, the transactions were accretive to equity and the share price should adjust upwards when the news is fully digested.
The more interesting aspect though is not the effect on EBITDA, but on cash flow itself. Taking VRX' average EBITDA/cash conversion, it is safe to assume that the divested businesses were generating something to the tune of $120-125 million of cash flows.
Selling these businesses would mean that VRX would not have the benefit of having those cash flows contributions in the future. However, by paying down $2,120 million of bank loans (margin assumed at 425 bps), the company saves roughly $100 million in interest payments. Moreover, there will be some SG&A and CAPEX savings due to these businesses no longer being part of the group as well as FTE reductions. I have assumed these to be higher than $20 million per annum in my model. Hence, VRX scored a big victory by having almost no cash outflow effect from the above-mentioned transactions, but getting cash proceeds in excess of $2.1bn to retire some of the bank loans and appease the lenders.
Below I have shown how the cash flow profile could look for the full year 2016 and on a quarterly basis over the next two years.
Table 1: EBITDA to cash flow conversion 2016 - 2018

Source: own estimates for Q4 2016 and beyond
What is clear now is that VRX would not encounter any difficulties with the debt payments until February 2019 (effectively more than 2 years from now).
This should give enough time for the new management team not so much to steer the company on a growth trajectory, as repairing the Dermatology division might take longer than 2018, but to have less pressure when selling additional assets.
There is a strong chance that the company may sell even other small assets in order to meet the February 2019 debt payment and clear the way up to 2020.
Investors need to attribute value to that as well as I think the debt overhang issue, which attributed to a more depressed valuation, looks to be resolving positively.
2. Operational performance
Management assumes this year to be challenging and weak in terms of performance.
I personally believe that 2017 will be the year of transformation and trying to stop the bleeding in Dermatology rather than achieving growth. Top-line growth is most likely to come back in 2018.
Apart from Dermatology, the strong dollar will also add headwinds to the International division as local revenues and sales would convert into fewer dollars when Valeant reports their financial figures.
The extreme example for this is Egypt where the Egyptian pound lost quite a lot of its value against the US dollar in late 2016. VRX' local asset, Amoun Pharmaceuticals, sells more than 50% of their products in the local market and in local currency, so sales effectively would fall off a cliff in 2017 when seen through the prism of the US dollar.
Valeant paid $906m for Amoun in October 2015 - back then the company was sporting an $80m EBITDA that was poised to grow fast in the near future. Now in dollar terms EBITDA would probably be in the region of $50m, so getting anywhere close to the price paid is virtually impossible.
On a group level, I have also projected the sales for 2017 and 2018 on a quarterly basis and as per the new divisional breakdown presented by management in Q3 2016.
I have adjusted for the lost revenues from Provenge, Cerave and the smaller skin care products as of Q2 2017 as well as accounted for even lower SG&A, D&A due to the loss of these businesses and slightly higher M&A contingency fees as they would need to pay their advisors for the most recent transactions. The restructuring costs also go up a bit ($10 million per annum in 2017) as they would need to carve these out from the group.
Table 2: Valeant P&L 2016 - 2018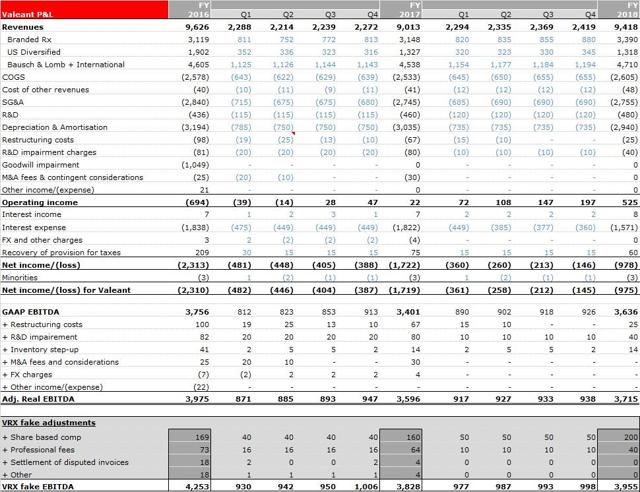 Source: own estimates for Q4 2016 and beyond. VRX quarterly reports used for Q1 - Q3 2016 data.
I have addressed in a previous article how Valeant window-dresses their EBITDA in order to drive up their valuation and for the leverage ratios to look better. I don't want to repeat the same mantra about share-based compensation, but rather wanted investors to visualize the extent of these items and the effect on EBITDA.
In the table above I have tried to split the real EBITDA, which should be used by investors trying to determine cash flows as well as for valuation purposes, from what I call the "VRX fake EBITDA," where they throw in some non-operating items as well as positions they claim should be one-offs, but are in fact recurring cost items.
My figures above are stripped of the approx. $250m+ annual additions of cost items that have little to do with operations - items ranging from adjustments for the value of sold properties, through cash bonuses paid to Amoun Pharmaceuticals employees and legal fees, all the way to the 300-pound gorilla - share-based compensation.
At least Valeant had to discontinue the nasty practice of adjusting cash flows, so that at least investors could see what really flowed out and what came into the firm as hard cash.
3. Brodalumab expectations
Some of the readers on Seeking Alpha took it as an insult when I published my previous article and quoted figures of what analysts from Deutsche Bank (NYSE:DB), Evercore and BMO Capital Markets assume to be the annual sales of Brodalumab in the near future (2017-2018). Hence, I've decided to take a more in-depth look at the product offering of Valeant's competitors in the psoriasis field and estimate whether Brodalumab could really challenge the leader Stelara as well as disrupt high growth products like Cosentyx (Novartis (NYSE:NVS)), Humira (AbbVie (NYSE:ABBV)) and Taltz (Eli Lilly (NYSE:LLY)).
From the FDA and market reports and materials I've read in the last few days on this topic, both analysts and dermatologists agree that at more than $2.5bn in sales Stelara has reached a plateau and sales are likely to remain mostly flat going forward. Doctors are the first to voice the opinion that Stelara is actually NOT the best treatment available on the market now. Nevertheless, their position (~40% market share globally) remains unchallenged despite the very high costs of more than $1,000 per month for treatment.
The new products receiving a lot of traction currently and over the next 12 months are Taltz ($32m sales in Q3 2016) and Cosentyx ($301m of sales in Q3 2016) that have shown steady growth in US, Europe and Asia (primarily Japan), mainly because of the perceived higher efficacy and the strong safety profile.
Cosentyx was approved only 6 months before Taltz and in tests the response was that they are very similar (58% of answers), while quite a few patients also said that Taltz is the more effective treatment (40% of respondents).
Still, despite the perceived efficacy and edge, the user base of Taltz is a fraction of that using Cosentyx, which is also reflected in the significant difference in revenues generated by both products in the past 6 months of last year.
Dermatologists prescribing psoriasis treatments actually say that the best perceived treatment by patients is Celgene's Otezla, which is not biologic but significantly outperforms them all. It was approved by the FDA in early 2014 and since then sales have skyrocketed to above $1bn in 2016 and expected to reach $2bn by 2019 as it takes market share from Humira and other competing products.
More than 40% of doctors expect an increased use of that particular treatment, based on frequency of patient requests (based on a market report by Spherix Global Insights).
In the same study dermatologists were asked also to comment on the upcoming treatment from Valeant (i.e. Brodalumab). Although more than 40% of the surveyed dermatologists reported that they have learned something new about the drug in the past few months, most anticipate the product to have a limited role in their treatment paradigm.
Going back in time, it is worth noting that analysts were heralding Brodalumab as a blockbuster and very effective drug back in 2013, before studies showed the high ratio of suicides associated with patients using this treatment.
Piper Jaffrey's J. Schimmer wrote a report back then putting an overweight rating on Amgen (NASDAQ:AMGN) (then co-owner of Brodalumab) based on the fact that he expected the drug to reach $450 million of sales 4-5 years after approval. This was viewed as being 8-9% of the US psoriasis market.
Then in 2013 and 2014 something terrible happened - patients treated with the drug started showing signs of Suicidal Ideation & Behavior (SIB). Six of the patients actually did commit suicide during the course of the drug trial and another 23 attempted to kill themselves or had intentional self-injury. Overall there were a total of 35 SIBs during the few months of drug trials.
Drug sponsor Amgen promptly discontinued the trials in early 2015 and their co-partner AstraZeneca (NYSE:AZN) assumed responsibility for Brodalumab's further development.
Whether they also decided to distance themselves completely from the problematic drug or simply did not believe that they would manage to get it approved without any risk management labeling, which would hinder sales significantly, remains unclear. But the decision was taken to get rid of it quickly and they quietly sold the "blockbuster" drug for a mere $100 million to Valeant in 2015. However, in order to keep some potential upside, they still negotiated another $150 million milestone fee if and when the drug was approved as well as profit splits after launch. Valeant, however, would need to carry all the costs associated with the approval, production and sales of the drug, which at the beginning would probably be larger than the sales themselves.
Going back to the SIBs associated with Brodalumab - monitoring for suicidal ideation and attempts was stepped up during the course of the clinical trials by Valeant, the new sponsor behind the drug. During a FDA hearing VRX reps noted that the rates of suicidal ideation and attempts increased after implementation of the Columbia Suicide Severity Risk Scale (C-SSRS).
These episodes prompted the FDA's Dermatologic Drugs Advisory Committee chair, Michael Bigby, M.D., to remark, "The big problem is that you have six completed suicides. … I would say it's a fairly big number for a randomized controlled trial. Patients and clinicians need to be aware of this as a fact."
A further FDA data study showed an 18-fold increase in the rate of SIB for Brodalumab arm participants with a prior history of suicidality.
Back in July 2016, the FDA Advisory Committee did recommend Brodalumab be approved in February 2017, but it also seems they took note of the warning of Dr. Bigby as 14 of the 18 members voted in favor of approval but with risk management measures beyond normal labeling.
In the FDA paper prepared before the meeting (i.e. 19 July 2016), the recommendations listed are the following:
1) Clearly describe in labeling the potential risk of suicide
2) Consider approving it as a second-line treatment only (i.e. only for patients where other drugs are not effective)
3) Develop effective assessment tool to monitor SIB and suicidal behavior during treatment
Looking at these, I find it hard to see how many people would disregard the health language on the label and how many dermatologists would decide to prescribe Brodalumab over other safer treatments.
Investors should not take this as a criticism of the efficacy of the drug. As the table below shows Brodalumab (also known as Siliq) it is one of the most effective ones along with Taltz and significantly better than Stelara and Cosentyx.
Picture 1: Efficacy results for psoriasis products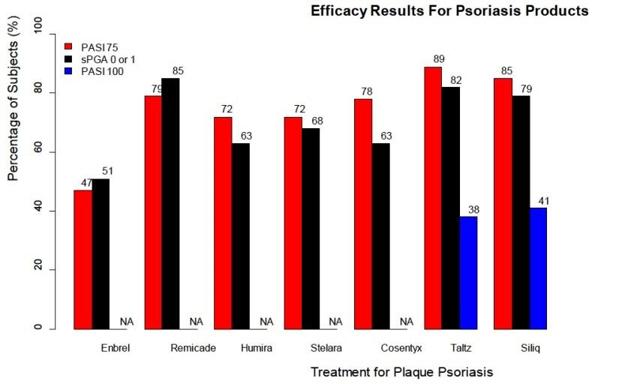 Source: FDA presentation on Brodalumab
Despite this, the two latter drugs have more than 2/3 of $6bn US psoriasis market whereas their more efficient challengers are making $30 million in sales per quarter.
That is why I think most analysts do not expect Brodalumab to be a blockbuster drug for Valeant. Previous hopes were for $450 million in sales 4-5 years after approval before the SIB issue, so new longer term estimates need to be revised down.
In general, Deutsche Bank and BMO expect sales to reach $50 million in 2018.
I have now taken a more upbeat approach and changed the estimates in the model to $25 million for the 3 quarters of 2017 (vs. $14 million in the previous version) and a more than generous $125 million in 2018 (vs. analyst expectations of $50 million). Most likely peak sales would be in the $300-350 million range in 4-5 years and that is if VRX has the financial resources to invest in a sales force and aggressive marketing of the product.
However, the fact is that if doctors alert patients to the potential risks of the drug, Brodalumab may really have a very limited application. Patients would probably choose safer and equally good Teltz or go with the mainstream choice of Stelara, due to the perceived higher safety profile.
On a similar note, big pharma (J&J, Eli Lilly, etc.) would not sit idly, if they see Valeant making big waves in the psoriasis market and taking market share from them. Valeant simply does not have the firepower to engage into a price war with them.
4. Valuation of Valeant
As always, I also wanted to provide a quick update on valuation, now that the company would be likely paying back at least $2.1bn of bank debt in 2017.
Looking at the peer group, specialty pharma continues to trade in the 9-10x EBITDA 2017 range.
I apply a 9x EBITDA multiple to VRX due to the remaining legal and operational issues of the company. Naturally, I apply this to the real adj. EBITDA as I have no wish to value their proceeds from disputed invoices, SBCs or their "tech transfers" at a multiple higher than 1x!
9 X $3,828m = $32,538 - (net debt of $27,200m) = $21 per share
I think VRX could even reach $23-25 after Brodalumab gets approved in February and/or a further asset sale is announced.
Nevertheless, I would encourage investors to wait for the price to go below $15, if they would like to acquire the March $20 calls and play this move. You may be able to get more attractive pricing on the calls in the next few days, if this continues to slide below $15.
Disclosure: I/we have no positions in any stocks mentioned, but may initiate a long position in VRX over the next 72 hours.
I wrote this article myself, and it expresses my own opinions. I am not receiving compensation for it (other than from Seeking Alpha). I have no business relationship with any company whose stock is mentioned in this article.
Additional disclosure: I currently do not have a position in the security, but would look to acquire Mar/June call options, should the price go back to the $13-14 range in the next few days.