After investors endured the worst performing Q4 in history for the Gold Miners Index (NYSEARCA:GDX) since its inception, 2017 is off to a great start. Thus far the index is up 7.5% for the year, and is up over 20% off its December lows. The loud GDX bears we had to put up with during December are now hiding out in the trees, and are considerably less vocal since. Despite an opportunity for them to head into hibernation with a hoard of profits, they elected to get greedy, and are now paying for it. Fortunately for those that have missed this rally off the lows, there are still some companies that are trading at reasonable valuations. After combing through my database of gold juniors this week, there are two that stick out as takeover targets at current levels.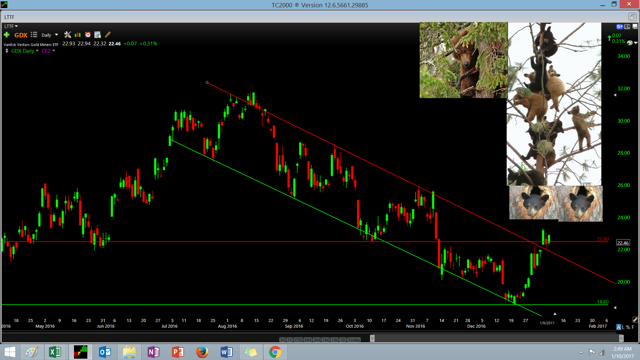 (Source: TC2000.com)
For those that have been following me the past few months, they know that I much prefer to hand-pick my mining stocks rather than buying the indexes. There are two main reasons that I do this:
1) The Gold Miners Index is made up of quite a few dogs, and I prefer not to own a basket of miners that is mixed in with what I would deem to be under-performers.
2) By doing my own research I can find the 'best in breed' juniors that are industry leaders, and also have an added kicker of being taken over by gold majors.
To show an example of what I mean by there being dogs in the index, let's look at the GDX:

(Source: Yahoo Finance)
The GDX is up 65% from the beginning of 2016, yet a few of the stocks in the top 10 holdings have significantly lagged the index. Randgold Resources (NASDAQ:GOLD) is up 29% over the same period,and Goldcorp (NYSE:GG) is up a mere 25%. Meanwhile gold streamer Franco Nevada (NYSE:FNV) is up a paltry 35%. These 3 companies make up over 17% of the index, and have posted roughly half the performance of the GDX since the beginning of 2016. This has weighed on the performance of the index significantly, and is a reason why I prefer to hold what I deem to be the industry leaders.
Fortunately, this strategy has paid off exceptionally. Below is a look at the 5 most recent miners I highlighted, compared with the performance of the GDX:

As we can see from the above table, my average mining position highlighted in my articles from mid November is up 30.67%, compared to a performance from the GDX of 8.43%. My 'best in breed' miners have outperformed the GDX by over 22%, and nearly four-fold over the past 2 months.
Ok, ok.. enough about my trading methodology, time to discuss the two companies that I've recently taken positions in.
#2 - Osisko Mining
Osisko Mining (OTCPK:OBNNF) is a company I've been following since this spring, when they were better known as Oban Mining (hence the ticker). The company elected to change their name to Osisko Mining as they are the former management team of the Quebec heavyweight. The team built Osisko from a sub $100 million market cap. junior into a mine that was eventually sold to Yamana (NYSE:AUY) and Agnico Eagle (NYSE:AEM) for over $4 billion.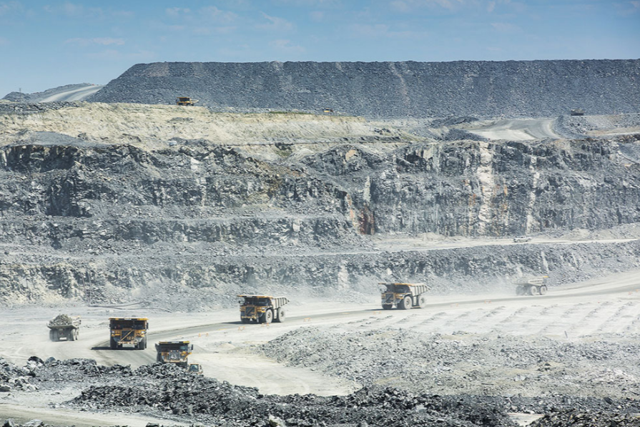 (Source: Osisko Gold Royalties Presentation, Malartic Mine)
The company currently has 160 million shares outstanding, giving it a market capitalization of $416 million dollars. Subtracting for cash and marketable securities of $155 million, Osisko has an enterprise value of $261 million. You may be thinking that $261 million is a rich valuation for a junior miner that's yet to begin production, but I'd argue that you haven't dug deep enough on Osisko Mining.
The team did an incredible job of preying on smaller companies at the bottom of the market in 2015, and in June of 2015 merged with Temex Resources, Corona Gold, Ryan Gold, and Eagle Hill Exploration. Osisko knew that these Canadian gold companies had no guarantee of surviving in the market atmosphere at the time, and took advantage of this. This paid off for both Osisko shareholders and shareholders of the merged companies, as Osisko has transformed their prospective projects into impressive discoveries.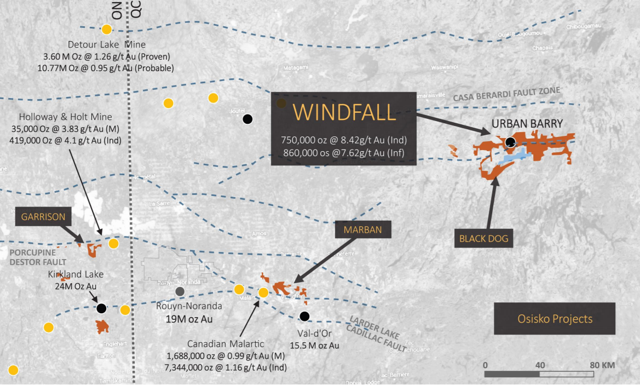 (Source: Company Presentation)
Osisko has several projects spread across Ontario and Quebec, but in this article I will turn all my focus to Windfall Lake. The below image is what the Windfall Deposit looked like in spring of 2015 prior to being acquired by Osisko Mining: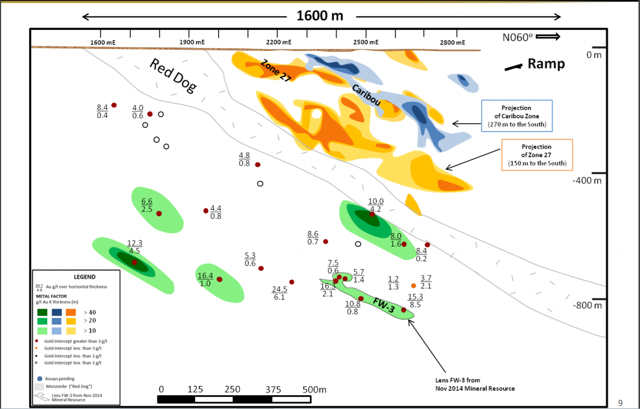 (Source: Company Presentation)
And the image below is what the deposit looks like now....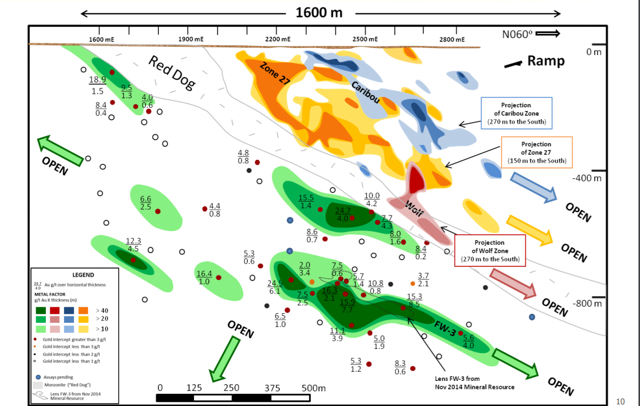 (Source: Company Presentation)
Not only has Osisko significantly expanded on zones with minimal exploration previously, it has increased grades in the main zone, and expanded them in every direction. When Osisko acquired the property, the deposit had a strike length of roughly 600 meters. Osisko has doubled the strike length to 1200 meters, and made several new discoveries well below the current resource estimate. The company has made so many discoveries over the past year, that the names for their new discovery zones are beginning to lack creativity. We have a Fox Zone, a Wolf Zone, the Red Dog Zone, the Under Dog Zone, and now a Black Dog Zone. If the company keeps it up we can expect to have a Wiener Dog Zone, a Salty Dog Zone, and a Wassup Dawg Zone by early 2018.
In addition to delineating a deposit twice the size in the Main Zone, the company has also been instrumental in discovering new deposits. Osisko stepped out 4 kilometers to the northwest of the Main Zone earlier this year, and made a new discovery known as the Fox Zone.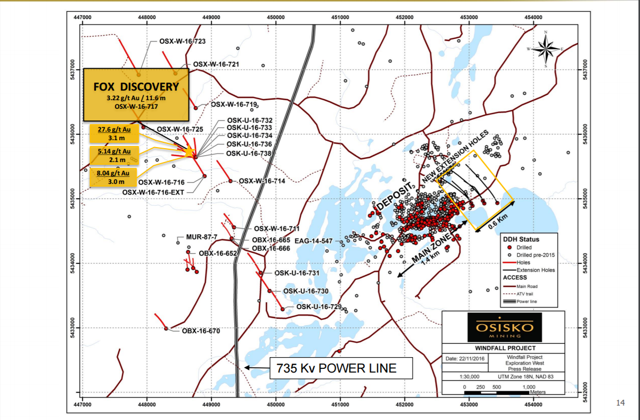 (Source: Company Presentation)
The Fox Zone hosts similar grades to the Main Zone, and follow-up drill results are showing the potential for a new gold deposit. The most recent drill results from the Fox Zone were 3 meters of 27.6 grams per tonne gold, and 3 meters of 8.04 grams per tonne gold.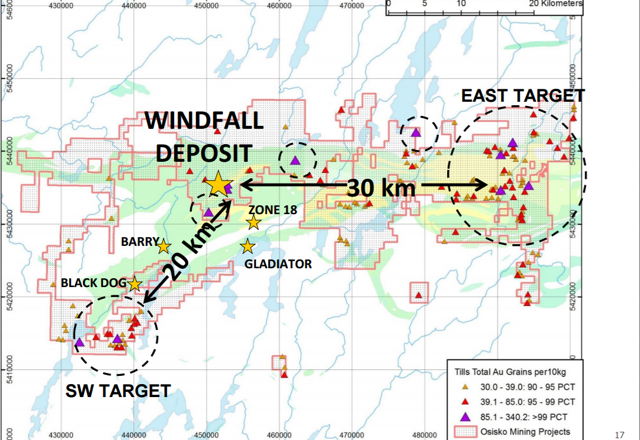 (Source: Company Presentation)
All of these new discoveries are extremely exciting, but the one that interests me the most is Black Dog. Black Dog is located 15 kilometers southwest of the Main Zone, and the first hole intercepted 32 meters of 3.42 grams per tonne gold. This unlocks the potential for a third gold deposit among Osisko's Urban Barry properties, and speaks to the exploration potential of this greenstone belt. The Urban Barry Greenstone Belt is already home to several gold deposits, all of which are quite high-grade.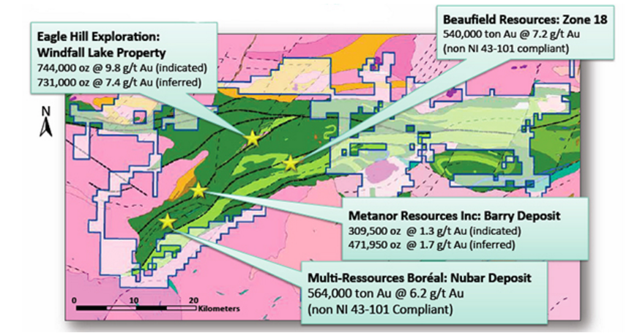 (Source: Company Presentation)
Windfall Lake is already home to over 1.6 million ounces of gold at an average grade of 7.9 grams per tonne, and this number continues to grow. The current resource estimate is based on pre-2016 drilling, and does not include the 115,000 meters that have been drilled since. I believe Windfall Lake's current resource is closer to 3 million ounces, and Osisko is expecting to produce a new resource estimate this year. Ultimately I expect Osisko to delineate a resource of more than 6 million ounces at Windfall Lake, based on the new discoveries at Fox and Black Dog. This is more than enough ounces to support a mine, and the company has the team in place to put it into production. The company's current enterprise value is valuing them at less than $90/oz based on Windfall Lake alone by using my current estimate of 3 million ounces. This is ignoring the company's 4 million ounces across other projects which makes the company even more undervalued.
I have no doubt that Osisko will build a mine at Windfall Lake, and the company already has a timeline in place to progress Windfall Lake. Osisko is planning to do feasibility work next year, and move towards a construction decision in 2019. The team has done it before, and I regret not taking part in the massive value creation by this management team at Malartic. I will not be missing this opportunity with the same team at Windfall Lake, and would not be surprised to see Osisko command a $1+ billion valuation by 2021. This would equal out to a share price of over $6.00 (US) from the current $2.00 share price (US).
#1 - Integra Gold
Integra Gold (OTCQX:ICGQF) is a company that is new to me as of 2016, but I'm glad that I stumbled across it. The company is also exploring in Quebec, located less than 10 kilometers outside of Val-d'Or. Their flagship project is the Triangle Deposit which hosts a current resource of over 1.7 million ounces at an average grade of 7.0 grams per tonne gold (using 3 g/t au cut-off). This resource estimate is hardly indicative of how many ounces the Triangle Deposit currently holds, as the company has drilled over 100,000 meters since the most recent estimate. An updated resource estimate is due in early 2017, and I expect it should show a deposit with over 2.3 million ounces. This would represent a 35% increase in the current resources, and would significantly increase the potential mine life.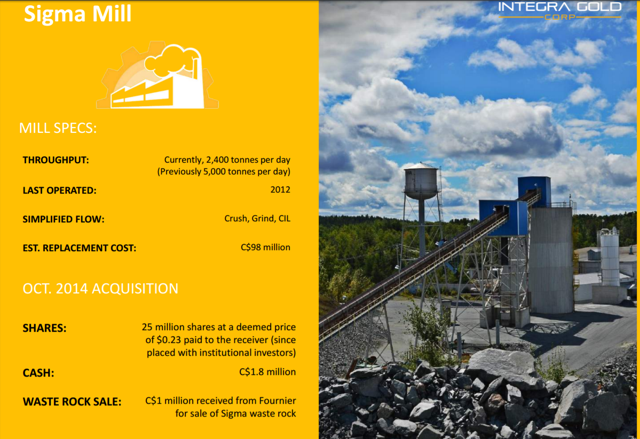 (Source: Company Presentation)
One of the most compelling things about the Integra investment thesis is the infrastructure. The company already has a mill on their property which is capable of producing 2,400 tonnes per day. This significantly lowers capital expenditures for building a mine at the company's Lamaque Property, and this shows in the company's Preliminary Economic Assessment (PEA).
The company's 2015 PEA used a base case gold price of $1,175/oz and came up with the following parameters:
109,900 ounces of annual gold production
4.5 year mine life
All-in sustaining cash costs of $731/oz
Pre-production capital costs of $62 million
After-tax internal rate of return of 59%
Payback period of 1.6 years
This is one of the shortest payback periods I have ever seen in the industry, especially considering the conservative gold price used. Based on my projected addition to resources, the company has the potential to increase their mine life to over 6 years, even at a higher throughput rate. Integra has stated they want to use an increased throughput for the new PEA, and I am expecting annual production in the neighbourhood of 160,000 ounces per year. This would likely make the payback even faster as I expect pre-production capex to remain under $100 million even with costs to increase mill throughput.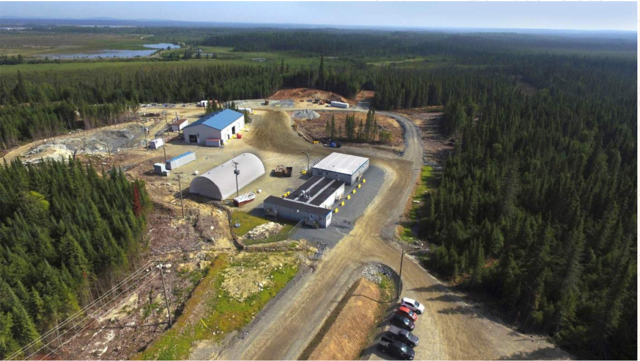 (Source: Company Presentation)
Integra has several other satellite deposits it's delineated over the past couple years, which should also help to add to the mine life. A new resource estimate for these deposits was released recently, which incorporated the past year's drill results. The company's total resources amount to 2.7 million ounces, at an average grade of 6.0 grams per tonne gold (using 3 g/t au cut-off). All of the satellite deposits are located within 5 kilometers of the mill, and should be extremely economical to mine.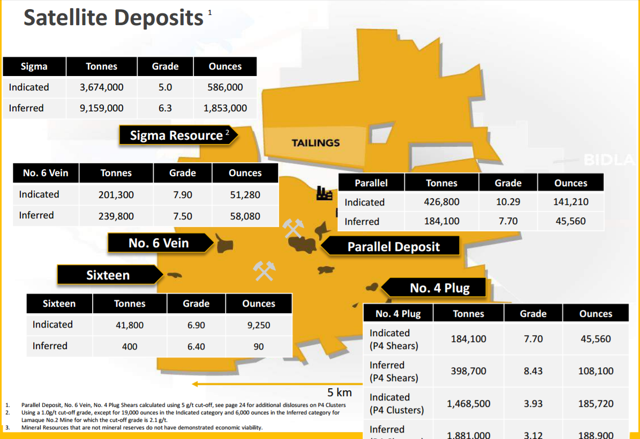 (Source: Company Presentation)
Valuation
Integra currently has 485 million shares outstanding, giving it a market capitalization of $339 million dollars (NYSEARCA:CAD). Subtracting for the company's current cash balance of $43 million, the company has an enterprise value of $298 million. Based on the company's current resource of 2.7 million ounces, Integra's ounces are valued at $110/oz. I believe the Triangle deposit should increase to 2.3 million ounces based on 2016 drilling, therefore the current 2.7 million ounces should increase to 3.3 million ounces. Using my projection of 3.3 million total ounces, Integra's ounces are being valued at $90/oz. This is an quite undervalued for a company trading in one of the best mining jurisdictions in the world that is able to build their mine for less than $100 million. I took a starter position in Integra Gold today in my main account, and will look to add another tranche on further weakness.
Technical Outlook & Summary
The GDX bulls have had to fend off bears at every corner the past few months, but the bulls finally seem to have the upper hand. The GDX has broken out of its descending channel, and is trading above horizontal support at $22.50. This is a very important level for the GDX as it was support for the index since late April.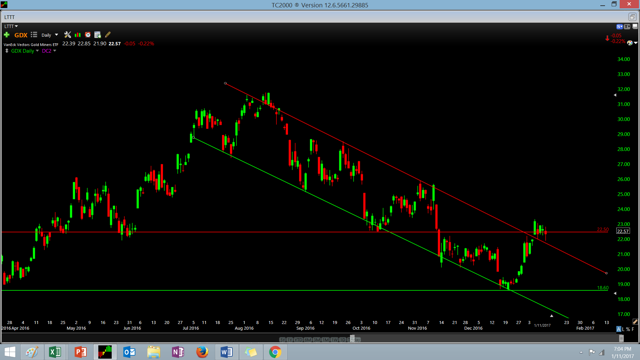 (Source: TC200.com)
The longer the GDX can hang out above $22.50, the more trouble the bears are in. The fact that the GDX has found buyers at a re-test of its descending channel on two occasions since it broke out is certainly a positive. I have zoomed in on the below chart to better show what I mean.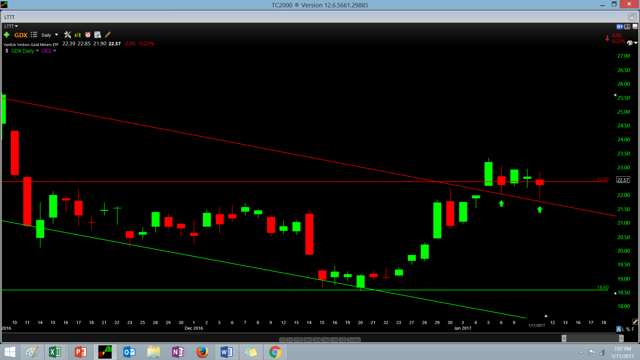 (Source: TC2000.com)
When a market breaks out of a downtrend or descending channel, investors want to see that level hold when it is back-tested. Thus far the GDX is doing this, shown by the green arrows in the above chart. The descending channel comes in at $22.00 approximately, and the GDX's lows were $22.02 on Friday, and $21.90 today. The GDX then closed well off these lows which is thus far showing commitment to the breakout.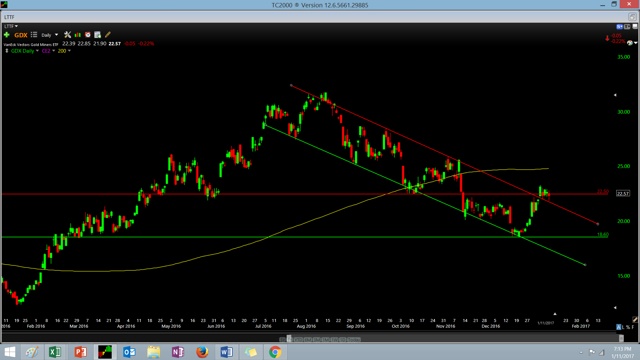 If the GDX can remain above $22.50 and build a base here, the next technical resistance comes in at $24.84, at the 200-day moving average. Due to the 200-day moving average currently being flat, I do not know that it will pose a large hurdle for the index. Typically down-sloping moving averages pose a threat to markets, while flat ones do not present as much a problem. The bears are going to need defend $22.50 going forward as there's no real levels of defense until $24.80. The weekly close will be very important for the bears, as they've completely dropped the ball since late December.
With the GDX breaking out and in a zone where it could potentially squeeze the bears, I am holding an aggressive position in miners. Integra Gold and Osisko Mining are my two most recent additions to my portfolios, and I expect both to do very well if gold is able begin a new uptrend in 2017. If gold is not able to get through $1,200/oz, both companies have healthy cash balances to weather the storm. The companies are trading at very reasonable valuations given their high-grade resources, and I believe they are both takeover targets for mid-tier producers. Both companies could be in production within 3 years, and offer the potential for a mid-tier to add over 100,000 ounces to their annual production profile. At a price of less than $350 million for either company, this is an attractive proposition.
I remain 44% net long miners in my accounts, and at my heaviest allocation since February. I have not trimmed or taken profits on the recent run in gold miners, as I'm more impressed with the technicals of the GDX everyday. I am confident that the bottom is likely in, and if I'm wrong I have stops on each position to protect me.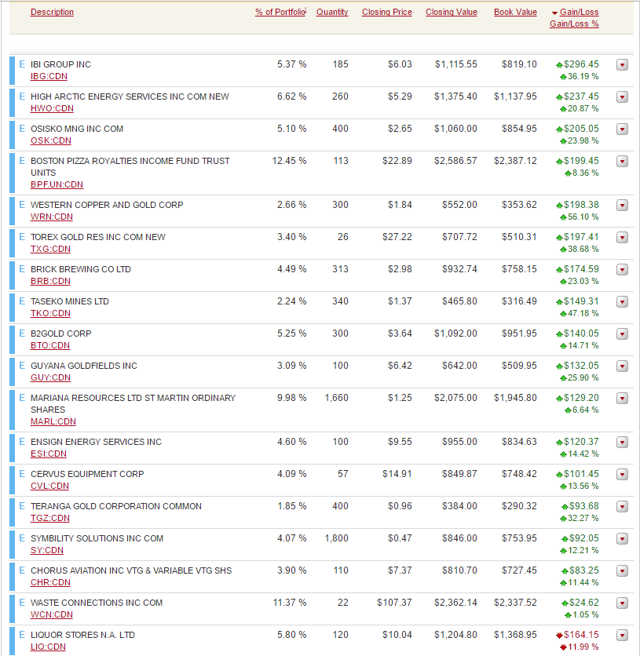 (Source: CIBC Investors Edge Account)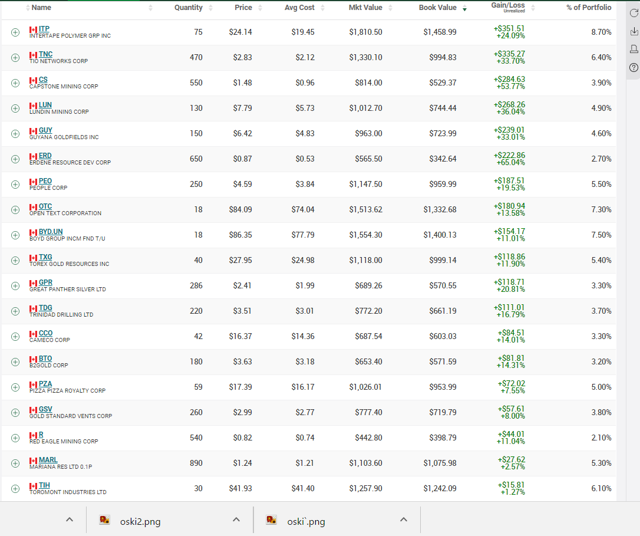 (Source: TD WebBroker Account)
For full transparency I have shown my two main accounts above which show my aggressive long position in mining stocks. My Integra Gold position is not shown in the above accounts as it was added today, and will not be reflected until today's close.
Disclosure: I am/we are long GLD, ICGQF, OBNNF.
I wrote this article myself, and it expresses my own opinions. I am not receiving compensation for it (other than from Seeking Alpha). I have no business relationship with any company whose stock is mentioned in this article.
Additional disclosure: If you liked this article and found it useful, please feel free to follow me by clicking on my name next to my avatar at the top of this article. I also invite you to follow me at www.twitter.com/TaylorDart01 where I routinely share my entries, exits, and stops on new positions, as well as updating followers on sentiment data on markets I am following.
Editor's Note: This article covers one or more stocks trading at less than $1 per share and/or with less than a $100 million market cap. Please be aware of the risks associated with these stocks.