Pharmaceuticals have taken a beating since mid-2015, mostly due to campaign talk by Hillary Clinton and other democrats regarding the issue of drug price gouging. Over this period of time, the share price of iShares U.S. Pharmaceuticals ETF (NYSEARCA:IHE) dropped from a high of $180 to a recent price of $144.08.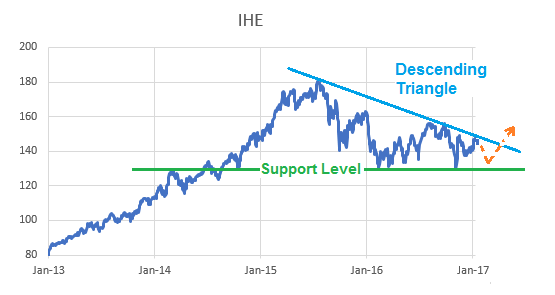 IHE Price Chart
Today (Wednesday Jan 11, 2017) in a news conference, was the first time that President-Elect Trump took a swing at the drug industry, leading many to believe that more pharmaceutical price declines are in order.
They supply our drugs, but they don't make them here to a large extent. And the other thing we have to do is create new bidding procedures for the drug industry because they're getting away with murder.
The price of IHE initially dropped more than 3.3% after his speech, but then recovered, some settling down about 2%. Despite the nervousness engulfing the pharmaceutical industry, I believe that now is the time to take a long position in the pharmaceutical industry. This is certainly a contrarian position, but I believe that the support level of $129.40 for IHE will hold.
Choice of Pharmaceutical ETF
Unlike other pharmaceutical ETFs such as the PowerShares Dynamic Pharmaceuticals ETF (NYSEARCA:PJP), IHE is a passive ETF based on a capitalization-weighted index, providing broad-based exposure by market capitalization.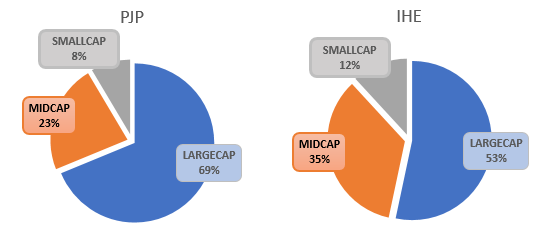 While Equal-Weight and Smart Beta ETFs such as PJP tend to outperform during market advances, mkt. cap-Weight ETFs such as IHE tend to do better during volatile periods of time, especially during bear markets. For this reason, IHE is the more conservative and preferred instrument for taking a long position in pharmaceuticals.
Checking Under the Hood
Pharmaceutical ETFs can't be analyzed in the same manner as other groups of stocks as they hold very profitable large caps, and a lot of small and mid-sized stocks that are not profitable. The smaller companies tend to spend most of their efforts developing new drugs, resulting in negative earnings. As summarized below, the IHE smaller holdings have a negative ROE, but reasonable debt/mkt. cap ratios and lots of cash.
IHE Holdings - Capital Strength by mkt. cap
| | | | |
| --- | --- | --- | --- |
| Size | Cash | Debt/MktCap | ROE |
| Large Caps | $12.0B | 0.23 | 12.80% |
| Mid Caps | $290M | 0.3805 | -19.90% |
| Small Caps | $221M | 0.335 | -13.50% |
I performed a 1-year backtest of the small cap and mid cap holdings (mkt. cap under $10 billion) using Portfolio123 with results shown below.

Performance of IHE holdings with mkt. cap under $10 billion
As a result of the backtest, I came to the conclusion that the small and mid cap stocks, although very volatile, did not contribute significantly to the ETF's recent poor performance, and these stocks likely won't be of concern in the future. During bad times, they are generally the target of acquisition by larger companies. The risks are also distributed among the 32 smaller stocks.
A second backtest was performed against the large cap stocks held by IHE. As shown in the chart below, the large caps contributed to the bulk of the price decline.

Performance of IHE holdings with mkt. cap greater than $10 billion
IHE Large Caps
| | | | | |
| --- | --- | --- | --- | --- |
| Name | Mkt. Cap | Cash | Debt/MktCap | ROE |
| Johnson & Johnson (NYSE:JNJ) | 316255.37 | 40778 | 0.07 | 22.09% |
| Pfizer Inc. (NYSE:PFE) | 202925.78 | 14371 | 0.15 | 9.51% |
| Merck & Co., Inc. (NYSE:MRK) | 165478.72 | 13067 | 0.14 | 12.3% |
| Bristol-Myers Squibb Co. (NYSE:BMY) | 100240.37 | 5560 | 0.06 | 21.93% |
| Allergan PLC (NYSE:AGN) | 84406.88 | 27392.3 | 0.37 | -2.12% |
| Eli Lilly and Co. (NYSE:LLY) | 84198.11 | 4226.8 | 0.1 | 15.87% |
| Zoetis, Inc. (NYSE:ZTS) | 26654.42 | 651 | 0.17 | 48.97% |
| Mylan N.V. (NASDAQ:MYL) | 20841.09 | 1413.4 | 0.54 | 2.38% |
| Perrigo Co, Plc (NASDAQ:PRGO) | 11995.41 | 415.7 | 0.47 | -15.49% |
Of the 9 large caps, Allergan and Perrigo have negative ROEs. However, both companies have substantial amounts of cash. Perrigo has a weight within the ETF of 2.87%, not too significant. Allergan has recently been through M&A and is still consolidating its activities.
My conclusion is that a major decline in price of IHE price from the current level is dependent upon the broad pharmaceuticals market, not likely due to specific stock holdings within IHE. Such a decline would likely be slow occurring, as the new government will take some time to get around to new drug-related regulations, and the broad market has already seen significant declines since mid-2015.
In any case, I believe that the rewards outweigh the risks of the trade that I have identified below.
Covered Call Position
The implied volatility for near-term options on IHE are very high. My suggested play consists of a covered call position, buying IHE and selling in-the-money Jan. 20 Calls. For example, the 135 strike call options have an implied volatility of 180% with a bid-ask price of $19.60-$21.70. If the call options are sold at $19, then the covered call position will be profitable, provided the price of IHE after Jan. 20 is above $144 - $19 = $125. If the price drops below $129 (the support level), then the position should either be closed or adjusted. If the price remains at $144 or higher, the maximum profit of $10 is realized.
Disclosure: I/we have no positions in any stocks mentioned, and no plans to initiate any positions within the next 72 hours.
I wrote this article myself, and it expresses my own opinions. I am not receiving compensation for it (other than from Seeking Alpha). I have no business relationship with any company whose stock is mentioned in this article.