Let me start my first article of 2017 by wishing you all a very happy and healthy New Year. 2016 was an intense year, both at the professional and personal levels, which is why I had to stop publishing articles for Seeking Alpha in the fourth quarter of 2016. But, I have planned to come back in 2017 and write regularly on the precious and base metals, with a specific focus on gold, my favorite metal. I would like also to thank you for all your comments and messages, which is my primary source of motivation.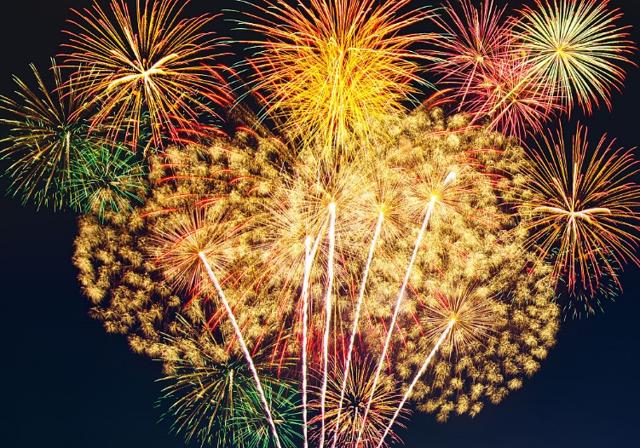 In this first article of the year, I would like to discuss briefly the PGMs and my outlook for the first quarter.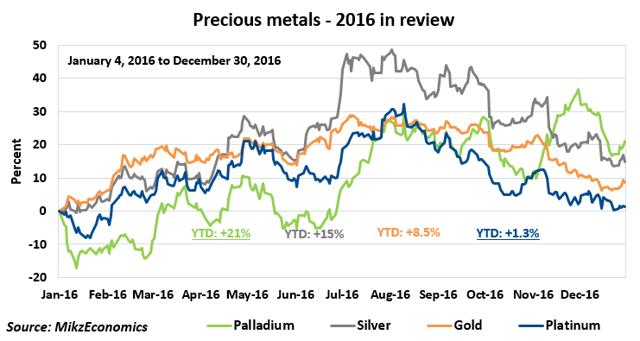 2016 was marked by a mixed price performance - in fact, platinum and palladium diverged significantly in their complex. Platinum, which edged up just 1.5%, was the weakest performer whereas palladium, which climbed 21%, was the star performer. This divergence was mainly the result of the extreme resilience of risk appetite in spite of heightened macro/political uncertainty.
Since the start of 2017, the PGMs are in vogue along with other precious metals, with palladium continuing to outperformance its sister platinum. So far in 2017, platinum is up 7.3% while palladium is up 10.3%.

Source : NetDania
While I am of the view that on net, PGMs should appreciate in the first quarter of 2017, I think that platinum is likely to outperform palladium. My conjecture is heavily dependent on my macro view.
Indeed, I think that risk aversion should resume in the first quarter of 2017 after the financial markets became too complacent, judging by the extremely low level of volatility across risk asset classes according to historical norms. Investors seem to overlook the elevated risks at the macro and political levels looming in 2017. Among them are a possible Chinese response to the protectionist Trump administration, the elections in Europe while populism has the wind in its sails, and some turbulence in EM countries as a result of intense capital outflows triggered by a firmer dollar.
A resurgence of risk aversion would boost buying interest in favor of platinum at the expense of palladium, principally because platinum tends to be viewed as a more reliable safe-haven whereas palladium usually exhibits a stronger correlation with equities.
My view is reinforced by the present divergence in speculative positioning, as can be seen below - while the net spec length in platinum appears overstretched on the short side, that in palladium looks elevated on the long side, which suggests that money managers are too bullish on palladium and too bearish on platinum. As a consequence, I expect a reversion to the mean, which should translate into an outperformance of platinum relative to palladium.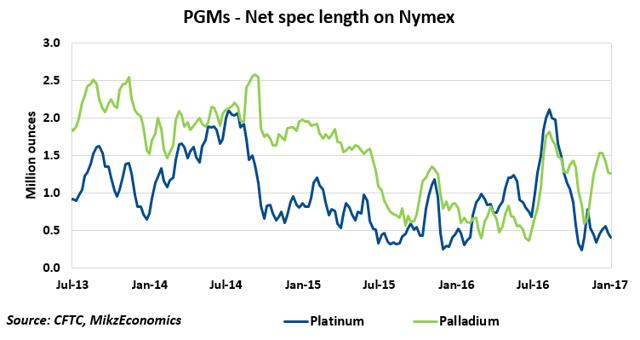 Although I have a somewhat constructive view on PGMs for the first quarter of the year, I recognize the presence of a number of key downside risks, which if materialize, could force me to change my view.
First, the incoming Trump administration's policies to cut corporate-tax rates and increase government spending on infrastructure, in implemented in full, are likely to increase domestic inflationary pressure and thus prompt the Fed to tighten at a faster pace its monetary policy stance. In this vein, the dollar and US real rates would push higher still, thereby exerting strong downward pressure on the precious metals complex, including the PGMs. That said, I believe that this potential risk may not materialize until the first half of 2017.
Second, I am worried about the ongoing disengagement from ETF investors. According to FastMarkets estimates, platinum ETF holdings dropped about 32,000 oz or 1% in 2016 after tumbling 266,000 oz or 10% in 2015. Palladium ETF holdings plunged 681,000 oz or 29% last year after falling another 693,000 oz or 23% in 2015. Should ETF selling continue to be the prevailing trend in 2017, the PGMs may be capped on the upside.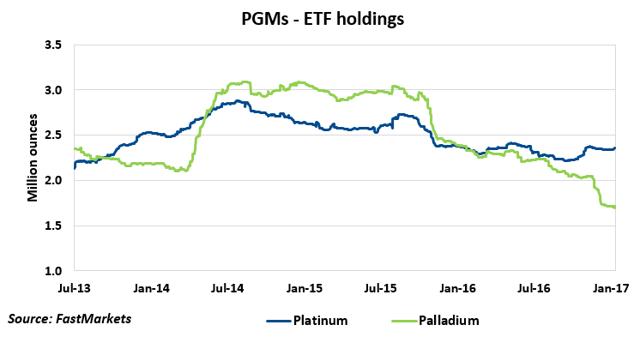 Finally, although the fundamentals in PGM markets steadily tightened over 2011-2016 - Johnson Matthey estimates that the platinum and palladium markets recorded a deficit in 2016, for the fifth consecutive year (see below), above-ground stocks of platinum and palladium remain elevated. According to GFMS, they totaled 7.2 million oz for platinum and 8.8 million oz for palladium. The presence of substantial above-ground stocks may act as a cushion against a tighter market, thereby preventing the PGMs from leaving their long-term downtrend.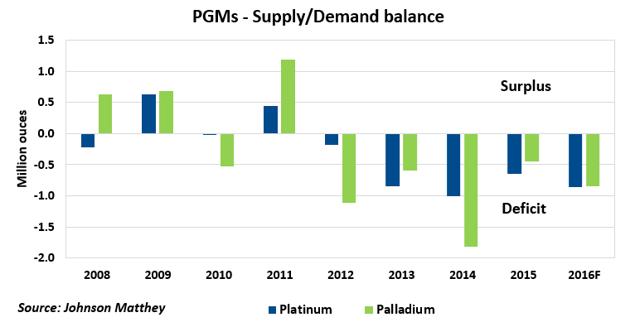 To sum up, although I acknowledge a number of key downside risks inherent to the PGMs for 2017 and beyond, I think that platinum and palladium should appreciate in the first quarter of the year, principally because the macro backdrop may become temporarily friendlier for the precious metals complex, including PGMs. Having said that, my global macro view leads me to think that platinum should outperform its sister palladium, and as such, I would be tempted to be long ETFS Physical Platinum Shares (NYSEARCA: PPLT) and short ETFS Physical Palladium Shares ETF (NYSEARCA:PALL) in the first quarter of 2017.
Disclosure: I/we have no positions in any stocks mentioned, and no plans to initiate any positions within the next 72 hours.
I wrote this article myself, and it expresses my own opinions. I am not receiving compensation for it (other than from Seeking Alpha). I have no business relationship with any company whose stock is mentioned in this article.