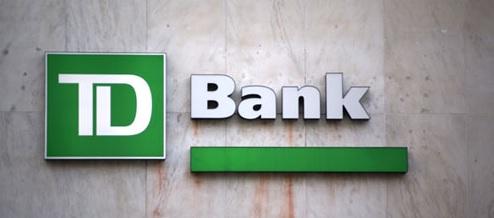 Wells Fargo (NYSE:WFC), has long been one of Warren Buffett's favorite companies, and in fact is one of Berkshire Hathaway's (NYSE:BRK.B) largest holdings.
That's due to the bank's incredible track record of conservative banking that has allowed it to survive, and thrive, during dozens of banking panics, financial crises, economic depressions, world wars, and killer pandemics over the past 100+ years.
However, the recent rash of scandals calls into question the very thing that has historically made Wells Fargo one of the most profitable banks in America. This means that despite the likely earnings boost that is potentially coming down the line from rising interest rates and banking de-regulation, Wells Fargo might not be the best bank stock to choose right now.
So let's take a look at two equally legendary Canadian banks, Toronto-Dominion (NYSE:TD), and Bank Of Nova Scotia (NYSE:BNS), aka Scotiabank, to see why investors might want to add these dividend growth legends to their diversified dividend portfolios; especially at today's attractive prices.
The Bull Case For Wells Fargo Remains Valid BUT...
Right now there are two main reasons to own Wells Fargo: numerous growth catalysts, and its dirt cheap valuation.
Earnings growth is expected to surge thanks to rising US interest rates, which are already up 60 basis points since November 9th.
In fact, management estimates that each 100 basis point increase in interest rates will contribute $2.4 billion to the bank's bottom line.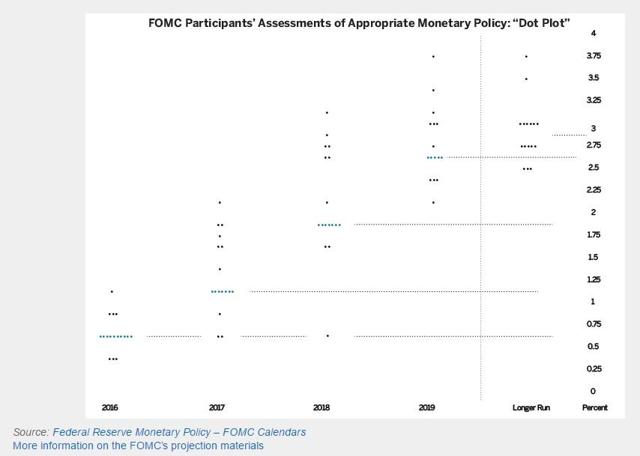 Over the next four years the Federal Reserve predicts interest rates will rise 2.75%, which would mean a $6.6 billion, or 32% increase in profits. And that's not even counting the benefits of lower regulatory costs.
Add to this increased business from a stronger economy, (courtesy of the Trump stimulus), and Wells Fargo might indeed be in for some boom times. Of course that's assuming that it's core business isn't permanently harmed by the large decrease in cross selling that is likely to result from a scrapping of its cross selling quotas.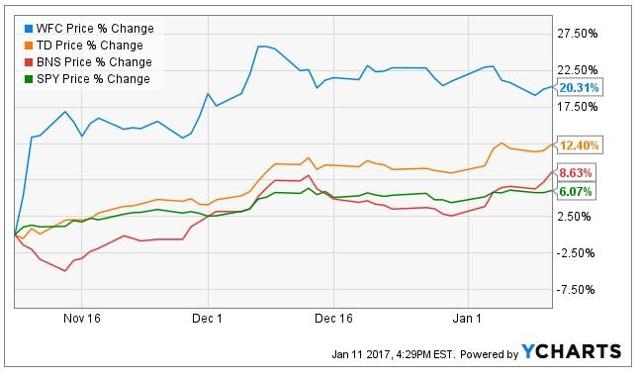 The second reason for owning Wells Fargo is valuation. Yes, since the election a spike in interest rates and hopes for banking de-regulation have sent Wells Fargo shares soaring. However, given how cheap the shares were to start with, today still represents an excellent buying opportunity.
Sources: Morningstar, Gurufocus, Fastgraphs

| | | | | | |
| --- | --- | --- | --- | --- | --- |
| Bank | TTM EPS | 10 Year Projected Growth | Fair Value Estimate | Growth Baked Into Current Share Price | Margin Of Safety |
| Wells Fargo | $4.03 | 10.1% | $106.23 | -6.4% | 49% |
| Toronto-Dominion | $3.51 | 6.9% | $73.57 | -1.4% | 31% |
| Scotiabank | $4.33 | 6.9% | $91.54 | -3.6% | 36% |
While a discounted cash flow or DCF analysis is far from a perfect valuation method, it can give us a general idea of what kind of growth is being priced into current share prices. In this case we can see that, while both Toronto-Dominion and Scotiabank are highly undervalued, Wells Fargo remains by far the most likely to beat market expectations going forward.
...Toronto-Dominion and Scotiabank NEED To Be On Your Radar As Well
Toronto-Dominion Bank and Bank Of Nova Scotia are two of Canada's big six oligopolist banks. Due to strict Canadian banking regulations that make it very difficult for foreign banks to enter the country (or for smaller banks to compete), these banks garner 90% of Canadian banking business within the country.
It also creates the immense stability for which the Canadian banking system is known, (was never threaten with bankruptcy by the global financial crisis, and average net charge offs well below 1%), as well as mouth watering margins and returns on capital.
Source: Morningstar

| | | | | |
| --- | --- | --- | --- | --- |
| Bank | Operating Margin | Net Margin | Return On Assets | Return On Equity |
| Wells Fargo | 37.1% | 23.5% | 1.1% | 11.9% |
| Toronto-Dominion | 31.0% | 25.3% | 0.8% | 13.3% |
| Scotia Bank | 35.7% | 26.5% | 0.8% | 13.7% |
| US Industry Average | NA | 15.0% | 0.5% | 6.3% |
As you can see, even mighty Wells Fargo, famed for its best in class profitability, can't compete with these two Canadian peers, who put the rest of the US banking sector to shame.
Better yet, while true that Wells Fargo's profitability is likely to get a boost in the coming years, so will Toronto-Dominions due to its US business, which will also benefit from rising interest rates.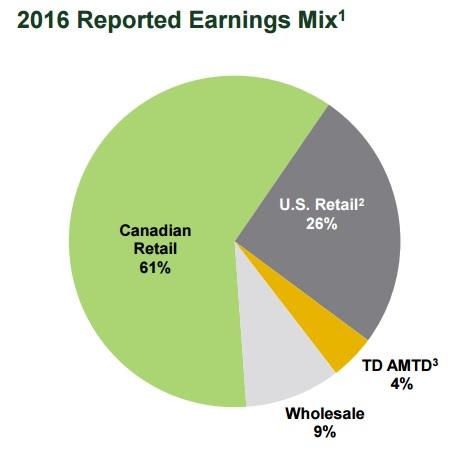 Source: Toronto-Dominion Bank investor presentation.
And don't think that Toronto-Dominion's US presence is insignificant, because the bank is quickly growing its operations in the states (now in 15 states and DC), which now have almost as many customers as TD has in Canada.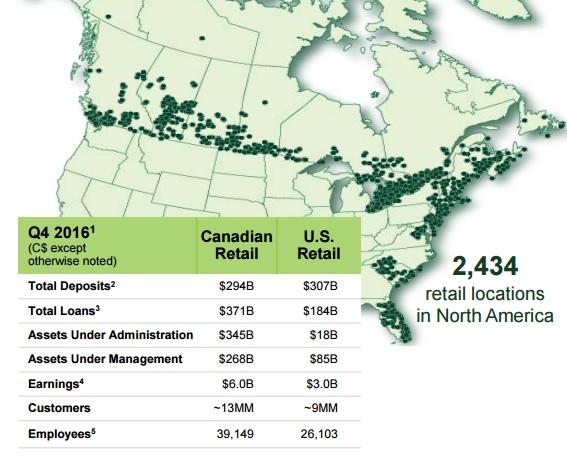 In addition, thanks to its wholesale, ie corporate banking division (segment earnings up 21% YoY), Toronto-Dominion has a growing presence across the globe, including New York, Houston, London, and Singapore. Which means that the 6th largest bank in North America is itching to become a major player, which management thinks can drive continued 7% to 10% EPS growth.
Scotiabank meanwhile, just celebrated its 185th birthday, and represents Canada's most international bank. In fact it has over 23 million customers in over 50 countries.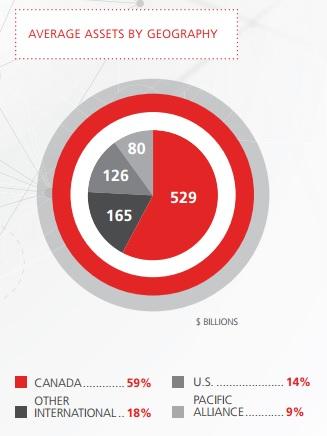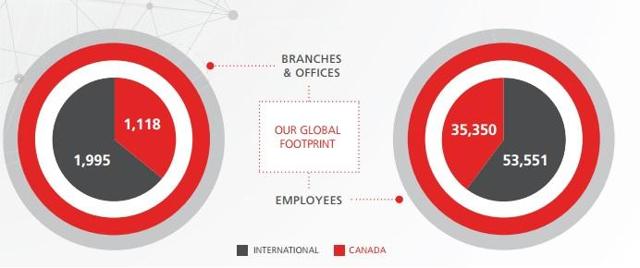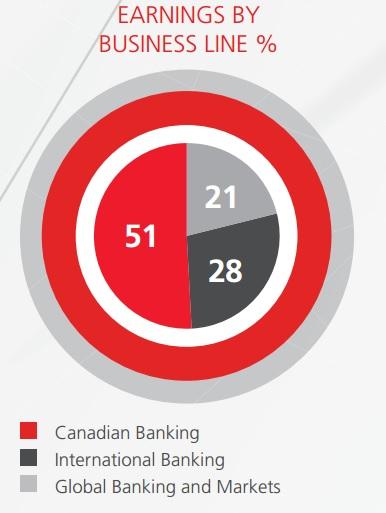 Source: Scotiabank annual report.
In fact, given the strong growth of its international segments and corporate banking divisions, within a year or two the majority of Scotiabank's profits will be derived from overseas.
However, what's most impressive about Scotiabank is management's laser like focus on quality underwriting.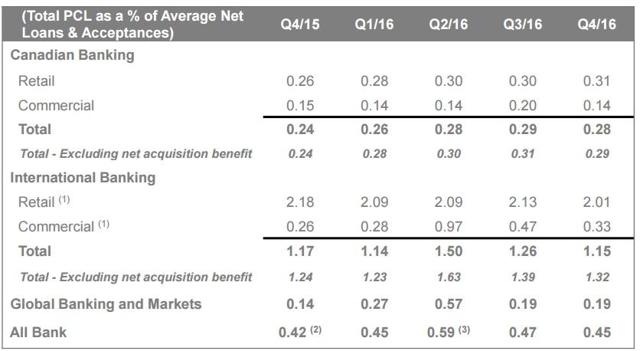 Source: Scotiabank earnings presentation.
Specifically, the bank is extremely disciplined about who it loans to, resulting in net charge off ratios that are among the lowest in the world, even in higher risk and higher margin banking, such as international retail which generate net interest margin of 4.77%.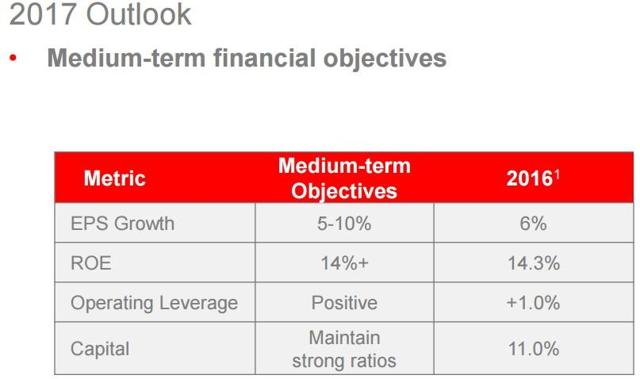 However, despite its immensely conservative banking culture, Scotiabank continues to grow quickly. In fact, management guiding for even stronger profitability going forward, as well as consistently strong EPS growth that should lead to years of excellent payout growth for dividend lovers.
Strong Dividend Profiles Make All Three Attractive Investments But Wells Fargo's Payout Growth Is More Questionable
Sources: Gurufocus, Fastgraphs, Factset Research, Multpl.com, Moneychimp.com

| | | | | |
| --- | --- | --- | --- | --- |
| Bank | Yield | TTM Payout Ratio | 10 Year Projected Dividend Growth | 10 Year Projected Total Return |
| Wells Fargo | 2.8% | 37.7% | 11.1% | 13.9% |
| Toronto-Dominion | 3.3% | 47.1% | 7.6% | 10.9% |
| Scotiabank | 3.8% | 51.3% | 6.6% | 10.4% |
| S&P 500 | 2.0% | 39.5% | 6.1% | 9.1% |
The most important aspect to successful long-term dividend investing is a strong dividend profile which consists of three things: the current yield, security of the dividend, and realistic long-term payout growth prospects.
In this case we can see that all three banks offer superior yield to the general market, however Toronto-Dominion and Scotiabank offerhigher yields, courtesy of their greater, (but still very safe) payout ratios.
Now in fairness to Wells Fargo its dividends are subject to annual review and permission from the Fed, which may change with expected banking de-regulation.
In terms of dividend growth Wells Fargo is expected to offer superior growth courtesy of the earnings boost from rising interest rates, in addition to lower regulatory compliance costs.
Combined with its undervaluation this makes Wells Fargo a potentially excellent long-term dividend growth stock, IF it can eventually put the recent scandals behind it AND its consumer business can recover from the devastating loss of goodwill it's currently experiencing.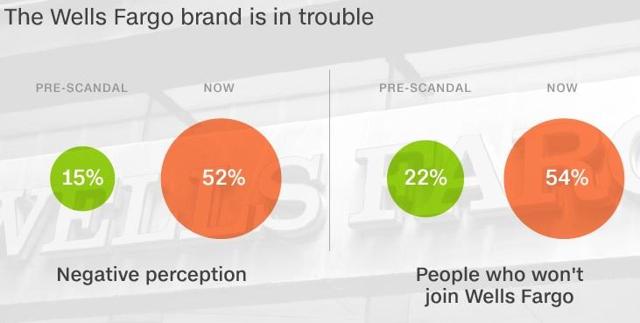 Source: cg42
And while Canadian banks won't benefit as much from rising US interest rates, keep in mind that their superior long-term dividend record means that they don't need to.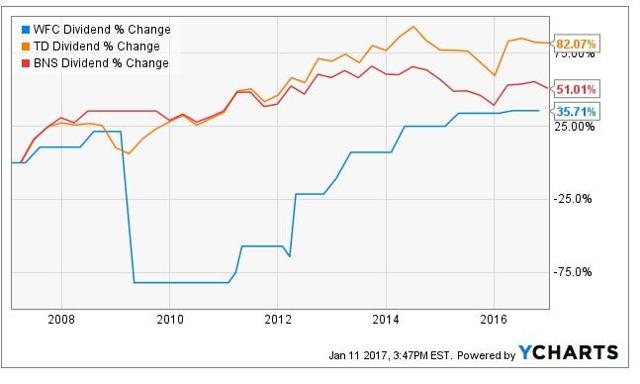 Note that the apparent fluctuations in the Canadian banks are due currency effects.
In fact the dividend records of Toronto-Dominion and Scotiabank are the stuff of legends. For example, both banks have been paying a dividend since 1857, and 1833, respectively. And most of that time has seen steady dividend growth, including in 48 of the last 50 years for Scotiabank.
And as for Toronto-Dominion, given management's targeted 40% to 50% payout ratio, and fast growing US business (US segment earnings up 19% YoY), rising US rates might help generate EPS growth towards the higher end of management's targets. That in turn could result in dividend growth at TD of as much as 10% in the coming years, effectively matching Wells Fargo.
Source: Simply Safe Dividends

| | | | | | |
| --- | --- | --- | --- | --- | --- |
| Bank | 1 Year Dividend CAGR | 3 Year Dividend CAGR | 5 Year Dividend CAGR | 10 Year Dividend CAGR | 20 Year Dividend CAGR |
| Wells Fargo | 2.4% | 9.6% | 25.8% | 3.4% | 9.2% |
| Toronto-Dominion | 8.0% | 10.1% | 5.7% | 12.3% | 18.7% |
| Scotiabank | 2.8% | 17.1% | 7.0% | 6.5% | NA |
Combined with the pace of payout growth over the last 20 years, and it becomes clear that both Canadian banks are true "buy and hold forever" stocks.
Risks To Consider
While I'm a big fan of Canadian banks, and in fact own four myself, nonetheless there are two things to keep in mind before investing in them.
First be aware that, since they do pay out dividends in Canadian Dollars these banks represent some foreign currency risk. Specifically, as long as the oil crisis continues, (which weakens the Canadian economy), and the US dollar remains strong, (from stronger economic growth and rising interest rates), there is a chance that the dividend yield for these banks comes in lower than expected.
In addition we can't forget that the Canadian government will want a cut of those dividends. Normally the withholding rate would be 25%, however, under a tax treaty between the US and Canada US shareholders of Canadian dividend stocks will face a 15% withholding.
Now as for US dividend taxes there is both good and bad news. The good news is that you can file for a dollar for dollar tax credit to what you owe the IRS, to include the Canadian withholding.
So, assuming that you aren't in the top tax bracket, in which case your long-term qualified dividend tax rate is 15%, as long as you fill out the paper-work, then the taxes withheld from your Canadian dividends will equal and completely offset your US tax burden.
BUT keep in mind that this doesn't apply to tax deferred accounts such as IRAs or 401Ks, in which you can't get a foreign tax credit.
Now this tax complexity is a big pain in the butt, which is why 90% of people end up leaving money on the table and not filling out the paperwork to minimize their tax burden on foreign dividend stocks. Partly this is due to the fact that people are busy and normally leave this kind of thing up to their broker or wealth manager.
Depending on which broker you use they may in fact automate this tax form burden for you. For example both Morgan Stanley (NYSE:MS), and JPMorgan Chase (NYSE:JPM) aggregate foreign dividend tax withholdings and file the proper forms on behalf of investors. However, other brokers such as Vanguard and Fidelity use international clearing houses, who may or may not do so.
Bottom Line: Wells Fargo Will PROBABLY Overcome The Scandals, BUT When It Comes To Banking NO ONE Does It Better Than The Canadians
Don't get me wrong, Wells Fargo is far from a terrible bank, (I wouldn't own it if it were) and despite the recent interest rate spike rally, its shares remain dirt cheap.
BUT I think it would be a mistake for dividend growth investors to ignore quality Canadian options such as Toronto-Dominion and Scotiabank, especially when both are nearly as undervalued, offer superior yields, and even more impressive long-term banking cultures.
-----------------------------------------------------------------------------
Are you ready to supercharge your investing success in 2017 and beyond? Then join Seeking Alpha's top 25 writers for the eye opening, and potentially massively profitable opportunity to learn from the mistakes, successes, and insights from some of the world's best investing minds.
Seeking Alpha And Investor In The Family Radio are proud to present the 2017 DYI investor summit, with can't miss interviews and presentations from: Chris DeMuth, Bret Jensen, Rida Morwa, Brad Thomas, Eric Parnell, Ian Bezek, Richard Berger, Aurelien Windenberger, Doug Eberhardt, Ralph Baker, Lawrence Fuller, Double Dividend Stocks, Mark bern, Mark Hibben, Dividend House, J Mintzmyer, William Koldus, Damon Verial, Richard Lejeune, Avi Gilbert, Shailesh Kumar, Chuck Carneval, Adam Aloisi, Colorado Wealth Management, and your very own Dividend Sensei.
If you're ready to stop spinning your wheels, and take charge of your financial future, then join us for a look back at what we all learned in 2016, but most importantly what investors can expect in 2017 including our best investing ideas.
More importantly though, learn what pitfalls to avoid that hold you back from achieving your financial dreams and how to go from a mere "good" investor to a true legend of Wall Street.
Disclosure: I am/we are long JPM, WFC, TD, BNS.
I wrote this article myself, and it expresses my own opinions. I am not receiving compensation for it (other than from Seeking Alpha). I have no business relationship with any company whose stock is mentioned in this article.