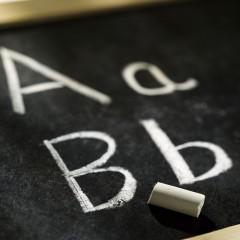 ABS, MBS, CMBS. Navigating your way around the various fixed income sectors can sometimes feel like a bowl of alphabet soup. And with the proliferation of fixed income ETFs giving investors more ways than ever to slice and dice the bond market, now's a great time to brush up on your acronyms.
Take, for example, commercial mortgage-backed securities (CMBS). CMBS are fixed income securities that are backed by loans on things like office buildings, retail properties, and hotels. The sector currently represents about 2% of the US fixed income market.
For investors who have a positive view on the commercial real estate market, CMBS are a way to gain exposure with less risk than real estate investment trusts (REITS). Since its inception six years ago, the Dow Jones US REIT Index has experienced volatility of 30.1% and a return of 2.6%, whereas the Barclays Capital US CMBS Index experienced a volatility of 13.3% and a return of 6.63% during the same time frame. Keep in mind that REITS are equity securities, whereas CMBS are debt securities.
CMBS also have a compelling income component – compared to sectors that have a similar duration (a measure of bond risk), investment grade CMBS are currently offering a higher yield. Note that in the chart below, CMBS is represented by the Barclays Capital US CMBS Index, which only includes investment grade bonds – there are no subprime bonds in the index.
Fixed Income Sector Comparison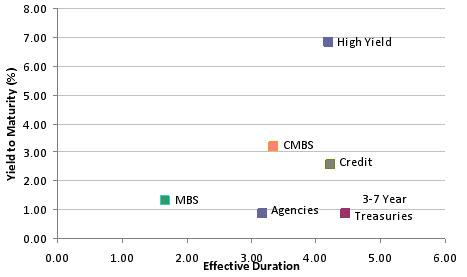 With the recent launch of the iShares Barclays CMBS Bond Fund (NYSE Arca: CMBS), the first ETF dedicated solely to CMBS, investors now have the ability to gain diversified access to this sector in a single trade. We expect to see clients using this fund in a few different ways. One idea: if the investor prefers an overweight to CMBS, they can use it to complement a diversified bond index fund (such as the iShares Barclays Aggregate Bond Fund; NYSE Arca: AGG). Or they may use it in conjunction with other bond index funds to build a customized fixed income portfolio.
Source: Bloomberg
Chart Source: Barclays Capital and iBoxx as of 2/21/2012. Past performance does not guarantee future results. Fixed income sectors are represented by the following indexes – Barclays Capital U.S. CMBS (ERISA Eligible) Index, Barclays Capital U.S. Agency Index, Barclays Capital 3-7 Year US Treasury Index, Barclays Capital U.S. MBS Index, Barclays Capital Intermediate U.S. Credit Index, iBoxx $ Liquid High Yield Corporate Bond Index, Barclays Capital U.S. Aggregate Index
Disclaimer: Bonds and bond funds generally decrease in value as interest rates rise. In addition to the normal risks associated with investing, narrowly focused investments typically exhibit higher volatility. Commercial mortgage-backed securities ("CMBS") represent interests in "pools" of commercial mortgages and are subject to credit, prepayment and extension risk, and therefore react differently to changes in interest rates than other bonds. Small movements in interest rates may quickly and significantly reduce the value of CMBS. Diversification may not protect against market risk.
Index returns are for illustrative purposes only and do not represent actual iShares Fund performance. Index performance returns do not reflect any management fees, transaction costs or expenses. Indexes are unmanaged and one cannot invest directly in an index. Past performance does not guarantee future results. For actual iShares Fund performance, please visit www.iShares.com or request a prospectus by calling 1-800-iShares (1-800-474-2737).