I recorded a one-hour interview with Brian Bain for the DIY Investing Summit; check out the details below.
How quickly a year goes by. Only 54 weeks ago, I published an article explaining why SunEdison (OTCPK:SUNEQ) was my top pick for 2016. This article was the first of 25+ articles about SunEdison and its yieldcos, TerraForm Power (NASDAQ:TERP) and TerraForm Global (NASDAQ:GLBL), over the course of the next four months.
Keeping up with the daily news and sharing my analysis on the company were addicting, particularly since I felt pretty confident that management would pull through. The company's dilution in early January 2016 was annoying, but at least it provided an additional guarantee that the company would make it through 2016 and to the riches that awaited in 2017 once they completed the 3GW of wind and solar plants they were working on.
Forwarding to March, the company didn't release the 10-K as expected, leading me to start questioning my thesis. Still, I believed.
Thankfully, I believed more in the value I was seeing in TerraForm Global at the time, and took a larger position with it which has more than made up for the SunEdison loss. It was when the CFO resigned and they sued SunEdison that it finally became clear to me that SunEdison would file for bankruptcy. It did three weeks later.
Hope can be expensive
For about four months, I hoped and believed that SunEdison could pull through its tough times, as the company's pipeline of projects looked like it would deliver massive cash flows once they were completed. Unfortunately, the reality was that the company had too little of a cash buffer to protect it in case something went wrong.
At the end of September 2015, once you removed the consolidated yieldco financials, SunEdison had unrestricted cash of about $650M, a total asset base of about $12.3B and total liabilities of about $11.7B.
Much of the asset value was in solar power plants under construction. The company had 2.9GW of plants under construction, not to mention its already completed portfolio of 2GW. The problem is that the company needed lots of cash in order to finish completing the 2.9GW of projects, cash that started to shrivel up once the company got a margin call from Deutsche Bank (NYSE:DB) to the tune of $410M thanks to TerraForm Power falling from $40 to $10.
Without the money to complete projects on schedule, the company began missing deadlines, which worsened the cash crunch, and the whole situation obviously spiraled out of control and into bankruptcy.
Here's why shareholders will get $0
SunEdison was such a complicated entity that even I felt like there might be a chance for shareholders to come out with something back in early summer. Homer Parkhill, the consultant asked to value the assets, came out with what seemed to be a very low valuation in June, about $1 billion. This was against $4.5 billion in known claims at the time.
In the six months since that date, the company has sold off many assets, and actually generated more money from them than projected. The yieldcos have also restructured themselves to become more self-sufficient. This has increased value compared to the initial projection, but not by nearly enough.
On January 11th, Homer Parkhill submitted an updated declaration, summarizing the updated projected assets compared to liabilities.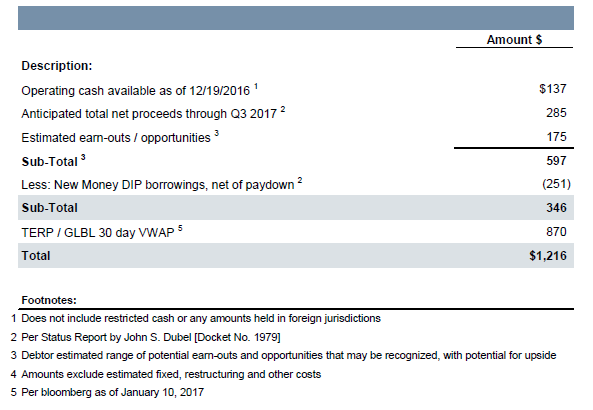 As can be seen, the total is now $1,216 million, an improvement over his initial projection, but nowhere near enough to make a difference. In fact, this total will be barely enough to cover the secured lenders, much less the unsecured debt and other liabilities.
Some have mentioned the fact that the company will have $2.3 billion worth of NOLs (net operating losses). These are worth something, but only a fraction of the face value, and potentially much less if corporate tax rates are dropped as expected.
Others are also looking to claw back projects from the yieldcos. Aside from the fact that the yieldcos overpaid for the projects, rather than the other way around, SunEdison could claw back everything and still not have enough value to cover shareholders.
My advice to you
The situation really is simple. Shareholders will end up with $0. If you bought all your shares in the $20s, the $10s, the $5s, even the $1-2 range, perhaps the difference between $.08/share and $.00 is so small that it's worth the potential miracle, so sure, you can hold on.
But if you've bought a bunch more shares in the $.05-.25 range the shares have been in since bankruptcy, then you stand to lose a large percentage by not selling now.
Don't make the same mistake I did, take the value you can still get while you can.
While SunEdison was a bust for me, I actually had a great year overall! I am honored to partner with Seeking Alpha and Investor in the Family as an interviewee at the DIY Investor Summit. In total, 25 of the best investors on Seeking Alpha have gathered to share detailed tips on our core investment strategies, top advice for DIY investors, and specific ways we're positioning for 2017. This is a unique event that you will not want to miss. FREE REGISTRATION IS NOW OPEN (for a limited time).
Disclosure: I am/we are long GLBL, TERP.
I wrote this article myself, and it expresses my own opinions. I am not receiving compensation for it (other than from Seeking Alpha). I have no business relationship with any company whose stock is mentioned in this article.
Editor's Note: This article covers one or more stocks trading at less than $1 per share and/or with less than a $100 million market cap. Please be aware of the risks associated with these stocks.