Talend S.A. (NASDAQ:TLND) - Sell or short recommendation
The 180-day lockup period for the Talend S.A. initial public offering is scheduled to expire on January 25, 2017. At that time, the company's pre-IPO shareholders and insiders will be able to sell >10 million shares, potentially flooding the market.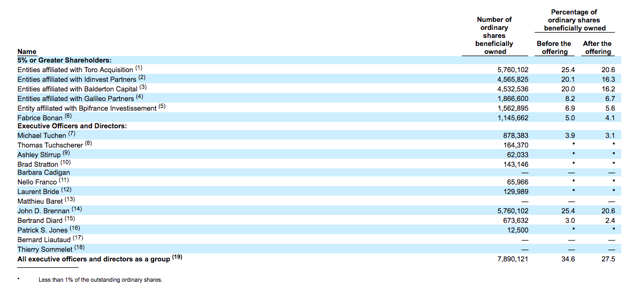 The event could result in at least a temporary, sharp decrease in the price of shares for Talend, opening a potential opportunity for investors to sell or short shares of the company prior to the lockup period expiration.
Business summary: Big Data company with its own proprietary platform for the integration of data
(

(Source: Company website)
Registered in Suresnes, France, Talend S.A.'s U.S. headquarters are located in Redwood City, California. It offers its proprietary platform, called Talend Data Fabric, to integrate data and applications across traditional business applications, Big Data and the cloud to make these more easily accessible for companies.
The company has a global customer base, including such names as General Electric (NYSE: GE), Citi (NYSE: C), Lenovo (OTCPK:LNVGY) and Siemens (OTCPK:SIEGY). Talend reported 27.4 million of total revenues for the three-month period that ended on September 30, 2016. It reported a net loss of $6.37 million during the same period.
Talend is valued on a P/S multiple at 6.6, slightly higher than the industry average of 5.0. Although the company has a market capitalization of just $647 million, it still lists diversified tech giants Microsoft (NASDAQ:MSFT) and Oracle (NYSE:ORCL) among its direct competitors. These are valued at 5.9 and 4.4 on a P/S multiple basis, respectively.
Executive management
The chief executive officer and a member of the board of directors is Michael Tuchen. He has served as the company's CEO since January 2014. Before joining Talend, Tuchen served as the CEO of Rapid7 LLC from May 2008 to October 2012 and as a general manager of SQL server marketing for Microsoft from September 2003 to October 2006. Tuchen graduated from Brown University with a Bachelor of Science degree in electrical engineering. He then earned a Master of Science degree in electrical engineering at Stanford University and a Master of Business Administration degree from Harvard University.
Thomas Tuchscherer has served as the chief financial officer of Talend since June 2012. He has also served as the vice president of corporate development since January 2010. Tuchscherer previously worked at SAP AG as the vice president of operations and strategy and product and business strategy. He holds a Bachelor of Arts degree in economics from McGill University, a DEC in commerce from John Abbott College and a Master of Business Administration degree from ESSEC Business School.
Q3 Financial Highlights
During the third quarter, Talend enjoyed a 40 percent year-over-year increase in total revenues of $27.4 million. During the same quarter in 2015, it saw total revenues of 19.6 million. The company also reported that its revenue from subscriptions grew by 44 percent and its revenue from Big Data and cloud solutions grew by more than 100 percent year over year.
Performance since its IPO
Talend priced its shares at $18, which was $1 more than the upper limit of its marketed range of $15-17. On its market debut, it soared by 53 percent to open at $27.66. Since that time, the shares have peaked at $34.49. Talend closed at $23.40 on January 11, so it is up about 30 percent over its initial pricing.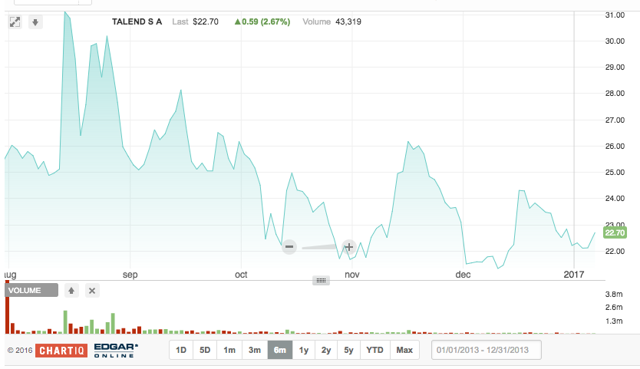 Conclusion: Sell or Short Prior To Lockup Expiration
Talend's strong early market performance and healthy revenue and subscription increases in the third quarter could combine to prompt the company's pre-IPO shareholders to take initial profits. Five firms and nineteen individuals hold over 10 million shares as noted above, previously restricted from trading.
With just 5.3 million shares initially offered, if even some of these insiders sell, it could result in a sharp decline in the price, presenting a good opportunity for investors to sell before the lockup period expiration or to short the stock.
As we've highlighted previously, we have observed abnormal negative returns in the two weeks surrounding many lockup expirations. We are keen on Talend's strong and diverse pre-IPO shareholders, strong debut, and tech focus, all of which could support a short play because the insiders can now sell their shares at a big gain.
We suggest investors consider a short position one week prior to the event and lasting for two days after.
Don Dion's IPO Insights provides up-to-date information and analysis on the major IPOs each week, along with additional opportunities to invest and short these stocks at their quiet period and lockup period expirations, respectively. Consider following us at the link above. We will continue our PRO offerings on Seeking Alpha alongside our more exclusive research.
Disclosure: I am/we are short TLND.
I wrote this article myself, and it expresses my own opinions. I am not receiving compensation for it. I have no business relationship with any company whose stock is mentioned in this article.