In this article, I will be detailing why I believe Northwest Natural Gas (NYSE:NWN) is worth considering for dividend-growth investors. Northwest Natural Gas is set up perfectly to outperform because of colder temperatures this year in the Northwest and a natural gas price that is significantly higher than it was during the 4th quarter last year.
The perfect storm
The fourth quarter of 2016, might be the perfect storm for Northwest Natural Gas because of colder temperatures and higher natural gas prices. Oregon and Washington, where the majority of Northwest Natural Gas customers are located has experienced colder than average weather this quarter, with multiple snow and ice storms occurring over the last month. The data in the table below gathered from Weather.com & USClimate.com for Portland Oregon shows that in the fourth quarter the average high temperatures have been lower than the historical average and were lower than last year as well. A lower average temperature equates to an increased usage of natural gas and the data shows that natural gas usage in the Northwest should be up year/year.
| | | | | | |
| --- | --- | --- | --- | --- | --- |
| | Oct | Nov | Dec | | Average |
| Historical Average High | 64.00 | 53.00 | 46.00 | | 54.33 |
| 2015 Actual High Average | 67.53 | 50.78 | 46.90 | | 55.07 |
| 2016 Actual High Average | 61.03 | 57.60 | 42.03 | | 53.55 |
Higher Natural Gas Prices
Last year in the 4th quarter, the average price of Natural gas was $2.24 and this year the price averaged $3.18, so nearly a dollar higher. As you can see in the following chart, except for a brief couple of days, natural gas had traded at a higher price all of the 4th quarter this year than the high during the quarter last year. When this higher natural gas price is combined with increased usage due to cold temperatures, Northwest Natural Gas stands to be a big beneficiary and should easily beat earnings when they report in late February.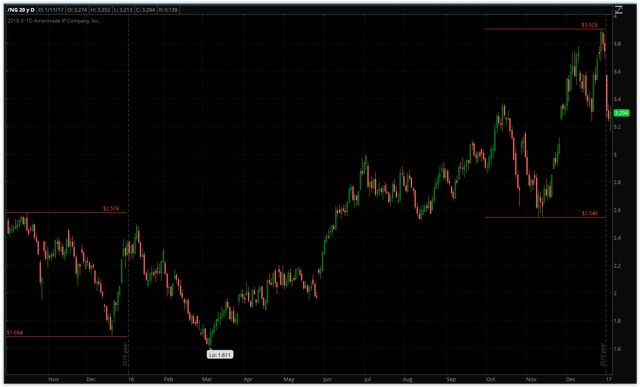 [Image from the ThinkorSwim Platform]
Dividend Increase
To determine if that rate of dividend growth is sustainable over the next five years, I conducted an analysis to see if dividends paid as a percentage of cash flows from operations was less than my self-imposed threshold of 80%. For my calculations, I used the weighted dividend growth rate I calculated of 0.76% and cash flow growth rate of 4.00% from Zacks. The table below shows if Northwest Natural Gas continues growing its dividend at its current pace that it will continue to be well below my 80% threshold. Based on my estimates, by 2021, Northwest Natural Gas could be paying an annual dividend of $1.94/share or about $0.485/quarter, which is only 3.30% above the current quarterly dividend. This is a very small projected increase; however, given that Northwest Natural Gas has increased their dividend for 61 straight years, in this case slow and steady dividend increases are appealing.
Div Growth Rate

Weight

Div Rt*Weight

5 Yr

1.15%

20.00%

0.23%

3 Yr

0.78%

30.00%

0.23%

1 Yr

0.59%

50.00%

0.30%

Weighted Dividend Growth Rate

0.76%

Current Quarterly Dividend

0.47

Shares Outstanding

28.5

LT Growth Est. [Zacks]

4.00%

Calendar Year

Est. Div/Share

Shares

Divs $ Paid

Proj. CFFO

Proj. Div as % of CFFO

2017 est.

1.88

28.5

53.69

227.03

23.65%

2018 est.

1.90

28.5

54.10

236.11

22.91%

2019 est.

1.91

28.5

54.51

245.56

22.20%

2020 est.

1.93

28.5

54.93

255.38

21.51%

2021 est.

1.94

28.5

55.35

265.60

20.84%

2021 Div

1.942

2021 Quarterly

0.485

Current Quarterly

0.470

% Dividend Upside

3.30%
[Dividend data: Dividend Channel, CFFO data: Gurufocus, Growth estimate: Zacks]
Valuation
To determine the upside opportunity for Northwest Natural Gas, I conducted a discounted cash flow analysis [table below] and found that shares of Northwest Natural Gas have a fair value of $72.50/share, which is 22.77% above the current price. I used data from Northwest Natural Gas financials on Gurufocus, growth data from Zacks and to determine the discount rate & terminal growth rate, I used the following calculators.
CF/Share: $218.3/28.5 shares = $7.66 CF/share
LT Debt/Share: $530.2/28.5= $18.60
Proj. Long-term growth rate: 4.00%
Terminal growth rate: -5.28%
Discount rate: 4.86%
Calculator Assumptions
Cash flows grow for next 5 years.
After that, growth levels off to the terminal rate for 15 years.
NWN

DCF Calculations

CF/Share

PV

Year 1

1

7.97

$7.60

Year 2

2

8.28

$7.53

Year 3

3

8.62

$7.47

Year 4

4

8.96

$7.41

Year 5

5

9.32

$7.35

Year 6

6

8.83

$6.64

Year 7

7

8.36

$6.00

Year 8

8

7.92

$5.42

Year 9

9

7.50

$4.89

Year 10

10

7.11

$4.42

Year 11

11

6.73

$3.99

Year 12

12

6.38

$3.61

Year 13

13

6.04

$3.26

Year 14

14

5.72

$2.94

Year 15

15

5.42

$2.66

Year 16

16

5.13

$2.40

Year 17

17

4.86

$2.17

Year 18

18

4.61

$1.96

Year 19

19

4.36

$1.77

Year 20

20

4.13

$1.60

Year 1-5 Growth Value

$37.37

Terminal Growth Value

$53.73

LT Debt/share

$18.60

Value

$72.50

Current Price

$59.05

Upside/Downside

22.77%
Technical Outlook
The technical outlook for Northwest Natural Gas is appealing in the long-term; however, there might be some more weakness in the short-term before the stock turns around. As you can see in the chart below, shares of Northwest Natural Gas are currently going through a pennant chart formation, which is shown by the red lines [lower highs, higher lows]. In a pennant formation, the stock usually keeps trending downward until the price nears the point where the red lines meet and then will either breakout above the upper resistance or breakdown below support. This is why I said above that shares could see some further downside in the short-term.
Many technical traders will wait for the breakout or breakdown to determine the direction; however, I am making the call before the pattern is complete that Northwest Natural Gas will be the breakout candidate. The reason I believe this is Northwest Natural Gas has a substantial line of support at the $54 [Blue Line], which is where the stock failed to breakout above in early 2016 twice, before finally breaking above that level in May. Then after this breakout, the $54 level held on two different retests during the rest of 2016, which shows it is a strong level of support. The final reason the $54 level is special is if you look at a long-term chart of Northwest Natural Gas, the previous closing high prior to 2016 was $54.07 on September 18 th 2008, which adds another layer of support besides the shorter-term levels covered above.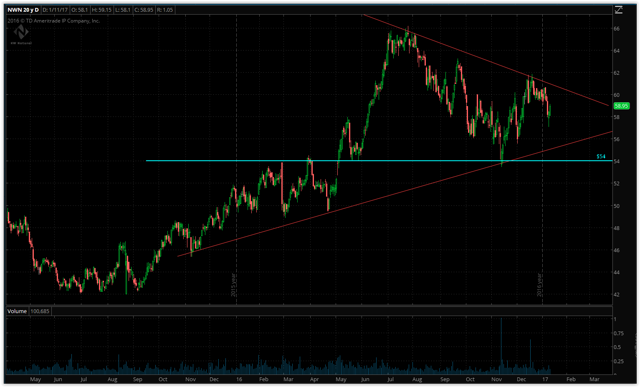 [Image from the ThinkorSwim Platform]
Closing thoughts
In closing, I believe shares of Northwest Natural Gas are worth considering for conservative dividend-growth investors because they will continue increasing their dividend as their have done for 60+ years albeit at a slow pace. In addition, with colder than average temperatures in the Northwest this year and higher natural gas prices than last year, Northwest Natural Gas is looking like a quality dividend-growth stock to consider at this time.
Disclaimer: See here.
Disclosure: I/we have no positions in any stocks mentioned, and no plans to initiate any positions within the next 72 hours.
I wrote this article myself, and it expresses my own opinions. I am not receiving compensation for it (other than from Seeking Alpha). I have no business relationship with any company whose stock is mentioned in this article.