Doing the Opposite
In one of the most famous episodes of Seinfeld, lovable loser George Costanza has an epiphany. "If every instinct I have is wrong, then the opposite would have to be right." REIT investors would have enjoyed similar success over the past 20 years by "pulling a Costanza" and doing the opposite of what their investing instincts, the analysts, and the financial pundits tell them: Buying the sectors that are the most out-of-favor during the prior year.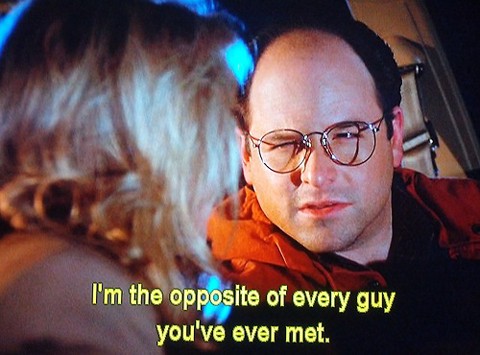 Recap of our Prior Study
We first recap what we wrote earlier this year and the methodology we employed. Because of feedback we received from our readers, we slightly modified our study to include only the seven major sectors, but the findings remained consistent.
Using NAREIT sector data going back to 1994, we studied different simple sector rotation strategies. We wanted to find patterns that average investors could potentially use. To do this, we wanted to find strategies that were tax-friendly and fee-friendly, required relatively infrequent rebalancing, and most importantly, did not require massive amounts of hedge-fund-style computing power.
To perform the study, we compiled the NAREIT total return data for the seven major equity REIT sectors. Using this data, we studied what would happen if an investor were to rebalance every year by picking the most "beaten-down" sector of the prior year, and repeated the study by picking the bottom two, bottom three, and bottom four sectors of the prior year.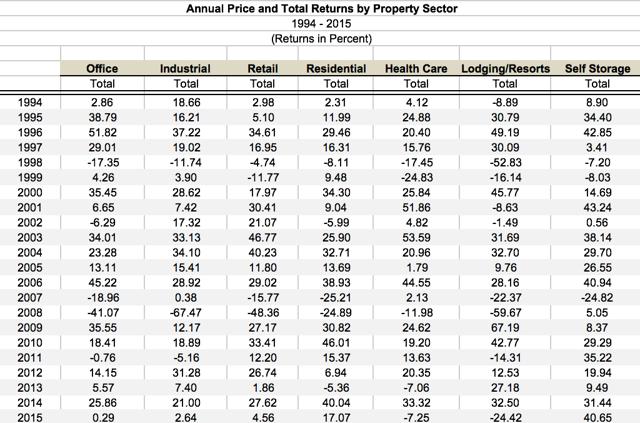 Our findings were fascinating. We detail the results below.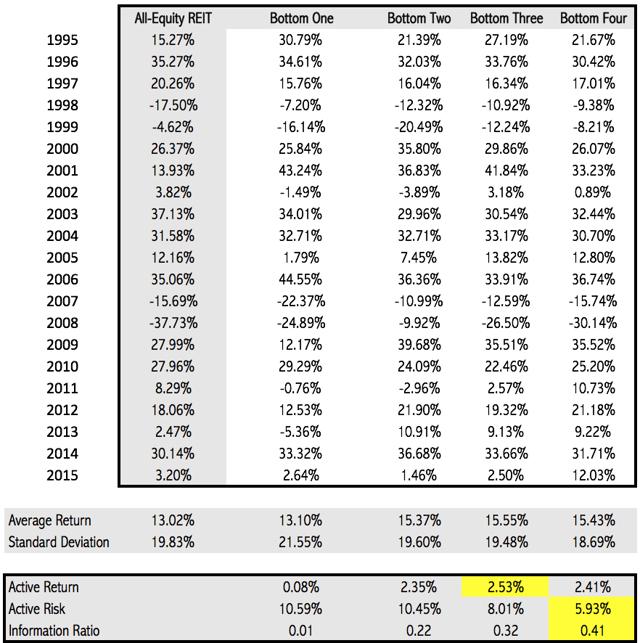 Picking the bottom three sectors from the prior year resulted in 2.53% of active return, but this came at a cost of a higher standard deviation of returns compared to the benchmark (active risk).
The ideal risk-adjusted return comes from picking the bottom four sectors of the prior year. By achieving active returns of 2.41% with an active risk of 5.93%, this strategy produced the highest information ratio, 0.41.
Interestingly, going "all-in" on the single most beaten-down sector produced returns that were not significantly different than the index and thus produced no alpha.
This result is a clear indication of outperforming by using a "value factor" REIT portfolio. How significant is 2.41% of active return (Bottom Four strategy) over 20 years? Before taxes and fees, using that strategy would result in a portfolio value over 50% higher than a passive investment in the All Equity REIT index. A $100,000 investment in "Bottom Four" in 1995 would be worth over $1,800,000 today.
How Did The Strategy Perform in 2016?
The four worst-performing sectors of 2015 were Lodging/Hotel (-24%), Healthcare (-7.25%), Office (+0.29%), and Industrial (2.64%). The REIT ETF indexes (NYSEARCA:VNQ) and (NYSEARCA:IYR) returned roughly 3%.
Industrial, Hotel, and Office were among the best-performing sectors of 2016 while Healthcare lagged the index.
We update the study to show the performance in 2016. The optimal strategy of "Bottom Four" returned nearly 19% in 2016 compared to the benchmark REIT index return of 8.36%. The strong performance increased the average active return over the prior 22 years to 2.77% and increased the information ratio to 0.46.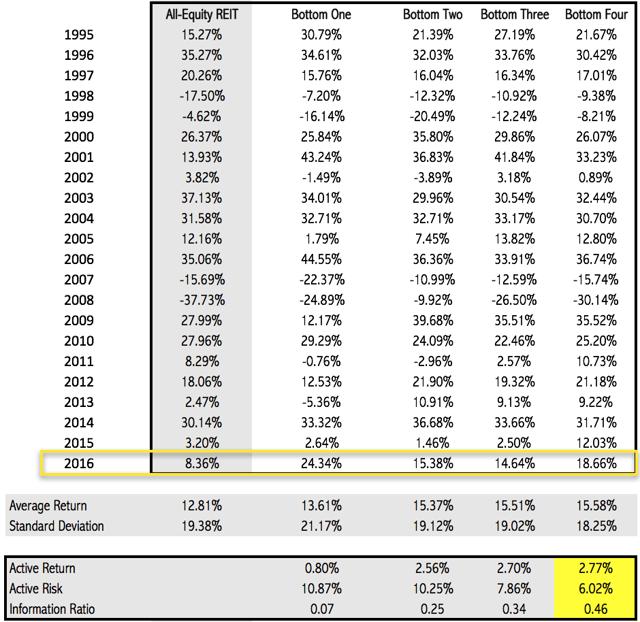 How Would An Investor Use This Strategy In 2017?
While much of this discussion is purely theoretical (for reasons we will discuss below), how could an investor use this strategy in 2017?
The "Bottom 4" sectors of 2016 were Self-Storage, Retail, Residential, and Healthcare. Let's assume that, to keep trading costs low, we will invest in 4 names in each sector and try to have it as diversified as possible within each sector. Of course, this does not perfectly replicate the aforementioned strategy, but it may be close enough to achieve much of the outperformance without as much trading expenses.
Self-Storage: Public Storage (NYSE:PSA), CubeSmart (NYSE:CUBE), Extra Space (NYSE:EXR), and Life Storage (NYSE:LSI).
Retail: Simon Property (NYSE:SPG), General Growth (NYSE:GGP), Realty Income (NYSE:O), and Regency (NYSE:REG).
Residential: Equity Residential (NYSE:EQR), Camden Properties (NYSE:CPT), American Campus (NYSE:ACC), and Sun Communities (NYSE:SUI).
Healthcare: Omega Healthcare (NYSE:OHI), Welltower (NYSE:HCN), Ventas (NYSE:VTR), and HCP (NYSE:HCP).
At the end of the year, we will see how this theoretical portfolio performed.
Limitations & Opportunities
We note that this strategy makes several assumptions that may reduce or eliminate the active return.
First, it only considers the seven major REIT sectors and consolidates several sectors into a single category. Residential, for example, includes apartments, manufactured housing, student housing, and single family housing. Retail includes shopping centers, malls, and some net lease REITs. Some sectors are ignored entirely, particularly some newer sectors that are now a larger part of the overall index: Data Centers, Cell Towers, Entertainment, Net Lease, Timber, Infrastructure. Better performance might be possible with a more specific set of sectors to choose from.
Second, it assumes that there is no cost for investing in an entire REIT sector. As of this moment, there are no sector ETFs so investors would have to manually invest in each name within the sector. This can be rather difficult and costly as there are anywhere from 4 to 20 individual REITs within each sector and even more when you consider the consolidation of several sectors into one (retail, residential). Of course, there are optimization techniques that would cut down the number of individual names necessary to sufficiently track the sector performance, but that requires significant quantitative modeling and extensive knowledge of the portfolio diversification of each REIT.
Third, it assumes that there are no costs to annual rebalancing. In most years, investors will be required to sell at least 50% of their portfolio and recognize capital gains and incur commissions on the trades. If there were sector ETFs or mutual funds, this could be rather simple, but having to sell 10-20 REITs at a time can be costly, even with a discount broker.
Finally, as with any similar study of performance patterns, it is entirely possible that the outperformance of this strategy has been entirely by chance or that this performance could be arbitraged-away in future years.
Bottom Line
All of this being said, we do believe that there are fundamental underpinnings behind the outperformance of this strategy. Behavioral biases and career risk issues tend to result in analysts and fund managers clustering into the winners after a period of strong performance and dumping the losers after particularly weak performance. In theory, this would result in the pattern that we see: Stocks over-correct to the downside, followed by a recovery in the following year.
Buying the most out-of-favor sector of the prior year has been a winning strategy in the REIT universe. If investors can figure out how to minimize trading expenses and taxes, this strategy has the potential to make investors and fund managers very happy.
Let us know in the comments if you would like us to expand on any part of the analysis. Please Follow our Seeking Alpha page (click "Follow" at the top) to continue to stay up to date on our REIT rankings, weekly recaps, and analysis on the REIT and broader real estate sector.
Disclosure: I am/we are long ACC, CPT, CUBE, EXR, OHI, SUI, REG, PSA.
I wrote this article myself, and it expresses my own opinions. I am not receiving compensation for it (other than from Seeking Alpha). I have no business relationship with any company whose stock is mentioned in this article.
Additional disclosure: All of our research is for educational purpose only, always provided free of charge exclusively on Seeking Alpha. Recommendations and commentary are purely theoretical and not intended as investment advice. Information presented is believed to be factual and up-to-date, but we do not guarantee its accuracy and it should not be regarded as a complete analysis of the subjects discussed. For investment advice, consult your financial advisor.