Starting in mid-2014, oil prices began to drop rapidly. This drop was caused by a surplus in oil supply caused by a rapid increase in American shale production. This resulted in an influx in cheap oil that resulted in oil prices dropping down. However, America isn't the only country with significant shale research. Despite several European countries having significant shale resources, as a result of a difficult political environment and failed wells, this is one shale revolution that will not happen.
Introduction
European Shale, simply put, refers to any shale oil from the continent of Europe. This refers to shale oil spread across a massive land area. However, the majority of this shale oil is under the control of the European Union in terms of policies. The exception of this is shale oil from Russia, however, the country has been very receptive to oil development.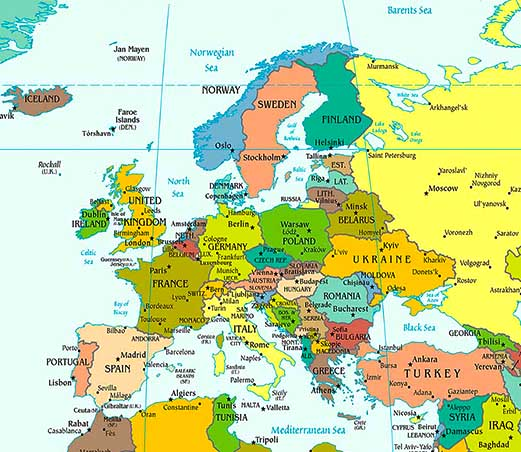 Europe alone is a fairly large continent. The company is 3.9 million square miles, or more than the size of the entire United States. At the same time, the continent has 0.75 billion people spread across its entire region. This is a significant, industrialized population and one that consumes a significant amount of oil. This oil comes from somewhere and European shale represents one of the closest and most tempting places to get it.
European Shale Overview
Before we talk about the market dynamics that will lead to an increased demand for Europe to get oil from home, let's begin by talking about Europe's shale resources.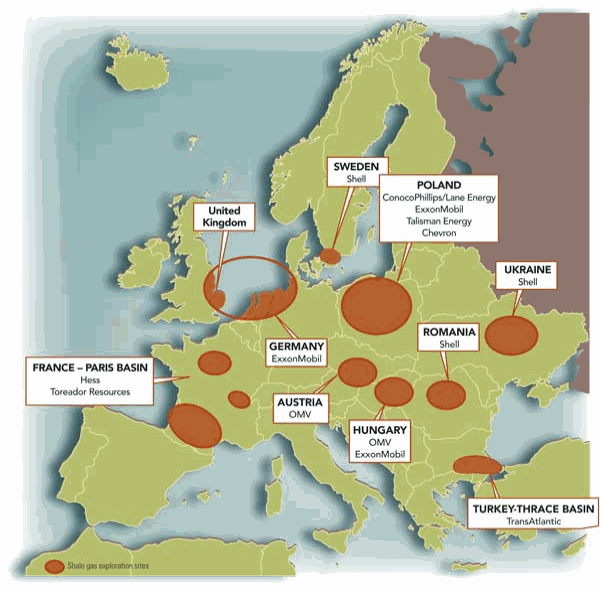 European Shale Overview - Ogfj
This map shows an overview of Europe's shale resources along with the countries that are exploring them. The majority of the continent's shale resources are located in eastern-Europe with significant resources located in countries like Poland, Hungary, and Ukraine. These are significant resources currently being explored by major companies such as Royal Dutch Shell (NYSE: RDS.A) (NYSE:RDS.B), ConocoPhillips (NYSE: COP), and ExxonMobil (NYSE: XOM) all major oil companies.
According to the EIA, Europe has significant shale capacity with Poland, Ukraine, Russia, and France all having significant gas reserves and other countries having significant oil reserves. Overall, European natural gas reserves total hundreds of trillions of cubic feet spread across the above listed countries. These are reserves that all have the potential to be extracted.
Currently, Europe as a whole uses roughly 18 trillion cubic feet of natural gas annually, a significant portion of which come from Russia. These reserves have the potential to support European consumption for decades.
European Shale Gas Political Environment
Looking at just Europe's shale gas reserves, we can see that the continent has significant reserves that have the potential to support the continent's gas usage for decades. However, as we will see here, despite these impressive resources, Europeans have to deal with a difficult political environment to extract this gas, one that will prevent the European shale revolution from occurring.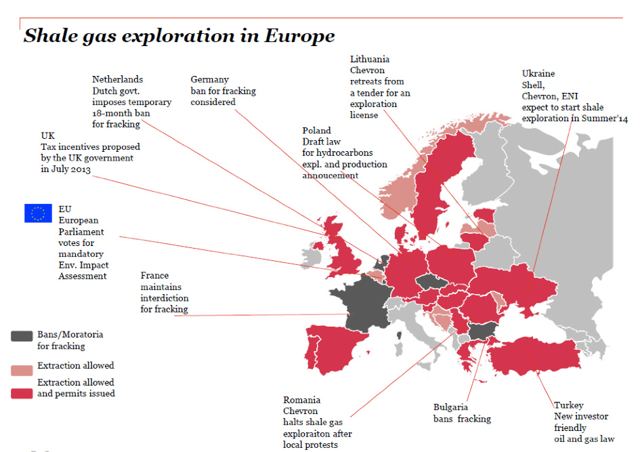 European Shale Exploration - Clean Tech Poland
This map shows shale gas exploration in Europe and the difficult environment that it has faced. In particular, pay attention to the few countries that we discussed above as having significant resources, France, Poland, Hungary, and Ukraine. Out of these countries, France, which has higher natural gas resources than any other country besides Poland, has banned the fracking. Ukraine and Poland currently have allowed exploration but it is uncertain.
On top of this Russia, which partially lies in Europe but fully out of the bounds of the European Union, and has been very friendly to oil and natural gas exploration. However, the European Union is currently undergoing investigations to determine the environmental impact of fracking. Given the continent's strong focus on environmental health, and the fact that major countries in it like France and the Netherlands have banned fracking, it is possible that fracking will be banned across the region.
This is a one-step way to prevent the shale revolution from happening. And this shows how the political climate in Europe is not very friendly to such a shale revolution.
European Shale Extraction Difficulties
So far, we have discussed the potential on European shale including how it can supply Europe's natural gas needs for decades. At the same time, we have discussed the difficult political climate for shale exploration in Europe, France, one of the countries with the largest reserves, has already banned fracking. Now let's finish up by discussing the difficulties for extraction in countries where it is is legal.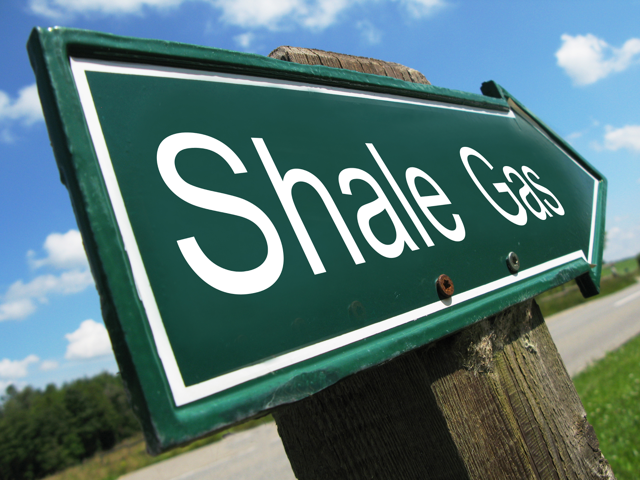 Shale exploration in Europe, unfortunately for operators in the region, hit its peak in 2013 right before oil prices hit their peak in 2014. Since that point, oil prices have fallen rapidly and companies have been forced to focus on assets with a higher profit potential. In early-2015, Chevron pulled out of exploration in Poland after saying the region didn't compete effectively with its upstream portfolio. Other companies have said the same.
Marathon Petroleum (NYSE: MRO), Eni (NYS: EE), and ExxonMobil have all also existed Polish shale. And it's important to look at what this means for the remainder of Europe. Because the Polish government, afraid of its reliance on Russian shale, has been looking to find an alternative source for natural gas. That made Poland, with its significant resources, one of the most receptive countries in the region for the European shale boom.
However, ExxonMobil's CEO has said that the conditions in the region are not as favorable to shale formation as they were in the United States. The United States hit the geological jackpot in terms of rapid shale exploration and those same techniques don't appear to be succeeding in Europe. With multiple companies pulling out of European shale, it will be years before they are willing to once again risk billions.
This shows how the geological and political climate in Europe have both been unreceptive to the long-term success of European shale. And this shows how the European shale revolution is one that will not happen.
Conclusion
European Shale, in 2013, was thought of has having enormous potential. The continent was tired of relying on Russia for its oil and gas and the recent shale boom in the United States gave operators in Europe huge amounts of hope. However, despite this hope, the European shale revolution is one that will not be happening. This is due to a difficult political environment and an unsuccessful drilling environment.
European shale has to deal with a difficult political environment. Already France, a country with some of the largest shale reserves on the continent, has banned fracking. Other countries in the region, and the European Union as a whole, are considering doing the same thing. On top of this, recent European Shale drilling results have failed to come up with anything. This means many operators, in the difficult environment, have pulled out of the region.
As a result, the European shale revolution is one major shale revolution that will not be happening.
Disclosure: I am/we are long E, COP, MRO, RDS.A, XOM.
I wrote this article myself, and it expresses my own opinions. I am not receiving compensation for it (other than from Seeking Alpha). I have no business relationship with any company whose stock is mentioned in this article.