Rogers Communications (NYSE: RCI) is clinging to a lofty price despite several recent missteps and serial underperformance compared to its peer group and the broader market. While its assets, dividend, and cash flow would make the company a true blue-chip at the right price, and existing long-term investors are probably fine, new investors seeking income and dividends can find better bargains elsewhere in the sector, on both sides of the border.
One year ago
The company operates in four areas: wireless (cellphones), cable (TV, internet, and home phone), media (TV stations and print businesses, including the TV deals related to its lucrative sports team properties) and business solutions. At this time a year ago, wireless subscriber growth was strong but results were mixed everywhere else. At the time, the companies' worries seemed pedestrian and short-term in nature. The $5.2 billion deal the company made with the NHL for TV rights looked overpriced amid a uniformly terrible year for Canadian hockey teams and the weak ratings that came with it. That was unfortunate but wouldn't last forever. Meanwhile, jobs were being cut in money-losing "legacy" businesses like TV and magazines; no surprise there. But ex-Vodafone CEO Guy Laurence was only a year and a half removed from relocating to Canada from the UK to oversee a corporate transformation. He was the first CEO not to either be or be picked by the founder Ted Rogers himself, who died in 2008.
One year later
Although a $20 billion telecom company with a 3.78% dividend and an NYSE listing is usually nothing to sneeze at, there has been no SA coverage on Rogers since October. And there have been some ugly developments in the last couple months. $100-$140 million writedown on Shomi, a service that was founded on the premise that people would pay their cable company for a Netflix knockoff, on September 26th. Then came the December 16th announcement that there would be $500 writedown on R&D expenses related to its IPtv service, which is decided to scrap in favour of pairing up with Comcast. In between, Guy Laurence was unexpectedly ousted on October 17th.
Its likely that he needed to take the fall for the bad decisions. Rogers' ranking vs. its two biggest Canadian competitors, BCE (NYSE: BCE) and Telus (NYSE: TU), as well vs. the two US companies most similar to it, AT&T (NYSE:T) and Verizon (NYSE:VZ) , and the major indexes on the one year chart doesn't lie. Performance doesn't include dividends but it still would have lost: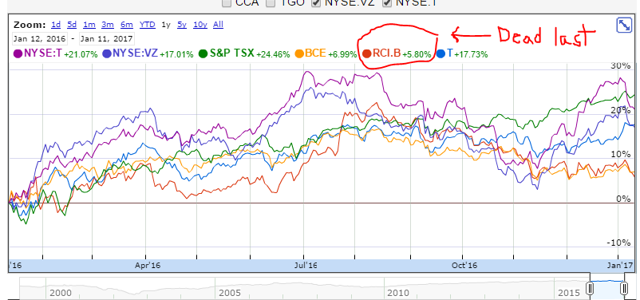 Zeroing in on Rogers vs. its two "Big 3" Canadian competitors, the three year performance has also lagged. Despite being a member of what is basically an oligopoly, the results didn't come fast enough for the Rogers family as the company is the weak link when examined over this time period as well: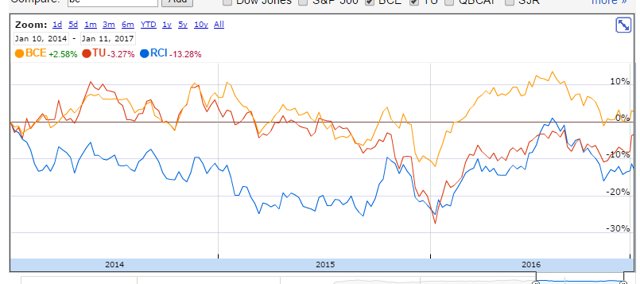 This performance is for the US -listed shares which have been outperformed by the Canadian listed shares by a wide margin over the same period due to currency woes. Investors on both sides of the border should invest appropriately based on their currency expectations given this wrinkle: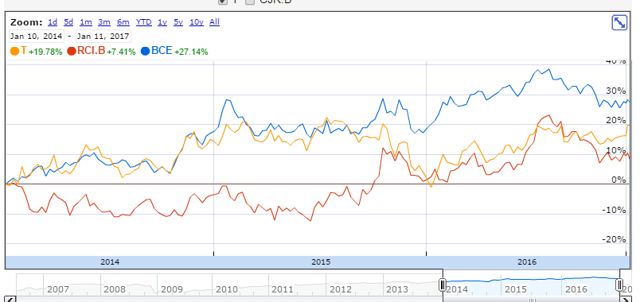 Moving on to a relative valuation of Rogers vs. its peers, it is hard to generate an investment case for the company unless you have blind faith in the leadership and management:

(Source: my table made with data obtained from morningstar.ca and google finance)
Debt is much higher than everyone save Verizon. Margins are the lowest, yield is the lowest, payout ratio is in line with peer group. P/E is the highest. ROE is ok, but not really when compared to the debt. Verizon is making much better use of its high leverage. The debt to equity has Rogers living a lot closer to the edge than its peers: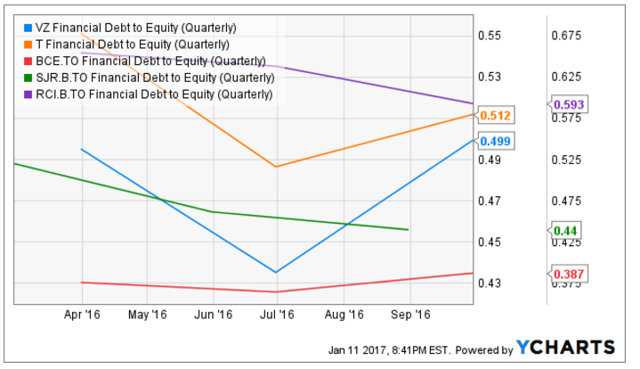 More evidence of the operational woes and changing market can be found by looking at cash flow. While the company has managed to generate a steady $3.5B to $4B operating cash flow per annum for the last 4 years, this has declined this year due to the repeated write downs. Meanwhile, debt has risen, creating pressure on future margins: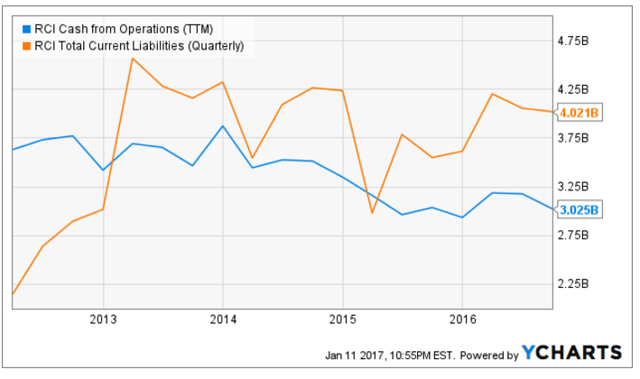 Another clue about where a stock finds itself relative to its historical valuation that I like to use it is yield. Rogers yield has, from time to time, approached 5%, and we are nowhere near there at these levels: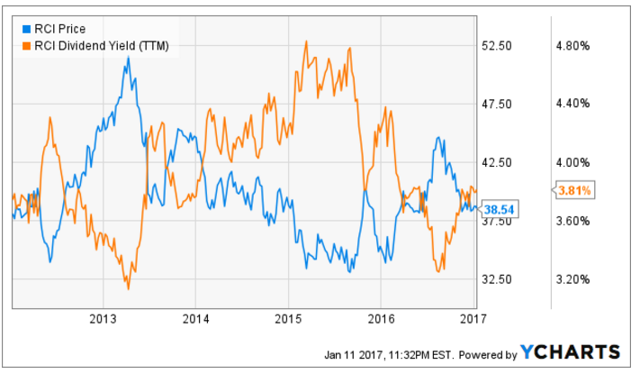 To be clear on the counter-case: Rogers still has rock solid cash flows. I remember someone saying in 2013 that if the stock dropped to the $35-40 range on the Canadian listing it was a buy. This call turned out to be correct as the stock is sitting at about $50 Canadian today. I am not advocating that any long term investors collecting the current yield on those prices or earlier bail; I'm saying the business is still overpriced given the uncertainty of its outlook and the better execution of its peers.
The stock has two events coming up in the next year which will likely give it two short-term boosts. First is the annual dividend increase next month, and second is the arrival of new CEO Joe Natale, who was picked awhile ago but has to wait for his non-compete agreement to expire. Mr. Natale, you will recall, was supposed to lead Telus but ended up making a bunch of money for doing basically nothing in a short amount of time because he was ultimately unwilling to relocate to Vancouver, where Telus is based. Back home in Toronto, he and caretaker CEO Alan Horn are surely counting down the days until the start of his tenure, sometime later this year.
The sports properties, which include the suddenly not laughable Toronto Maple Leafs and Toronto Blue Jays, are doing well and increasing in value, but investing on this basis alone is not sound because if the teams achieve success they require significant reinvestment to sustain it.
I think Rogers in the 50s for the Canadian listing or high 30s for the US is too high and the stock could have another 5-10% to fall if the company can move past these bad decisions and start executing again. Nonetheless, they have increased the pressure on themselves by being a serial raiser the last four years by roughly the same amount that EPS declined by.

(Source: googlefinance)
Putting it all together
TV and content production continue to remain challenging areas to earn margins in, but smartphone ubiquity and growing data consumption are not going away anytime soon. For these reasons, it makes sense for the value-oriented dividend investor to have a telecom in his/her portfolio but based on my analysis here, I believe the two biggest US and two other large Canadian telecom offer superior value and, let's not forget, superior yields. Rogers has been riding the coattails of its better executing Canadian rivals and the market has not fully punished it for its mistakes and sagging earnings yet. For this reason, I would avoid Rogers and wait for it to fall further before initiating a position. I think you can make a strong case that the two "T"s, Telus and AT&T, both offer superior value and growth opportunities, but the main point here is to express my view that would-be bottom fishers should not initiate a position in Rogers - just yet.
Disclosure: I/we have no positions in any stocks mentioned, and no plans to initiate any positions within the next 72 hours.
I wrote this article myself, and it expresses my own opinions. I am not receiving compensation for it (other than from Seeking Alpha). I have no business relationship with any company whose stock is mentioned in this article.