By Sherman Lee
L Brands (NYSE:LB), specialty retailer of Victoria's Secret, Bath & Body Works, and Victoria's Secret and Bath & Body Works International, has plunged roughly 34% over the past 52-weeks and currently trades near three year lows. LB has underperformed its industry peer group over the past year by a wide margin (see chart below).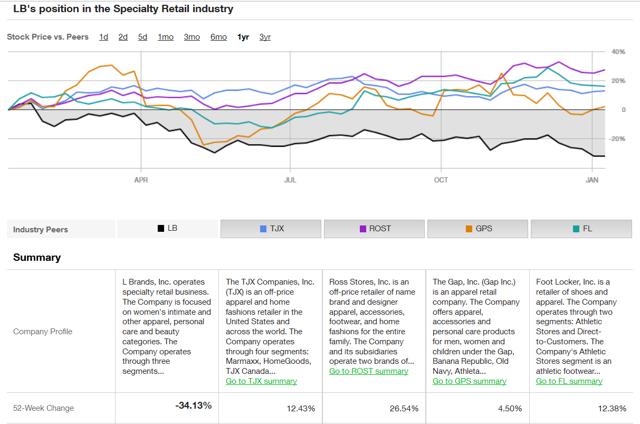 Courtesy of Thompson Reuters
Recent declining operating results at Victoria's Secret (-11%) and International segments (-51%) triggered a mass exodus in LB stock (see below). In addition, foreign currency headwinds along with higher interest expenses also impacted LB's bottom line.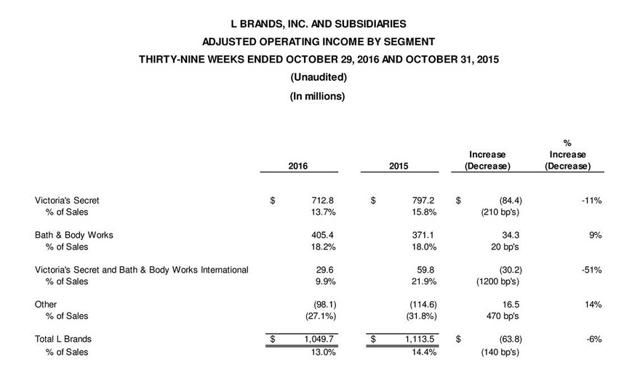 Courtesy of Company Reports
Moreover, gross margins fell considerably in 2016, in comparison to 2015, primarily due to heavy promotional discounting to move inventory.
The negative performance and forward guidance by management has shaken investor confidence in LB. However, with the stock battered and trading near three-year lows, LB shares looks attractively priced based on its historical and forward P/E ratios (see below).
Risks
LB has a negative net worth of -$1,190 million or -$4.16 per share as total liabilities exceed total assets at end of October 2016. Any severe adverse events on LB's profitability could destabilize the company by putting pressure on LB's weak balance sheet and alerting creditors and credit agencies.
Additionally, current headwinds in mall traffic could put pressure on L Brands' turnaround strategy as Macy's (NYSE:M), Sears (NASDAQ:SHLD) and other retailers are shuttering stores.
Strengths
Victoria's Secret and Bath & Body Works are two strong brand names in the mind of the consumer. According to Warren Buffett, there are big advantages in having a strong brand:
The customer knows the name and the product that the name represents.
Easier to attract distributors, licensees, and/or obtain space from mall owners.
The company can keep pace with inflation (or even jump ahead of it) with price increases.
Conclusion
While the Victoria's Secret and International segments' operating results were down 11% and 51%, respectively for the 39 weeks ended October 2016 and 2015, LB did realize strength in the Bath & Body Works (+9%) and other brand (+14%) segments over the same period.
Given the recent mark-down in LB shares and lower valuation, investors can own two strong brands at a fair price in my view and get paid an attractive dividend while management rights its ship.
Thank you for reading. Please remember to comment and click "Follow" at the top of this article if you thought this article was interesting.
Disclaimer: Please note the fact that a general recommendation made of a particular security, commodity, or investment area does not mean it is suitable for you or should be purchased or sold by you. For example, we may already have purchased an investment at a lower cost and/or the position for you may represent too much concentration in one security or industry. Before deciding to invest you should carefully consider your investment objectives, level of experience, and risk appetite. The possibility exists that you could sustain a loss of some or all of your initial investment and therefore you should seek advice from an independent financial advisor if you have any doubts.
Disclosure: I am/we are long LB (INITIAL POSITION).
I wrote this article myself, and it expresses my own opinions. I am not receiving compensation for it (other than from Seeking Alpha). I have no business relationship with any company whose stock is mentioned in this article.