Report Entitled "Intoxicated By The Moonshine"
Spruce Point Capital Management is pleased to announce it has released the contents of a unique short idea involving MGP Ingredients, Inc. (NASDAQ: MGPI), a producer of commodity ingredients and alcohol products with a price target of $16-21 per share, or approximately 60% to 70% downside. We have conducted an extensive fundamental and forensic accounting review, and believe the 1,000% appreciation in MGPI's share price since 2014 is unwarranted. As a result, we have a "Strong Sell" opinion detailed extensively in our complete presentation, which is accessible on our website. Please review our disclaimer at the bottom of this email.
We also encourage all of our readers to follow us on Twitter @Sprucepointcap for exclusive research updates. We are very pleased to share that a recent independent analysis by Sentieo ranked Spruce Point the #13 most influential FinTweeter in the world on Twitter.
MGP Ingredients ("MGPI" or "the Company") Is A Commodity Ingredient and Alcohol Producer Now Being Spun As A Sexy Transformation Story Into A Premium Producer of Branded Whiskey and Bourbon
MGPI is a simple story to understand. It operates two businesses: an ingredients business run from Kansas and an alcohol distillery in Indiana. Both of these facilities are old assets and prone to substantial operational hazards. Most recently, MGPI has experienced fires, work outages and chemical disasters requiring the hospitalization of innocent people.
MGPI's shares have appreciated 1,000% since 2014 as investors have cheered the Company's decision to hire new management, reprioritize its businesses away from commodity ingredients and focus on "higher margin" premium alcohol beverages. MGPI has also recently benefited from a temporary, yet unsustainable, increase in earnings from its 30% joint venture with SEACOR (NYSE: CKH) called Illinois Corn Processing (ICP).
On the surface, the Company's transformation strategy appears wildly successful. Its EPS has risen from a loss of ($0.29) in 2013 to positive earnings of $1.50 per share in the LTM 9/30/16 period. Over the same period, sales have essentially been flat, but gross margins have expanded from 6.4% to 18.1%.
MGPI's Rapid Share Price Appreciation Deserves Scrutiny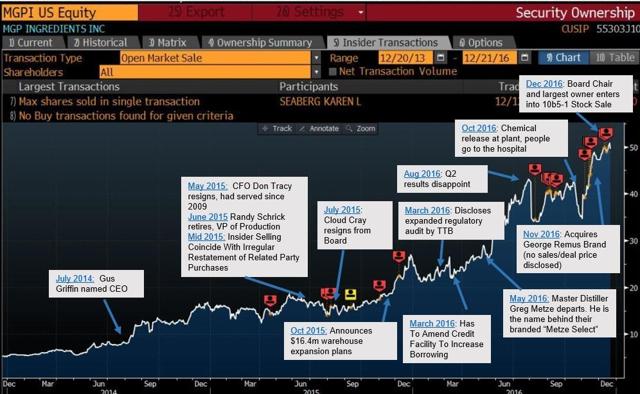 Source: Bloomberg and MGPI
Spruce Point Believes Investors Should Be Cautioned Not To Extrapolate Recent Earnings Performance. We Believe There Are Numerous Business Risks And Cracks In The Growth Story That Are Not Being Adequately Discounted
The biggest aspect of the "bull case" surrounding MGPI is that it is a play on the explosive growth in consumer taste for whiskey and bourbon, and can transition to a branded producer. Investors fail to realize that MGPI is primarily a white-label producer that sells to other brands. One of its largest customers (which MGPI doesn't adequately disclose in 10K/Q filings, but it is buried in its credit agreement) is Diageo (NYSE:DEO), which owns the Bulleit brand. Diageo is close to completing its own Kentucky whiskey distillery that is expected to be completed in 2017. At best. Diageo reduces or completely eliminates up to 8% of MGPI's sales, and at worst they start to directly compete in the bulk wholesale market.
There are now well over 1,000 craft distillers for whiskey / bourbon in the United States. Just like Diageo, many of these distillers are constructing their own distilleries, which would reduce / eliminate their need to buy from MGPI. The rapid proliferation of new distilleries and brands in the market makes MGPI's ability to brand itself all-the-more challenging. Based on our research, its recent tiny acquisition of George Remus whiskey and introduction of Metze's Select (Metze being MGPI's master distiller who recently departed) have had limited traction, and are nothing more than way out-of-the money call options. Many high profile liquor brands endorsed by celebrities and billionaires have failed in the past. There's no reason to assume MGPI will have any success.
Other factors that will increase the supply include new disruptive technologies that rapidly age whiskey (see article: Technology That Produces Whiskey Faster) as well as the marketing to consumers of home aging kits such as Time & Oak. Secondly, there'd been a shortage of white oak barrels to age whiskey. However, producers are responding with supply and capacity increases Source 1, 2, 3). According to Brown-Forman (BF.A and BF.B), the supply of used barrels in the market is increasing:
The reduction in underlying net (other) sales was due primarily to declines in used barrel sales reflecting lower prices and volumes as a result of weaker demand from blended Scotch industry buyers and pricing pressures due to increased supply of used barrels in the market. (Source: 10-Q p. 24, filed 12/7/16)
Bubble-Like Increase of In-Production US Craft Distillers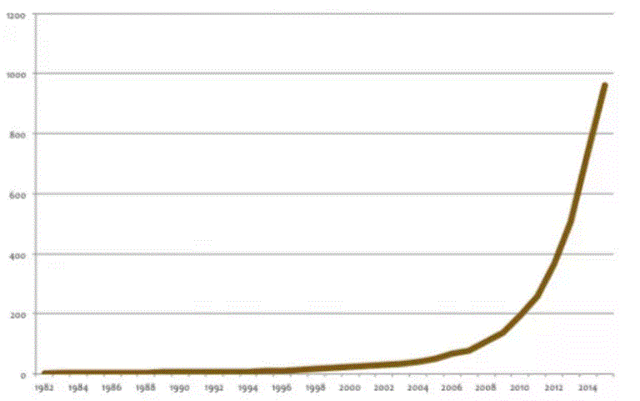 Source: American Distilling Institute via Whiskeywash.com
Substantial New Whiskey Bourbon Capacity Coming To Market
Competitor

Here's What They Are Doing

Bardstown Bourbon

September 2016: New distillery located on 100 acres in Kentucky. The facility is 37,000 sqft and cost $25m. The distillery has a 1.5m gallon capacity at the moment, but it can and likely will be expanded to 6m without disturbing the current design.

October 2016: Constellation brands (STZ) takes a minority stake in Bardstown. Commercial production started in September and it recently announced that it was preparing to expand its current 1.5m proof gallon capacity

Heaven Hill

Feb 2016: The bourbon and whiskey producer expects to start construction on a $15.5 million distillery expansion in Louisville and a $13.2 million warehouse expansion in Nelson County this spring. Both projects should be completed by 2017. In Nelson County, Heaven Hill is also constructing two new warehouses that will hold about 55,000 barrels each - taking the company's storage capacity up to more than 1.2 million barrels total.

New Riff Distilling

June 2016: Plans $12.5m expansion. New Riff currently is aging 4,000 barrels in brick warehouses near the Licking River. The expansion will add capacity for 28,000 barrels and build a restaurant and taproom adjacent to the storage facility, according to documents submitted to the Kentucky Economic Development Finance Authority

Maker's Mark

Feb 2014: Maker's Mark announced a $67 million expansion on Thursday to meet booming demand for the Kentucky bourbon known for its iconic red wax top. The distillery will add a third still - an exact replica of its existing mirror-finish copper stills - to its historic still house in Loretto, increasing capacity by 50 percent, and build new warehouses to age the bourbon.

Wild Turkey

Sept 2013: Celebrated the grand opening of its $43m Packaging Facility at its KY Distillery. Since purchasing the brand in 2009, Gruppo Campari investment has surpassed more than $100m. In 2011, the Company unveiled a US$50 million expansion at the distillery, more than doubling the plant's production capabilities.

Jack Daniels

Feb 2016: Tennessee whiskey giant Jack Daniel's is set to make a $140 million expansion to its distillery in Lynchburg, according to Gov. Bill Haslam and state economic officials.

Four Hills

June 2015: $55m expansion plan: $34m for a duplicate column still and more fermenters at the Lawrenceburg distillery and $21m for four new warehouses at Coxs Creek outside Bardstown. With the second column still, capacity is scheduled to increase to about 8 million proof-gallons (about 11.2 million regular gallons), enough to fill more than 211,000 barrels a year

Sazerac

April 2014: Sazerac is to spend $71m expanding its Buffalo Trace, The Glenmore and Barton 1792 distilleries in an attempt to meet demand for bourbon

Chattanooga Whiskey Co

July 2016: 46,00 sqft facility with room to house 4,000 aging barrels of bourbon whiskey. Plans also include over 10,000 square feet of production space, over 2,000 square feet of office space where Chattanooga Whiskey will be headquartered, and over 4,000 square feet of future event space.
MGPI May Lose Customers As They Increase Their Own Ca
pacity
Customer

Here's What They Are Doing

Diageo

October 2015: Crews broke ground on the $115 million project in August 2014. Located on an approximately 300 acre site, the 1.8 million proof gallon distillery is on track to be up and running by the end of 2016. Along with Bulleit® Bourbon, the facility will produce a number of current and future Diageo bourbon and North American whiskey brands. Bulleit Distillery is midway through completion. The first completed warehouse is already holding barrels of bourbon. The warehouse is expected to be full by mid-October. A second warehouse is nearing completion, and ground was broken on a third warehouse in September. Each has a capacity of 55,000 barrels.

High West

October 2016: Acquired recently by Constellation Brands. The High West portfolio sells approximately 70,000 cases annually.

Templeton Rye

October 2016: Templeton Rye to add distillery at Iowa facility. Video states, "the company actually contracted the distilling portion to a separate company in Indiana (aka MGPI)." The Iowa Economic Development Authority approved last week what's reported to be $1.6 million in tax credits to help facilitate a $26 million expansion and renovation of Templeton's existing operations. (source)

Sagamore Spirit

July 2015: "While Sagamore's ultimate plan is to produce its rye entirely at the Port Covington facility, its first batch was made at LDI (now known as MGP Ingredients), an industrial-sized distillery in Indiana. It has been aging for years there and in Kentucky."
April 2016: Under Armour (NYSE:UA) Founder and billionaire Kevin Plank gets into the whiskey business. The hope is to open the 22,000-square-foot facility by the first quarter of next year. "We're going to be build a world-class facility and you're eventually going to see the size and the scope of it. We will be able to compete at the highest levels when we, as a team, are ready to get there."

Luxco

May 2016: Invests $30m in a Bardstown distillery for whiskey/bourbon. The campus will include an 18,000-square-foot distillery and visitors' center with a tasting room and event space. Additionally, Luxco will construct up to six barrel warehouses on its 70-acre site off State Highway 245. Construction will begin in the coming weeks with completion planned by late 2017. Luxco currently contract distills its bourbon brands - Rebel Yell, Ezra Brooks and Blood Oath - through relationships with other distilleries (aka MGPI)

Terresentia

June 2016: Bourbon distillery will begin producing bourbon next month. A grain handling system installation project is wrapping up. Crews have been working on it since January. Once that's complete, the bourbon will start flowing. We're told bourbon that was distilled in Indiana (MGPI?) and aged in rickhouses at the O.Z. Tyler Distillery is already being sold at most Owensboro liquor stores. TerrePURE Kentucky Distillers has spent around $25m buying and renovating the 130 year old distillery.
MGPI's Foray Into Branded Whiskey A Long-Shot, With Limited Traction
| | |
| --- | --- |
| MGPI Brand | Observations On Why It Has Limited Traction |
| | Craft vodka category already a crowded market. Described as "super premium" yet sells for just $25/bottle. Limited availability in Iowa, Indiana, Kentucky and Missouri. The brand has just 140 Twitter followers, which suggests lack of traction or limited marketing effort |
| | George Metze, MGPI's master distiller, mysteriously resigned in May 2016 less than 1yr after the brand was launched. According to the website, only 6,000 bottles were made and sold at $75/bottle = max sales of $450,000. As a review states, "At nearly $75 a pop, this bourbon will have to prove it's worth the price tag." |
| | Undisclosed purchase price. Sold to MGPI by three co-founders who created the product as a part-time endeavor while working full time jobs at E.W. Scripps and Proctor & Gamble. Available in Ohio, Kentucky and Indiana. The brand has Just a few hundred Twitter followers which suggests limited traction or marketing effort. Available for $45/bottle. It's stated that MGPI was supplying the whiskey and aging the barrels, so MGPI is really just acquiring the brand |
No Guarantee of Success In the Liquor Business, Even Celebrity Endorsements Fail
Date / Source

Liquor

Celebrity Backer

Outcome

Vodka

Donald Trump

Trump Vodka was discontinued in 2011, and the brand isn't included in a list of assets the businessman submitted with election officials after declaring his candidacy

Virgin Vodka

Richard Branson

Virgin Vodka failed to take off and was removed from the market

Cream Liqueur

Pharrell Williams/Diageo

in July 2012, Diageo abruptly told Williams that it would discontinue Qream distribution after two years of marketing
the brand.

Whiskey

Willie Nelson

Still available on second-hand liquor sites for as low as $17/bottle for 6-yr old aged bourbon. Appears to have limited commercial success
Because investors are so enamored with MGPI's alcohol business, they are not paying attention to other material risks that loom large in 2017 such as: 1) key ingredient patent expiration, 2) collective bargaining agreement, 3) supplier agreements, and 4) added fines / penalties from a) recently expanded audit investigation by the TTB, and b) from the chemical explosion in 2016
Key Contracts and Business Risks in 2017 and Beyond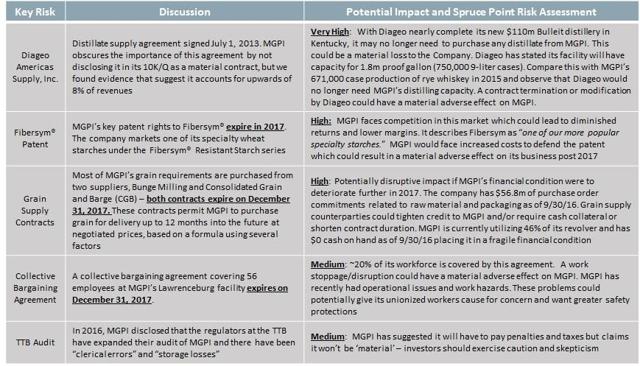 Our concern about the patent expiration is heightened by the fact that MGPI spends little in R&D and its budget has been declining every year. Its peers significantly outspend it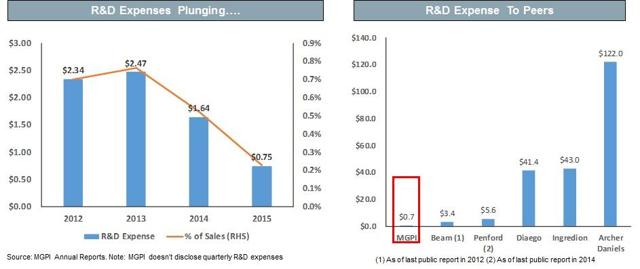 MGPI's Barreled Whiskey Inventory Is Rapidly Rising, While Sales Are Declining, And Inventory Turnover Plunges
MGPI's whiskey inventories have risen from $11.1m in 2013 to $45.0m as of 9/30/16. During the same time period, its inventory turnover has plunged from 8.6x to 3.7x and its food grade alcohol sales are declining with no YoY growth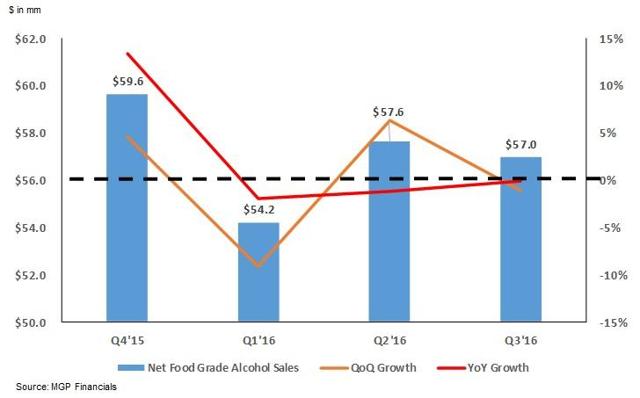 MGPI says everything is fine and that it is spending $29m to expand warehouse storage. It started to disclose "premium beverage alcohol" sales in its press release in an attempt to show strength in this segment, but won't stand behind the numbers and include them in the recent 10-Q
Inventory Turnover Declining, Margins Near Peak Levels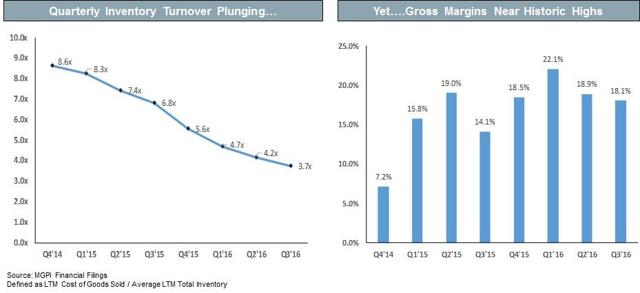 Something is not adding up with margins. Spruce Point doesn't understand how MGPI's distillery margins increased 310 bps YTD when its segment sales declined by 2.1%. The Company says the increase is from: "the continuing shift in sales mix within food grade alcohol from lower margin industrial alcohol products to higher margin premium beverage alcohol products, a decline in input costs, and an increase in warehouse revenue." The company also has attributed gross margin increases to "plant efficiencies," but then had a chemical hazard then sent people to the hospital. It would also help to have more disclosure from management if the industrial alcohol business was operating at a loss and if production was idled to increase margins so dramatically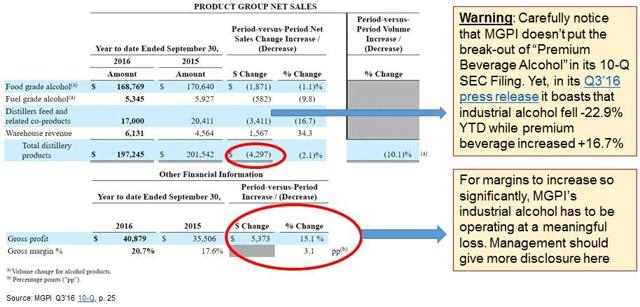 MGPI's free cash flow is sharply negative and it is borrowing heavily on its credit facility (funding a long-term asset with short-term debt). MGPI also has no cash on its balance sheet and its credit facility is now 46% utilized. As a result, its financial profile is precariously stretched in what amounts to a levered bet that it can sell its existing whiskey inventory either under its own brand (a speculative bet we argue is likely to fail absent enormous investment in distribution/marketing) or in the open market
MGPI's Free Cash Flow Is Negative, Borrowing Heavily On Its Revolver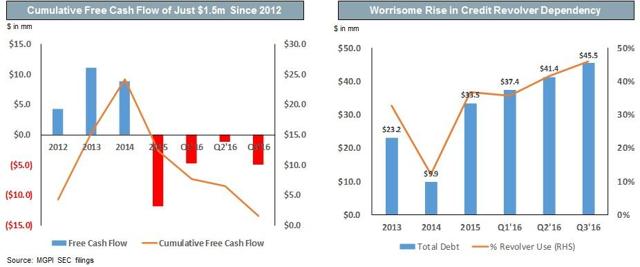 The Company tells investors it has the "potential" to sell its whiskey at 3x the current cost. It lists its whiskey as a current asset, but must age the product for three years. Notice the use of the word "potential" twice in qualifying the open market sales
Barreled Distillate Inventory Rising Fast

We believe barreled whiskey should be viewed as a long-term asset (since the company's intention is to store it for 3 years), and as a result believe MGPI's current ratio (a measure of its liquidity) is significantly worse than it appears
MGPI's Adjusted Liquidity Profile Is Fragile

MGPI must turn its inventory and hope that it doesn't decline in value because its credit facility and borrowing base depend on inventory valuation. We don't believe investors should assume that management is correct, and its whiskey will magically appreciate 3x in value. Based on our recent channel checks, we believe there is an abundance of wholesale whiskey / bourbon available. We contacted Ultra Pure the #1 bulk wholesaler in the market. We found that prices have been largely stagnant since 2014 (compare against "cost per wg" in the list below). Additionally, we sourced price quotes from J.B. Thome, another reputable broker and found no price differential between aged MGPI rye. As substantial new supply comes into the market, we would not be surprised to see prices begin to decline
Recent Bulk Price Quotes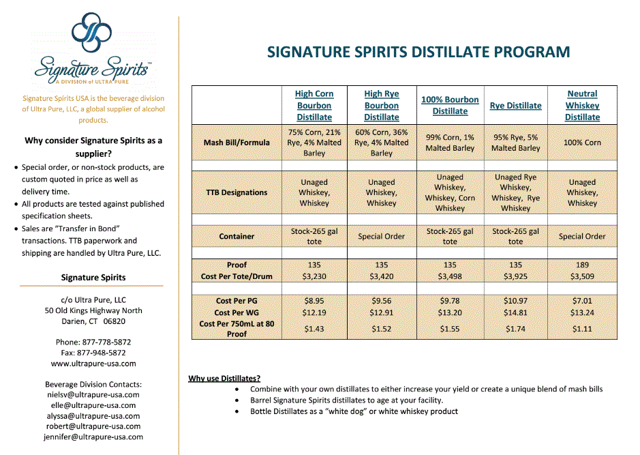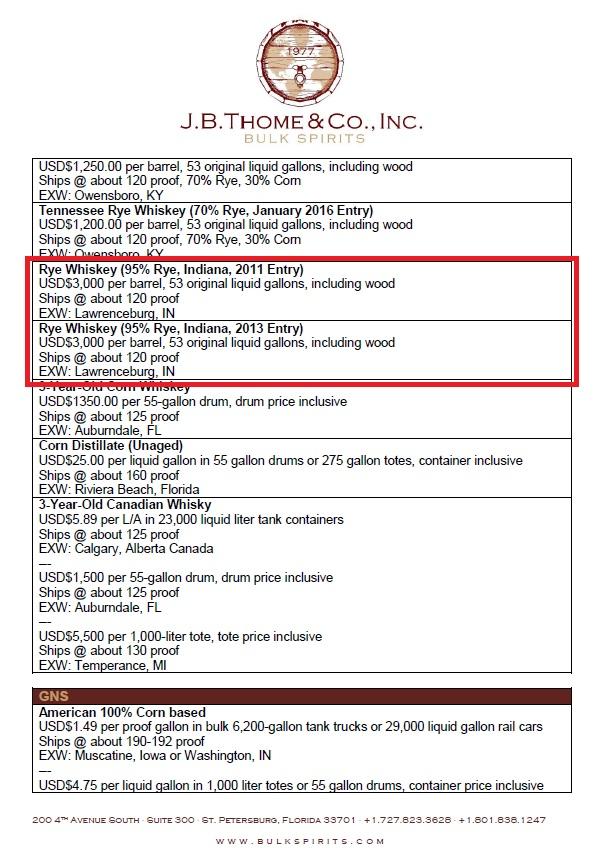 Note: Since Lawrenceburg, IN is listed, we can be sure these are MGPI product
Look To Struggles In the Vodka and Gin Market For An Indicator of What Can Happen in Whiskey / Bourbon
Consumer alcohol preferences are inherently fickle and constantly changing. A few years ago, the craft vodka market exploded leaving established brands such as Smirnoff and Absolut to compete with new brands such as Kettle One, Grey Goose, Ciroc, and dozens of others. MGPI claims 25% vodka market share, but industry executives recently called the vodka market "saturated" and overall vodka organic growth is stagnant at just 1% as reported by industry bellwether Diageo
MGPI also produces flavored and natural gin. The Company does not disclose revenues by product type, but from its recent investor presentation, the Company changed its market share from 65% to 35% share. This illustrates what can happen when a customer decides to shift production and reduce dependence on MGPI. Based on our research, we believe that MGPI has produced Seagram's gin, and its owner Pernod Ricard (OTCPK:PDRDF) has been shifting production to Arkansas away from MGPI. You can see on bottles Fort Smith, AK vs. Lawrenceburg, IN
Recent Changes To Investor Slide Show Gin Loss, Change Definition of Whiskey Market Share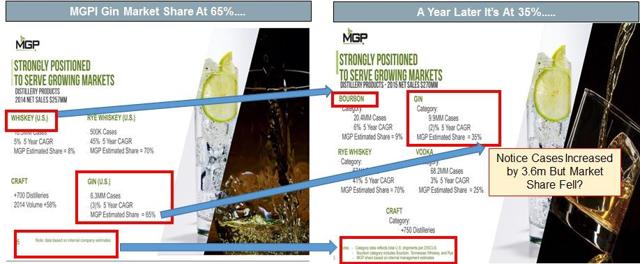 Sources: MGPI Investor Presentation, Nov 2015 and MGPI Investor Presentation, Nov. 2016

Accounting Warning: Related-Party Transactions and Revenues From Customer Freight Shipping Are Not Adding Up
Taking a step back, we believe investors should carefully evaluate the unusual changes to MGPI's 2016 10-Q filings it made. We believe the Company is signaling accounting strain and issuing a subtle warning. Look carefully at Note 1. Accounting Polices and Basis of Presentation. MGPI added a stronger cautionary statement suggesting its estimates may require material adjustment and removed a statement that suggested its financials were fairly presented
Recent Disclosures in 2016 vs. 2015 10Q Filings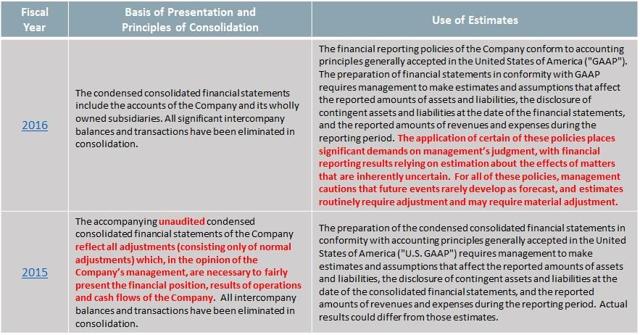 Spruce Point always takes extra precaution to identify and evaluate related-party transactions when they occur at public companies. In the case of MGPI, we think investors should question its relationship with ICP, an entity which it owns 30% and produces ethanol related products with SEACOR, another publicly traded company
To our dismay, starting in Q2'16 we find that MGPI has been quietly restating purchase amounts from the JV in fiscal year 2015. These restatements, coincide with the period that both MGPI's CFO abruptly resigned in May 2015 (he had been CFO since 2009) as well as its Randy Schrick who had been with the Company 42yrs in June 2015 (most recently served as VP of Production and Engineering). MGPI's reported purchases from ICP are explicitly contradicted by SEACOR. SEACOR has generally reported less sales to MGPI than MGPI claims. We can understand why MGPI might report slightly higher purchases than SEACOR (e.g. shipping costs), but don't understand why in any case they would be reported lower as in 2014
MGPI's Related-Party Figures Being Restated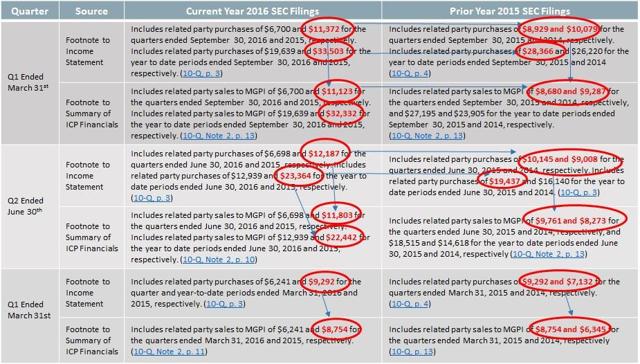 MGPI's Statements Don't Reconcile With SEACOR's Statements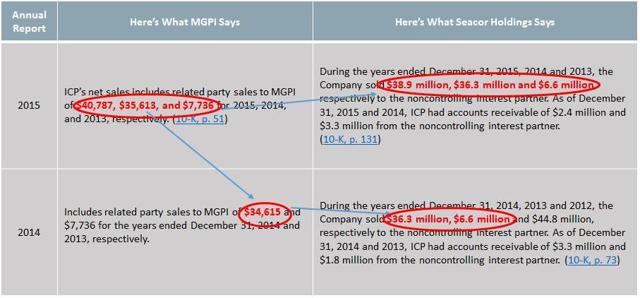 We also observe that sales figures related to customer freight costs are not adding up YTD, and being retroactively restated higher in 2015. Our concern about the validity of MGPI's numbers could cause issues with its credit facility covenants
2016 Disclosures of Customer Paid Freight Costs Included In Sales
Sales include customer paid freight costs billed to customers for the quarters ended March 31, 2016 and 2015 of $4,137 and $3,399, respectively" Q1'16 10-Q, p. 8

Sales include customer paid freight costs billed to customers for the quarters ended June 30, 2016 and 2015 of $3,939 and $4,577, respectively, and $8,076 and $8,878 for the year to date periods ended June 30, 2016 and 2015, respectively." Q2'16 10-Q, p. 8

Sales include customer paid freight costs billed to customers for the quarters ended September 30, 2016 and 2015 of $3,599 and $3,614, respectively, and $10,272 and $11,068 for the year to date periods ended September 30, 2016 and 2015, respectively." Q3'16 10-Q, p. 8
Note: Notice the YTD 2015/2016 numbers don't add up to the quarterly results. YTD '16 should equal $11.68m and YTD '15 should equal $11.59m
2015 Disclosures of Customer Paid Freight Costs Included In Sales
Customer-paid freight costs are included in Sales and were $3,552 and $3,672 for the quarters ended June 30, 2015 and 2014, respectively, and $6,951 and $7,162 for the year to date periods ended June 30, 2015 and 2014, respectively." Q2'15 10-Q, p. 9

Customer-paid freight costs are included in Sales and were $3,138 and $3,237 for the quarters ended September 30, 2015 and 2014, respectively, and $10,088 and $10,400 for the year to date periods ended September 30, 2015 and 2014, respectively." Q3'15 10-Q, p. 8
Taking a step back, using customer paid freight costs as a directional indicator of business activity, we observe they are in YoY decline. Based on YTD 2016 annualized results, we estimate 2016 full-year results are close to 2014 levels. This doesn't appear to be the sign of a healthy, growing company
Customer Paid Freight Costs included in Sales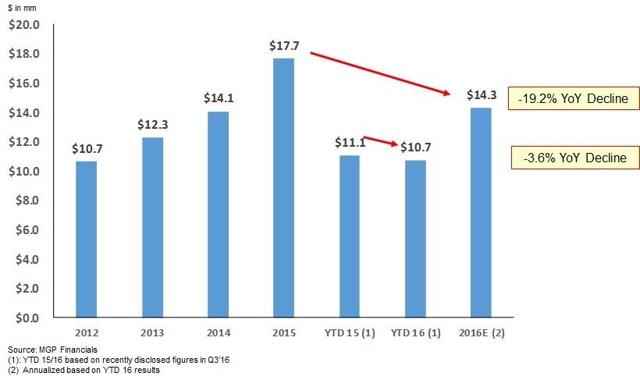 MGPI's Shares Are Priced For Perfection And Now Its Largest Shareholder Is Liquidating
In our view, it is easy to refute the bull case. Investors are valuing its shares as if it already were the best branded alcohol producer in the world (greater than Diageo, Constellation and Brown-Forman) even though it has no firmly established brands. MGPI trades at approximately 2.5x, 14.5x and 28x 2017 street estimates of sales, EBITDA, and EPS, respectively. Optically, Its leverage appears conservative at just 0.8x Debt to EBITDA. But, in reality once its EBITDA and EPS start to decline, investors will focus heavily on the fact it has zero cash and is utilizing 46% of its credit revolver
MGPI has just two small sell-side analysts that tout its stock and seem confident it can compound its sales and earnings by at least 5% over the next two years, while expanding EBITDA margins by 170bps. At MGPI's current share price of $47, it is trading just 17% below its average price target of $55/sh. In our view, there is a terrible risk/reward of owning MGPI at current prices based on our 60-70% estimate
MGPI's valuation multiple is stretched and trading near an all-time high. We believe that once it becomes clear that the whiskey market is saturated, MGPI is stuck with excess inventory and its tiny brands fail to gain traction, investors will once again realize they own a mediocre commodity alcohol and ingredient Company, which would ordinarily be valued at 1x sales and 8x - 9x EBITDA similar to companies like Archer-Daniels (NYSE:ADM), Ingredion (NYSE:INGR), Tate & Lyle (OTCQX:TATYY) and SunOpta (NASDAQ:STKL). As a result, we see approximately 60-70% downside risk in MGPI's share price to a range of $16-21 per share
MGPI Trading Out of Its League As If It Were A Best-of-Breed Branded Liquor Company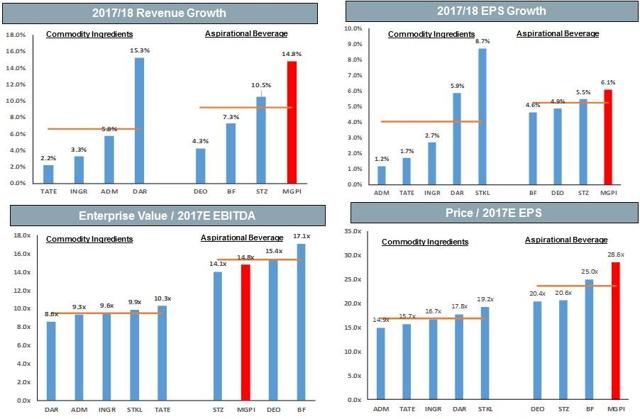 MGPI Trading At Historic Multiples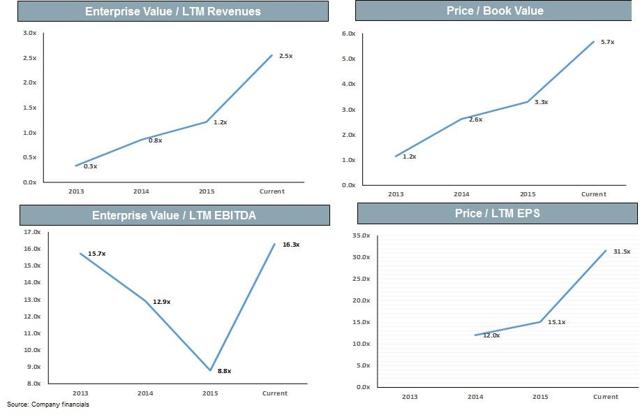 Insiders always know best so follow the money. It's no surprise to us that the Seaberg family which owns ~28% of the Company's common stock and 84% of the preferred shares (giving them Board control) recently entered into a stock sale program in late December to start liquidating a portion of its holdings
Normalized Price Reference Ranges Suggest Approximately 60% - 70% Downside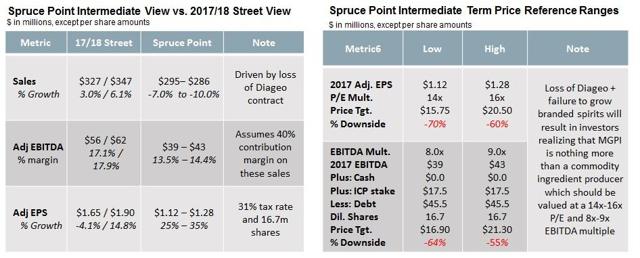 Disclaimer
This research expresses our investment opinions, which we have based upon interpretation of certain facts and observations, all of which are based upon publicly available information, and all of which are set out in our complete research presentation report on our website. Any investment involves substantial risks, including complete loss of capital. Any forecasts or estimates are for illustrative purpose only and should not be taken as limitations of the maximum possible loss or gain. Any information contained herein may include forward looking statements, expectations, pro forma analyses, estimates, and projections. You should assume these types of statements, expectations, pro forma analyses, estimates, and projections may turn out to be incorrect for reasons beyond Spruce Point Capital Management LLC's control. This is not investment or accounting advice nor should it be construed as such. Use of Spruce Point Capital Management LLC's research is at your own risk. Any historical performance achieved from any idea or opinion from Spruce Point Capital Management should not be considered an indicator of future performance. You should do your own research and due diligence before making any investment decision with respect to any of the securities covered herein.
You should assume that as of the publication date of any presentation, report or letter, Spruce Point Capital Management LLC (possibly along with or through our members, partners, affiliates, employees, and/or consultants) along with our subscribers and clients has a short position in all stocks (and are long/short combinations of puts and call options of the stock) covered herein, including without limitation MGP Ingredients, Inc. ("MGPI" or "the Company"), and therefore stand to realize significant gains in the event that the price of its stock declines. Following publication of any presentation, report or letter, we intend to continue transacting in the securities covered therein, and we may be long, short, or neutral at any time hereafter regardless of our initial recommendation.
This is not an offer to sell or a solicitation of an offer to buy any security, nor shall any security be offered or sold to any person, in any jurisdiction in which such offer would be unlawful under the securities laws of such jurisdiction. Spruce Point Capital Management LLC is not registered as an investment advisor, broker/dealer, or accounting firm.
1. To the best of our ability and belief, as of the date hereof, all information contained herein is accurate and reliable and does not omit to state material facts necessary to make the statements herein not misleading, and all information has been obtained from public sources we believe to be accurate and reliable, and who are not insiders or connected persons of the stock covered herein or who may otherwise owe any fiduciary duty or duty of confidentiality to the issuer, or to any other person or entity that was breached by the transmission of information to Spruce Point Capital Management LLC. However, Spruce Point Capital Management LLC recognizes that there may be non-public information in the possession of MGPI, Inc. or other insiders of MGPI that has not been publicly disclosed by MGPI. Therefore, such information contained herein is presented "as is," without warranty of any kind - whether express or implied. Spruce Point Capital Management LLC makes no other representations, express or implied, as to the accuracy, timeliness, or completeness of any such information or with regard to the results to be obtained from its use. All rights reserved. This document may not be reproduced or disseminated in whole or in part without the prior written consent of Spruce Point Capital Management LLC.
Disclosure: I am/we are short MGPI.
I wrote this article myself, and it expresses my own opinions. I am not receiving compensation for it. I have no business relationship with any company whose stock is mentioned in this article.