Oil & Gas Industry Highlights of 2016
If the oil (NYSEARCA:USO) and gas industry wasn't eventful enough for you in 2015, then 2016 may have just given you what you were looking for. Most noteworthy, WTI crude fell to its lowest point since 2003 to $26 a barrel, setting off an explosion of panic and bankruptcies amongst many oil and gas players in the industry. Since the beginning of 2015, there have been 232 oil-and-gas related bankruptcy filings in the U.S. and Canada, according to Haynes and Boones' Energy Bankruptcy report. These companies were in the E&P, oil field services and midstream industries. Unsurprisingly, the majority of the filings rests within the E&P field, consisting of 114 filings and $74.2 billion of debt. Oil field services is next in line with 110 bankruptcies worth $18.8 billion, and midstream companies follow in distant third with 16 companies holding debt worth $17.2 billion.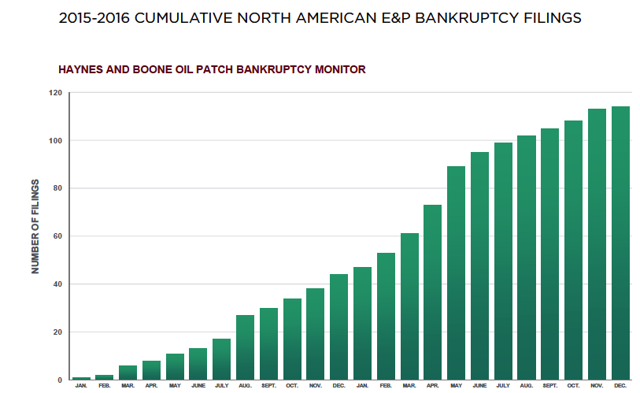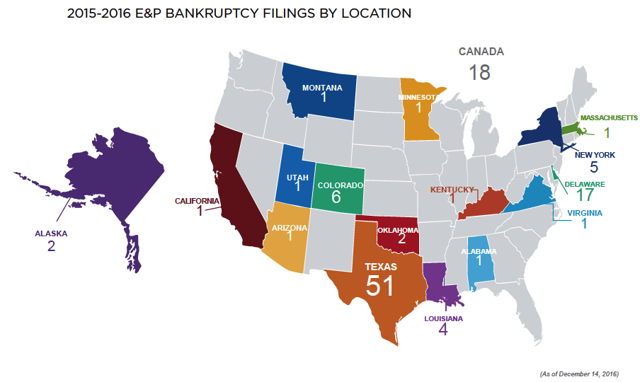 The majority of these E&P bankruptcies were in the Texas area at 51 and represented the highest amount of cumulative secured and unsecured debt at $32.5 billion. The only state that could compare to the amount of bankruptcies experienced by Texas was actually the country Canada, which only filed 18. This should come as no surprise, however, considering that Texas is the largest crude producer in the US by a large margin.
2016 was also a big year for domestic exports. Cheniere Energy Inc. (NYSEMKT:LNG) became the US's first and only exporter of shale natural gas in February, and in recent months was approved by the Federal Energy Regulatory Commission to export additional volumes of LNG from its second liquefaction plant. From a business standpoint, the Company appears to be on solid footing. It has seven LNG liquefaction trains in various stages of completion and has recently finished construction of two of those trains. Management expects to complete two more later this year, and the other three should come online in 2019.
Cheniere is currently trading at an 8% premium to its 50-day moving average, and it's also on the high side of its peers on a NTM TEV/Forward EBITDA basis trading at 33.56x, which is a result of its LNG prospects. According to the EIA, liquefied natural gas is expected to dominate U.S. natural gas exports by the early-2020s, as the nation is on its way to becoming one of the world's leading producers of the chilled fuel. There are currently four additional LNG export facilities being built and are scheduled to be completed by 2020. Following these completions, the U.S. will have an export capacity of around 60 million mt, making it the world's third largest supplier of LNG.
In late 2015, Congress repealed the 40-year-old ban on crude exports that had been in place since 1973, following the Arab oil embargo. The repeal has had a profound impact on the US's exporting figures in 2016.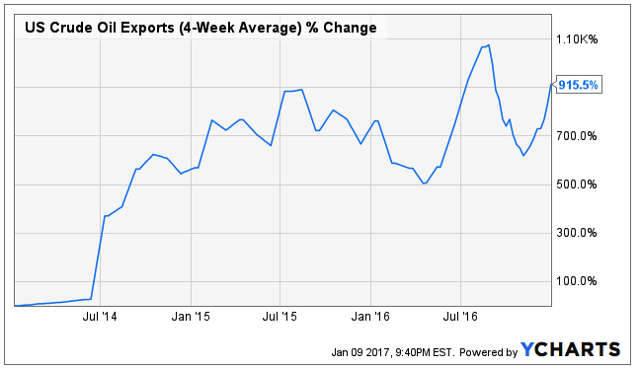 According to the EIA:
Since the removal of restrictions on exporting US crude oil in December 2015, the number of countries receiving exported US crude has risen sharply. In 2010, the US was exporting 42,000 barrels of crude a day. By 2013 this surged to 134,000, and in 2015 it totaled a massive 458,000 barrels per day. In the first five months of 2016, US crude oil exports averaged 501,000 barrels per day, 43,000 barrels per day (nine percent) more than the full-year 2015 average.
As of the 10 months ended 2016, crude exports have increased approximately 7% compared to the same period last year. While over the past 60 years the US has been a net importer, the EIA is projecting that by 2026, it will become a net exporter, citing declines in petroleum imports and an increase in natural gas exports as the drivers of the shift. EIA Administrator Adam Sieminski said the following in a statement: "EIA's projections show how advances in technology are driving oil and natural gas production, renewables penetration, and demand-side efficiencies and reshaping the energy future."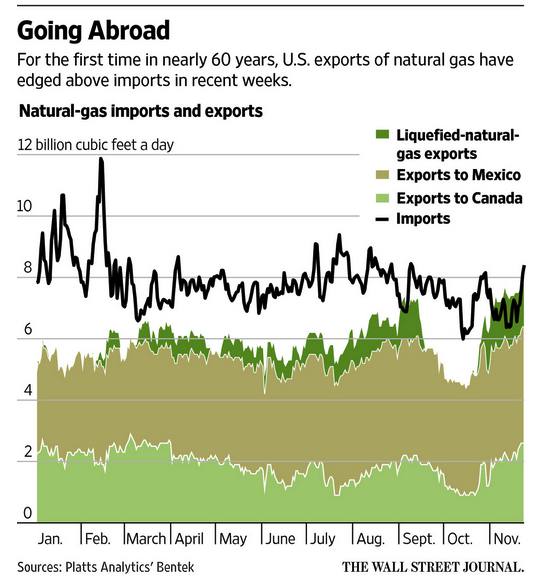 The US also hit a 60-year milestone after it became a net exporter of natural gas in November, where it exported 7.4 billion cubic feet of gas per day, compared to the 7.0 bcf/d it imported. The biggest recipients of the natural gas were our NAFTA partners Mexico and Canada, although it went largely to Mexico. With the new Trump administrative bringing heavy tensions and a palpable political divide between the US and Mexican governments, the consistency in growth of these deliveries can be called into question. However, with the export ban lifted, the US has other markets to target its production towards.
Along with the above-mentioned events, Trump was elected president and has appointed the most oil-and-gas friendly administrative we've seen in decades, OPEC agreed to cut production by over 1.2 mbpd in the effort to stabilize oil prices, non-OPEC producers agreed to cut 558k bpd, the Permian Basin experienced explosive growth, GE Oil & Gas & Baker Hughes announced a merger, rig counts have steadily increased, and much, much more. What was surprising that did not occur was the widespread acreage acquisitions by major players in key areas when land valuations were low. Unless these companies had the conviction that oil prices would not rebound in the next 2-3 years, then the lack of land purchases are puzzling, as the low oil price environment provided for them an advantageous buying opportunity. Anyways, let's now take a look into the future.
Oil & Gas Industry in 2017
As oil prices and rig counts have rebounded considerably following the November 30th OPEC/non-OPEC production cut agreement, investors are still wary of a number of potential outcomes that could deface the ultimate purpose of this deal, as evidenced by the considerable volatility in prices over the past week. So while investors are generally excited about the coming year's prospects, let's call 2017 the year of cautious optimism.
Trump's Border Adjustment Tax
There's no shortage of positive and negative opinions about this proposed tax, but let's focus primarily on the potential effects it could have on the oil and gas markets. As it stands today, the US still imports a large amount of oil, albeit, the amount has decreased drastically over the last few years. US total demand of petroleum products in 2016 was 19.59 mbpd, with 8.89 mbpd being supplied domestically. The difference of around 10 mbpd is the amount of imports that could potentially be affected by this tax.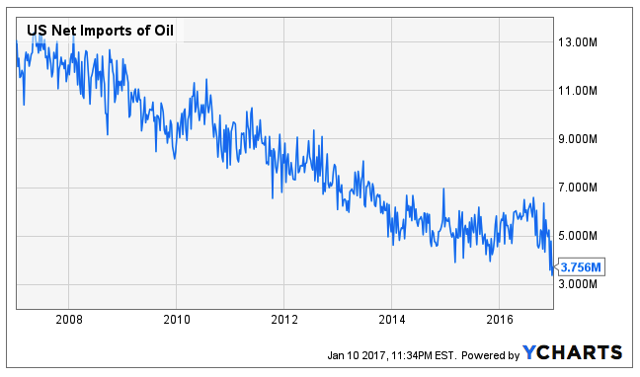 The proposed adjustment tax in essence taxes US companies on imported products while offering tax incentives towards domestically-produced goods for export. It's proposed in a manner that would incentivize companies to manufacture products here at home, as opposed to purchasing them overseas. Generally speaking, US refineries would find it economically favorable to use domestically produced oil, as it would allow them to deduct the cost of the inputs from their taxable income. As a result, however, the increase in demand for domestic crude would inflate crude spot prices, as quantity demanded would increase. At the same time, demand for imported crude oil would decrease. These effects are illustrated below.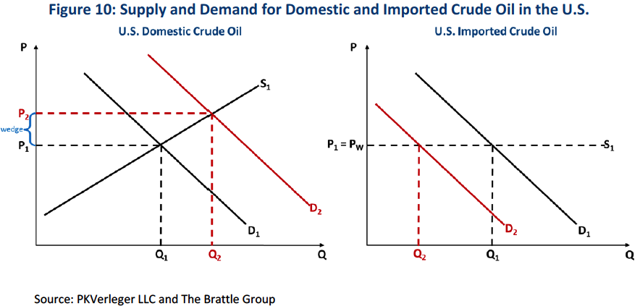 While the details of the proposal are complex in nature, the overall goal by the administration is to use this tax, as it relates to oil and gas, as a means of tying an economic incentive towards broader energy independence. Not only will domestic producers benefit through increased production demand, but the lack of US dependency on foreign oil will give the US a much larger geopolitical stick to swing in global markets. From the consumer standpoint, however, according to The Brattle Group, gasoline prices could increase as much as $0.30 if this tax went into effect.
Sentiment-Driven Oil Prices
Much of the noise this past week has been a result of money managers' net long positions decreasing as, among other factors, doubts arise over key countries making good on production cut promises.
Source: John Kemp
As the charts above indicate, money managers have amassed large net long positions in crude oil futures and options leading up to and following the November meeting in Vienna. In fact, by December 27th, these positions accumulated to an equivalent of 796 million bpd, while the net positions held on November 15th was only 422 million bpd. The only issue is that this rushing optimism came to a halt by mid-December, and in the first week of the new year, these contract positions reversed course and were cut by 6 million bpd.
Commodity prices being as susceptible to market perception as they are has proven to be dangerous if you're trying to time the market swings. The initial prop of prices that was driven by investors' switching sentiment was said to have had a $15 per barrel positive impact on crude prices. However, now that the train has left the station and new money isn't flowing towards gross longs, momentum-based traders are cashing in on the exuberance and driving the price down to more reasonable levels. Until investors can be assured that production cuts are being implemented and the US isn't over-saturating an already-oversupplied market, prices are anticipated to stay within the $50-55 range in the short term.
OPEC/Non-OPEC Compliance & US Production Growth
The overwhelming consensus of investors towards OPEC's stated goals of production cuts of 1.2 mbpd is essentially, "fool me once, shame on you, fool me twice..." you get the idea.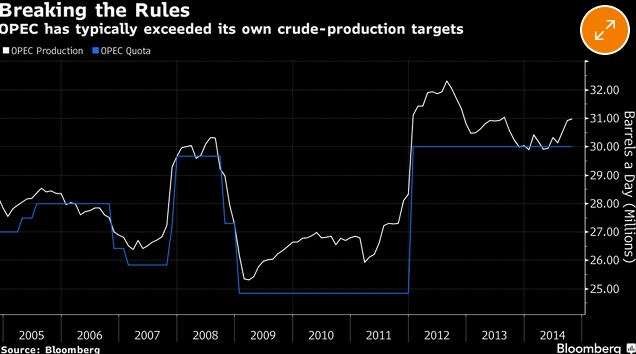 Historically, OPEC has not made nice on its promise to deliver on its quotas. In 17 production cuts since 1982, OPEC members have reduced output by an average of just 60% of their commitments, according to Goldman Sachs. The last time OPEC issued a quota, members exceeded it for 20 of the 24 months before it was scrapped at the end of 2015. So, why should this time be any different? Well, for Saudi Arabia, who has taken the lion's share of the cuts, higher oil prices means a higher valuation for Saudi Aramco's impending IPO. The state-run company is reporting a current valuation in the range of $2 trillion, and with plans to sell anywhere from 5-49%, the country's incentives are directly aligned towards keeping oil prices as high as possible to fetch the highest valuation. Saudi Arabia has reported that it has cut oil production by 486,000 barrels of oil per day since October.
Non-OPEC members have also indicated that they are maintaining compliance with their stated cuts. Russia reported oil production that shrunk by 130,000 bpd in the first week of January, which is 80,000 barrels in excess of its initial goal for this month. Kazakhstan's energy ministry said recently it has met its commitment of curbing production by 20,000 barrels a day in January. Other production-cut related news as reported by Bloomberg is as follows:
Oman: the non-OPEC Gulf country said on Jan. 3 its output was being cut by 45,000 barrels a day to 970,000 this month.
Azerbaijan said on Tuesday that it plans to cut output by 35,000 barrels a day as early as this month to comply with the Vienna deal.
Malaysian state oil co. will make "necessary adjustment" to the country's crude output level in line with agreement reached between OPEC and non-OPEC producers, Petronas said last month.
South Sudan is in the process of resuming crude production in Unity State, which will boost the country's output by at least 50,000 barrels a day within two months, Argus Media reported, citing a senior oil ministry official. The nation pledged in Vienna to cut output by 8,000 barrels a day.
Among OPEC countries, Iraq said it reduced volumes by 160,000 barrels a day. That's more than three-quarters of its targeted cuts of 210,000 barrels a day. The announcements come after the country's southern oil exports reached a record last month. "We should wait and see if Iraq's announced cuts translate in lower exports. So far, they haven't been visible," UBS's Staunovo said, adding that Iraq has limited storage capacity.
Saudi Arabia, the United Arab Emirates, Qatar as well as Kuwait are complying with their promised cuts, Nawal Al-Fezaia, Kuwait's OPEC governor, said on Monday.
Angola, Algeria also ordered oil companies to slash output in order to respect their pledges.
Venezuela said on Dec. 27 it would implement its pledge to cut output by 95,000 barrels a day starting Jan. 1.
A similar promise came from Gabon on Dec. 16, pledging a 9,000 barrels-a-day cut.
Under the agreement, Iran is allowed to increase its output by 90,000 barrels a day as it seeks to regain pre-sanctions' levels. Libya and Nigeria are exempt from cuts as they aim to recover lost output due to internal violence and sabotage.
Fellow contributor Daniel Jones wrote an interesting article recently on current events occurring in Nigeria that could have a positive impact on oil prices. Long story short, a militant group by the name of Niger Delta Avengers is once again lashing out against the country's government for allegedly taking advantage of its own people. Historically, the group has been successful at targeting and destroying oil transportation systems in a capacity that made a significant impact on total production. For example, in August of 2016, oil production fell to an average of 1.419 mbpd, down from an annual average in 2015 of 1.865 mbpd and 1.953 mbpd in 2014. The imminent attacks, while unfortunate in nature, have the potential to positively affect the balance of supply in the market, thus driving prices up. You can read Daniel's article that goes over this situation in detail by clicking the link above.
Finally, yes - the US is expected to increase production. However, this is a known fact and has been for some time, so when production numbers are released and confirm this known supposition, it should not be a market moving catalyst.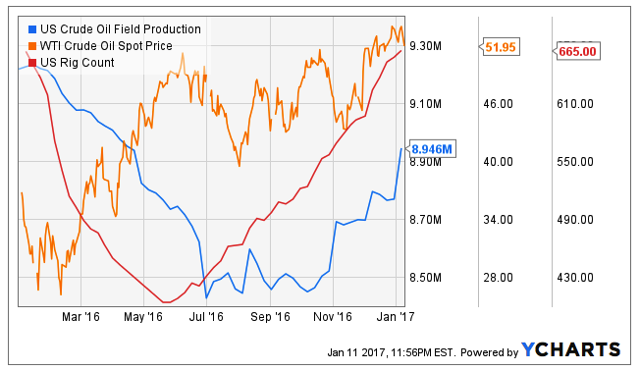 Assuming oil prices hover around the $60 per barrel range, Citigroup projects that US production could deliver around 9.2 mbpd by the end of 2017. This contrasts to the EIA's projection of 9.0 mbpd in 2017 with a modest rise to 9.3 mbpd by 2018. Current production is pegged around 8.95 mbpd, which is only around 0.66 mbpd below peak production that was reached in June 2015. Further, it's estimated that if prices can average $55 per barrel, then the US shale producers may effectively undo the inventory normalization efforts of OPEC. We won't know by how much the increased production capacity will offset the production cut efforts by OPEC and non-OPEC members for a while because this is a constantly evolving story. Inventory stockpiles play a minor part in the short-term fluctuations of the market, as do events such as the 8 million barrels of oil that the Department of Energy is selling from the strategic petroleum reserve.
2016 brought to oil and gas companies many challenges. These management teams found themselves in complete survivor mode and had to pick up their businesses like wet rags and squeeze out all unnecessary expenditures and inefficiencies. Now, in 2017, these companies are better suited to combat the wild swings in price volatility should any surface, as they've developed strategies to not only operate in a $50 price environment, but also to extract a certain level of profitability in the process. I'll be covering these events as they transpire throughout 1H17, and while I'm not sure whether or not OPEC will fully comply with production cuts, or if the market will reach a supply demand equilibrium, or if Trump's newly minted energy administration will shake up the market, one thing that I am sure of is that in the end, it's going to make for one heck of a story.
Disclosure: I/we have no positions in any stocks mentioned, and no plans to initiate any positions within the next 72 hours.
I wrote this article myself, and it expresses my own opinions. I am not receiving compensation for it (other than from Seeking Alpha). I have no business relationship with any company whose stock is mentioned in this article.