Performance in US banks over the last week has favored the cheaper names. This should continue.
Krugman under the microscope
There is an interesting ongoing debate about some recent statements by Paul Krugman concerning potential deficit stimulus for the US economy.
Regardless of where you see the underlying issues and how you see Krugman's views, this concerns key issues about the economic prospects of the U.S. as we approach inauguration day and is useful food for thought.
The role of corporate tax cuts in strengthening economic growth
Yesterday I made the point that I thought Krugman's view that the House Republicans will only allow tax cuts for the wealthy rather than meaningful infrastructure investment spending was premature. There has to be some chance of Trump being able to fulfill his promises about infrastructure. But this is a simple wait and see issue in reality.
Perhaps more interesting is whether Krugman is right that tax cuts would be far less helpful. We all know the argument that tax cuts for wealthy people in general lead to an increase in the capital pool, and possibly offshore capital pools, without increase demand in the economy. To my mind this is broadly right. It might not undermine the case for tax cuts, but that depends on how you see them in isolation of their impact on growth.
However, another area of potential tax cuts is more interesting with regard to real economic effects. This is corporate tax cuts.
There are many arguments around corporate optimal tax levels and we don't have the space to discuss them here. However, one that I have always found interesting is the concept of how corporate tax cuts might interact return thresholds for planned corporate investment.
When companies plan investment, they do so off implicit or explicit return expectations that have to meet certain thresholds for the investment to go ahead. Naturally, these build in tax assumptions as "deadweight". Thus, if corporate tax rates are lower and especially if they are materially lower, so the required pre-tax return on investment expenditure also falls, allowing useful activities to be undertaken that otherwise would have sailed beneath or just too close to the marginal return threshold of the company. In other words, more will get done. It is difficult to speculate on how much more, but the logic appears sound that we should expect some economic benefits from lower corporate tax rates.
The offset of course is that some of the money saved on tax will go to shareholders, and competition will claim some more of it. At a time of wage inflation, employees should enjoy better terms when switching jobs as well. Finally, other things equal, Federal tax revenue would correspondingly fall so other areas of the economy might lose out. Still, there should be "some" increase in investment expenditure due to lower required ROC especially when shareholders prefer greater investment to distribution.
So, corporate tax cuts should be growth friendly at least to some extent, and as investors we would generally prefer the money to go to consumers (lower prices), employees (wages), investment or, failing that, dividends.
With all these issues churning away, let's turn to US Bank Valuations this week: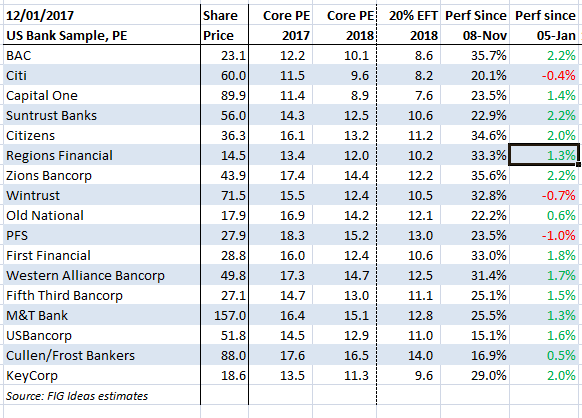 The mean price movement over last week's valuation is +1.2%, so another positive week and the range is pretty tight all told. I would still view the banks on ~12-13x EPS for 2018 pretty favorably and note that they generally have been a little stronger than their more expensive peers. Don't necessarily think that will continue short term, but it is the bet I would make as investors start to parse the detail of these names a little more carefully.
The fourth quarter results season, starting soon, is going to be an opportunity for these banks to discuss the outlook and despite the many unknowns, the key information will be the current pipelines and assessment of the different areas of the US economy that these mainly local banks service. This will give us the immediate and near term economic context onto which the pro-growth Trump administration will begin, with all the possibilities and risks it brings.
Disclosure: I/we have no positions in any stocks mentioned, and no plans to initiate any positions within the next 72 hours.
I wrote this article myself, and it expresses my own opinions. I am not receiving compensation for it (other than from Seeking Alpha). I have no business relationship with any company whose stock is mentioned in this article.