YY Inc. (NASDAQ:YY) is a social platform in China that features live broadcasting. The overall company can be broken into the following sub-businesses: YY Live (56%), Online Dating (14%), Game Broadcasting (9%), Online Games (8%), Online Education (2%) and Others (11%). Having the most market share and the most comprehensive products on a single platform amongst players in the Chinese live broadcast sector, YY is a good play on the increasingly popular live broadcast. We recommend long YY at $38.09 (1/4/17 closing).
General Market Opportunity
Incredible Industry Growth
Chinese Internet companies [e.g. Alibaba (NYSE:BABA), Tencent (OTCPK:TCEHY) (TCTZD), Sina (NASDAQ:SINA)] saw tremendous growth in recent years thanks to the growing penetration of Internet and the high population concentration in the country. The new wave of growth for these companies lies in the 3G/4G coverage improvement, resulting in renewed growth in the Chinese technology sector. Live broadcasting is no exception. Per MIIT and Credit Suisse estimates, total 3G/4G subscriber grew at 64% CAGR between 2011 and 2016 and it is expected to reach 1.2 bn in 2018 with a 90% penetration rate.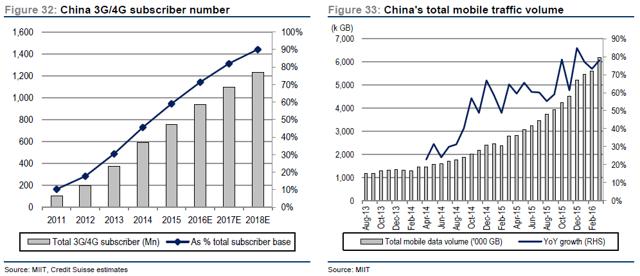 Live broadcasting has recently been the focal point at many major global social media companies such as Facebook (NASDAQ:FB), Twitter (NYSE:TWTR) and Youtube. In the four months between April and October 2016, Facebook saw the usage of live video increasing 4 times. In China, the market for live broadcasts is even stickier. Per a report by Andreessen Horowitz, "according to a survey of 1500 livestreaming hosts conducted by Today's Internet Celebrity [and reported by Credit Suisse, September 2016], a little more than two-thirds are under the age of 26 and about half are at least college-educated." The popularity of live broadcasts among the young, tech-savvy population reinforces the exponential growth coming from technology. Furthermore, on the broadcast host side, the female to male ratio is 80/20, and the flip is true on the audience side. Therefore, live broadcast is becoming a new platform for socializing and sometimes even dating purposes.
This form of entertainment is needed and is here to stay.
Live broadcast is likely to continue to be successful and grow for a number of reasons. First, companies build in economic incentives for both audience and hosts to interact more, and in turn boost the economics of the firm. According to a CNBC news report last month, a moderately popular part-time host (with 10,000 followers) can earn almost three times the average earning taken home by fresh university graduates. This easy, extra income is very meaningful to hosts, who tend to be younger and have less earning power in their day jobs, in an environment where standard of living and costs of goods are climbing. On the audience side, in addition to being able to socialize, users have high engagement because they must spend money to attain and maintain statuses on the platform. High statuses grant users special access which not only fulfills one's ego but also escalates the level of engagement. Second, live broadcast is a very cost-benefit efficient form of entertainment. Most of the contents are user generated so the bulk of the operating expenses is on technology which is decreasing. Last but not least, live broadcast opens up a large array of opportunities for entertainment, dating, education, money-making, ads and e-commerce and so on. Therefore, it is a market with great breadth and depth that is still at a nascent stage.
Being the largest player, YY will continue to be one of the largest beneficiaries of the industry growth.
Why YY?
One of the risks often cited with live broadcast is its low entrant barrier. This was somewhat true but as competition heats up and regulations tighten, this risk is mitigated. Large players will reap the most benefit from the industry tailwind and the competitive moat they crafted from the large user base. We particularly favor YY for a few reasons: 1) the largest player in the sector; 2) the only large independent player (i.e. not owned by a conglomerate); 3) comprehensive product offerings; 4) first mover advantage; and 5) favorable valuation.
YY Live
(segment includes live streaming, online dating, online gaming, ads, membership)
Despite not investing as heavily in marketing as its competitors, YY stays consistently ahead in terms of traffic and user engagement. Its gap to Inke is also narrowing.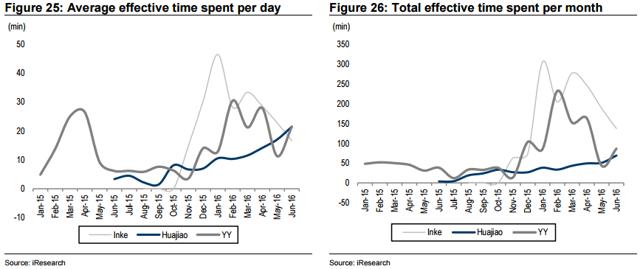 The conversion from total traffic to paying users is trending up steadily even though there are some fluctuations in effective time spent.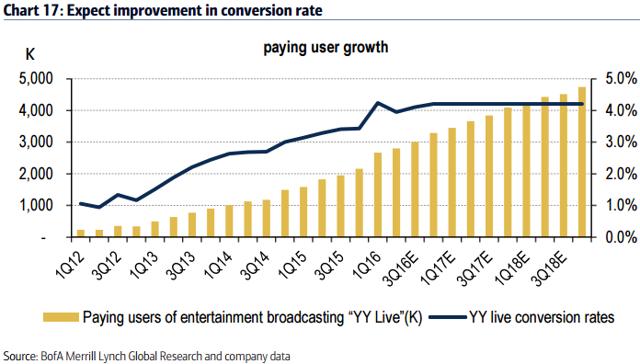 In the mobile space, YY has low new installation vs. uninstallation spread out of the few most downloaded apps, although it has been less aggressive in its marketing efforts. YY believes more in the importance of content quality and variety.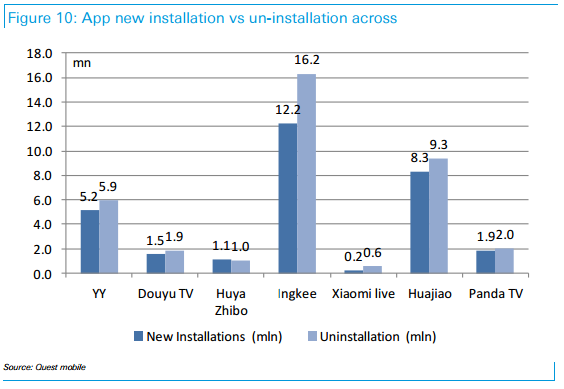 YY's first mover advantage provides solid foundation to support the company's growth. YY has exclusive partnership with guilds which act as talent agencies. Influential hosts are more loyal to YY than expected as it is highly uncertain whether they could replicate their successes outside of the guild and YY. Smaller platforms may offer higher revenue sharing in the short run but they are not equivalent to recurring income. YY has 300-400 guilds in total, 10-20 of which are golden guilds (the highest level). In Sina's June user survey on top live broadcasting hosts, seven out of the top ten hosts were from YY with another from Huya (YY's game broadcasting site).
Top hosts generate superior contents that attract users. YY retains users through carefully its crafted monetization model. Users are divided into tiers based on the monetary contribution they make to hosts in form of gifts. YY typically pockets 50% of the value as revenue; guilds, 10-20%; hosts, 30-40%.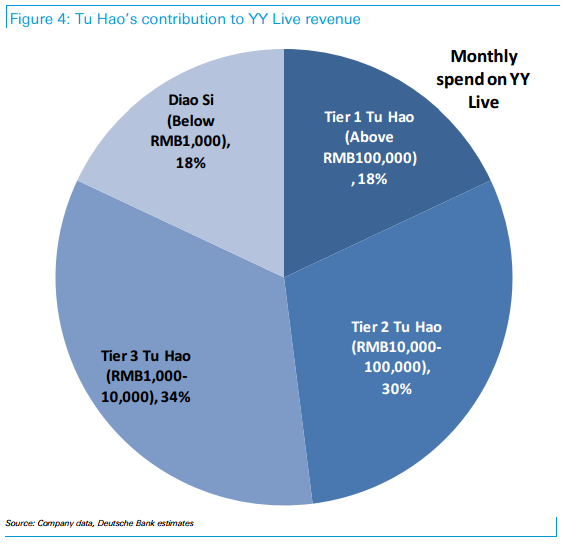 Users on YY, especially the high ranking ones, are very sticky. High paying members are given titles, special administrative rights and ways to interact and maintain relationships with guilds/hosts. The program spans to the decoration of virtual names, the length of IDs, special seats in live programs, and unique hallmark and visual effects when one enters show rooms. Top paying users also show up on the ranking board where everyone can see. To maintain those privileges and to fulfill one's ego, members must maintain high spending which reinforces the sustainability of YY's revenue.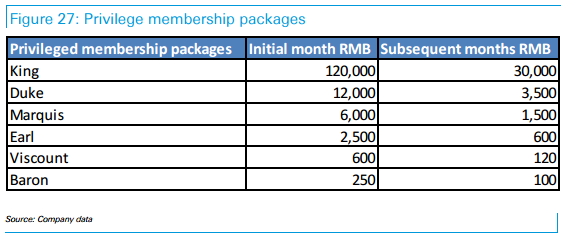 Since content is the most crucial component of the success, YY will transition to PUGC (professional and user generated content) going forward where it will partner with more established studios and institutions. YY will welcome brand owners, media and institutions to broadcast to YY's user base. The company doesn't plan to increase its own content cost significantly. It would be a win-win for both YY and brand owners as live broadcast is becoming an increasingly important channel and big players such as YY stand to benefit from the growth.
Similarly, being a big established player, YY will win over smaller competitors from a regulation perspective. The government has tightened regulation on live broadcast in September, making new entrants more difficult. New regulations require (1) platforms to have RMB10mn of minimum registered capital and (2) platforms without a license to be either state-owned or state-controlled. Multiple operating licenses are also needed.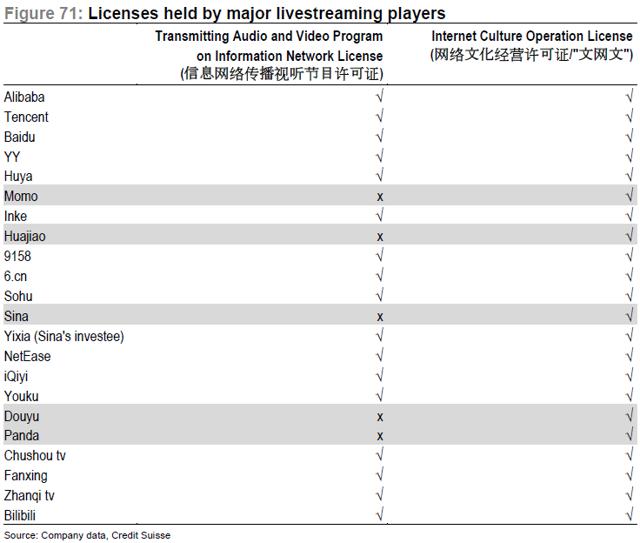 Besides standing to benefit from the industry growth and the scale it built as the first mover, there are numerous opportunities for positive surprises going forward. The first surprise lies in the mobile space. Revenue from mobile has always lagged that from PC mostly because users typically spend more time on PC. However, this gap is narrowing. In 3Q16, mobile contributed to 52.8% of YY Live's revenues, as compared with 45% in 2Q. The monetization gap is expected to narrow further as mobile penetration increases and some competition is weeded out.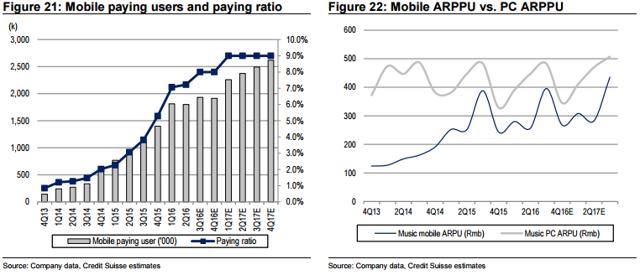 The second potential surprise is on margin expansion, including from lower expenses. Competitors have burnt a lot of cash promoting apps in August and September. This trend has cooled down leading into 4Q and we see YY's DAU stabilizing. Also, YY's management noted that operating cost on technology will trend down as the platform scales further.
The third area lies in the slightly easier comps. YY wrote down an impairment of more than 310 million RMB in 2015, mostly from the education business after the departure of a number of key personnel. This eroded investors' confidence. At this point, the lackadaisicalness of that segment is well priced-in. Any development is likely positive. The overall firm's performance will also now be compared to easier comps as a result of that impairment.
Last but not least, our analysis pointed to efficient management execution and sound capital structure. YY's ROE has stabilized in the past several quarters, driven by higher operating margin, lower asset turnover and lower leverage ratio per Du Pont analysis. Debt-to-equity ratio is decreasing yet interest coverage has gone up from 8x in 3Q15 to 23x in 3Q16. FCF yield is estimated at 7%+. These positive stats indicate capacity to be on the offensive in face of competition and investment.
Huya
(segment for game broadcast)
Game broadcasting is still an underpenetrated market. Per CNNIC data, there were 117 million users as of June 2016, only 16.5% of Internet users. The estimated potential market is 391 million online gamers. Enfodesk estimated that the game broadcasting market in 2016 is 2.6 billion RMB (126% YoY) and expect the market to grow to 4.5 billion RMB in 2018. Similar to case for the broader broadcasting sector, scale and first mover advantage go a long way. As the second biggest player in the industry by MAU (Huya 8 million vs. Douyu 8.5 million) and user time spent (Huya 15% vs. Douyu 17%), we expect significant growth in the Huya segment.
Game broadcasting is a challenging business as the operating cost is very high. The range of annual compensation for the top 10 hosts was 10 to 20 million RMB in Jan. 2015 the same is 17 to 40 million RMB in May 2016. Therefore, future growth will continue to favor the larger players who have more capital and resources to expand. In fact, we see promising trends of achieving greater operating leverage in this segment in recent earnings. Paying user is up 105% QoQ or 134% YoY in 3Q. Mobile contributed 39% of its revenues, a big step-up from 25% in 2Q.
We believe that Huya will deliver a positive surprise going forward. The gap with the biggest player Douyu is already narrowing. Huya is also expanding its content to music and entertainment, and it launched mobile game broadcasting to broaden its user base.
Other Notable Segments
What excites us about YY is that there are many products to monetize, some of which are at nascent stage. Online dating for example is 14% of the overall business and its average revenue per paying user (ARPU) is at 800 RMB, more than double the 389 ARPU of the entire platform. However, if one surfs the YY site, one may note that the link to the dating site is rather discreet. Part of the reason is that the segment is still relatively new (started November 2013) and it only offers premium subscription. Nonetheless, Technode has applauded it as "so far the most engaging and interactive among all their [YY's] social offerings as of the end of 2015."
The other potential breakout opportunity is in e-commerce whose monetization hasn't been explored. Some sell products during their live show but YY has not monetized either gross merchandise value (GMV) sharing or advertising fees.
E-commerce-based monetization has not been explored very much. While some hosts are indeed selling products during their live show, online broadcasting platforms have not monetized either GMV (gross merchandise value) sharing or charged any advertising fees.
Attractive Current Valuation
Vs. Public Comp and Self
YY has historically been trading below its other public peers but the discount becomes even wider (more than 1SD below average) lately.

Compared to its own valuation in the past, YY looks heavily discounted at the moment.

vs. Private Companies
Inke is still in the early stage of monetization but it is already valued close to one-third of YY's market cap. Douyu has fewer than 20% of YY's users but it's valued at about 50% of YY.

Conclusion
Even though live broadcast has been a rather new form of entertainment, its growth has been phenomenal, with further acceleration expected. With top three players taking 47% of traffic share and top five taking 70%, large players will benefit the most from the continued industry growth. As the largest player and earliest entrant, YY has consistent traffic, a solid monetization model and diverse products that craft a deep competitive moat. With signs of improvement in various lines of business and current cheap valuation, we believe that it is a name that will outperform.
Disclosure: I am/we are long YY.
I wrote this article myself, and it expresses my own opinions. I am not receiving compensation for it. I have no business relationship with any company whose stock is mentioned in this article.