Each week Forcerank administers a handful of contests designed to answer one simple question: will stock ABC perform better than stock XYZ this week? After extensive testing, we confirmed that the consensus rankings delivered a high persistence of accuracy. Using a market neutral strategy the data produced 19% annualized returns with a resounding 2.75 Sharpe Ratio. By looking at changes in the data, Forcerank acts as a sentiment indicator that can help investors gauge the market's mood on a weekly basis.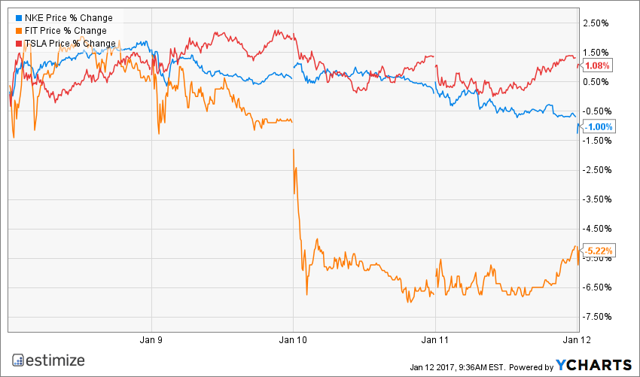 Nike (NYSE:NKE) | Apparel: Nike shares dropped almost 20% last year amid a broad bounce back of adidas (OTCQX:ADDDF) (OTCQX:ADDYY) and the continued surge of Under Armour (NYSE:UA). The increased competition presents a serious challenge to fundamentals but also pushed investors away from the industry leader. Some of these concerns dissipated after Nike reported surprisingly strong fiscal second quarter results in late December. But coming into 2017 the biggest concern will be whether Nike can build on its recent report or revert back to struggling. A breakdown in technicals and a sliding Forcerank sentiment support the latter possibility. The open gap just below $51.50 represents a 2.5% downside from its current trading price with worsening OBV reinforcing the decline. To top it off the Forcerank sentiment indicator edged lower over the past few weeks, a signal of weak price action on the horizon.
Fitbit (NYSE:FIT) | Hardware: Fitbit holds the title for one of the worst performing stocks in 2016. Over the year, shares declined by about 75% after consecutive quarterly reports fell short of analyst's expectations. Management made the situation worse in the third quarter when it cut guidance for the pivotal holiday season. This event alone caused shares to plummet by over 30%. Shareholders wishing Fitbit can get off to a fresh start in 2017 are in for a rude awakening. A lack of fundamental and technical support heading into earnings season typically spells trouble for any stock. Negative MACD and On Balance Volume along with a bearish turn in Parabolic SAR reflect heightened downside risk.
Tesla (NASDAQ:TSLA) | Most Heavily Shorted: Tesla drove away with the last 3 months of 2016 after posting the first profitable quarter in the company's existence. Tesla has long been known for over promising and under delivering but this time seems different. Investors continue to flood the stock in the hope that the Model 3, set to release in Summer 2017, can push sales higher. With buying activity at a recent high, the stock is on the verge of reaching overbought territory. The 14 day RSI is currently at 74 while shares trade in the upper Bollinger Band, meaning a correction is on the horizon. Meanwhile, the Forcerank sentiment improved compared to previous weeks but also supports a downturn looming in the shadows.
Disclosure: I/we have no positions in any stocks mentioned, and no plans to initiate any positions within the next 72 hours.
I wrote this article myself, and it expresses my own opinions. I am not receiving compensation for it. I have no business relationship with any company whose stock is mentioned in this article.