Each week Forcerank administers a handful of contests designed to answer one simple question: will stock ABC perform better than stock XYZ this week? After extensive testing, we confirmed that the consensus rankings delivered a high persistence of accuracy. Using a market neutral strategy the data produced 19% annualized returns with a resounding 2.75 Sharpe Ratio. By looking at changes in the data, Forcerank acts as a sentiment indicator that can help investors gauge the market's mood on a weekly basis.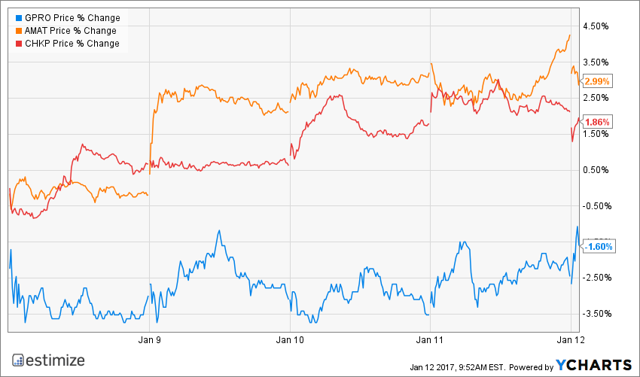 GoPro (NASDAQ:GPRO) | Hardware: GoPro hit rock bottom after a report in late 2017 suggested that sales of its two newest products the HERO 5 and Karma drone fell flat during the holiday season. A follow up announcement a few months later slightly dissipated those concerns but the stock still finished the year down 55%. By any estimation, investors hope the action camera maker can turn around its misfortunes. GoPro enters 2017 with a new product lineup, significant operational changes and a strong brand. Analysts expect GoPro to topple expectations against easy comparisons and return to profitability in over year. The Forcerank sentiment indicator surged over the past 4 weeks at which time shares jumped by over 3%.
Applied Materials (NASDAQ:AMAT) | Semiconductors: If not for Nvidia (NASDAQ:NVDA) or AMD (NASDAQ:AMD), investors would be praising Applied Materials as the star performer of 2016. Shares of the semiconductor surged nearly 100% in the year on a series of better than expected quarterly results. Looking on to 2017, prospects look encouraging as traditional end market in computing, mobility and consumer electronics grow. The industries that Applied Materials services are growing rapidly allowing the company to leverage its robust product pipeline. Shares sprinted out of the gates quickly climbing 2% in the first 10 days of 2017. Meanwhile, a bullish switch in the daily Parabolic SAR supports strong pricing action moving forward. Along with that, the Forcerank sentiment indicator greatly improved from last week, another indication of the stock's upside.
Check Point Software (NASDAQ:CHKP) | Enterprise Technology: Market experts expect 2017 to be the year of Cyber Security. The recent reports that Russia hacked the election put a spotlight on the merits of the cyber security space. For Check Point, the slew of recent news helped boost adoption rates and subscription revenue. Third quarter sales jumped 24% to $99 million and continue to get stronger with each passing quarter. Shares are now up 5% since the start of 2017 and have technical support to breakout moving forward. New peaks in OBV along with a bullish crossover in the MACD last year promote positive price action. Meanwhile, improvements in the Forcerank sentiment indicator over the past couple weeks reinforce the prospect of a breakout.
Disclosure: I/we have no positions in any stocks mentioned, and no plans to initiate any positions within the next 72 hours.
I wrote this article myself, and it expresses my own opinions. I am not receiving compensation for it. I have no business relationship with any company whose stock is mentioned in this article.