Procter & Gamble (NYSE:PG), one of the world's largest consumer staples companies, is a dividend aristocrat with its uninterrupted 59-years-long streak of dividend growth. In recent years dividend growth has slowed down while the stock price has strongly appreciated pushing down the yield. Ahead of the company's next earnings release (due in late January), this article examines if P&G will meet sales expectations or will cut its guidance due to increased foreign currency headwinds. Based on these findings I will show that the company is a long-term buy but that better entry opportunities may present themselves when FY2017/Q2 earnings are released.
Understanding real revenue of the company and its drivers is important to make projections about the future. Let's take a look at PG's recent guidance for FY2017 during its latest FY2017/Q1 earnings call: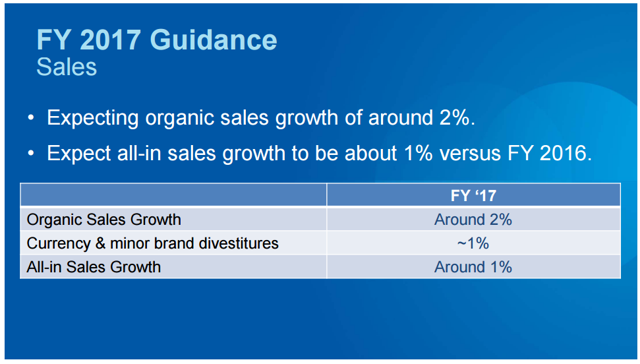 Source: Q1 2017 Earnings Presentation Procter and Gamble
The company is guiding for organic sales growth of 2% compared with FY2016 and -1% impact due to currency movements leaving overall virtually flat sales guidance of around +1%.
Let us examine how realistic a -1% impact from currency movement is actually is.
Here is a snapshot of crucial FX developments since Trump's victory: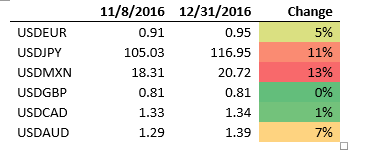 With virtually all major currencies appreciating (many significantly) against the US dollar, PG's USD-converted sales are negatively affected. But how much? Let's find out!
To do so I have developed a model which consists of five steps:
Derive a representative currency basket based on the geographic breakdown of sales taken from PG's recent FY2016 annual report.
Analyze historic currency developments individually for different periods in the past
Apply a weighting to the currency basket
Calculate estimated historic foreign exchange impact and backtest these figures with actual earnings releases
Calculate estimated foreign exchange impact for FY2017/Q2 (remember this is the one PG will be reporting on in a few weeks)
As I do not want to explain the model and the math behind, let's get right into what foreign exchange impact it calculated for the already reported FY2017/Q1 vs. FY2016/Q1 period. Overall currency impact is estimated at -4%, i.e. that the US dollar has appreciated by 4% against the derived representative currency basket. What P&G actually reported was a -3% foreign exchange impact. As our calculation does not include any hedging, the results from the model seem reasonable.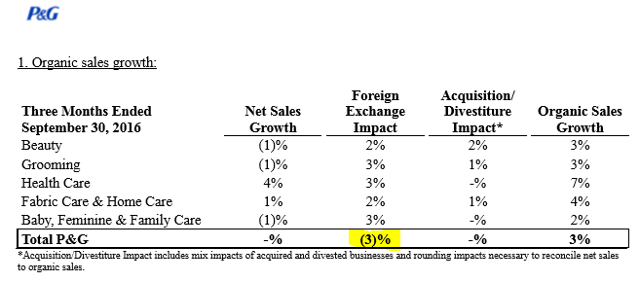 Source: Procter & Gamble FY2017/Q1 Earnings Presentation
Hence, with the model now being validated, let's apply this for FY2017/Q2 (Oct 1 - Dec 31, 2016), which will be reported in late January by the company.
The respective currency movements within the currency basket look as follows: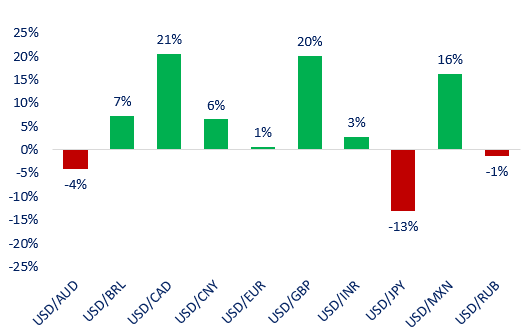 Weighted with different hedging ratios this results in the following estimated foreign exchange impacts:
Unhedged: -4.5%
Hedged (25%): -3.3%
Hedged (50%): -2.25%
What we can conclude from this is an average appreciation of the USD against a representative currency basket of between 2.2% to 4.5% depending on the actual hedging ratio. However, even in the most favorable scenario, the estimated foreign exchange impact is at least twice as high as what the company is guiding for total FY2017.
Thus, assuming PG's guidance of +2% organic sales growth holds, it becomes blatantly obvious that unless the company has considerably raised its hedging ratio or is suddenly seeing the initial fruits of its massive transition, the odds are high for PG to miss on sales, at least for the quarter.
What does all this mean for Dividend Investors?
P&G's foreign exchange impact guidance of -1% for total FY2017 gets more and more unlikely to achieve with Q1 & Q2 impact already amounting to around -3%. In order to achieve the yearly -1% target (assuming projected organic sales growth of +2%), this trend would have to completely reverse in Q3 & Q4.
The stock currently boasts a dividend yield of 3.2% and so far does not reflect these intensifying currency headwinds having only dropped 5% since Trump's triumph and the resulting rally in the dollar. What's more, with a lofty 23-times earnings valuation, the stock is certainly not cheap and has lots of potential for a decline.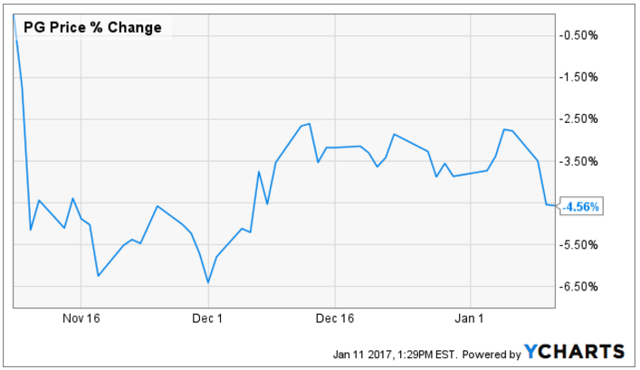 Investor take-away
Based on the above analysis I expect the company to miss on sales and possibly even reduce its guidance once it reports Q2 earnings in late January. With the company's incredible dividend track record and its portfolio of market leading brands the company is expected to produce safe, reliable and rising cash flows and dividends in the future.
A long-term dividend investor should wait for the next earnings release and then gradually buy on the expected temporary weakness in the stock price. Before doing that, long-term holders should be convinced about the company's longevity and that the ongoing turnaround (i.e. focus on core brands, cutting cost and fostering innovation) will prove successful.
If you like this content please hit the "follow" button. Let me know in the comments section what your thoughts on the model are. Also, do you believe in the company's turnaround strategy? Would you invest into PG right now?
Disclosure: I am/we are long PG.
I wrote this article myself, and it expresses my own opinions. I am not receiving compensation for it (other than from Seeking Alpha). I have no business relationship with any company whose stock is mentioned in this article.