In the part 1, part 2, and part 3 of the series, I have discussed growth drivers and on-going research programs for Celgene's (NASDAQ:CELG) key oncology products, Revlimid and Pomalyst. Beyond hematologic oncology, however, Celgene also has a strong presence in the solid tumor segment.
Celgene's solid tumor drug, Abraxane was added to its portfolio by Celgene through the acquisition of Abraxis Bioscience. This drug combined with gemcitabine continues to be considered as a standard of care for pancreatic cancer in USA. Further, post-reimbursement related negotiations, Abraxane has continued to rapidly garner market share in European markets such as Germany, Spain, and Italy. The drug has also managed to maintain market share in lung and breast cancer segments in USA, despite constant inflow of new and innovative therapies in the market. With so many trends working in favor of Abraxane, it becomes an absolute must to study the growth prospects of the drug while analyzing Celgene's investment potential.
Despite significant competitive pressures, Abraxane has continued to be a prominent oncology drug on a global scale
On January 07, 2005, Abraxane was approved by U.S. Food and Drug Administration of FDA as a treatment option for patients suffering with breast cancer who witnessed disease progression despite using combination chemotherapy or for those who saw disease relapse within 6 months of receiving adjuvant chemotherapy.
FDA further expanded Abraxane's label on October 12, 2012, when the regulatory agency approved the drug in combination with carboplatin as first-line therapy for non small cell lung cancer patients who were not eligible for radiation therapy or curative surgery. While demand for the drug in non-squamous lung cancer segment has been on a decline, Abraxane sales have been more or less flat in squamous lung cancer segment.
On September 06, 2013, FDA approved Abraxane as a therapy for patients suffering with late-stage pancreatic cancer. This indication has received wide-spread acceptance and has made Abraxane the preferred regimen for pancreatic cancer. In 2016, about half of the total newly diagnosed pancreatic cancer patients in USA were put on Abraxane-gemcitabine combination therapy.
ABOUND clinical trial has strengthened Abraxane's label in non small cell lung cancer.
The competition in the NSCLC segment is tough with players such as Bristol-Myers Squibb and Keytruda launching novel immuno-oncology agents. In such a scenario, positive interim results from ABOUND trials, released on December 06, 2016, can prove helpful in boosting demand for Abraxane in advanced NSCLC segment.
In the ABOUND.70+ trial, 128 elderly patients above 70 years of age were administered Abraxane and carboplatin as first-line therapy. Interim data shows that median overall survival for patients using Abraxane and carboplatin combination therapy has been 14.2 months while progression-free survival has been 6.2 months.
This early data has been encouraging and may help strengthen Abraxane's label as a therapy for hard-to-treat NSCLC patients.
Innovative research programs are expected to further drive Abraxane sales in future years
Celgene is also involved in studying Abraxane in combination with novel agents as well as immuno-oncology therapies to combat several cancers across multiple patient settings.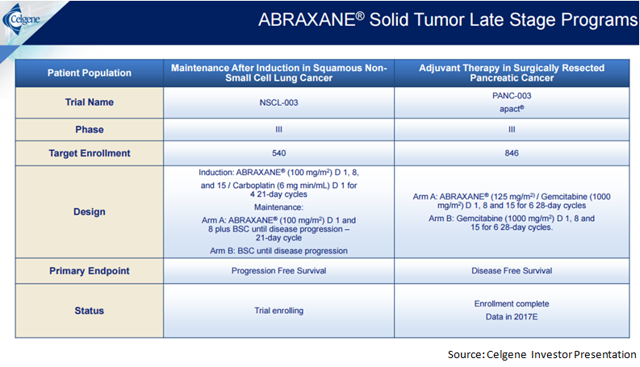 In NSCL-003 trial, Celgene is studying use of Abraxane as maintenance therapy in squamous NSCLC patients who have already been treated with induction therapy which is combination of Abraxane and carboplatin.
Celgene has already completed enrollment in PANC-003/ apact trial. Here the company is comparing abraxane + gemcitabine combination chemotherapy with gemcitabine chemotherapy in surgically resected pancreatic cancer patients. Data from this trial is anticipated in 2017.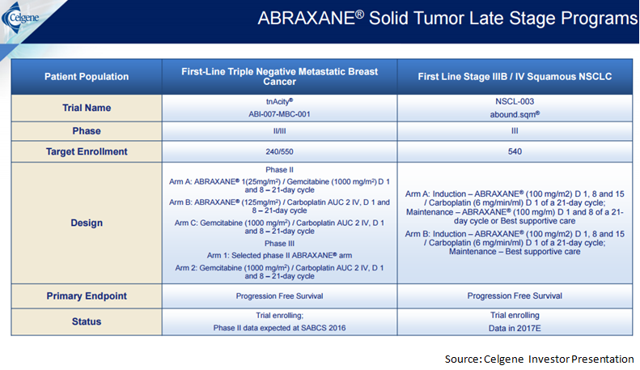 Celgene is also studying Abraxane and carboplatin combination regimen as first-line therapy for Stage IIIB/IV Squamous NSCLC patients in abound.sqm trial. The company is currently enrolling patients in the trial and expects to release data in 2017.
Celgene also studied Abraxane in combination with gemcitabine and carboplatin in another Phase 2 trial called tnAcity, as a first-line therapy for triple negative metastatic breast cancer patients. On December 07, 2016, data from Phase 2 tnAcity trial was released. It demonstrated that Abraxane and carboplatin combination is superior to combination regimens of Abraxane and gemcitabine as well as carboplatin and gemcitabine in terms of progression-free survival.
However, as new and more effective drugs have continued to roll out in the market in breast cancer segment, Celgene has decided not to go ahead with Phase 3 of tnAcity trial. The company has instead planned to research this drug in combination with immuno-oncology agents in breast cancer segment and use tnAcity trial data for furthering its research efforts.
Abraxane may witness generic competition in 2H 2018
While Celgene has patents protecting use and formulation of Abraxane up to year 2026, there is a possibility that generic competition may enter much earlier i.e. in second half of 2018. It all started when on March 07, 2016, Allergan (NYSE:AGN) submitted an abbreviated new drug application or ANDA to the FDA seeking approval for generic version of Abraxane. This application was filed under paragraph IV certification. On April 06, 2016, Celgene initiated an infringement lawsuit against Allergan in this matter. While the decision of United States Patent and Trademark Office is pending, investors should be aware of the worst case scenario where generic competition for Abraxane enters USA in later half of 2018.
So is Celgene only about oncology?
While this question would have held a strong ring of truth some years back, today things have changed drastically. Beyond oncology, Celgene has diversified in inflammation & immunology or I&I segment in a major way. While Otezla is already marketed by the company, Celgene is also working on other immunology drugs such as Ozanimod and GED-0301. I will talk about growth prospects for the company's I&I segment in the next article of this series.
Disclosure: I/we have no positions in any stocks mentioned, and no plans to initiate any positions within the next 72 hours.
I wrote this article myself, and it expresses my own opinions. I am not receiving compensation for it (other than from Seeking Alpha). I have no business relationship with any company whose stock is mentioned in this article.