Golden Star Resources, Ltd. (GSS-$.88) continues to shine despite saying the word "gold" these days is almost politically incorrect. "Gold is dead!"; "Nobody is interested in Gold anymore"; "Gold was last year's news" are some of the comments you hear on the street nowadays. But it doesn't matter what a company's product is, as long as they are making a lot of it. Today (1-11-17), Golden Star put out a press release announcing its 4th quarter results for 2016 along with full information on its gold production and its forecast for 2017. The press release is too lengthy to reproduce here but click on it and you can see can all of the substantial information.
Profile: For those of you who may be new to the company, heretofore GSS produced gold from its 2 open-pit mining operations in Ghana, Africa named Wassa and Prestea. In the last half of 2016, they announced that they were opening 2 new mines at the same locations, namely, Wassa Underground and Prestea Underground. These underground mines were known to contain a much higher grade of gold than the open-pit operations and they forecast that Wassa Underground would be in production in early 2017 and Prestea Underground around mid 2017. Well, it is only January in the new year and they are already producing in Wassa and right on schedule for Prestea.
Forecasts: For 2017, the company is forecasting an increase of 31-44% higher gold production than in 2016 and analysts are starting to take notice. Yahoo is estimating earnings of $.11 per share for the full year ending 12-31-2017 and OptionsXpress (subsidiary of Charles Schwab) is forecasting $.22 (must have an account to access) per share for the same period. That would mean an 8 P/E or 4 P/E, respectively. I am sure I do not have to spell out what those numbers mean in the world of the stock market.
Chart compliments of OptionsXpress, Inc.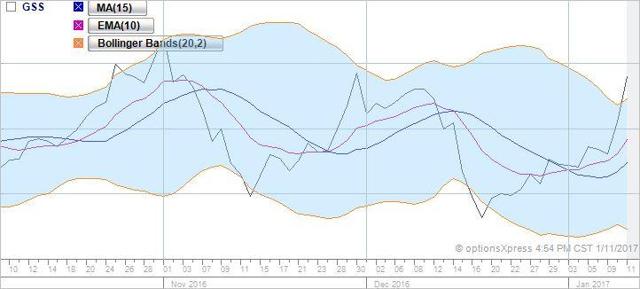 Hedge Fund Interest: It is still hard to believe that a company with statistics of Golden Star is selling under $1 and, for the average investor, there might be a lot of skepticism because of that fact. But consider the following. Hedge Funds are not known for taking positions in low-cap stocks, especially those trading below $1. We are used to seeing them position themselves with large cap stocks such as Amazon and Microsoft, but the prospects for Golden Star are such that even the big boys are taking notice. At the end of the 3rd quarter of 2016, a total of 9 hedge funds had taken significant positions in GSS stock, and that was more than double the previous quarter's number of 4 funds. According to the hedge fund database at Insider Monkey, Renaissance Technologies, which is one of the largest hedge funds in the world, holds the top position in Golden Star Resources, (GSS-$.88) with $9.2 million shares.
Conclusion: The long-term prospects for Golden Star Resources stock are highly favorable. This company is one of those rare and unique opportunities. There is just too much here not to like. And the 'coup de grace' of this unusual stock is something you just do not see. It sports trading call and put options for those who want even more leverage. There are strike prices of $1, $2 and $3 and for this retired option's specialist, they are music to my ears. I would be glad to discuss the option possibilities if anyone requests me to in the comments section.
Disclosure: I am/we are long GSS CALL OPTIONS.
I wrote this article myself, and it expresses my own opinions. I am not receiving compensation for it (other than from Seeking Alpha). I have no business relationship with any company whose stock is mentioned in this article.