To summarize the weather outlook for January, it's gone from bearish to very bullish to bearish to neutral to bullish.
We just saw EIA report -151 Bcf draw today and, relatively speaking, it's a bearish storage report. However, the natural gas market saw the combination of bullish weather revisions for month-end in combination with the bullish surprise as the main drivers in today's price. We have started to update premium subscribers every morning with regard to any weather updates and the latest update is trending more bullish.
Here's what originally caused some headaches for the natural gas bulls: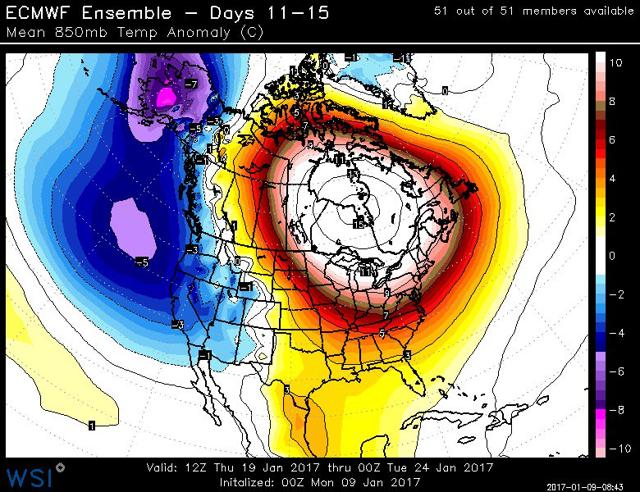 Source: Michael Ventrice
The forecast above pretty much highlighted what the bearish revision was for the week of Jan. 27. However, the latest model runs show the torch pattern moving more north and the colder than normal temperatures to creep into most of the U.S.
As a result of the latest revision, HDDs have been revised higher and hence why we have the week of Jan. 27 as neutral rather than bearish. What's more notable is that the recent model revisions set up for the outlook in February. The European ensemble currently projects a stratospheric configuration very similar to early December. This sets up potentially colder than normal temperature forecasts for February.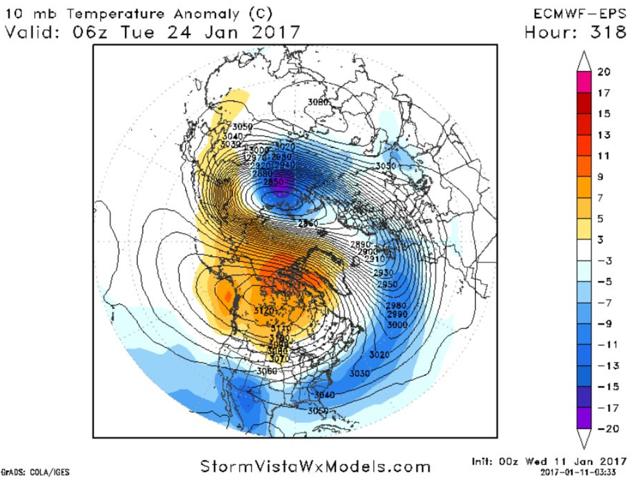 Source: Genscape
What's becoming more certain now with the latest updates is that winter is far from over. Traders who rushed out of positions on the back of warm January forecasts saw gas prices push back to $3.4/MMBtu. The EIA storage report for Jan. 13 should also be very supportive of prices with current storage draw estimate at -255 Bcf and the large relative draw will cushion storage against the bearish week of Jan. 20.
If February forecasts over the next several weeks prove to be colder than normal, then we should expect to see more fireworks in natural gas prices to the upside. As we said in last week's weekly natural gas recap, the 2017 curve is still underpricing the storage scenarios and U.S. gas production has yet to rebound over 70 Bcf/d.
If you enjoy our natural gas dailies, you will find our premium research natural gas updates to be even more helpful. You can sign up here.
Eight- to 14-Day Outlook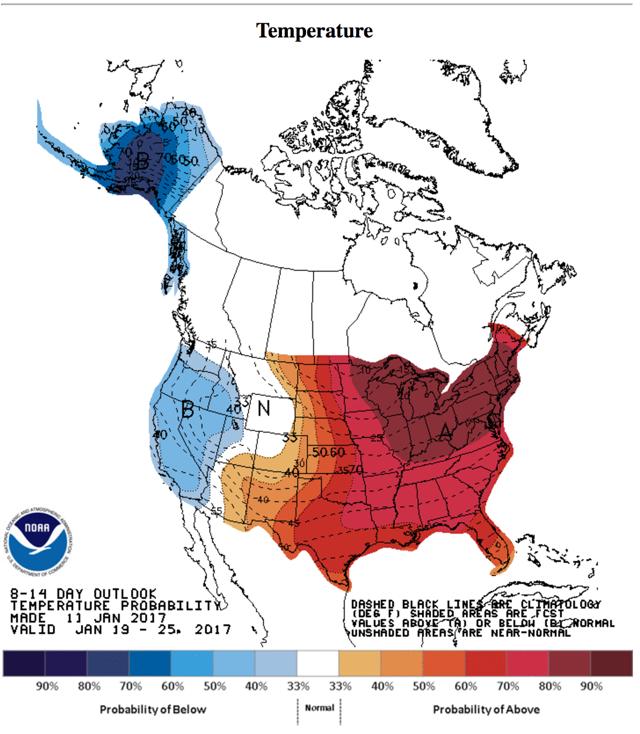 Disclosure: I/we have no positions in any stocks mentioned, and no plans to initiate any positions within the next 72 hours. I wrote this article myself, and it expresses my own opinions. I am not receiving compensation for it (other than from Seeking Alpha). I have no business relationship with any company whose stock is mentioned in this article.