Last month Barron's published a scathing article about shares of Applebee's and IHOP parent company DineEquity (NYSE:DIN), predicting the stock would fall by 33% over the next year. We took special interest in the piece because our research service is dedicated to the dining stock industry and DineEquity currently carries our highest equity rating.
The gist of the Barron's thesis is that DineEquity is underinvesting in their restaurants, borrowing money in order to pay for ever-rising dividends and share repurchase programs, while the underlying business erodes. They further contend that the stock is priced above that of peers and that management is being forced to cover dividends and buybacks with cash reserves rather than cash flow. Furthermore, they claim that business is so bad that franchisees will have trouble paying their royalties. The conclusion Barron's reaches is that DineEquity is only worth 8 times EV/EBITDA, or $56 per share (vs. the current quote in the high 70's).
There was a lot wrong with the piece, in our view, but we will focus on a few points that were blatantly inaccurate. Just five sentences into the article, Barron's writes:
"For many years Wall Street applauded DineEquity's "asset-light" capital structure. With 99% of store units franchised, capital investment costs were low, and operating profit margins and return on equity exceeded 30%. DineEquity was able to borrow heavily, spending much of the money on dividends and stock buybacks."
First of all, it is true that DineEquity is a 99% franchised company. Wall Street has always liked the franchise model because it reduces risk and volatility of cash flows. DIN takes a royalty on gross sales, and the franchisee keeps the more volatile unit-level profits from running the business themselves.
Nothing has changed with respect to the business model. DineEquity continues to earn high returns on capital and generate substantial free cash flow. Since they don't build units themselves, they pay out the profits to shareholders in the form of a recurring dividend and periodic share buybacks based on excess cash levels.
Barron's assertion that the company has borrowed heavily to finance such capital returns to shareholders, however, is completely inaccurate. DineEquity was formed in late 2007 when IHOP acquired Applebee's for roughly $2 billion in cash (funded with new debt). Since then, the company has actually been paying down the debt issued to complete the Applebee's deal. Barron's contention that DineEquity has been borrowing heavily lately is, frankly, bizarre.
Below is a graphic that shows DineEquity's total long term debt position since the company was created (the corporate name was IHOP prior to the Applebee's combination, which gave way to the DineEquity name in mid 2008).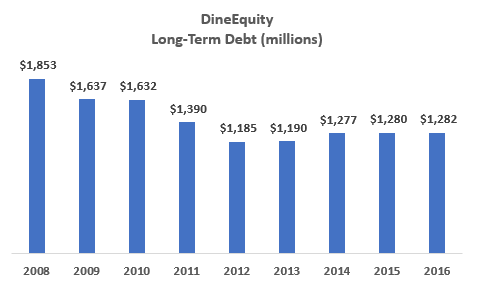 When exactly did the company, as Barron's claims, "borrow heavily" and spend "much of the money on dividends and stock buybacks?" It never happened.
In fact, DineEquity halted its dividend in 2008 and did not reinstitute one until 2013. And despite paying out more than $230 million in dividends since 2013, total long-term debt has risen by less than $100 million over the last five years and has been slashed by more than 30% since 2008.
Not only did Barron's imply that capital returns to shareholders have been funded by heavy debt issuance, but they also imply that the current dividend is excessive. The article quotes John Hamburger of Franchise Times as saying the recent dividend increase of $3.6 million annually was a "huge number" in view of declining cash flow. Essentially, they are saying the dividend is at-risk because cash flow cannot cover it. Again, this is unfounded.
Below is a graphic that shows DineEquity's dividend payout ratio (dividend payments as a percentage of free cash flow) since 2008: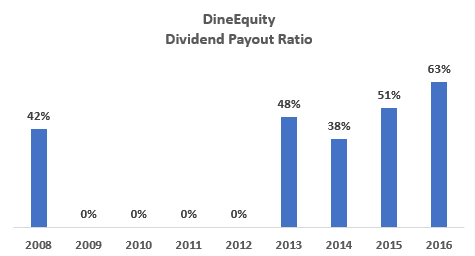 As you can see, DineEquity's dividend is easily covered by cash flow, even after 2016's combination of falling cash flow and dividend increase. There is no danger of the dividend being cut and the company is not overly aggressive with their capital allocation.
Barron's makes a big deal about the company repurchasing shares, but investors should keep in mind that repurchases are discretionary and non-recurring, unlike dividends. Companies typically repurchase shares when they have excess cash that is not needed to run the business, keep in reserve, or cover dividends. As a result, share buybacks are nonlinear and often are started and stopped based on underlying business conditions. It is certainly true that buybacks will be lower after periods of weak business results, and vice versa, but investors should value companies based on the cash flow they generate, regardless of how management decides to allocate that cash. Accordingly, a change in the size of a buyback program should not impact one's fair value estimate of a company.
It is also important to realize that repurchasing shares actually reduces the amount of cash required to cover dividend payments. The Barron's piece pointed to the rising dividend and falling cash flow as problematic, but when a company's total share count is falling, the increase in the per-share dividend will be higher than the increase in cash paid out to shareholders. For instance, in 2013 DineEquity paid out $3.00 per share of dividends, for a total capital outlay of $57.4 million. In 2016 the company's dividend amounts to $3.68 per share, but cash payouts will be roughly $67.5 million. So while the stock dividend rose by 23%, actual cash paid rose by less than 18%. All else constant, stock buybacks facilitate dividend increases.
Another point that we feel Barron's missed was regarding DineEquity's valuation. The article insists that at just over 10 times EV/EBITDA, DIN stock is expensive, compared with "an average EV/EBITDA ratio of 8 to 9 times for rivals."
This is very misleading, as the 8-9 times peer average is what non-franchised companies trade for. Franchised chains trade for much higher prices because they are insulated from risks such as rising costs (food, labor, utilities, rent). By taking a sliver of gross revenue, as opposed to net profit, and passing build-out and maintenance costs to franchisees, franchisors have more attractive returns on capital and highly predictable income streams.
So what happens to DineEquity's valuation if we compare the company with competitors who also franchise most of their units, instead of non-franchised chains? Well, DIN shares go from looking expensive to being one of the cheapest stocks in the sector.
Below is a summary of publicly traded restaurants that franchise at least 90% of their unit base globally: Denny's (NASDAQ:DENN), Dunkin Brands (NASDAQ:DNKN), Dominos (NYSE:DPZ), McDonalds (NYSE:MCD), Popeyes (PLKI), Restaurant Brands (NYSE:QSR), Sonic (NASDAQ:SONC), and Wendy's (NYSE:WEN).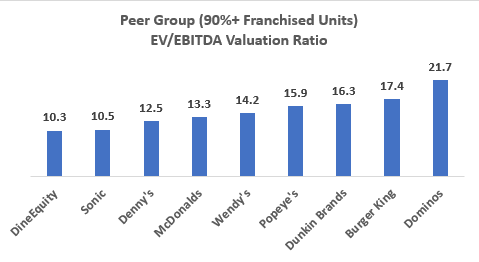 Essentially, we at DiningStocks.com believe that the business weakness at Applebee's is largely reflected in the stock's valuation already. In fact, we cannot find another company that trades as low as DineEquity does, and also has a 99% franchised unit base. As a result, we currently give our highest equity rating to DIN stock.
If Barron's is right and the stock trades down to $56 over the next 12 months, we believe it would be grossly undervalued. At that price, the dividend yield would be a stunning 6.5% and as we have shown above, the company only pays out two-thirds of its cash flow in dividends.
Disclosure: I am/we are long DIN.
I wrote this article myself, and it expresses my own opinions. I am not receiving compensation for it (other than from Seeking Alpha). I have no business relationship with any company whose stock is mentioned in this article.
Additional disclosure: At the time of publication, people affiliated with DiningStocks.com own shares of DineEquity, either personally, on behalf of their clients, or both