Form "Deserve" to "Most Probably Will Get"
It was exactly a week ago when I wrote that "The U.S. Equity Markets Seem Ready For A Pullback... And Deserve One". I estimated there that the probability for the S&P500 (NYSEARCA:SPY) to finish 2017 with a negative return is somewhere between 50% to 66.66%.
One week, only five trading days, later - the probability is now higher as there are more signals and more warning signs that keep and/or turn flashing red.
While, just as I wrote a week ago, there's no specific time/date I can point it and say: "This is when it's going to start" I look at 2017 as a whole and determine the most suitable strategy to trade into a year that is looking less and less promising
Equity Markets Are Stalling
It feels like the markets are rallying since the elections but if we take a closer look at all the major indices since the US elections - it's quite obvious that the rally doesn't spread equally throughout the three-month time frame.
If I cut the period of 11/8/2016 - 1/11/2017 right in the middle and make two equal time frames out of it - this is what we get:
1. Main US equity indices performance from 11/8/2016 till 12/10/2016: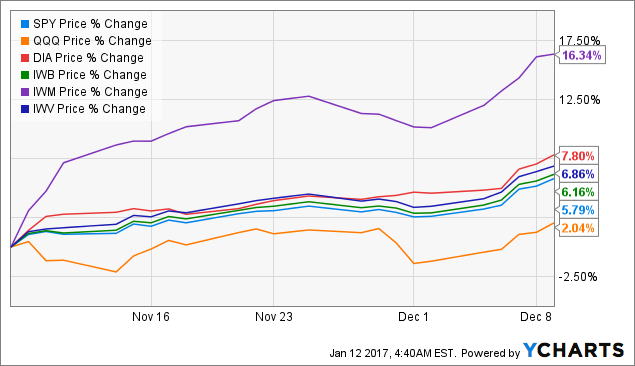 This is a rally indeed which is led by the various Russell small-cap indices (IWM, IWV and IWB) while the major, large-cap, indices (DIA, SPY, QQQ) are not too far behind, with the DJIA index leading the trio.
Now let's take a look at the second half of the time period since the Elections:
2. Main US equity indices performance from 11/8/2016 till 12/10/2016: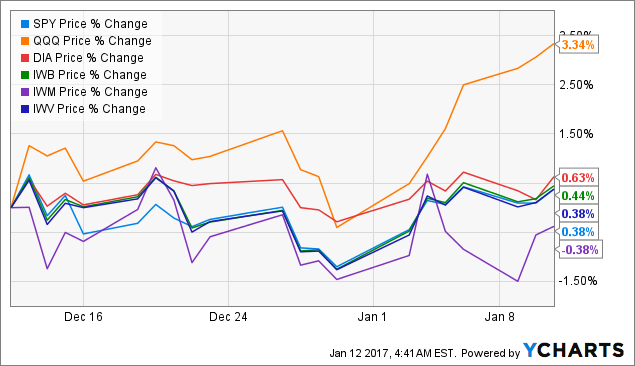 Stunning, isn't it?
Aside of the Nasdaq 100 (NASDAQ:QQQ) that played a catch-up with the other two major indices (DIA, SPY) that run much faster that it did during the first half of the period, all other indices have stalled.
While we all feel that the markets are charging with a full swing ahead, this is far from being the case. As a matter of fact, over the past month (roughly) there very muted return across the equity markets.
What Has Changed Since Last Week?
Few things have changed over the past week that caused me to shift from "deserve" to "most probably will get":
1. The Trump Factor is Fading Away
The euphoria of the markets following the elections isn't only fading away (as shown above) but yesterday's conference was nothing short of a bucket filled with cold water on investors' heads.
Not only that the president-elect hasn't provided any details regarding future economic policies but he actually only added more reasons to be concerned when it comes to possible conflicts of interest between his private business to his national and political duties.
Nonetheless, equity indices reversed their immediate decline shortly after the press conference was over. This is of course not coming as a big surprise to anyone following the markets over the past months (months!? years!) when any bad/worrying news is magically being tweaked into something positive.
The real question, however, is for how long this "head in the sand" type of behavior will continue? I don't know exactly when but at some point valuations will catch up with reality. At some points, stock prices will adjust to bad news, real concerns and most of all - the very high likelihood of the president-elect not being able to meet the high expectations that he-himself built.
2. Gold > $1200
For the first in seven weeks the price of gold (NYSEARCA:GLD) is going through a major-technical level of resistance of $1200: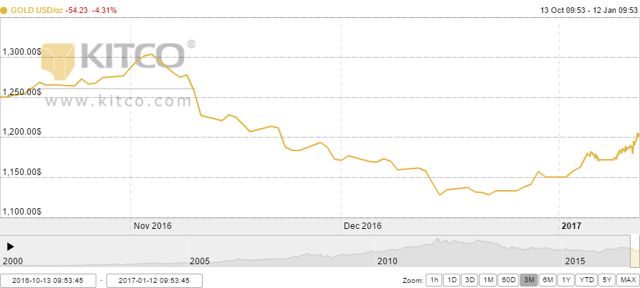 Source: KITCO
Since the elections, gold lost over $150 of its value but since mid-December it has already gained back about half of the decline. Gold is rising for three reasons:
Putting it differently, gold prices are signaling that the markets may be going to get disappointed soon.
3. The divergence is screaming even louder
The gap between the level of the S&P500 to the 12-month trailing EPS of the index has reached record levels that haven't seen during any other time over the past 10 years: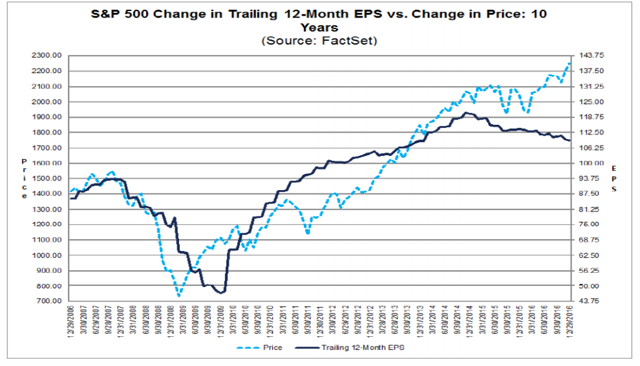 Source: FactSet
Once again, just to make clear that we are all on the same page here: The divergence between the valuation of the index to its estimated profitability is greater today that it was even back in 2008/9!!!
... and that's true before we take into consideration that the EPS is usually priced, on average, about 20%-30% higher than it eventually turns out to be: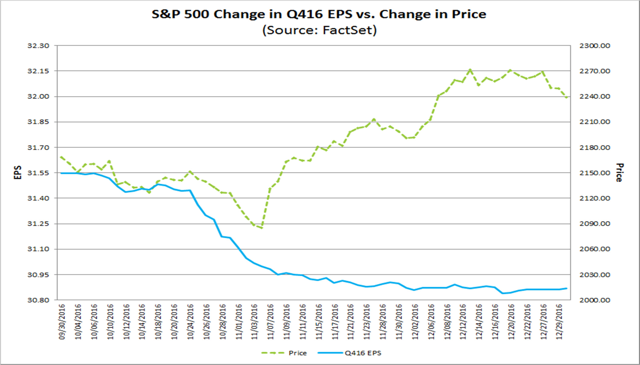 Source: FactSet
4. Extreme high-yield bonds' spreads
In his fantastic presentation earlier this week, Jeff Gundlach - the founder of DoubleLine Capital - spoke about many interesting-valuable things. Most news alerts quoted his alert for the markets should the yield on the US Treasury 10-year note (TLT, UST) reaches the 3% round mark.
For me, it was another slide that he used that caught my attention: The high correlation between the performances of the S&P500 and High-Yield ("HY") bonds (HYG, JNK) .
This (RARE) correlation seems to have gone almost unnoticed but, believe it or not (in case you haven't noticed it indeed...), HY bonds have delivered more or less the same return as the S&P500 did in 2016.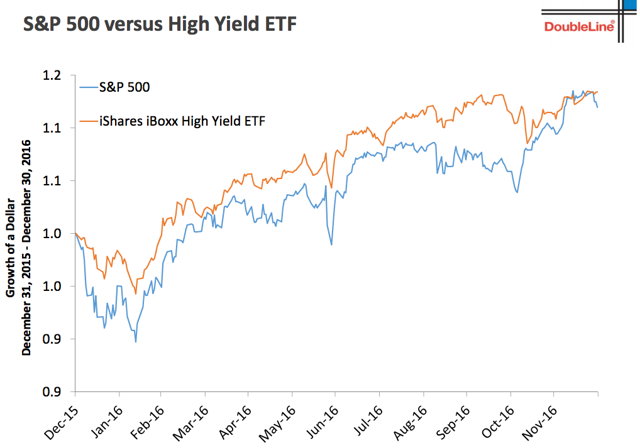 Source: Doubleline Capital
I deal with credits on a daily basis; this is my day job. Trust me when I say that there is almost nothing worth buying now for the long run. "Buy and hold" is apparently a dead strategy when it comes to credits; and those are IG-debts I'm talking about.
When you look at the HY arena things are even worse!
Spreads of HY debts are so tight now that one needs to go all the way back to pre-crises periods (2007/2008, 1999/2000) in order to find such a "no risk" credit environment. But is it (NOW) so!?
5. Dow is struggling to surpass the 20K mark
Look for yourself: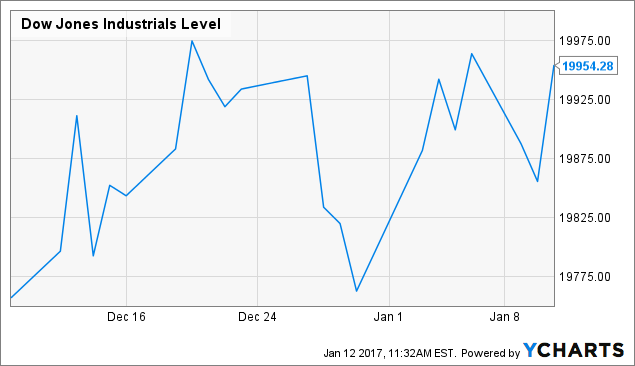 Anyone in the market knows that it's usually a "make or break". Thus far, there was no "make" and if the important-psychological won't be taken over soon enough - many investors (that invest based on technicals) and algo-trading machines (that would "read" this as a failed attempt or, even worse, as a peak) may reverse course quickly and brutally.
Last But Not Least: The Fed
As always, it all comes down to the Fed (as well as to Donald Trump...)
Since the 12/14/16 rate hike almost all speeches of FOMC members were hawkish and some Fed (non-voting though) members expressed very hawkish tones.
This piece is written before the market opening of January 12th, a day that contains three speeches of Fed members, starting with a "light weight fight"(Chicago Fed president Evans), continuing with few "medium weight fights" (Four FOMC members: Harker, Lockhar, Bullard and Kaplan ) and ending with the ultimate "heavy weight fight" that the market/ring can offer: Fed Chair, Mrs. Yellen.
Should most of those speakers - especially the last one - keep expressing a hawkish tone. keep talking about three (or more) interest rate hikes that are expected this year and keep pumping the "monetary policy will need to counter the fiscal policy" mantra - we may see a combination of higher long-term Treasury yields and sliding equity markets.
This, folks, may only be the beginning of something bigger that may happen now or in the near future, but in any case - most probably during 2017.
Disclosure: I am/we are long TBT, SPXU.
I wrote this article myself, and it expresses my own opinions. I am not receiving compensation for it (other than from Seeking Alpha). I have no business relationship with any company whose stock is mentioned in this article.