Willamette Valley Vineyards (NASDAQ: WVVI) is a nano-cap winery located in Turner, Oregon. The company produces various mid end, premium, and ultra-premium wines including the Pinot Noir, Chardonnay, Pinot Gris, Rosé and Riesling varieties. We usually cover tech stocks but we are big fans of wine and even bigger fans of undervalued stocks; WVVI certainly fits the bill for both. WVVI has enjoyed tremendous average sales and EBITDA growth of 12.8% and 16% respectively for the past 3 years. During the same time period, investors have been met with a modest stock growth of 23.75% from $6.10 to $8 currently. With a market cap of only $40 million and a fair P/E of 22, we believe there is still undiscovered potential for this profitable company and its drought-free wine business.
The Economy of Wine
In the past 6 years, United States wine consumption has seen healthy growth from 336.3 million 9 liter cases in 2010 to 383.9 million 9 liter cases in 2015, This resulted in the total retail value of wine increasing from $46.5 billion in 2010 to $55.8 billion in 2015, a significant 20% growth rate. According to a recent report by goodfruits.com, this growth trend continued in 2016 as "September U.S. wine sales rose from $3.3 billion to $3.7 billion, helping set an annual pace to boost the industry's overall retail value for the 11th consecutive year". The prior three 5 year periods has seen total retail value increase by 8.8 billion (2001-2005), 5 billion (2006-2010) and 7.2 (2011-2015). We expect the wine market retail value to grow 1.5% (average growth of the last 3 years) in 2017 and surpass $62 billion by 2020. This growth in wine consumption is further fueled by the inauguration of Donald Trump, whose victory has left many oppositions drinking to a stupor. Under these conditions, we believe specialize vineyards like WVVI are going to earn steady and growing profits for years to come.
Well Managed Business With Strong Industry Tailwind
We expect the wine industry to be very healthy for the next 5 years. Speaking with a sales director Kurt Johnson at Beaux Frères, a small privately run winery within the Willamette Valley region, we were able to conclude that overall Oregon wine sales can be expected to grow 3-7%. Given their niche nature, premium and vintage wine sales are only expected to grow 2-5% within two to five years. WVVI is in a particularly good position within the wine industry as Oregon provides cheaper land, soil, and a suitable climate to meet future demand. Oregon wineries unlike their Californian counterparts were safe and thriving throughout 2011 to 2016. This is largely due to the fact that Oregon is a state safe of natural disasters or more specifically: droughts.
The barriers to entry in the industry is relatively high given the fact that there is roughly a five year minimum development time frame to produce large scale vineyards with wine quality grapes. The resource of land within optimal growing regions such as Oregon and Washington is also finite. WVVI currently owns, leases, or contracts approximately 924 acres of land in the Oregon region.
WVVI has positioned itself well for expansion of its supply chain. They have issued preferred shares totaling $6 million to purchase new land of approximately 42 acres of the Elton Vineyards in Oregon and vineyards in Walla Walla Valley, Washington in 2015. Expansion and acquiring new lands within the Oregon and Washington regions have been a recent trend within the winery industry as land in Oregon is not as susceptible to droughts like the one's Californian vineyards in Napa Valley may see. We believe that Oregon sales growth will continue to outpace California's growth in the long run.
Comparable Analysis Using EV/EBITDA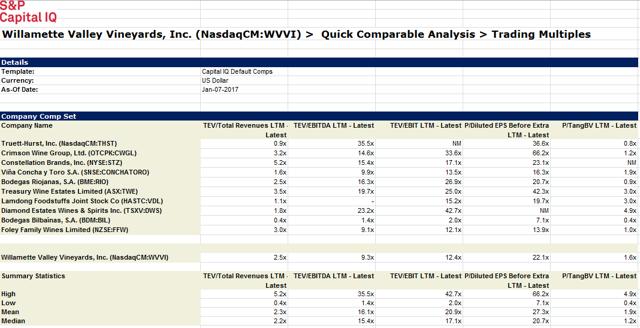 Source: S&P Capital IQ
Enterprise Multiple is a ratio between the enterprise value of a company over the EBITDA generated by the company. Enterprise value to EBITDA is used to measure the cost of a stock and to gauge how expensive a share of the company is. It is different from Price to Earnings as it measures price with enterprise value (which includes debt) and uses EBITDA for the cash flow. EV to EBITDA is a good measure of WVVI's share price because it is a company that uses leverage for large upfront investments such as building new vineyards and new purchases of land.
WVVI's EV/EBITDA ratio of 9.3 is one of the lowest amongst US based wineries. The only other publicly traded US company that deals exclusively as a winery, THST, sees an extraordinary unattractive EV/EBITDA ratio of 35.5. WVVI's P/E of 22.1 is also much lower than THST's P/E of 36.6. WVVI P/E and EV/EBITDA are also well below the mean of the industry. WVVI continues to be attractive given the fact that the US winery market will reward the more stable and less saturated Oregon vineyards when compared to Californian vineyards. Furthermore WVVI's management has placed strong emphasis on increasing their direct sales (wine sales at vineyards and proprietary stores) to consumers which has shown to have significantly higher margins than the indirect and wholesale segment.
Projection and Valuation

WVVI's top -line has continued to grow for the past six years. In earlier years growth was largely attributed to a 50% increase in the number of cases sold from indirect sales in 2012. In more recent years however, we see a larger growth in the amount of cases sold from direct sales. In 2014 direct sales increased by 29% from 2013 and in 2015 direct sales increased by 28% from 2014. The trajectory of WVVI's revenues coming more from direct sales is a great sign due to the lack of distribution costs and fees associated with indirect sales that eat away at profits.
We went the conservative route for this revenue projection. Using the key driver of an assumed 15% growth of direct sales for both 2016 and 2017 and only a 5% growth for indirect sales, we arrive at an annual revenue growth rate of 14.32%. Revenue resulting at 20.5M for 2016 and a $0.34 EPS. Similar assumptions for 2017 brings us at 14.55% revenue growth, 23.5M in revenues, and $0.39 EPS.
Using the projected 2017 EPS of $0.39 and the industry average earnings multiple of 27.37, we estimate a price target for WVVI of $10.57 in the next nine to 15 months. We believe a company like this will take a longer time to reach these 32% upside targets as it is not largely covered by analysts given its lower market cap. This is purely a long term play with very little short term upside, but the patient investor will likely be rewarded. In the meantime, this might give you some incentive to long WVVI.
If you enjoyed this article, please follow us for more in-depth coverage of less-talked about tickers with solid growth prospects.
Lastly, we wrote this article with research help from fellow colleagues Devon Zhou, Jiayi Zhu, and Josh Yi.
Disclosure: I am/we are long WVVI.
I wrote this article myself, and it expresses my own opinions. I am not receiving compensation for it (other than from Seeking Alpha). I have no business relationship with any company whose stock is mentioned in this article.
Editor's Note: This article covers one or more stocks trading at less than $1 per share and/or with less than a $100 million market cap. Please be aware of the risks associated with these stocks.